Everyone experiences unexpected financial emergency at one point or another. Whether it's a job loss, medical emergency or even a natural disaster like the devastating hurricanes that recently hit Texas, Florida and the Caribbean, the sad reality is that there are any number of unexpected emergencies that cause people to lose everything they have and leave them reeling financially.
When disaster strikes, it's important to focus on your safety and well being primarily, but after the immediate danger has passed, you'll need to develop a plan to pick up the pieces and get yourself to a better place financially.
Here are five steps to bounce back from a financial emergency so you can land back on your feet.
1. Lean On Your Emergency Fund when facing a financial emergency
Your emergency fund is your first line of defense when the unexpected happens. If you don't have an emergency fund, you should start setting aside money now, making sure you keep the funds liquid and use a bank (like Ally or Barclays Savings) that pays a decent interest rate and requires no minimum balance.
Experts recommend having anywhere from $1,000 to 3-6 months of expenses lined up. How much you save depends on your situation, needs, and how much money you need to feel comfortable after an emergency. If you don't have an emergency fund already, don't let the suggested amount hold you back, rather start with whatever you're able to and go from there.
Know that even having a baby emergency fund can provide some relief during emergency situations. If the emergency is severe, ration out your savings to help cover important expenses and necessities.
You can always replenish your emergency fund later, so don't feel bad for using it on a worthy purpose.
2. Utilize Insurance
If you have insurance, it could come in handy as you deal with unexpected emergencies. Many times, insurance can seem like a waste of money, but when disaster strikes you'll be happy you have coverage.
Experts recommend that you at least have medical insurance, auto insurance and renters or homeowners' insurance. You can also consider other types of insurance like flood insurance and disability insurance.
If appropriate, file a claim quickly and review your policy and coverage terms to see what kind of assistance you can expect.
When my husband got rear ended last year, his car was in the repair shop for an entire month. Luckily, insurance paid for the repairs, provided him with $500 cash and even paid for his car rental so we didn't have to cover transportation costs for an entire month.
3. Revisit Your Basic Budget
When your finances are in shambles, you may not have budgeting at the forefront of your mind, but it's one of the best things you can do to get back on track.
Establishing a budget can help you get organized and feel like you're in control of your money since you'll be deciding exactly where it needs to go. If you've never had a budget, or don't know how to start one, check out our guide on how to make a budget to get an idea of what steps you need to take.
Revert back to a very basic or 'bare bones budget' at first. Just like it sounds, a bare bones budget only includes expenses that are necessary for survival. Budgeting when you're broke isn't fun to do by any means, but it can help ensure your basic needs are met for the time being until you get back on your feet.
Using a basic, bare bones budget can also relieve some stress on your end too since it's likely that you'll spend less than you would with a regular budget.
For example, I know I could probably survive on just $1,200 – $1,500 per month. I spend much more than that normally, but that's all it would take to have my basic needs met so it even stretches the effects of my emergency fund.
4. Get to Work
Working is not everyone's favorite thing to do no doubt, but you should consider yourself lucky if you can get back to work shortly after a financial disaster.
Having the opportunity to earn more money to improve your financial situation is great because it will keep your cash flow steady.
If you need to earn more money, you can always see if you could pick up extra hours or get a side hustle to boost your earnings. Here's a list of 50+ ways to make extra money, many of which require little to no advanced skills.
These days, most people either have side hustles or know how they want to earn extra money; if you want to join their club, you'll need to utilize your resources and start taking action.
Ask yourself what your skills and interests are along with which opportunities are available to you. Also, be sure to set a goal of how much extra you'd like to earn each month to determine which side hustle(s) will be best for you.
5. Take Advantage of Community Resources and Help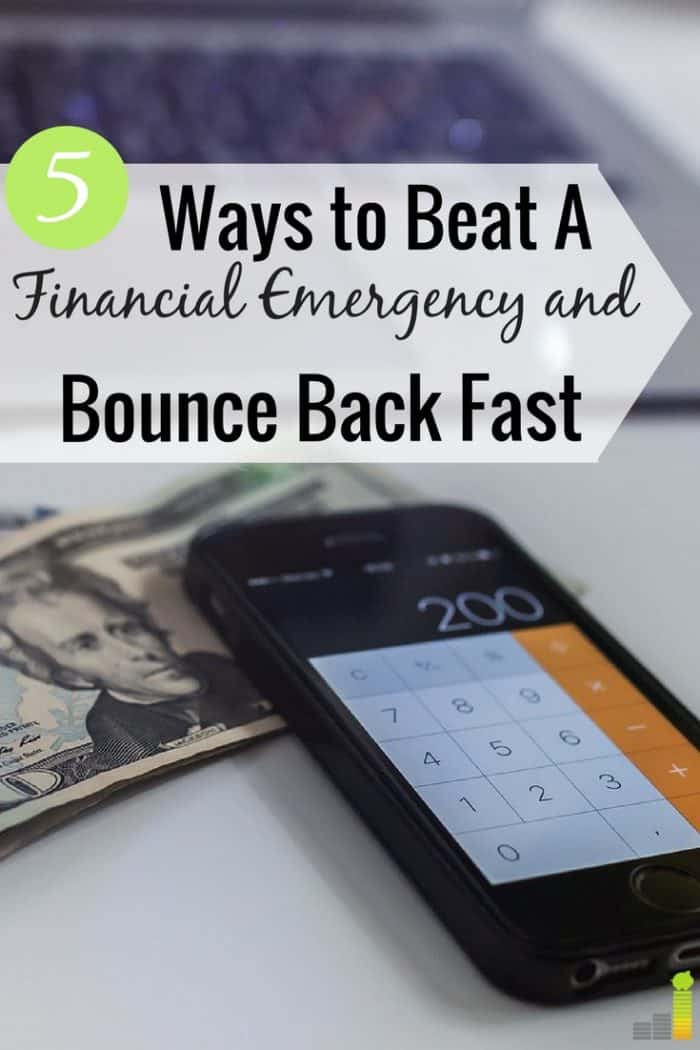 Finally, you'll want to take advantage of community resources and other types of help that may be available to you.
There may even be some benefits you're entitled to like unemployment or disability compensation for example.
Large and small, most towns have one or more organizations that can provide you with some benefits. If a disaster affected your entire community, there are bound to be some organizations and relief programs put in place to help. You'll just need to seek those out and get their information.
About two years ago, eight tornadoes spread across Northern and Central Illinois with the most powerful one hitting a small town that was about 30 minutes away from my home at the time. Most of the residents were evacuated in time but the storm severely damaged several homes and left many people without a home to return to.
I really liked how surrounding communities organized fundraisers and other disaster relief efforts to help families in their time of need. When large disasters occur, it's the perfect time for communities to come together to support each other.
If you're on the receiving end of the support, this also can ease your burden significantly.
Dealing with an unexpected emergency is never easy, but there will often be an opportunity to bounce back financially. You can always develop a pre-emergency and damage control plan to avoid panic and give yourself enough time to carefully evaluate your situation along with all your options.
What was the last financial emergency you were faced with and how did you overcome it? What tips do you have for bouncing back financially after an unexpected emergency? When was a time you weren't prepared and how would things have turned out differently had you put a plan in place beforehand?
The post 5 Must-Follow Steps to Bounce Back From A Financial Emergency appeared first on Frugal Rules.
Source: Frugal Rules