Whenever you need to make extra money quickly, trying to sell old electronics for cash and other unused and unwanted items from your home is one of the best and easiest ways to earn extra money. You can even sell broken electronic devices and make some decent money fast.
More than 90 percent of Americans own a computerized gadget making electronic devices among some of the best-selling items that let you get cash for old electronics, even if the item isn't in mint condition.
Don't believe me? Just go online and see how many people are choosing to sell old electronics, including broken devices, for parts. They are still very valuable regardless of usability.
Odds are, you have a laptop, desktop computer, tablet, smartphone, iPod, digital camera, video game or game system that you can sell for extra money.
Once you round up these items, consider using one or more of these sites to sell old electronics for cash.
1. Gazelle
Gazelle is a leading company that buys and sells pre-owned consumer electronics. If you have a smartphone or old cell phone to sell, this site would be a top contender. They mainly buy Apple products, smartphones and tablets.
They will send you a trackable shipping label so you can ship your item to them for inspection. This process tends to take no longer than a week and afterward, Gazelle will send your payment via check or PayPal.
Gazelle is A+ rated by the Better Business Bureau, and has a consumer rating of 4 out of 5 stars.
You can also turn your item in at any Gazelle kiosk in your area for immediate cash. Their kiosks only accept phones, tablets and MP3 players and offers tend to be lower than what you'd receive online.
2. NextWorth
NextWorth helps you sell old electronics for cash by buying them back from you. First, they offer you a quote based on the condition of your item with no hidden fees. Then they send you a shipping label to ship your item.
Their process is similar to Gazelle; they're A+ rated by the BBB; and they're given 3 out of 5 stars by consumers.
In order to get the most bang for your buck, it's best to send in old cell phones and electronic devices that are fully functional. Be completely honest about their condition so you can receive a payment similar to the original quote.
3. Sell old electronics on Amazon
If you want to try selling old electronics for money directly, Amazon is a great place to find buyers on your own. You can set up a seller account and create your own listing. If you go this route, be sure to take clear pictures and use specific keywords to describe your item.
Or, you can take advantage of Amazon's Trade-in program that allows you to send your old video games, Kindles, books, electronics, DVDs, etc for Amazon gift cards. This is one of the best ways to earn free Amazon gift cards if you just want to turn it around to use later on Amazon.
Depending on your location, trade-in items may take up to 10 business days to arrive before they are processed, but you can track the items you send in.
4. eBay
eBay is another place you can sell used electronic devices online for cash. When you create a listing and make a sale, the site will take a small fee out of the purchase price (just like Amazon) so keep that in mind and also consider shipping costs when pricing your item.
As most of you know, eBay also has an auction format where you can list your item and have buyers bid on the final price. With this option, be sure to set your item at a minimum price that ensures the item doesn't sell for less than its value.
5. Craigslist
Craigslist is an option if you're considering selling your old electronics locally. I always have a soft spot for Craigslist. Despite what some other critics may say about it, I've found plenty of jobs and legit opportunities along with some affordable items like a laptop, clothes, children's toys, etc.
A few years ago around the holidays, I sold my Xbox and Kinect on Craigslist and everything went smoothly. It was a great way to make some cash to spend on Christmas shopping.
If you're ready to sell old electronics for cash on Craigslist, you just have to make sure you're using the platform wisely and prioritizing your safety. When you create a listing on Craigslist, make sure you don't include your phone number or actual email address. Potential buyers will still be able to contact you via email but Craigslist will hide your email address from them.
Also, when going through with a transaction, make sure you meet in a public place and only accept cash.
6. GameStop Trade-In
GameStop is a popular franchise where you can purchase video games, consoles, accessories and other electronic devices. If there is a store in your area, you can bring in your devices for inspection and receive either store credit or cash.
Currently, GameStop is offering to pay up to $400 for smartphone trade-ins depending on the type of phone and the condition.
You can also get a $200 credit when you trade in select items to put toward a new Xbox or Xbox One purchase.
7. Usell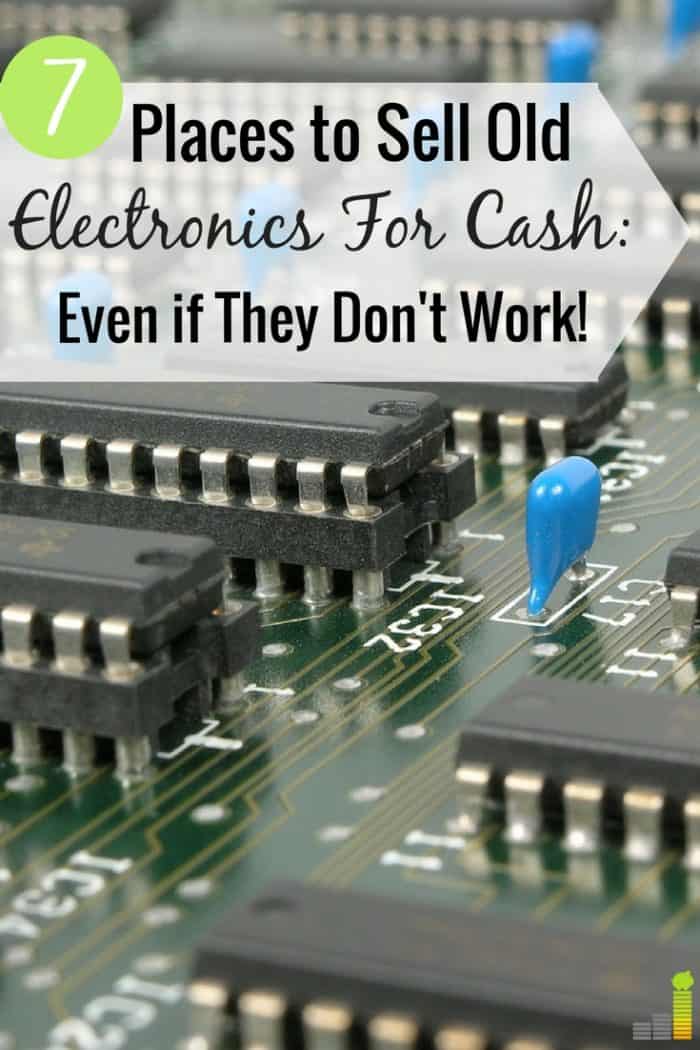 Last year I found out that my husband has been holding on to every cell phone he's ever had. He tends to go through phones a lot so he showed me at least 10 that were in a box on his shelf.
Many of the phones don't even work so I have no idea why he's holding onto them. Knowing how I hate clutter, I'm thinking about either recycling the phones or sending them to uSell to see if we can make extra money on our old cell phones.
Usell will buy used iPhones, iPads and other cell phone brands whether the phone works or not. Simply go to the site and select the brand of device you are selling, then specify the model and condition.
You will be instantly matched with a top offer for your device and uSell will send you a postage-paid shipping kit so you can mail it in for free and get paid.
Selling your old electronics can easily put extra cash in your pocket. While there's no guarantee that you'll receive an offer on your items, the process to either request a quote online or sell your item directly to a buyer are both pretty easy and won't take up too much of your time.
Just keep in mind that the older devices or ones with more wear and tear may not be as profitable, but you still may be able to make some type of profit off the sale especially if the item was just sitting in your home collecting dust.
How many old electronic devices do you have lying around the house? Have you ever tried selling old electronics for cash? Do you have any concerns about selling old cell phones or other old electronic devices for extra money?
The post 7 Best Places to Sell Old Electronics For Cash appeared first on Frugal Rules.
Source: Frugal Rules