Wealthsimple is the largest robo-advisor in Canada and just this year branched out to serve clients in the U.S. We're big supporters of investing in the stock market to grow your wealth on Frugal Rules, so a Wealthsimple review is fitting to see how they might meet your investing needs.
Wealthsimple has grown quickly since their introduction to the States and now manages close to $1 billion in assets. Wealthsimple focuses on a mix of low-cost index funds to help investors reach their specific goals, and are well suited for beginning and seasoned investors alike.
With this Wealthsimple review, I'll cover how Wealthfront works, what makes them different and what to look out for – both pros and cons.
How Does Wealthsimple Work?
Much like other robo-advisors, Wealthsimple has one simple focus with investing and that is following the Modern Portfolio Theory (MPT) when it comes to investment selection. MPT doesn't focus so much on the specific investment, per se; rather, it focuses on having the right allocation of investments.
This is great for a long-term investor who is saving for retirement or some other long-term need. You don't invest in individual stocks with Wealthsimple, but you invest in a mix of low-cost Exchange-Traded Funds (ETFs) that focus on low-cost stock and bond funds that largely track the market.
When you open an account with Wealthsimple, you answer a short survey consisting of a small number of questions. This allows Wealthsimple to get a gauge of your timeline, goals, risk tolerance and more.
They use the results to compile your portfolio, and select from the following funds:
VTI                              Vanguard Total US Market ETF
VOE                            Vanguard Mid-Cap Value ETF
VBR                            Vanguard Small-Cap Value ETF
VGK                            Vanguard FTSE Europe ETF
DXJ                            WisdomTree Japan Hedged Equity Fund
VWO                           Vanguard FTSE Emerging Markets ETF
MUB                           iShares National Muni Bond ETF
TIP                              iShares TIPS Bond
BND                           Vanguard Total Bond Market ETF
ANGL                         VanEck Vectors Fallen Angel High Yield Bond ETF
Depending on how you answer their questions, Wealthsimple will put you into one of three portfolio options:
Conservative – 65% stocks, 35% bonds
Balanced – 50% stocks, 50% bonds
Growth – 80% stocks, 20% bonds
If you find that you'd prefer a different makeup to your portfolio, just let Wealthsimple know, and they will adjust it accordingly. I should also point out that the ETFs used are very similar the ones used by Betterment, and come out to an average weighted expense ratio of .10% for portfolios.
Wealthsimple and SRI
Socially Responsible Investing (SRI) is a growing trend in the investing space, totaling over $22 trillion in investments, according to Wealthsimple. SRI allows you align your investing with social responsibility – looking to certain environmental and governmental concerns.
SRI is really where Wealthsimple shines, with Betterment being the only other robo-advisor that I know of offering such a devoted portfolio. Wealthsimple does not charge any special fees to take advantage of SRI; it's included in their standard commission structure.
As with the standard portfolio options, Wealthsimple will allocate your investments in the SRI portfolio based on your particular goals and timeline, and you can make adjustments if you deem necessary.
The SRI portfolio is made up of the following ETFs:
CRBN                        iShares MSCI ACWI Low Carbon Target ETF
PZD                            PowerShares Cleantech Portfolio
DSI                             iShares MSCI KLD 400 Social ETF
SHE                            SPDR® SSGA Gender Diversity Index ETF
BAB                            PowerShares Build America Bond Portfolio
GNMA                        iShares GNMA Bond ETF
The SRI portfolio option is also relatively low-cost, with a weighted average of .23 – .26% for an expense ratio.
Wealthsimple Fees and Features
Fees play a vital role in investing. Pay too much in fees, and you eat away at gains. In today's climate, it doesn't make any sense to pay high fees to invest as it often gets you nothing substantial in return.
Wealthsimple follows the low-cost model typically found with a robo-advisor. Wealthsimple has a fairly simple, straightforward fee structure, as noted below:
0% for the first year on balances under $5,000
.50% for balances under $100,000
.40% for balances over $100,000, which also gets you access to their Wealthsimple Black program offering, which offers additional benefits.
The above fee structure is in addition to the weighted expense ratio of your particular portfolio. Wealthsimple also offers a new account promotion of a cash bonus up to $100 when you open a new account.
Most of the portfolios are relatively low in cost, so it does keep expense to a minimum. Outside of cost, here are some other features found at Wealthsimple:
Numerous account options. Wealthsimple supports Individual and Joint accounts, as well as Roth, Traditional and SEP IRAs and Trust accounts.
24/7 email support. Wealthsimple offers live phone support from 8-8 Monday thru Friday, but they also offer 24/7 email support for all clients.
Free Tax-Loss Harvesting (TLH). We've discussed TLH before, which arguably helps boost returns for clients. This is a standard feature for Wealthsimple Black clients and is available by request for all other clients in taxable accounts.
Automatic rebalancing. As with other robo-advisors, Wealthsimple offers free rebalancing for all clients to make sure your portfolio does not go off track.
Portfolio review. Wealthsimple offers a free portfolio review of transferred in accounts, as well as other outstanding accounts. They do this to make sure you're not paying too much in fees and that you're taking advantage of all available opportunities.
Wealthsimple Black. I mentioned this program earlier, but want to point out some of its special features. In addition to the standard TLH, Wealthsimple Black clients also enjoy a reduced cost, a free session with a financial advisor and VIP access to more than 1,000 airport lounges in over 400 airports – both for themselves and a companion.
Advantages of Wealthsimple
After taking a look at some of the features of Wealthsimple, let's consider some of their advantages:
No minimum balance requirement. I love this feature as you can open an account with whatever works for you. This is great for those who are investing with little money as they can start with whatever they can afford.
Fund selection. Like other robo-advisors in the space, Weallthsimple focuses on low-cost index funds. With a weighted average of .10%, or .26% on SRI portfolios, most of your money works for you.
No fees for the first year. If you start with $5,000 or less, you get the first year for free. Outside of the expense ratio of your portfolio, you pay nothing; that's hard to beat.
SRI portfolio. SRI is a growing interest for many investors. Wealthsimple is one of the few automated investing platforms that offer SRI possibilities, which is somewhat surprising.
Live support. Some robo-advisors push you to their app for support. That's not the case with Wealthsimple. They offer phone support, 24/7 email support, as well as a free walkthrough for standard clients and a meeting with a financial advisor for Wealthsimple Black clients.
Portfolio review. You know how challenging it can be to manage various accounts with different brokerages. Wealthsimple reviews all of those outstanding accounts to make sure you're not bleeding money and stay on target.
Available in both Canada and the U.S. Many brokers stop at the border. That's not the case with Wealthsimple. Being Canadian-based allows them to offer service to both Canadians and Americans alike.
Wealthsimple Black. Many robo-advisors offer a discount to those with higher balances, but Wealthsimple takes it further with perks like VIP airline lounge access.
Drawbacks of Wealthsimple
Not everything is perfect with Wealthsimple. Here are a few areas where they fall short:
No goal setting options. Robo-advisors like Betterment and Wealthfront allow you to set specific goals to guide your investing. I'd imagine they'll have to add this in the future, as it's fairly common among their competitors.
A bit higher in fees. Compared to Betterment, Wealthsimple is a bit higher in fees, charging .50% per year for balances under $100,000 and .40% for those over $100,000. I'd like to see it be closer to what Betterment charges on lower balances. Wealthsimple does provide a lot of tools, and is still very cheap for what you get, though I'd still like to see it be a bit lower. I will point out, however, that head to head with Betterment, for account balances over $100,000, they match Betterment so it may be worth a comparison if you have over $100,000.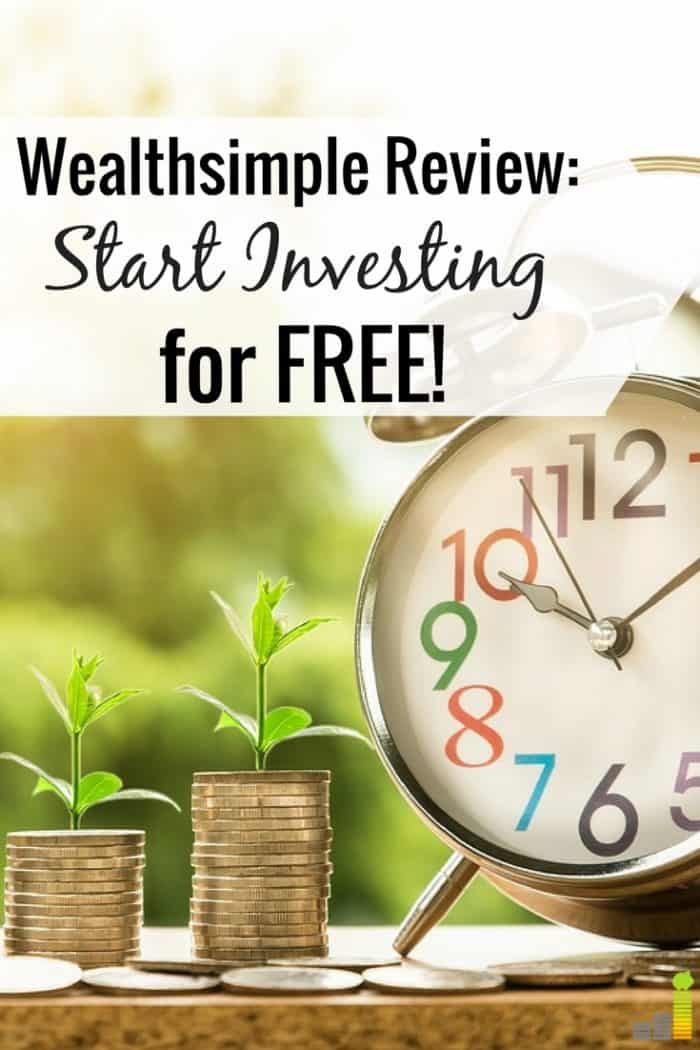 Wealthsimple Review – My Take
There are a lot of things to like about Wealthsimple. Having more options in the robo-advisor space is always a good thing. They follow a sound approach and focus on low-cost funds, which is a win-win for most investors.
I would like to see their commission structure come down a little, but even with the cost, they offer a very robust service. Regardless of whether you're new to investing, have been investing for decades, or are looking for management services, Wealthsimple offers many tools to the retail investor that were once available only to those with means.
I will also point out the importance of their no minimum balance requirement. Many brokerages do not offer this feature, and it can hold many back from investing.
Not only do they allow you to start with little, but they also offer free service for the first year plus the cash bonus promotion. You can't beat that.
What do you pay to do your investing? Do you use a robo-advisor and, if not, what would it take for you to consider one? What features do you look for when comparing brokerages?
The post Wealthsimple Review: Start Investing for Free! appeared first on Frugal Rules.
Source: Frugal Rules