Halloween is approaching, which means lots of fun trick or treating with kids and attending parties with co-workers and friends. All the festivities have us thinking about ways retailers trick you into spending more money than you should, especially during the holiday season.
We all shop at one point or another whether you actually like the activity or not. With the busy holiday season creeping up, you may find yourself making purchases from a variety of stores both online and offline.
One of the best things I like to do when I'm out shopping is find great deals and I know I'm not alone. This is no doubt a competitive time to shop and spend money, but it's also an ideal time for all the ways that retailers trick you into spending more money to come to light.
A spending trap occurs when you're reeled in with an 'offer' or a 'promotion' that is not really in your best interest and won't save you much money in the long run. It's truly a trick without a lasting treat for anyone other than the retailer (and possibly your credit card company).
Retailer spending traps are the worst because you usually lose money when you initially thought you were saving money or scoring a great deal.
Here are five ways retailers trick you into spending more money than you should.
1. Bogo Deals
Bogo deals are very common and typically allow you to buy one item and get another similar one of equal or lesser value for half off. I see bogo deals a lot at stores that sell shoes and clothing. Here's the thing, if you actually want to purchase two items, a bogo deal might save you some money but if you don't, it's pretty much useless.
You get the illusion that you're getting a deal but you're actually spending more money and buying more than you truly need. It's one of the most common ways retailers try to get you to spend more money than you should.
Instead of going the bogo route, check to see if there's a discount available on just one item. Ebates is a great way to do this as they offer discounts at many online stores.
2. Buy 10 For $X
The only thing that's worse than bogo deals are the 'buy 10' or 'buy 5' for a discounted price.
I do believe in stocking up, but I almost never do this. Again, this type of promotion tempts you to buy more than you really need. The truth is that you often don't need to buy all 10 items to get the sale price. In regards to holiday shopping, this deal isn't really valuable unless you're going to buy the same gift for multiple people.
In terms of grocery and household shopping, I don't need 10 bottles of juice or boxes of macaroni and overbuying food will just cause it to go to waste.
On the flip side, sometimes the details for these sales are not clearly displayed. You may see an item 'on sale' and take it to the register only to find out you needed to buy four more just like it in order to secure the 'sale price.' Don't be duped by this common way retailers trick you into spending more money.
3. Extended Warranty
Extended warranties are tempting and can sometimes offer value. When you make a huge purchase, you may be asked to purchase a warranty to protect your item in the future.
I've been asked to do this while in the checkout line and often feel rushed to make a decision.
Before you fork over any extra cash, be sure to read the fine print and see what the warranty actually covers and if it will be worth the cost. I usually don't purchase extended warranties because they typically don't cover much outside or normal wear and tear. If you broke or lost your item, it's likely that the warranty wouldn't cover it. When you're buying electronics, most of them have a manufacturer warranty you can use.
A year ago, I bought a new laptop from Best Buy and didn't purchase any of their extra warranties or care programs. In just a few months, my laptop started having major issues so I took it in to get looked at. Even though I didn't pay for any extra warranties, it turns out I had a manufacturer warranty on my computer for 12 months, which allowed me to get it fixed for free.
Instead of falling into this trick that retailers use to get you to overspend, consider putting the purchase on your credit card, as it offers you buyers protection that may rival that of the warranty the retailer is trying to sell you.
You also want to consider the shelf life of your item before buying an extended warranty. If the typical shelf life of your item is short or long, see how the warranty would play a role and come in handy if at all.
4. Big, Attractive Storefront Sales
Another spending trap you want to avoid is big, attractive billboard-style storefront sales offers. These are offers you can often see from your car or while walking around in the mall and are another of the common ways retailers trick you into spending more money than you should.
I hate when retailers use this tactic because while it's helpful to know they are having a sale, there's almost always a catch.
For example, one year I was doing some holiday shopping and trying to find my mom a gift. I stopped by a clothing store that had a huge 50 percent off sale sign in the window. Turns out, the only thing in the entire store that was 50 percent off was their coats.
When you see big sale signs like these, make sure you take a closer look to see what is actually on sale, and if there are any specific rules you'll need to follow in order to get the sale price.
5. Store Credit Cards
Store credit cards are probably one of the biggest retailer spending traps of all. I've never loved a store enough to sign up for their credit card, but I know it's common.
When you're checking out, the cashier may ask you if you want to save money on your purchase by signing up for their store credit card.
You might be enticed by the offer to get a discount on your total and receive other incentives and deals in the future. However, this is almost always a bad idea.
When you apply for a new credit card, you'll receive a hard inquiry which could impact your credit score. Then, you'll only be able to use the card at that store which will pressure you to make more purchases there than you normally would.
Finally, if you don't pay off your balance in full each month you use the card, you'll be charged interest, which will cancel out the value of any discounts or promotions you would receive as a cardholder.
If you want to build your credit and earn rewards for shopping, you can sign up for a general cash back credit card that allows you to make purchases anywhere. Here's a list of cards to consider to do that.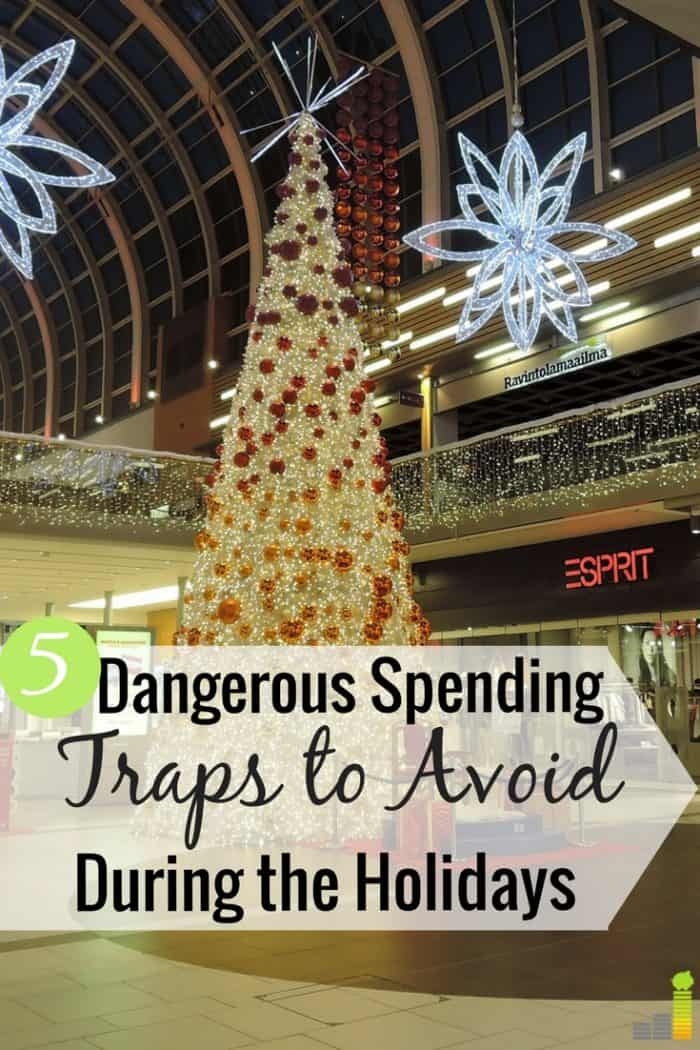 Final Word
Research indicates that we tend to feel excitement and a responsibility to make a purchase whenever we chance upon an attractive deal.
It's important to put your mind over emotions when you're out shopping and be mindful of these common ways retailers trick you into spending more money than you should.
If you truly want to spend less money this holiday season and into the New Year, focus on only purchasing what you need and what adds value to your bottom line.
Have you ever fallen for any of these common spending traps before? What's one of the worst ways you've seen retailers trick people into spending more money than they should? How are you planning to keep your holiday shopping under control (or within budget) this year?
The post 5 Ways Retailers Trick You Into Spending More Money Than You Should appeared first on Frugal Rules.
Source: Frugal Rules