I'm a big fan of shopping on Amazon. With the holidays right around the corner, I like to start thinking about ways to save money on Amazon for Christmas shopping. Let's face it, going out to the mall sucks at Christmas pretty much anytime of the year.
Why go fight the crowds to buy Christmas gifts when you can get your Christmas shopping done at home in your pajamas? Not only is shopping on Amazon more convenient, but there are also many hacks that save you money. That's a double bonus in my book.
As you prepare to start shopping for the holidays, try one of the following 15 hacks to save money on Amazon this Christmas.
Shop Through the Ebates Portal
Amazon already has good pricing, but when you pair it with earning some cash back on your purchases, you double your savings. Instead of going to Amazon.com directly, you shop through Ebates.
What is Ebates? Ebates is a cash back affiliate site that gives you a kickback for certain purchases you make on Amazon – in some cases up to seven percent back. Not every category qualifies to earn cash back, but it pays to check before you shop.
What's even better is using Ebates to earn cash back at many other stores. It's not a scam as I've used Ebates numerous times to earn cash back on my shopping.
In fact, Ebates gives you $10 just to sign up.
Two Browser Trick
Amazon has been known to charge Prime members a bit more on certain items vs. non-Prime members. If you're a Prime member and want to compare those prices you can do that through the Amazon two-browser trick.
I will give the disclaimer that this method isn't perfect as Amazon has begun to hide prices until you add items to the cart. That being said, it's still a money saving option to try.
Here's how it works. You open one browser, let's say Chrome, go to Amazon.com, find your item but don't add it to your cart. Then, you open another non-Chrome browser (after having cleared cookies and cache) to find the item.
If the item is cheaper, throw it in your cart, sign-in and go on your way. You can also accomplish the same thing by using the "Incognito" setting in Chrome
CamelCamelCamel
How would you like to know the historical pricing on a certain item on Amazon? That's powerful information to have as you do your Christmas shopping. Thankfully there is a service, CamelCamelCamel, that provides that information for free.
You can also set up price alerts to send you an email or message you on Twitter when a certain item changes price. CamelCamelCamel also has a browser extension to provide price history charts as you do your searching on Amazon.
There is another similar and newer service I've not tested much yet called TheTracktor that does much of the same as CamelCamelCamel.
Follow them on Twitter
Amazon provides many ways to stay on top of current deals. One popular option is to follow them on Twitter to get current information on special deals. You can follow them on Twitter @Amazondeals to see current Lightning Deals.
There are other Twitter pages devoted to Amazon deals, but this is the only verified Twitter handle I've found.
Deal of the Day
Amazon makes it relatively easy to find deals, especially during the Christmas season. One ways they do this is through the "Daily Deal" section of their site.
Simply go to Amazon.com and at the top of the screen, right in the middle, you should see "Today's Deals." Click on that and you go to their deals for the day.
You can also sign up for emails about daily deals if you'd prefer to just receive an email highlighting deals though I like to limit the amount of emails I receive so I prefer other options.
Discounted Gift Cards
Discounted gift cards are a great way to save money on shopping. People sell unwanted or unused gift cards to different sites, like CardPool, to get cash back. Those sites then sell them at a discount.
As Amazon is so popular, there isn't a lot of opportunity for big savings, but every little bit helps when shopping for Christmas gifts. Check out the discounted gift cards at CardPool to see how much you may be able to save.
You can also earn free Amazon gift cards to use for Christmas shopping. Here's how to get free Amazon gift cards to help supplement your shopping for the holidays, and throughout the year.
Amazon Price Protection
I discussed how Amazon has begun to limit price protection. They still offer it, officially, on one big-ticket item – televisions. If you buy a television on Amazon and find it cheaper within the next 30 days, you may qualify for a refund of the difference.
Here's a list of the vendors that qualify for the TV price protection from Amazon. A few things to keep in mind:
The difference will be refunded as an Amazon gift card
Third party sales do not qualify, only those sold or fulfilled by Amazon
This does not apply to TVs bought on Black Friday or Cyber Monday
I've read numerous reports questioning whether or not Amazon matches prices on other items, but I've seen nothing conclusive. The best I've found is that they will unofficially offer 7-day price protection on other items.
Just make sure to be polite when you contact them (I prefer their chat function) and understand that you may not get a refund.
Shop Through Swagbucks
Ebates isn't the only cash back site you can use to save money at Amazon this Christmas; Swagbucks works very similar to Ebates. You use their portal to do your shopping on Amazon. With each purchase, you earn points that can be turned into cash back.
Instead of cash, like with Ebates, Swagbucks pays out in Amazon gift cards. Even better, you can use any coupon codes or discounts you may have to double your savings.
TRADE IT IN
I love getting rid of junk around the house. When I can make money on that junk, then it's even better. If you have old electronics, tablets, wearables, books, etc. you can send them into Amazon to get cash back in the form of a gift card.
You can't just send in your junk, so keep the following in mind:
It must be in working condition
If your item is not listed in the trade-in store then they won't accept it
It takes up to ten days to receive payment
There is no cost to ship
A simple way to see if Amazon is accepting items as trade-ins is to simply look up the product. Look for the "Sell for a Gift Card" on the right hand of the screen and it'll walk you through the process.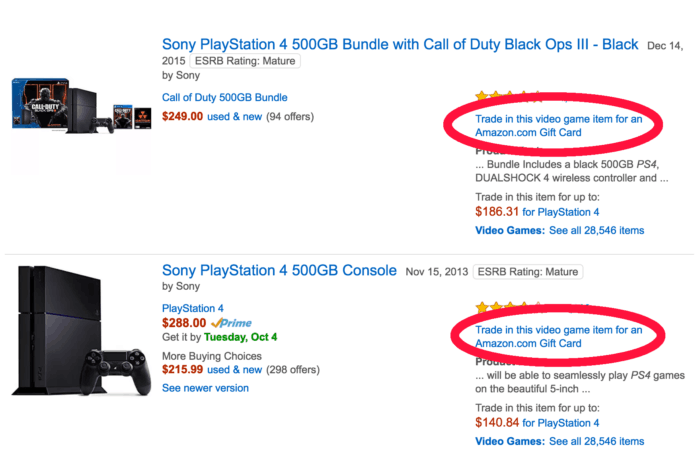 Lightning Deals
Remember the Daily Deals I mentioned earlier? Amazon offers other deals, known as "Lightning Deals." You can find these deals in the same area as the "Daily Deals" section, and they usually promote them heavily on the front page as well.
There a few things to keep in mind with the Lightning Deals. They're more limited in quantity than the Daily Deals, so they can go awfully quick. If it's an item you really want to buy for Christmas, then put it in your cart right away.
Amazon allows you 15 minutes to complete that purchase, so make sure not to wait around or you'll lose out on the deal. If the item offers a wait list, make sure to get on it as I've been lucky many times to still get the deal.
Shop Amazon's Outlet Department
I didn't know Amazon had an outlet section until recently. I will admit that it can be hit or miss, but it could be a great way to save money on Amazon if you find the right gift.
The items vary on Amazon Outlet. They may be overstocked items, markdowns or clearance items Amazon simply is trying to get rid of at a discounted rate.
Amazon Warehouse Deals
Similar to Amazon Outlet, they also have a warehouse deals section. Amazon Warehouse offers deals on items that are previously used. Now, you may not want to buy a previously used item as a Christmas gift, but if you don't care, it could be a great way to save a little money.
You can find the Warehouse Deals section in one of two places. First, you can head to this page which takes you directly to their Warehouse section.
Secondly, you can get there when looking at a specific product page. While looking at the prices, click on "Used" near the top of the page and it'll take you there.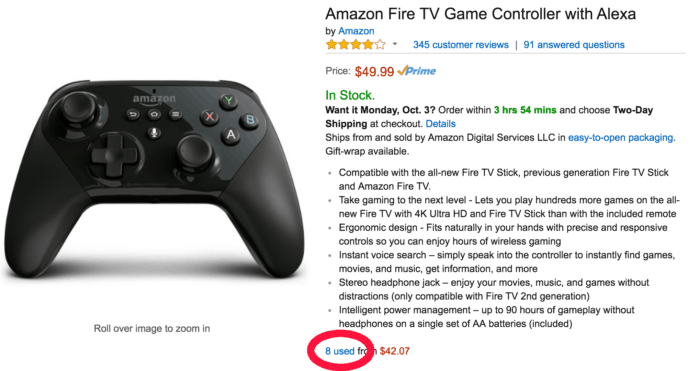 Just make sure you read the descriptions and seller reviews in full to make sure you're comfortable with the item.
Give Reviews
Most know that the currency for many sellers on Amazon are reviews. When I buy something on Amazon I'll read some of the reviews as a part of my research on a particular item. With Snagshout you have the opportunity to get items at a significant discount if you leave an honest review of the product on Amazon.
Here's how it works. After you sign up for a Snagshout account you connect it to your Amazon Reviewer profile. Once in your account you're directed to a variety of different discounted deals you can redeem on Amazon.
In return, you must provide a review within two weeks of receiving the item, notating you received the item at a discount in exchange for your honest review. I've not used it much, but could be a way to save a little money on something you'd be buying anyway. **Update – Amazon has updated their policy not allowing reviews like this.
Join Amazon Family
Amazon Family is for one particular individual: Prime members who have young children. Not only does Amazon Family offer 20 percent off diapers and discounts on other family needs but they also offer a discount on children's toys.
Amazon also allows you to add grandparents to your Amazon Family account so it can be a nice way for them to save on gift giving for the little ones.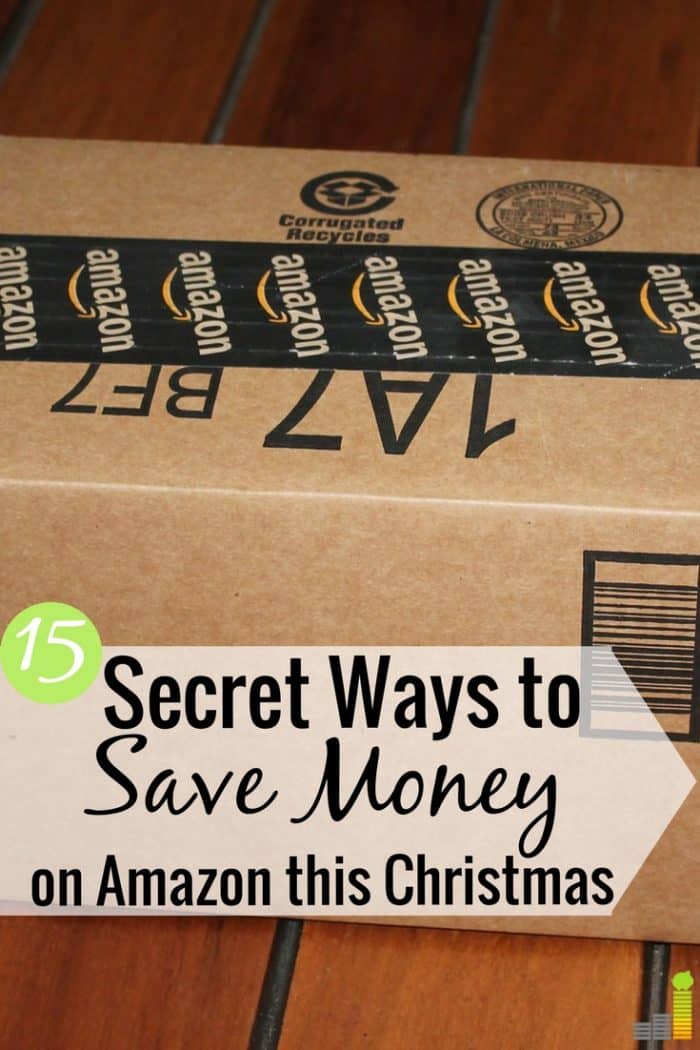 Kindle Matchbook
Are you a booklover or do you know someone who is? Have you bought any hard copy books on Amazon? You may be able to get the Kindle version for free, or a max of $2.99 through Kindle Matchbook. I hate to have clutter around the house and like to read on my Kindle so anytime I can move a book to it I'm happy.
Amazon offers the Kindle Matchbook service on thousands of different books and regularly adds new ones. Just keep in mind you must have purchased the print book on Amazon to qualify for the deal.
What are some of your favorite ways to save money on Amazon? Do you like to go out to buy Christmas gifts, or do you buy them online? Do you set a budget for Christmas shopping?
Save
The post 15 Hacks to Save Money on Amazon This Christmas appeared first on Frugal Rules.
Source: Frugal Rules