Keeping up with every aspect of your finances takes effort, which can feel overwhelming for many people. Personally, I enjoy checking my bank and credit card accounts regularly and tracking my spending, but it can be easy to overlook subscriptions – a tool like Trim can help avoid that problem.
Thankfully, there's a fintech solution to help make it easier to stay on top of your finances and subscriptions. If you find that you're not fully aware of what you are actually spending money on and can't identify opportunities for saving, Trim can help.
A free personal finance assistant, Trim helps you save money by improving your finances from a variety of  angles. If you're looking for ways to cut down on unused memberships or subscriptions, this Trim review will give you an idea of how to cut those and save money.
How Trim Works
Trim's process is pretty simple. First, the software analyzes your transaction history by connecting to your accounts. They'll take a look at all your recurring subscriptions and cancel anything you don't want to keep paying for.
The 'Ask Trim' feature is nice because you can literally receive updates on your spending that make it easy to see exactly how much you spent shopping online or ordering Uber Eats over the past month.
Another great feature of Trim is that you can receive help with negotiating lower rates for some of your bills. Feel like you're spending too much on cable? You probably are and should ditch the service altogether for a cheaper streaming service.
However, if you're adamant on keeping cable or want to spend less on your internet bill, Trim can work with your provider to negotiate a better rate on your behalf.
Additional Savings With Ask Trim
Trim not only helps you save on recurring charges and utility bills, the service can also help you save on your everyday shopping.
Let's say you regularly shop on Amazon like most of us. Have you ever bought something only to see that it was offered at a reduced price a week later? Amazon used to have a 7-day price guarantee but they don't offer it anymore so you could potentially lose money if you overspend on an item.
Trim watches prices on Amazon and notifies you of price drops so you can initiate a price adjustment from Amazon and get some money back. Speaking of cash back, Trim helps with that as well.
This is huge since most people don't mind (and would actually prefer) earning money back on regular purchases they need to make. The most common way to earn cash back is by using credit cards, but it's no secret that it can be challenging to keep up with your spending that way and if you end up overspending, you'll have to pay hefty interest charges.
Trim allows you to earn cash back easily without having to feel guilty about overspending or pay hefty interest charges. Trim finds relevant cash back deals for you and activates them for you on your Visa card so all you need to do is spend and save.
You probably won't earn a ton of cash back using Trim's feature since they only offer a handful of opportunities each month, but it's an effortless way to get rewarded for your regular spending, especially when the alternative is absolutely nothing.
How to Sign Up and Effectively Use Trim
Now that I've gone over all the cool benefits of Trim, it's time to discuss how to effectively use the service.
You sign up securely for Trim with your online banking login information. They use bank-level security with 256-bit SSL encryption, two-factor authentication and read-only access to make sure your sensitive account information is safe.
Trim doesn't store your account credentials on their servers or sell your information.
However, Trim will communicate with you via Facebook Messenger. You'll receive messages from Trim via Facebook and that's how you can ask questions about your spending for updates.
Keep in mind that you'll need to opt-in to receive some of the benefits mentioned above. Trim won't automatically start tracking your Amazon purchases if you don't sign up for the service. Same goes with their program to lower your Comcast cable bill or Internet fees.
While Trim won't share any of your personal information or debit card numbers, be mindful that it will share cashback offers via Facebook messenger, so Facebook knows you are using the service.
are there Any Downsides to trim?
The great thing about Trim is that it provides all of these services for free. The only potential downside I can think of is the fact that you do have to pay a portion of the savings Trim helps you generate directly to them.
For example, if Trim is able to successfully lower your Comcast bill, Trim will collect 25 percent of your estimated annual savings upfront. If Trim can find a price adjustment on Amazon for you, they will also take 25 percent of the money back you'd receive, so that is something to think about.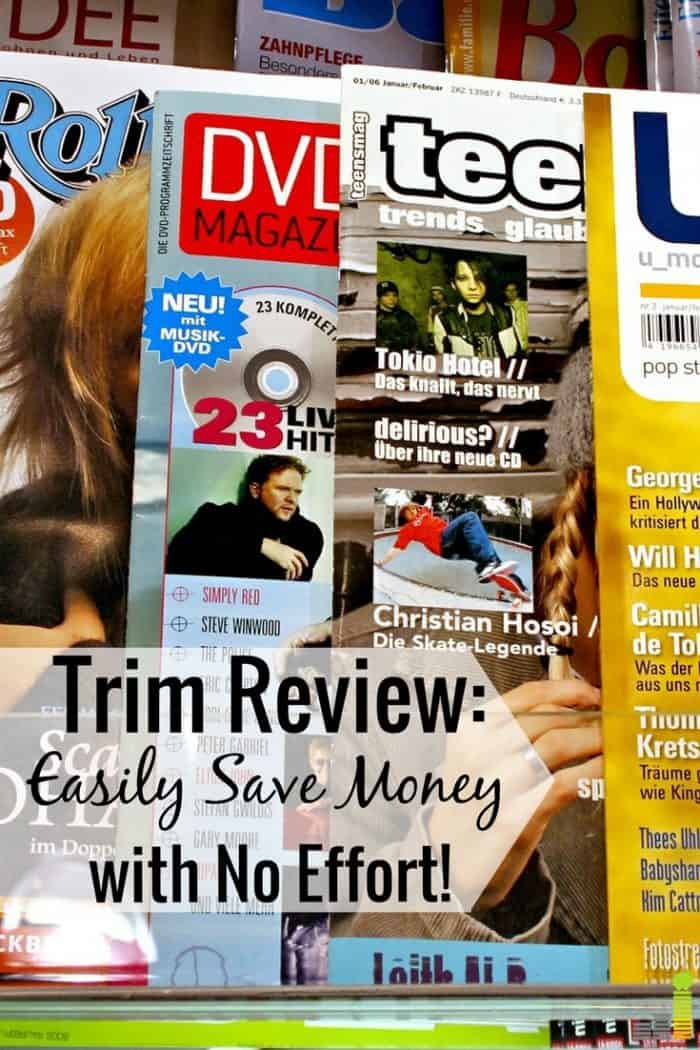 Final Word
Trim really does act as your personal assistant by taking care of many personal finance maintenance tasks that most of us just don't have the time or energy to complete.
Hearing that we should do things like cancel our unused monthly subscriptions, reduce our grocery bill, negotiate a lower cable or Internet bill and shop around for better car insurance rates is nice to know, but it doesn't mean that a majority of people will actually set aside time to do this. That's where Trim comes in and the fact that the service is 100 percent free only adds to their case.
The only thing you need to worry about is paying a fee to Trim when they are able to generate savings for you. However, if you're saving more time and money overall, it probably makes perfect sense to start using Trim. It's an effortless way to get your finances back on track and slash your expenses.
Have you ever heard of Trim? How many unused subscriptions or memberships do you have? How often do you try to negotiate bills?
The post Trim Review: Cancel Unwanted Subscriptions and Save Money appeared first on Frugal Rules.
Source: Frugal Rules