If you're on a tight budget this Christmas and haven't shopped for gifts all year long, don't worry. There are many thoughtful Christmas gifts you can buy for your friends, family and co-workers without breaking the bank.
It's easy to get caught in the trap of feeling that Christmas presents have to be extravagant, expensive or extremely rare to be valued. Nothing could be further from the truth, especially if you try to live within your means all year round.
Living that way day in and day out sets yourself and your family up to expect nothing different come the holidays. Contenting yourself in giving gifts that are within your budget and given in love are worth more than the latest, hottest toy or game simply bought on credit or out of excess.
If you are searching for a few simple and thoughtful Christmas gifts that will communicate love to your loved ones, below are a few examples of easy things you can do right now to take care of all the people on your list.
One of the best things about all of them is that you can find most of them on Amazon, which makes them very easy to buy and give, and, when you pair your Amazon purchases with Ebates, you can even earn cash back on the gifts you're purchasing, giving you a little extra money to put toward future gift purchases!
Homemade Cookies
It's an old favorite, but it works. Making cookies is an extremely inexpensive Christmas present that everyone loves. (Seriously, if you don't like cookies, what's wrong with you?)
You can make several batches and package them in colorful, holiday themed ziplock bags. Attach a thoughtful card, and you've just made someone's day for under $5. My friend does this for all of her neighbors, and they returned the favor by having a special Halloween candy bag for her daughter full of goodies the following year.
Cookies are a simple and thoughtful way to show that you care for someone and don't require you to spend money you don't have budgeted for Christmas gifts.
Ear Buds
I have about five different pairs of ear buds, and in my opinion, you can never have too many. I have one upstairs in my office, one in my gym bag, one in my car and some stashed around the house. It's nice to have them handy because I like to use ear buds when I talk on the phone, listen to music or work out.
Earbuds make thoughtful Christmas gifts because you can use them as a stocking stuffer or give a pair to that co-worker who always plays her music too loud.
Ear buds don't have to be expensive. This pair is under $5 on Amazon.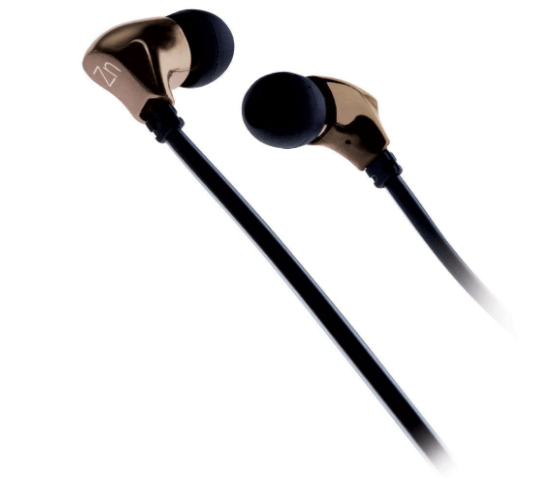 Candle Holders
For your friends and family who love home decor, they might enjoy these pretty but inexpensive candle holders from CB2. This would make a great hostess gift for the person in your life who is having friends and family over for Thanksgiving or Christmas dinner.
Bookmarks
I thought this bookmark was really cute when I saw it on Amazon. It's perfect for your friend or family member who loves to read. Tuck it into an old classic, a used book, or one of your favorites.
Once again, it's not the price of the item but the thought behind it. I'd much rather get a new bookmark and a used book than a random $5 gift card or nothing at all because the person thought they needed to spend a lot of money to give a meaningful Christmas gift.
It really is the thought that counts and this simple and thoughtful Christmas gift demonstrates that perfectly.
Silicone Spatula Sets
There are so many kitchen gadgets you can get your favorite chef for under $5. This set comes with three spatulas, and bonus, they're pink.
Don't forget that when you pair your Amazon shopping with Ebates, you can earn cash back, even on something as simple as a spatula set.
These would make a great Christmas gift for a college student for their first apartment or for your favorite newlyweds. Pair it with a cookbook if you have a bigger budget, and write a note in it!
Tea Infusers
If you have a tea lover in your life, this is a really inexpensive and cute tea infuser. I drink coffee like it's my job every morning, but in the evenings, I love to use my tea infuser to make tea and wind down in the evenings.
There are so many different types of tea infusers and many of them are under $5. Plus, any time your friend or loved one brews a cup of tea, they will be reminded of your care for them If you happen to have a slightly bigger budget, you can pair this with a cup or your favorite loose tea to make this gift extra special.
Nail Polish
Nail polish is a sweet and simple gift for the ladies in your life. I actually gave each of my kids' preschool teachers nail polish on the first day of school with a cute printed label I found on Etsy.
There are so many sales on nail polish at drug stores, or you can check out Amazon. Keep your eyes peeled on their weekly bulletins for special prices and buy one get one deals.
Ultimately, there are many ways to give great Christmas gifts without spending more than $5. And, the great news is that most of the items on this list aren't necessarily cheap. They're actually thoughtful, especially if you pair them with a kind note or another inexpensive gift.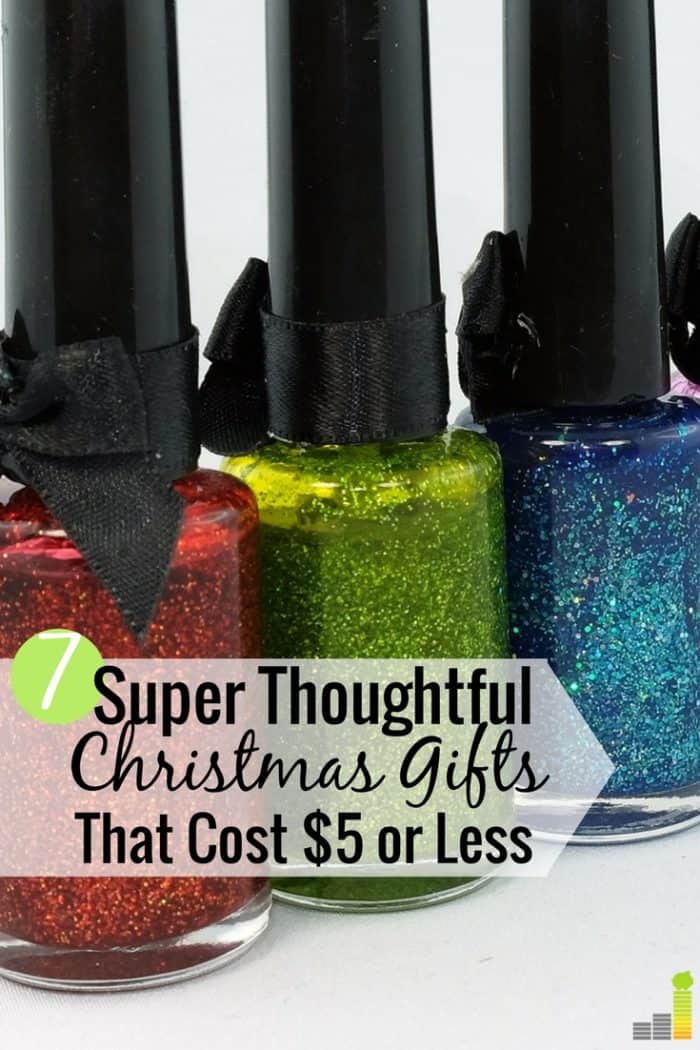 What are the best gifts you've ever gotten? Were they expensive or thoughtful or both? What are some other great gifts that are simple and thoughtful, whether they are $5, $10, or more?
The post 7 Super Thoughtful Christmas Gifts That Cost $5 or Less appeared first on Frugal Rules.
Source: Frugal Rules