The best alternatives to cable TV help you save a ton of money. The average cable bill is north of $100, and it only seems to be moving higher. We were paying close to the average before we canceled DirecTV and now save $80+ per month that we're able to put towards things we value more in our budget.
I get asked about the best cable replacement services on a regular basis by readers so wanted to do a post that outlines some of the cheaper alternatives to cable TV that still let you watch the shows you like. If you want to cut the cord and wonder what channels you can get without cable, this post is for you.
Best Alternatives to Cable TV
There are a growing number of alternatives to cable today. If you're asking yourself "can I get TV without cable?", the answer is yes. It seems like every month a new service comes out that makes it possible to cut the cord. That wasn't always the case, but I'm thankful to see the explosion occurring as that's better for us as consumers.
One thing to keep in mind as you look for cheap alternatives to cable TV is that you may have to put together several options to get the content you want. For example, we have Netflix and HBO Now to watch most of our content. We also have an Amazon Fire Stick and an antenna to watch local channels.
This may seem like a lot of work or be difficult to set up. It really isn't. Even if you aren't technically inclined, many of the best alternatives to cable TV are relatively simple to set up. The potential savings alone are well worth going through the experience of setting up one or multiple services.
Don't Overlook Your Local Library
The best place to watch movies without cable TV is…wait for it…the library. That's right, the library! We regularly get movies at the library for one simple reason – they're free. You can't beat free and is one of our favorite ways to save money on entertainment costs.
Many libraries vary in what they offer for movies and TV shows. If your local library can get movies on loan from other local libraries, then it really doesn't matter what is currently being offered at your local branch.
We commonly get movies at the library if we want a frugal date night or for something for the kids to watch. At a $0 cost, don't overlook this option to save money on cable.
Getting Local Channels Without Cable
I remember when we called DirecTV to cancel our subscription. One of the tactics they tried to keep us under contract was to tell us that we couldn't get local channels without cable.
That was a straight up lie.
You can get local channels without cable TV; in fact, there are two ways to do it:
The best way to get local channels without cable, in my opinion, is with an antenna. No, you don't have to climb your roof to put a giant antenna atop it. They sit next to your TV, are very simple to install and use, and are relatively inexpensive.
We personally use the Mohu Leaf 50 to get our local channels. It typically costs between $50-60. There are many other good antennas you can purchase – 1byone, Wsky and Antennas Direct make some of the better antennas, and there are many ones you can consider.
Here's a list of some of the better antenna options at Amazon. Just keep in mind that antennas only work for one TV. If you have multiple televisions, you'll need an antenna for each.
The second best option to get local channels without cable TV is your laptop. All you need is an HDMI cord to connect to your computer and TV (if you want to watch on a bigger screen) and you can watch your favorite shows.
Some networks make you wait 24 hours to watch episodes, and some may require a week since airing before allowing you to watch a show. Networks like ABC, NBC and Fox all allow you to watch shows for free. CBS is a bit different, with some shows being available online and others being available on their CBS All Access service.
It may take a little work, but it's possible to get local channels without cable for free or a small one-time cost.
Live Streaming TV Services
Live streaming services are really where we've seen growth over the past year and are the best way to get cable channels without cable. Below are some of the best TV streaming services to save big money:
Sling TV: Sling TV offers two services plans. Sling Orange is the original version, which is $20 per month for nearly 30 channels. Sling Blue is the upgraded version, charging $25 per month for 45 channels – many of which are regional sports packages. Sling TV also allows you to add HBO for an additional $15 per month.
You can get a free 7-day trial to Sling TV to see if it's the option for you.
Sling TV is one of the older alternatives to cable TV and has a number of ways to customize to get the best package for you. We've tried it several times and found things we liked and didn't like, but is a good option to consider. If you'd like to read more about Sling, check out our Sling TV review for more information.
DirecTV Now: DirecTV Now is the no-contract offering by DirecTV. DirecTV Now offers four service plans, starting at $35 and going up to $70 per month, for anywhere from 60 to 120 channels, respectively. DirecTV Now also allows you to add HBO or Cinemax for an additional $5 per month.
You can get a free 7-day trial to DirecTV Now to see if it's the best option for you.
DirecTV Now does offer a few upgrades and features not found with Sling TV, but it's not without its drawbacks. If you'd like to read more about DirecTV Now, check out our DirecTV Now review for more information.
Hulu Live: Hulu Live is a new offering by Hulu to offer live streaming services. Their plan starts at $39.99 per month though we've not tried out the service yet. We have tried legacy Hulu several times and like what it has to offer.
Legacy Hulu offers two plans – $7.99 per month with commercials and Hulu Plus, which is $11.99 with limited commercials. There's no difference in the content you receive on the plans; you just remove the commercial aspect.
You can also add Showtime for an additional $8.99 per month. Like other alternatives to cable, you can get a free 7-day trial to Hulu Live to see if it's the best option for you.
YouTube TV: YouTube TV is the newest of the live TV streaming apps. Only rolled out to a few select cities, YouTube TV gives you access to roughly 40 channels for $35 per month. You can also add Showtime for an additional $11 per month, or Fox Soccer Plus for an additional $15 per month.
Omaha isn't one of the selected cities, so I've not had the opportunity to test the service. I do like that it offers DVR capabilities as well as access to locals, which is not something every live streaming TV service offers.
PlayStation VUE: PlayStation Vue is one of the more popular live streaming TV sites. PlayStation VUE is more like DirecTV Now in its pricing, offering four different plans. The plans range from $29.99 to $64.99 per month, offering 45 to 90 channels, respectively, with the higher end package giving access to HBO and Showtime. Sony currently offers a free 5-day trial to test out the service.
We've not had the opportunity to test out PlayStation Vue, but have heard a number of good things. The main benefits are its DVR capabilities and ability to set up a maximum of five user profiles, which is helpful for larger families.
On-Demand Streaming Services
Many use on-demand streaming services to supplement content they may not get through other services. On-demand services are great for original content, older television shows and movies. The two best on-demand streaming services are:
Netflix: Netflix is the granddaddy of alternatives to cable TV. Netflix was one of the forerunners is helping people cut the cord and save money. As any parent of little ones will tell you, Netflix is a near must have in your home.
Plans are relatively cheap, coming in at $7.99, $9.99 and $11.99 per month. Netflix also offers a free month-long trial to test their platform. If you can deal with their random changes in program availability, it's a great app to use.
Amazon Instant Video: Amazon doesn't quite match up to Netflix, but it's still a good alternative to cable TV. If you don't want to buy an Amazon Prime membership, you can buy their streaming service for a cost of $8.99 per month.
However, if you really want Amazon Instant Video it makes mathematical sense to buy the Prime membership and enjoy all its additional benefits.
We access both Netflix and Amazon through either our Amazon Fire TV Stick or Amazon Fire TV. Both work relatively seamlessly, and either could be considered a must-have tool to help you cut the cord.
If you'd like to read more on either, check out our Amazon Fire Stick review or Amazon Fire TV review.
Hybrid Streaming Services
If you want access to both live content and on-demand content, a hybrid streaming service may be for you. We use HBO Now, but there are several no-contract options to get both live and on-demand content. Those are:
HBO Now: $14.99 per month, after a one-month free trial
Starz: $10.99 per month, after a 7-day free trial
Showtime: $10.99 per month, after a 7-day free trial
Fubo TV: $14.99 per month, after a 7-day free trial – gets you access to dozens of sports channels for Major League Soccer, NFL and more
CBS All Access: $5.99 per month, or $9.99 per month with no commercials, after a 7-day free trial
You can access these all through various forms. You can use them directly from your computer, with a device like your Amazon Fire Stick or Roku or through your smart TV.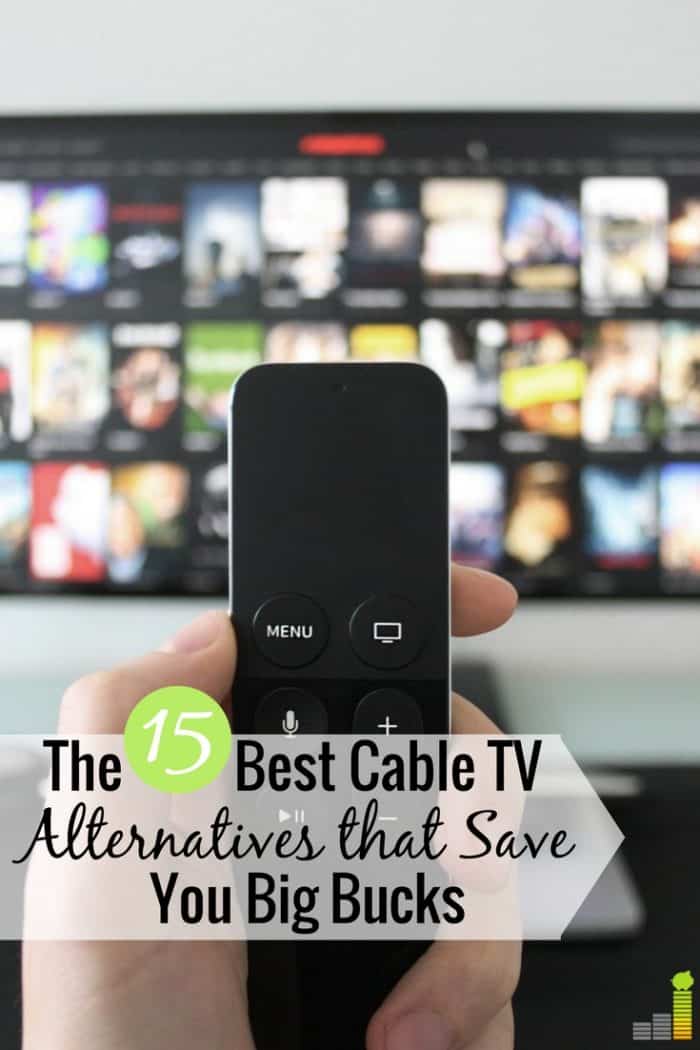 The Hidden Gem to Getting Cable Channels Without Cable
Besides sports, the worst thing many fear about cutting the cord is missing out on their favorite cable TV shows. I feared the same thing as well, and thankfully there is a way to get some of your favorite cable shows without cable – in some cases.
You may not even need one of the above services either, so you can access some shows for free.
Here's how you do it. You simply go to the respective channel's website and go to their shows list. That's it. I will warn you, however, that this doesn't work with all cable channels. If it does, it can be a great way to save money and still watch your favorite shows.
Here's a list of some of the networks we've personally been able to get cable channels without cable:
HGTV
FX
USA Network
Comedy Central
History Channel
It's important to note that each channel has its own requirements. Some may make you wait a day from airing before showing online, and others may only allow you to go five episodes back.
Other channels may require you to set up a free account to access content. Others go farther and require you to sign in with the login information for your cable provider. In some cases, you can bypass that with the login information for your Internet Service Provider, but it varies by network.
It's not perfect, but if you're in a pinch, it can be a good way to watch your 'can't miss' show without needing a cable subscription.
There are many cheap alternatives to cable TV that can help you save big money. Find the services that work for you and cut that cord; you won't regret it. If you're afraid to cut the cord, check out my in-depth guide on how to cut the cord to discover the exact steps you need to take to break free of the cable contract.
Which of the best alternatives to cable TV have you tried? How much money are you saving each month since cutting the cord? If you still have cable, what's holding you back?
The post 15 Best Alternatives to Cable TV appeared first on Frugal Rules.
Source: Frugal Rules