A new year is right around the corner and for many people, that means a fresh start. Before you start setting goals and resolutions for the new year however, it's best to assess how this year went and identify bad financial habits you might need to change.
Meeting goals and making lifestyle changes that stick all come down to your habits. Ditching bad money habits and adopting better ones is key to reaching financial stability. Here are five financial habits you should consider getting rid of before the year ends.
1. Spending More Than You Earn
This is a bad money habit all-around and ensures that you'll always be in debt. If you know that you consistently add to your credit card balances each month or frequently take out loans to make ends meet, you'll need to figure out how much your deficit is each month (expenses minus income).
Then, commit to earning more, spending less, or both. When my husband and I got married, I knew he had some lingering credit card debt so I grabbed all his credit cards and we started only spending what we could afford.
It was an adjustment but eventually, we made it work and even paid off the credit card debt in just four months. Here are nine ways you can do the same thing and pay off debt faster next year.
Digging your way out of bad financial habits can be really tough but you must get into the discipline of spending less than you earn if you want to make progress.
2. Creating an unrealistic Budget
Do you hate budgeting? You're probably not doing it right, which only makes you not want to budget. Your budget should basically be a spending plan for your money.
You have full control over it so you don't need to make it more painful than it has to be and deprive yourself of the things you really like to do. Creating a realistic budget all comes down to your needs, preferences and current situation.
Here's an in-depth guide on how to make a budget, but you need to make sure it fits your needs. You shouldn't let what someone else is doing influence your own spending plan.
For example, I used to think that I had to be super frugal in order to get ahead. I tried modeling my budget after what I saw worked for other people and it made me miserable. Finally I wised up and created a plan that worked for me and allowed me to spend a little money on fun stuff like date nights, travel and clothes occasionally.
3. making the Minimum payment
If you want to pay off debt, you'll need to break the bad financial habit of only paying the minimum payment each month. You'll have debt for so much longer and pay a lot more in interest if you stick to that method.
I'm a firm believer that anyone can become debt free quicker if they really want it. You just need to get into the habit of making extra payments on your debt regularly, and knowing exactly how much debt you have.
You can automate the payments once you feel comfortable, but realize you don't need a lot of money to get started. If you have credit card debt, you can help yourself by consolidating the debt to a lower rate so your payments will be more impactful towards the debt.
Lenders like Avant can help you slash your rates by half, or more, and help you kill the debt faster.
When I decided to pay my car loan off three years early, I started out only making extra payments of just $40 – $60 per month which was all I could afford at the time. Those extra payments still made a difference paying more than the minimum became routine for me.
4. Complaining About Your Paycheck
People do this all the time and while I try to be sympathetic, it's a big pet peeve of mine. Complaining about your paycheck is a huge waste of time and energy if you're not planning on doing anything about it.
I had one friend who worked at a restaurant that was having some financial problems a few years ago. It got so bad that my friend didn't receive a paycheck for 3-4 weeks. My friend vented a lot with me about it and while it was a pretty ridiculous thing for the job to do, I was pretty sure it was borderline illegal and she could have better spent her time reporting the company and figuring out how to get her paycheck sooner.
While that's an extreme case, it's important to realize that you may feel like you're being underpaid or undervalued when you go over your paycheck. Instead of complaining about it, take action and take your concerns straight to your employer or their employer.
See if you can negotiate a raise (here's how to ask for a raise) or review your tax forms to see what your exemptions are. Also, see if there are any ways you can make extra money to supplement your income. At the very least, you can monetize your free time by taking surveys, such as our favorite ones below:
Survey Junkie: One of the top survey sites, and they pay cash directly to your PayPal account
Pinecone Research: They pay $3 per survey and pay cash directly to your PayPal account
Opinion Outpost: One of the top survey sites in the space and they have quarterly $10,000 prize drawings
Inbox Dollars: Earn money for taking surveys, watching TV or making purchases online. Get $5 just for signing up.
There are many ways to make extra money, even if you feel that you have little skill so don't give into the excuse that you don't have what it takes to earn extra income.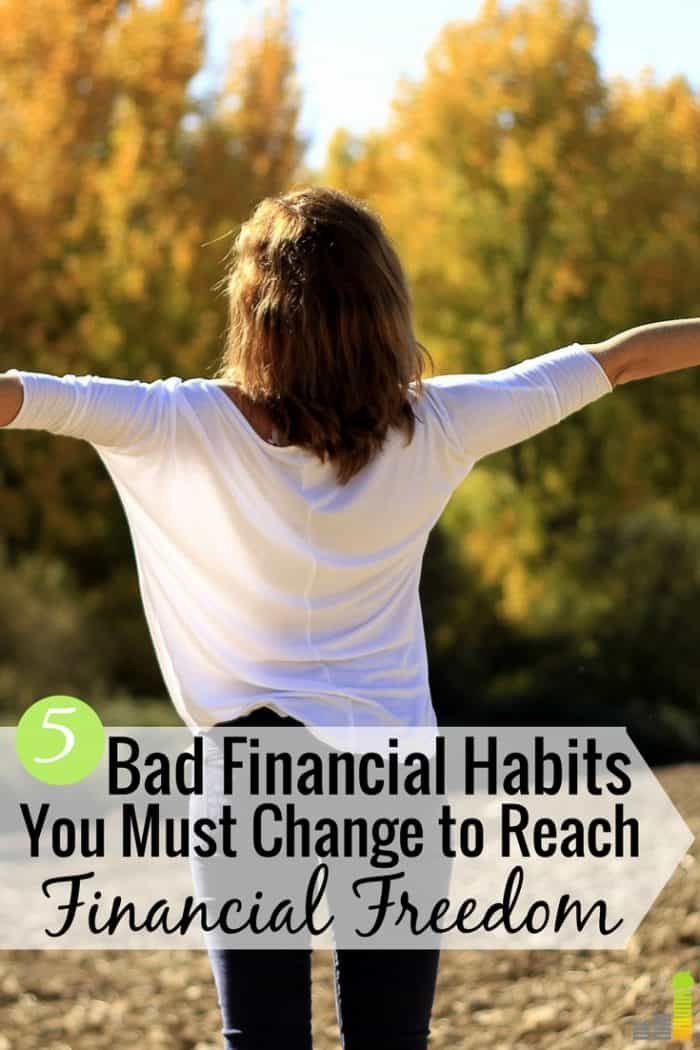 5. Not Paying Yourself First
If you're not already paying yourself first, you need to make that a top priority for the new year. Paying yourself first is a concept that allows you to bump up your own personal savings whenever you get paid before you spend money on other expenses.
David Bach, author of The Automatic Millionaire, recommends working at least one hour per day for yourself to ensure you're actually keeping enough of your earnings to help improve your own life vs. sending off payments to everyone else.
The best way to get into the habit of paying yourself first is to make it automatic. Set up a goal for how much you'd like to save each month then create a recurring transfer bank transfer from your checking account to your savings.
Pick a bank with no minimum balance requirement and that allows for automatic transfers. Ally, for example, has no minimum balance requirement, allows for automatic transfers and pays at least 1.25% on your balance, making them a good option to consider.
Creating better money habits begins with ditching the bad money habits that have been holding you back from reaching success. When you're thinking about the list of what you won't be bringing into the new year, I hope some of these bad habits make the cut so you can start out fresh.
What bad financial habits are you looking to get rid of for the new year? How often do you put money in your savings account? What's one financial goal you have for next year?
The post 5 Financial Habits to Avoid Taking Into the New Year appeared first on Frugal Rules.
Source: Frugal Rules