The new year is a great time to try out a few different money saving challenges. After all, sometimes all it takes is a little bit of healthy competition (with others or just yourself) to get you inspired.
You've likely heard about spending challenges before, especially no spend challenges, but there are other money saving challenges you might not have heard about. However, there are many different financial challenges to try.
Starting a money saving challenge now will help you get a great start on saving more money each month. Plus, you will be encouraged as you see your efforts to save money snowball as the year progresses.
Before you know it, you'll have more saved than you thought possible and will be well on your way to checking those important financial goals (like starting an emergency fund or beefing up your retirement savings) off your to do list.
Below are six examples of different money saving challenges you can try out today.
Money saving challenge #1 – The 52-Week Savings Challenge
The 52-Week Savings Challenge spans the whole year. The ultimate goal of this money saving challenge is to build a savings fund of around $1,400 by the end of the year. You do this by saving $1 the first week of the year, $2 the second week of the year, all the way until you're saving $52 the 52nd week of the year.
If it seems like you have to save too much towards the end of the year, you can always hack this and other money saving challenges by saving what you can when you can. Give yourself an awesome chance to win at this challenge by automating your savings efforts. Then, you can't decide to back out at the last minute.
Open an account at Barclays Savings and set up automatic transfers into it from your main bank account each week or month. Since they pay at least 1.40% and have no minimum balance requirements, you can start right now and watch your savings grow even faster
#2 – The No-Spend Challenge
There are many different ways to tackle a no-spend challenge. You can try it for a month or you can even do a seven day no-spend challenge. Some people have had no spend years. The point is that whatever approach you take to try out a spending freeze, the length of time you want to halt your spending is really up to you.
Most people who undergo these no-spend challenges are really focusing on all the little extras in life. You can, of course, spend money paying your mortgage and your bills. That's a given.
What the no-spend challenge (and several other of these different money saving challenges) try to teach you is that you can live without your daily Starbucks and you don't need as many perks in life as you think you do.
#3 – The Spare Change Challenge
This is another one of the money saving tips that can start out much like it sounds: saving your change in a coin jar. However, if you start adding money from selling items in your house, that can increase your spare change jar's value. You can also add birthday money or unexpected windfalls.
If you have kids (or even if you don't) get a piggy bank with different sections in it, to make it easy to separate out your spare change into the categories for which you're saving
It helps if you have a plan for your spare change. For example, do you want to buy a new piece of furniture with your spare change? Do you want to go on vacation? Do you want to buy a large meal for your family and friends?
Knowing what you want to do with it once it becomes a nice stack of spare change will help keep you motivated to keep saving.
#4 – The Zero Day Challenge
I recently read about the zero day challenge, and the idea is to challenge yourself to go as many days as possible where you spend $0.
Now, this is kind of similar to a no-spend challenge, but instead of enduring weeks or months without spending, this money saving challenge simply encourages you to be mindful and to have more zero day spending days than not.
The creator explains that the zero day challenge helps gameify savings, making it  fun challenge where you're really just competing against yourself. Rather than depriving yourself of all spending, instead you just try to have several days of no spending throughout the year.
#5 – The Pantry Challenge
The pantry challenge is a nice way to kick off a year of savings. Basically, instead of running to the grocery store anytime you run out of snacks, you work with what you have.
The pantry challenge will encourage you to eat that extra can of tuna or have peanut butter and jelly sandwiches for dinner. The pantry challenge helps you save money on groceries by making you use what you already have on hand, not to mention helping you cut down on food waste.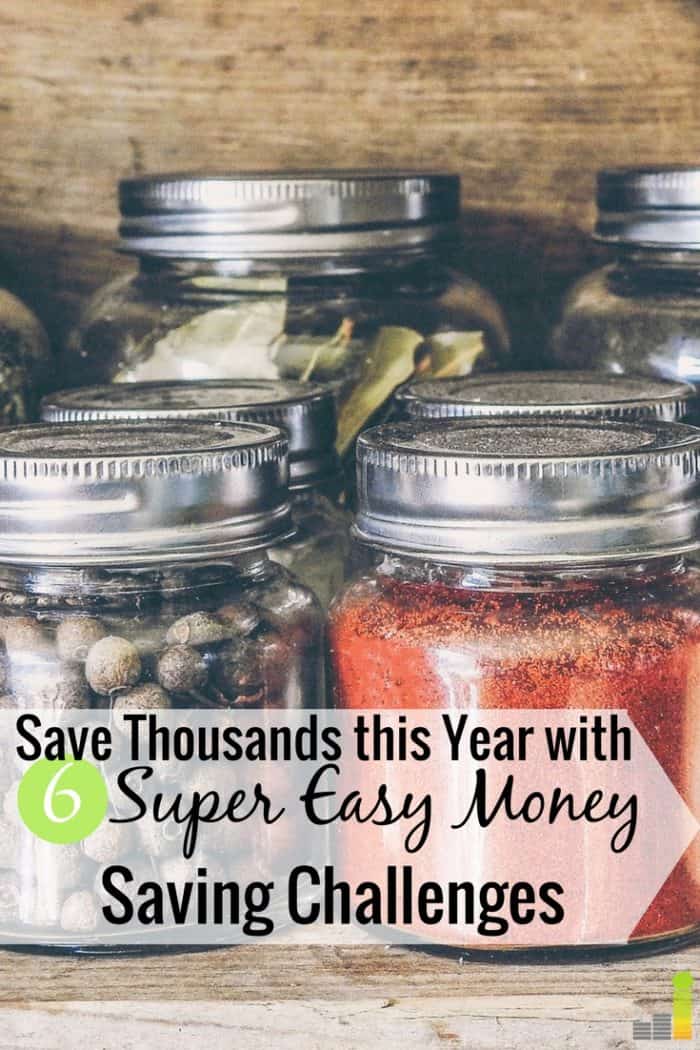 #6 – The Uber Frugal Month Challenge
The Uber Frugal Month Challenge is a good money saving challenge to try out if you need accountability with your efforts to save more money each month. This challenge is the brainchild of The Frugalwoods and they offer it only a few times a year, so keep your eyes peeled for the next opportunity.
They provide accountability by e-mailing you prompts to help you think about ways you can save. Other ways to incorporate accountability into your extreme saving efforts are to join a Facebook community of like minded people to help you stay on track or asking a good friend or co worker to ask you how you're doing on a weekly basis.
Ultimately, joining one of these money saving challenges to help with your savings goals is a great way to get inspired and start the year off on the right foot. When you incorporate automation through banks that pay you interest on your savings, like Barclays Savings, you can take your efforts even further this year.
Whether you start slowly with a pantry challenge and then work your way up to saving thousands every year, it's important to just get started – today!
Have you ever participated in a money savings challenge? What's one money goal you have for 2018? What other money saving tips have you found helpful to optimize savings?
The post 6 Different Money Saving Challenges to Help Grow Your Money in 2018 appeared first on Frugal Rules.
Source: Frugal Rules