Saving money doesn't have to be difficult. In fact, there are lots of easy ways to save money that you can start right now without investing too much time or energy. I think fear of failing or maybe a lack of knowledge about how easy it actually is to start saving money each month keeps many people from starting.
As this post proves, however, there are many simple ways to save money each month that are as easy as making a quick phone call to a service provider or driving past Starbucks instead of through it on your way to work.
I've listed several of these quick tips to save money below along with lots of other suggestions for long-term saving ideas as well.
easy ways to Save Money right now
1. Track your expenses every day.
2. Call your cable company and negotiate your bill (or cancel it.)
3. Buy generic brands (and catch them on sale.)
4. Sign up for every store rewards program, like at your grocery store. You can even get the Target debit card to save 5% every time you buy.
5. Car pool to work (it's one of many great ways to save money AND could help you get to know your co-workers better).
6. Use Trim to see if you're subscribed to services you want to cut. (They can also negotiate other bills for you.)
7. Sell household items on Facebook Marketplace (my new favorite way to sell things and one of the best tips on how to save money each month.)
8. Call your car insurance company and see if you're eligible for lower rates. (You might have to increase your deductible.)
9. Ride your bike to work.
10. Download grocery coupon apps like Checkout51 to earn cash back when buying groceries.
11. Download the GasBuddy app to find the cheapest gas near you.
12. Turn off the lights in your house when you're not using them (an oldie but goodie).
13. Scour thrift stores for designer items and resell them. (I just made a 150% profit selling a kids' Burberry jacket I found at a thrift shop.)
14. Buy a Nest to monitor the temperature in each room of your house. It's a little expensive upfront but can save you money over time and is one of the most easy ways to save money.
15. Get your exercise workouts for free on YouTube instead of at the gym. (This is seriously one of the most simple ways to save money.)
16. Unsubscribe from promotional e-mails, especially from the stores you really love.
17. Get a library card. (There are so many amazing free resources there, from music to videos to classes and experiences, and of course, books.)
18. Sell the old phones you have around the house to Gazelle.
19. Cut up your credit cards if you have credit card debt. You can consolidate the debt with Avant and pay off that debt quicker.
20. Or, if you can control your credit card spending, get a cash back credit card to get free money – here are the top cash back credit cards.
21. Make a meal plan for next week. Try the free trial at $5 Meal Plan if you don't know where to start.
22. Only shop the perimeter of the grocery store (the processed food items in the middle are what drive your bill up.)
23. Sign up for Instacart to have your groceries delivered to you. The money you save on not putting unnecessary items in your cart could be well worth the subscription fee.
24. Download a couple's saving app like HoneyFi to get your spouse involved in saving money.
25. Drive past Starbucks (or McDonalds or whatever your vice is) instead of going through the drive through.
26. Take a walk around the block, instead of a walk around the mall.
27. Cancel magazine subscriptions (there is a ton of free content online – like this post!)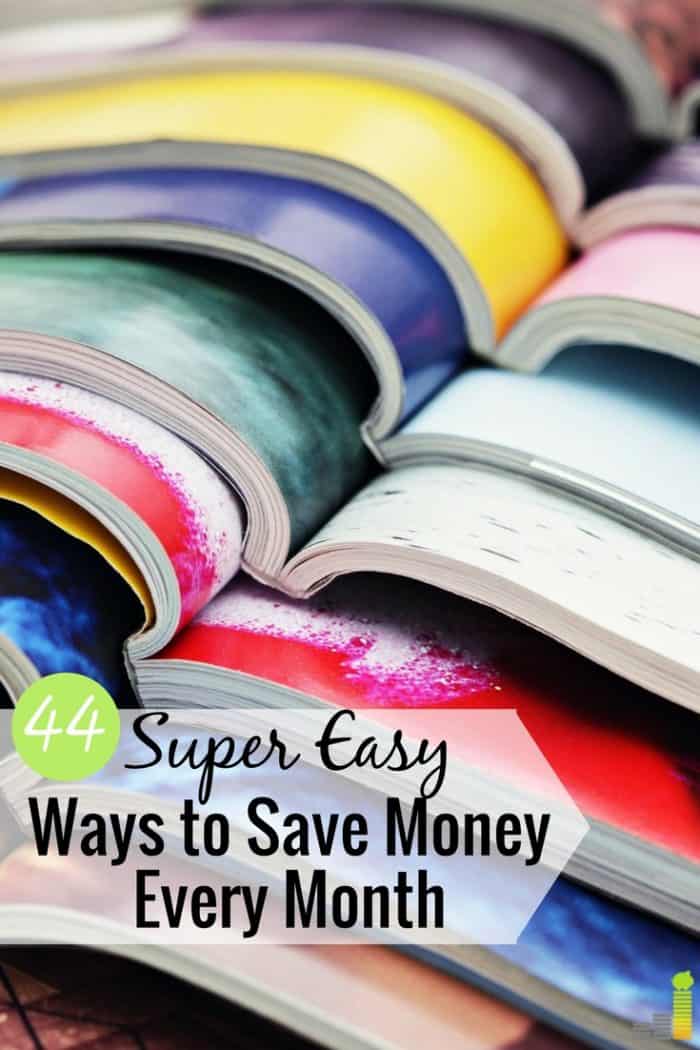 easy ways to Save Money That Require planning
28. Pick up a few overtime shifts or do odd jobs like shoveling your neighbor's driveway (or cutting their grass if you don't live in the frozen tundra like I do.)
29. Bring your lunch to work today!
30. See if you're eligible for free pre-school for your child (many states offer this).
31. Swap babysitting duties with another parent.
32. Start a vegetable garden.
33. Plan to host a clothing swap at your house.
34. Start investing your money. (Learn how to invest with only $100 or only $500.)
35. Plan a no spend month.
36. Set up savings accounts with different names to help you better reach your savings goals. Synchrony Bank is a great option for this, with no minimum balance requirement and pays at least 1.45%.
37. Plan to entertain your friends in your home instead of going out to eat.
38. Consider refinancing your debt with Lending Club, which could lower your monthly payments and save you money on interest long term.
39. Compare rates for cheap term life insurance with PolicyGenius, and ditch the expensive whole life insurance.
40. See if you can save money by buying in bulk. Sometimes, you can save money at Costco on things like dog food and diapers.
41. Make your own cleaning supplies.
42. If you want to buy something, wait 48 hours to see if you really need it or still want it. Most of our purchases are just impulses.
43. Have a budget meeting with yourself every month to see how these tips impact your bottom line.
44. As you can see, there are many easy ways to save money each month. Don't forget, you can implement many of these quick tips to save money today by just making a few phone calls, downloading a few apps, and canceling some subscriptions.
What are some of your favorite ways to save money? What's one thing you won't do to save money? Why do you think so many think it's too hard to save money?
The post 44 Super Easy Ways to Save Money appeared first on Frugal Rules.
Source: Frugal Rules