Have you ever wondered how to watch local TV without cable? Do you think it's not possible to get your favorite network shows? You're not alone. Watching TV without cable is possible, and you can save loads of money at the same time. Many don't know how to watch local channels without cable because they think a pricey cable contract is the only way to get TV.
I used to feel the same way. We had a $100+ per month contract with DirecTV, and we hated paying the bill each month. Worse yet, we found that we often only watched a handful of channels. Today we pay less than $25 per month for what we watch and don't miss a thing. In fact, we love seeing that more than $80 goes into our savings account each month.
If you've ever asked yourself, "How can I watch local TV without cable" this guide is for you.
How to Watch Local TV Without Cable
Many people don't realize how simple it can be to get local channels without cable. Thankfully it can be done quite simply and typically for relatively cheap. Here are a few ways to get local TV without cable.
Invest in an HD Antenna
An HD antenna is the best solution to the question of how to watch local TV without cable. If you think you can't use or install an HD antenna, please don't give into that lie. Yes, antennas used to be big, clunky and difficult to install but that's no longer the case.
We use a Mohu Leaf 50 on both of our TVs, and they work great. The Mohu Leaf, like many other digital antennas, is simple to use and install and is relatively inexpensive.
In fact, with the Mohu Leaf we connected it to our TV with an included coaxial cable (just like the kind you use for your expensive cable box), plugged it into the wall, and placed it on top of our TV stand.
That was it. Within a few minutes, we were ready to watch TV. Many other antennas work the same way, and if I can do it I know others can too since I'm technically challenged.
We get several dozen local channels with our antenna so we can catch any network show we want to watch. The number of channels you receive varies based on the city you live in, as well as your location relative to broadcast locations.
You can use Antenna Web to find the strength of broadcast signals in your area and what stations you can expect to receive when you cut the cord.
Picking an Antenna
There are many antennas to choose from when canceling cable. If you live in a major city, it's likely that most broadcasts will come from one main direction, and you can purchase a simple directional antenna.
However, if broadcasts come from multiple locations, you may want to select an omnidirectional antenna for best strength.
Likewise, an indoor antenna will work just fine if you live in a larger city and are relatively close to broadcast towers. If you live in a rural area or want to receive more channels you may want to purchase an outdoor antenna.
These larger, outdoor antennas do provide better reception, but they can also be more difficult to install so keep that in mind. Here are a few of the highest rated antennas on Amazon – first indoor, then outdoor:
Indoor
Outdoor
There are many other antennas to choose from, here are the top ones on Amazon.
Get on Your Computer
Want to know how to get local channels without cable? Look no further than you computer. Using your computer is one of the best ways to watch local channels for free. You may not realize this but you can often get network shows right from your computer.
To be fair, this won't work for all channels. ABC, for example, will often not work as many of their shows are available on Hulu. CBS often works the same way, directing you to their CBS All Access platform.
However, we have been able to watch some shows straight from their website. We've had more luck with NBC, which allows us to watch shows like Superstore or The Blacklist for free, 24 hours after airdate.
Watching from your computer does provide some flexibility. You can either watch it directly on your computer, or you can connect it to your TV to amplify the video. All you need is an HDMI cord and you can watch it on the big screen with no problem.
Use Your Phone
If you're on the go a lot you can still watch local TV shows without cable – all from your smartphone. Many local affiliate stations have their respective apps that you can download and use to watch local TV.
There are just a few things to keep in mind with this approach. It will vary based on where you live. Some larger cities and networks let you watch shows the day after airdate. Others, however, will require a cable subscription or only allow you to watch the local news and weather but nothing else.
Don't Forget the DVR
I hated losing our DVR when we first canceled our DirecTV contract. That feeling fled relatively quickly when I saw our savings. If you love your DVR, I know it may feel like you can't live without it. Trust me, you can.
If you cut the cord but still want to record shows, you can buy a standalone Over-The-Air (OTA) DVR. The important thing to keep in mind is most only allow you to record shows from a digital antenna and not on any of the available streaming services.
Here are two of the more popular standalone DVRs:
Tablo OTA DVR – The Tablo comes in at roughly $250 and allows you to watch shows as you record. They do charge for guide usage, starting at $5 per month, but it does appear you can get around that fee if you don't want the guide.
Tivo Roamio – The Tivo Roamio is a bit more expensive, coming in around $400 though it does allow you to record up to four shows at once. The Tivo Roamio also does not charge a monthly fee, which is not possible through their cheaper options.
I will say we've been cable free for nearly two years and don't have a DVR and we really don't miss not having one.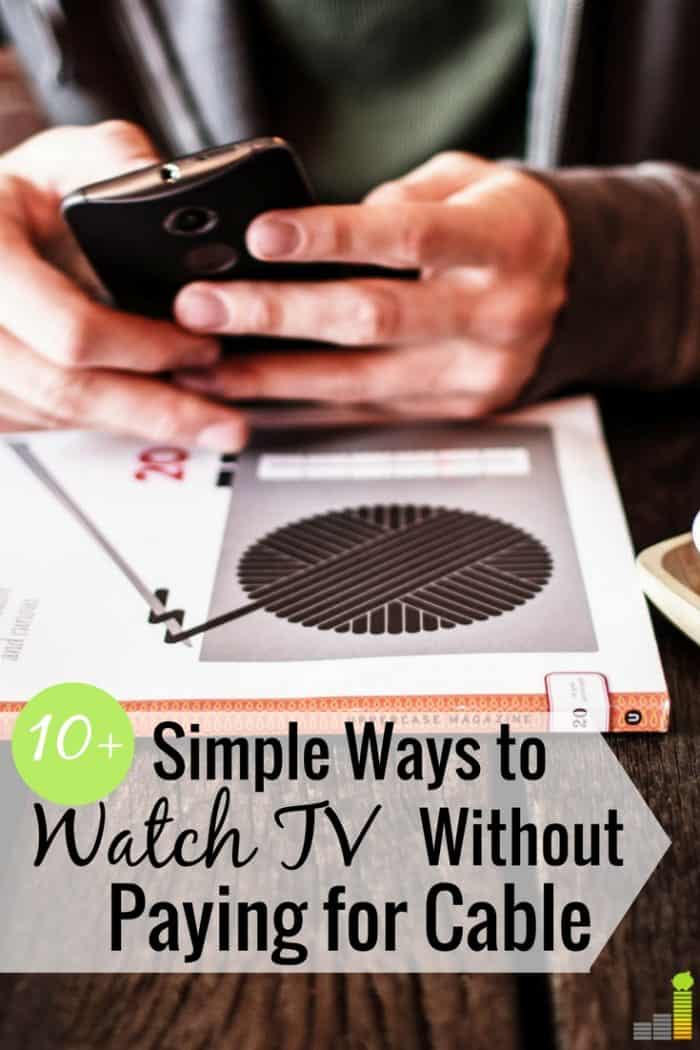 Alternative Streaming Options That Allow You to Watch TV without Cable
There has been an explosion among the best TV streaming services recently as more people cut the cord. Unfortunately, many of them don't offer access to local channels so you may need something else if you want access to cable channels, movies and more.
Below are the best solutions to the question of how to watch TV without cable:
Amazon Instant Video: Amazon Instant Video won't get you access to local channels, but it does provide access to thousands of movies, original content and older TV shows. We use the Amazon Fire Stick to access content and it is super simple to use.
DirecTV Now: DirecTV Now also does not provide access to local networks, but is one of the best cable replacement options in the market. With plans starting as low as $35 for 60 channels DirecTV Now lets you get many cable channels without a contract. DirecTV Now offers a free 7-day trial to see if you like the service.
FuboTV: FuboTV started as a soccer only offering. They now also offer access to dozens of sports stations like FS1, FS2, BTN and more – along with DVR functionality. FuboTV also offers access to live local CBS, Fox and NBC in certain markets. You can check out FuboTV through their free 7-day trial.
Hulu: Hulu offers two options. The traditional model of Hulu provides access to thousands of network shows, movies, original content and more. Their more recent offering, Hulu Live provides access to over 40 cable channels, starting at $39.99 per month – with access to locals in some markets. You can check out Hulu Live through their free 7-day trial.
Playstation VUE: Playstation VUE like Hulu and FuboTV allows access to local networks in some cities. On top of that, Playstation VUE has plans ranging from 45 to 90 channels, starting at $29.99 per month and offers a free 5-day trial to check them out.
Sling TV: Sling TV is the cheapest streaming service, starting at $20 per month for almost 30 channels. Sling TV does offer access to ABC in certain markets, but nothing beyond that. You can check out Sling TV through their free 7-day trial.
Youtube TV: Youtube TV is the newest player on the block and is only offered in a handful of cities. What I do like about Youtube TV is that they offer full access to local channels though some of them are only available on-demand. Youtube TV offers 40 channels for $35 per month.
If you're wondering how to watch local TV without cable, you can see there are a variety of available options. At the very least, you can buy a digital antenna and get access to local networks.
In most cases, you should be able to find an antenna for no more than $60, allowing you to recoup the cost within one month of being cable free. It's tough to argue for keeping cable with so many options to save money.
How do you watch local channels without cable? If you still have cable, what's the one thing keeping you from cutting the cord? What do you look for in a streaming service provider?
The post How to Watch Local TV Without Cable appeared first on Frugal Rules.
Source: Frugal Rules