Some people say that being a parent is the hardest job of all. There certainly is no limit on the responsibilities that accompany parenthood. Whether you work full-time, are one of the many stay-at-home moms across the country, work from home or work full-time in your home, chances are good that you may be looking for ways to make extra money. If you're looking for the best jobs for stay-at-home moms, we have some ideas for you in today's post.
My Own Experience as a Mom
I know from experience how exhausting it can feel at times being a parent. Back when I worked in an office, I found it stressful to make sure my son got to and from school on time. I often had to request sick days at work when he wasn't feeling well, and found it a daily challenge to keep my home organized and put dinner on the table each night.
Now that I work from home, my life is not stress-free by any means but I do feel I can parent and run my household better. I have the time and availability to pick up my son from school each day and do homework with him. I can put dinner in the oven or in the crockpot at 1:00 p.m. and keep an eye on it while I work.
I can get up at 6:00 a.m. and start working if I want to, or I can run errands first then begin at 9:00 a.m. The flexibility of working from home can provide you with a lot of benefits like these that parents especially need.
If you are looking to work from home as well but are not sure where to start, here are nine of the best work from home jobs for stay-at-home moms.
9 Best Jobs for Stay-at-Home Moms
1. Virtual Assistant
A virtual assistant (VA) is one of the best online jobs for stay-at-home moms. A VA is someone who works online, or remotely, as a personal assistant for a businesses or entrepreneur. Virtual assistants manage a number of various tasks including social media management, email management, data entry work, scheduling meetings, sending invoices, customer service, online research, blog management and more.
If you are organized, communicate well, and have basic computer skills, you can most likely make this role work for you and may find it one of the most enjoyable jobs for stay-at-home-moms. Some VAs are highly skilled in specific areas and use that to market themselves. You probably won't be an expert at everything, which is why it's best to have a focus area as well.
Be mindful that most clients will show you exactly what they need done and provide basic training if they already have a process in place. Beginner VAs can earn anywhere from $15 – $20 per hour while experienced ones can earn $30+ per hour.
My friend Kayla started out as a part-time VA and now runs her freelance VA business full-time. She earns over $10,000 per month working from home as a VA. This means that being a VA has the potential to be one of the best high paying jobs for stay-at-home moms.
If you're interested in starting your own freelance VA business, sign up for her course to learn how you can start earning money as a VA.
2. Online Teaching/Tutoring
Do you have at least one year of experience teaching and a college degree? You might find tutoring students online or even landing a full-time online teaching job as one of the best jobs for stay-at-home moms. Connections Academy is an online public school system that hires virtual teachers, product consultants, school support communications managers and curriculum writers.
You must have a bachelor's degree and a valid teaching certification to be considered.
You can also find virtual teaching jobs on sites like VIPKid. VIPKid has the same teaching and degree requirements and you can teach English to students across the world.
You can earn up to $20, or more, per hour, and they provide all lesson plans and handle many of the administrative duties related to teaching.
3. Driving for A Ridesharing Service is one of the best jobs for stay-at-home moms with no experience!
Part of being a Mom is running errands and your kids to different activities. Why not get paid to drive other people around town? This may be a bit of an odd job for some, but if you have the time driving for a ridesharing service can be one of the best jobs for stay-at-home moms with no experience.
This job requires a bit of flexibility in your schedule, but it can be done and you can make good money doing it. Here are some of the times when you might be able to drive for a ridesharing service:
During the day when your kids are in school (If you don't have kids, but still stay at home then you have even more time!)
Evenings, when your partner or parent can stay at home
Weekends
Lyft is a good option for stay-at-home moms looking to make extra money. They offer a $250 sign-on bonus and you can make your own schedule.
Lyft is just one option for work-from-home moms. You can also deliver meals to bring in some additional income. You can make money using just your car as a driver for the following services:
If you have a flexible schedule, using your car can be one of the best jobs for stay-at-home moms looking to make an extra buck.
4. Proofreading
Did you know that you can make $20+ per hour as a proofreader? That earning potential makes this one of the best jobs for stay-at-home moms.
Quality content is so crucial these days. If you can spot errors and grammar mistakes quickly, you may have a shot at being a work from home proofreader.
Not only is this one of the most legitimate online jobs for stay-at-home moms, but like driving for a ridesharing service, working as a proofreader is one of the best jobs for stay-at-home moms with no experience, but with an eye for well-written, grammatically correct content.
This would most likely be a freelance position where you'd need to find your own clients, but you may be able to find some companies willing to hire a remote proofreader to go over their content.
Your best bet is pitching prospects on your own if you want to work from home. A great resource to help you get started is Proofread Anywhere.
With Proofread Anywhere, our friend Caitlin Pyle, shares the tools tips she used to build her own freelance proofreading career.
The virtual workshop is free to attend and provides the strategies you need to succeed at making $20+ per hour as a proofreader.
5. Freelance Writing
Do you enjoy writing? Did you know that you can get paid to write? (And we don't mean novels that crack the New York Times bestsellers list!)

You don't have to have a writing degree or certification to make money as a freelance writer. You just have to enjoy writing. In fact, working as a freelance writer can be one of the best jobs for stay-at-home moms.
All you need to do to get started is to brush up on your writing skills, define your niche (figure out what kind of writing you most enjoy or who you want to write for) and start pitching clients. Once you know who you're going after with your writing skills, you will know whether your want to focus on blog and article writing, technical writing or copywriting.
Freelance writers are paid per word or per piece. You can check out sites like Upwork or the Problogger Job Board to find your first paid writing jobs or reach out to someone you know who might need a writer.
If you're new to freelance writing, writing for blogs is a great way to start. The pay range varies widely from $25 to $100+ per post, depending on your experience and the site for which you're writing. Get Paid to Write for Blogs is a great resource to help you learn how to land writing gigs and pitch clients.
6. Graphic Design
Graphic designers create visual concepts using computer software (or by hand), to communicate ideas for an audience. They design brochures, websites, logos, flyers, magazines and a variety of ads. Since most graphic design work is done online these days, this is a great work from anywhere job. 
If you have knowledge of and access to graphic design software, and have an artistic bent, working from home as a graphic designer could be one of the best jobs for stay-at-home moms for you to consider.
You can find graphic design work on job boards like Indeed, FlexJobs and Upwork. You can also strike out on your own and sell your own designs online to make an income.
Here some of the best sites if you want to simply freelance and not work for a company:
Fiverr is great if you're just starting out. Yes, gigs are low paying, thus the $5, but the money is in the add-ons you can provide.
99Designs matches freelance designers with clients who need any variety of design work. You can also bid on contests, and if you win the contest you get the job.
CafePress is great if you like to design pretty much anything. With CafePress you can design anything from coffee mugs to clothing and sell your items to make money.
7. Bookkeeper
Do you have a background in accounting? Are you a wiz with excel or quickbooks? Then working as a bookkeeper could be one of the best jobs for stay-at-home moms that you might not have thought of before.
Bookkeeping will always be in demand. So long as people make money and need to properly track it, you'll always have a job. This can be a great work from home job for someone who likes numbers and has some accounting experience.
The average bookkeeper earns $40,000 per year according to the Bureau of Labor Statistics, but that is just a starting point.
To find work, your best bet is to reach out to small business owners locally or online and see if they need help managing and tracking their finances.
8. SEarch engine / social media Evaluator
A social media evaluator is someone who checks the search engines like Google and Bing to make sure they always updated and bringing an enhanced experience for web searchers. In other words, you make sure Google is doing its job in providing quick and accurate results for users.
All you need to get started is some basic computer experience and high-speed Internet. Companies like Appen Butler Hill, Leapforce, LionBridge, ZeroChaos all hire full-time and part-time search engine evaluators.
If you enjoy being online and are on your computer a lot anyways, this is one of the jobs for stay-at-home moms worth considering. 
9. Personal Stylist
If you're interested in fashion and style, Stitch Fix is almost always hiring work from home fashion stylists. Stitch Fix is a popular fashion subscription site that sends customers hand-picked clothing styles based on their needs and preferences.
Each customer fills out a style profile along with their sizes when they sign up then that's where you come in. As a virtual stylist, you'll pick pieces that you think certain customers would like to fill their subscription boxes.
You don't need a fashion or merchandising degree to do this job and it pays $15 per hour. So if you enjoy fashion or like helping people find outfits they feel great in, this is one of the jobs for stay-at-home moms worth a second look.
Work-from-home jobs stay-at-home Moms should avoid
Not all work-from-home jobs are equal. There are many opportunities for legitimate work from home jobs for stay-at-home moms, but the space is also filled with a number of not so legit opportunities. These "opportunities" can often turn into a money-losing situation, or one where you pester your friends to make a buck.
Here are some work-from-home jobs for stay-at-home moms to avoid:
Anything requiring you pay a fee: Some online jobs for stay-at-home moms can require you to pay a fee. You don't want to involve yourself with something that's going to require you pay any type of regular fee. The only purpose this serves is to make someone else money.
Anything promising crazy results: Another common ploy in the online job space is promising crazy income for your investment of time, and often money. This is a scam and largely only meant to make someone else money.
Pyramid schemes and multi-level marketing (MLM): MLM companies are popular with many stay-at-home moms. Some are able to be successful with a MLM company, but by and large, most end up making nothing. You've heard of some of the companies: Amway, Melaluca, Norwex and Pampered Chef are just a few examples. Only a small handful of people make money with them and the majority end up with lots of product they can't sell.
There are many legitimate online jobs for stay-at-home moms to be found, but it pays to do your due diligence before jumping in to anything.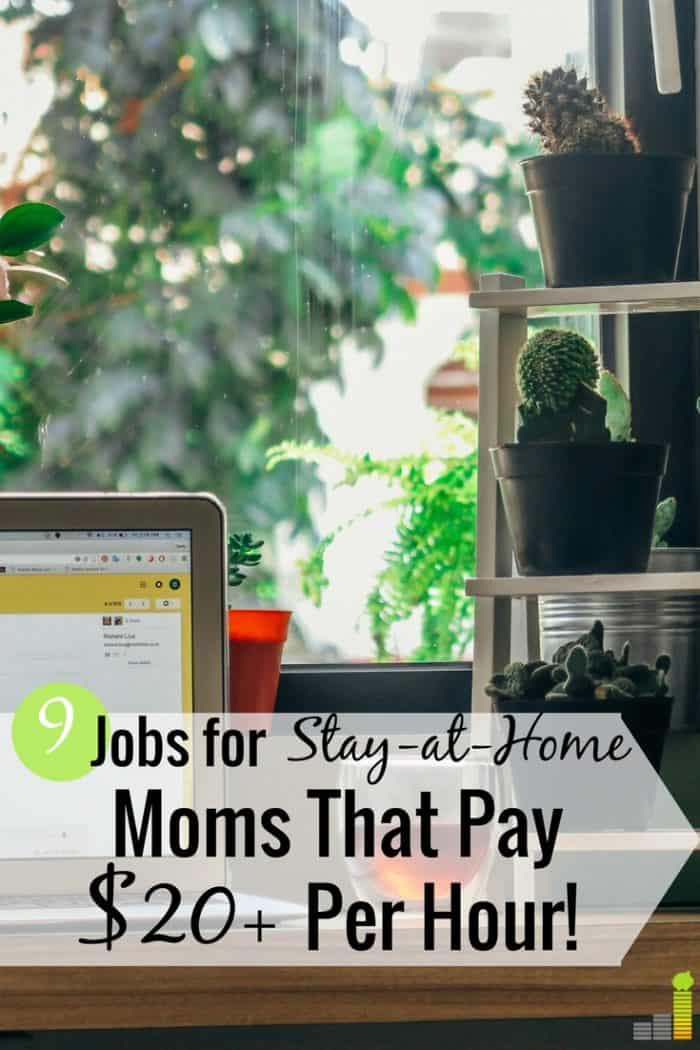 a final word
The best jobs for stay-at-home moms let you bring additional income into your home by using your skills, interest or experience while doing something you enjoy. There are many opportunities out there, so you can afford to be picky in what you select.
Keep in mind that many of these work-from-home jobs for moms are freelance positions meaning you'll have to pay for your own benefits and taxes. If you want to avoid this, consider search engine evaluation jobs or online customer service positions where you'll be considered an actual employee of the company.
What are some other work-from-jobs you might you've seen people use to make good money?  What kind of job are you interested in landing? What are some of the jobs for stay-at-home moms that you would caution others to avoid?
The post 9 Best Jobs for Stay-at-Home Moms to Make Money appeared first on Frugal Rules.
Source: Frugal Rules