I don't care what your financial standing is; there's always a way to improve it. You may either need to pay off debt or make more money or something else – it doesn't matter as there are plenty of ways to grow your wealth today. If you need to improve your finances, here are 11 different moves you can make today begin to grow your wealth.
Open A Savings Account
Opening a savings account seems boring. I believe a savings account is the best tool to keep your finances on track. When I started paying off over $50,000 in debt, opening a savings account was the first thing I was told to do, and I'm glad I did. It allowed me to handle emergencies because they do happen, and it also helped me sleep at night.
You want a bank that will let you open a savings account with no minimum balance and pay a decent interest rate.
Barclays Savings does this, allowing you to open with whatever you want and pays at least 1.50%. It doesn't matter if you start saving with $5 or $50 per month, just start saving and build momentum.
Start Investing
I remember when I first started investing in the stock market. I was scared and knew nothing about investing. After reading a few books, I had the confidence to start. You may feel the same way and think you need to wait until you have a lot of money.
You don't have to wait. Ally Invest lets you open an account with no minimum balance requirement and has many tools to help you start investing. Ally Invest also only charges $4.95 per trade, which is the lowest in the industry!
Make Extra Money Driving
I love making extra money, but many say they don't have the skills needed to make extra money. If you can drive, then you can make extra money, and you can meet new people.
Lyft is one service that lets you make extra money driving, on your own schedule. In fact, they're currently offering a $250 sign on bonus. We have several friends who drive for Lyft and make good money each month.
Do you want to drive, but would rather not deal with people in your car? You can deliver meals for Uber Eats or Door Dash and make good money.
Use a Robot
No, not a real robot; but a robotic assistant that saves you money. Trim is a free to use app that cancels all your unused subscriptions. You download the app, connect accounts and bills and their robot assistant emails you with ways to save you money.
If you don't use the service, they cancel it for you. If you want to keep a particular service, they work to negotiate to lower the bill. The average person saves over $30 per bill with Trim, which can add up to big savings.
Refinance Your High-Interest Debt
I hate debt. I also hate the high-interest rate many banks charge on debt. The first thing I did when paying off debt was work to lower the interest rate on my credit cards so more of my payment would go against the debt.
Our favorite lender is Lending Club as they work to get you a low rate to kill your debt faster.
If you have student loans, Credible is a great option as they have rates as low as 2.54% and save the average person almost $19,000. Credible allows you to compare up to seven lenders at once and provides options within two minutes.
Buy Cheap Life Insurance
Life insurance key to a well-rounded financial plan. Many don't have life insurance because they think it's too expensive or that they can get to it later. Thankfully it's not as expensive as you'd think and the sooner you act, the cheaper it is.
PolicyGenius lets you compare providers to find the cheapest option. They also let you compare car insurance, renters insurance and more to find savings opportunities.
Check Your Credit
Knowing what's on your credit report is an important part of good financial health. I'm a Jr., and I've had numerous accounts from my father listed on my credit report, so I need to check on a regular basis.
I use a service called CreditSesame as they provide your credit score in seconds for no charge, along with other important credit details. It's important to check your credit several times a year, especially in light of recent hacks.
Sell Your Old Electronics
I hate clutter around the house. One of the main culprits of that clutter is old electronics we no longer use. We use Gazelle – a service that buys back old electronic devices like smartphones and tablets to get a little cash back.
We put the extra money into our vacation fund. You can use it to put in savings, pay off debt or any other area of need as every little bit extra helps.
Make Money Watching TV
Want to make extra money, but don't want to give up your down time? You can make extra money watching TV by taking surveys. Taking surveys is a great way to make a little extra money to boost your savings.
Survey Junkie and Opinion Outpost are two great options as they're free to use, pay out cash to PayPal and have quarterly prize drawings.
Track Your Spending
After I opened a savings account when paying off debt, the next thing I did was track my spending. It doesn't matter what you spend; you want to keep track of it, so you know where each dollar goes as knowledge is power.
We use Personal Capital as it helps us stay on top of our financial lives and track our net worth. It's also free to use.
Tiller is another favorite tool of ours to track spending. Free to use for the first 30 days, Tiller puts your bank transactions into Google Sheets on a daily basis so you can customize it to your particular budget needs.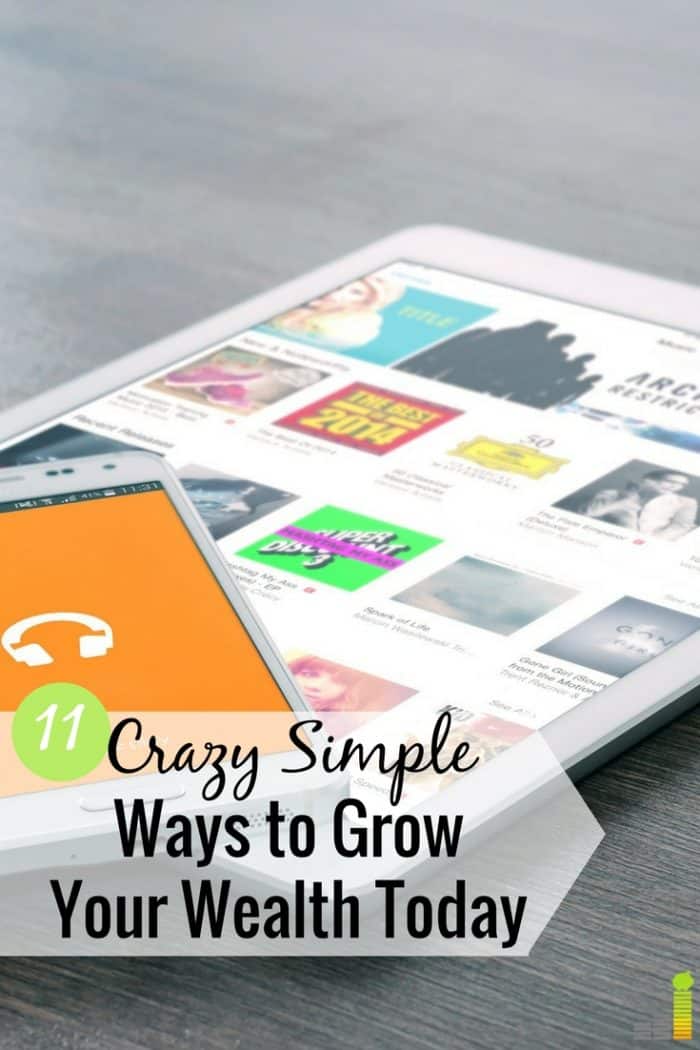 Get Cash Back for Your Shopping
How would you like to get paid for your shopping? One of my favorite sites to get cash back on my shopping is Ebates.
Ebates works with many sites, from Amazon to Old Navy and more, letting you get cash back on your shopping.
You get a free $10 when you sign up to help you start saving.
With a little effort, each of these tools will help you grow your wealth today and improve your financial life.
What are some other tools you've used to improve your finances? What's the top way to grow your wealth, in your opinion? What's one area you want to improve on financially this year?
The post 11 Super Simple Money Moves to Grow Your Wealth Today appeared first on Frugal Rules.
Source: Frugal Rules