The Internet is full of work-from-home scams. I encountered some of them myself in the past. However, there are many ways to make money online fast that are legit. Whether you are in a single income home or simply want to make extra money on the side, there are many ways to make money online at home. Below are some ways to make extra money online to put more money in your bank account.
Ways to Make Money Online Fast
I speak with readers on a regular basis about how to reach their goals. The goal doesn't matter. It can be anything from needing extra money to pay off debt to wanting extra money for their travel fund. Finding ways to make money online fast is one good way to reach those goals.
Often I hear the idea of lacking the skill to make extra cash. I used to feel the same way. That is a lie! There are many ways to make money online for free that require little to no skill.
Not every way will make you rich quick. That's not the point. The point is that there is opportunity out there; you just need to take advantage of it.
1. Watch TV Online
Yes, you can get paid to watch TV online. Brands need to get their shows in front of as many people as possible and will pay you to watch their programming. It can be anything from a cooking show to entertainment.
Inbox Dollars will pay you to watch this programming. Each show you watch earns you money.
They've paid out over $58 million in rewards and give you a free $5 for signing up.
2. Start a Website
Starting a website is one of the best ways to make money online. Starting this website changed my life, and I have no technical skill. Whether you want a portfolio site for your writing or want a blog, starting a website is the best way to go to make money online.
You can start a site with Bluehost for $2.95 per month, and they will launch your site with one click. If you're new to blogging, make sure our guide on how to start a blog to find the steps you need to start.
3. Take Surveys
Taking surveys is one of the most common ways to make money online fast. No, it won't make you rich, but it's a great way to put a little extra money in your pocket.
My favorite site is Survey Junkie. They pay you in cash right to PayPal, or you can redeem cash for gift cards.
4. Teach Online
Do you have a Bachelor's Degree and have free time on your hands? You can make extra money tutoring and teach people overseas through VIPKid.
If you have a computer and some level of teaching experience, you can make over $20 per hour from the comfort of your home. VIPKid provides the course materials you need, so all you need to do is teach.
5. Make Money Driving People Around
The ridesharing industry has provided great, quick ways to make money online. Many drivers I meet drive for a ridesharing service as their main source of income.
If you like meeting new people or have spare time you want to monetize, you can drive for Lyft or Uber to make extra money.
Lyft is currently offering a bonus of $250 for new drivers to help you start earning money.
6. Sell Your Old Stuff
How much junk stuff do you have lying around your house? Do you have any old electronics, cell phones, games, movies, etc. that you no longer use? You can turn that into cold hard cash.
You can sell all those items, and more, with Decluttr. You go to the Decluttr site, they give you the value of the item, and you ship it to them. The day after they receive the item they send you the cash via PayPal. It's that easy.
7. Rent Out Your Place
We typically stay in a rental when we travel since we have three kids. A majority of the time, it's a rental property that someone is using to create a stream of income.
Do you travel much or do you own a second property? Consider listing your house or apartment on Airbnb to earn extra money on the side or create a new stream of income.
8. Deliver Meals
Want to make money driving your own car but have an older car or would rather not drive people in your car? You can still make money with your car by delivering meals.
Don't have a car? You can make money delivering meals with Uber Eats as long as you have access to a bike, scooter or motorcycle. You get paid each week for what you make, net their commission.
9. Invest in the Stock Market
Investing in the stock market is the best way to grow your wealth. If you're overwhelmed or have little to invest, however, it can be a challenge.
Stash Invest helps you start investing in small amounts, with as little as $5, and they give you $5 when you download their app. It seems small, but the key is to start.
10. Open a New Credit Card
This is perhaps one of my favorite ways to make a little extra money. I'm not saying go into debt, but if you have regular or large one-time expenses, you can use a credit card to bring in a little extra cash.
We prefer travel cards as we use rewards to offset the cost to travel, but you can also choose a cash back card to get money from your regular spending.
Here are some cards to consider if you want to earn cash back.
11. Join A Focus Group
Companies and brands love to see what we like. They do this through focus groups. You used to have to physically go somewhere to be in a focus group.
Thanks to the internet, as long as you have a webcam you can be a part of a focus group with VIP Voice. The pay is around $20 per group, and they enter you in monthly $1,000 drawings. It's not a lot, but they're A+ rated with the Better Business Bureau and offer a nice way to make money online.
12. Become an Editor
Do you have an eye for detail or are you a grammar nerd? You can make money proofreading from home, or anywhere else for that matter.
You can make upwards of $20 per hour from home with a little work. Sign up for a free 7-day course from ProofreadAnywhere.com to get the resources and tips you need to start earning money as a proofreader.
13. Sell Gift Cards
I love getting gift cards as it's free cash. However, if it's a card to a store I don't use, or I forget I have the card, I let that money collect dust. If you're like me, you hate to let gift cards just sit there and do nothing.
There is a way to make money from those gift cards – by selling them! With CardPool you can make up to 92 percent of the value of the card.
You send them the card after they determine the value and you get your cash the next day.
14. Pick Up Odd Gigs
Like doing small tasks in your free time? It can be anything, from recording something to writing something in the sand to designing a T-shirt.
You can pick up such gigs on Fiverr to make a quick buck. Just make sure it's worth your time. Otherwise, you're wasting time and money.
15. Search the Internet
Did you know you can get paid to search the internet? It is legit and possible through Swagbucks.
With Swagbucks you make them your default search engine – they're powered by Yahoo. They give you a free $5 to sign up, and they inform you of savings opportunities in addition to paying you a small amount each time you use the search engine.
You can also make money on Swagbucks by taking surveys, using their shopping portal and watching videos.
16. Watch Pets
Dogsitting, or watching someone's pet is a great way to make extra money. You can do this for your neighbors, but you might quickly run out of opportunities.
You can open up more opportunities in your city with Care.com. Those in need can look at your reviews to vet you so they can rest assured their four-legged friend is cared for when they're out of town.
17. Freelance Writing
Freelance writing has also changed my life. It was freelance writing that helped us launch our business, and now we work from home.
Freelance writing is a great way to earn extra money. The field doesn't really matter, as long as you have knowledge. The pay will be on the lower end when you start. However, as you get experience and build a client base you can make great money as a freelance writer.
You can find gigs on Craigslist, tell friends you're looking for writing jobs and more. As long as you have a laptop, you can work from anywhere with freelance writing!
18. Flip Items Online
Do you have an eye for a deal? You can flip those deals online and make a profit from the arbitrage.
There are many ways to do this, from eBay to Amazon FBA. You can start out small just to bring in a little extra income; some even do this for a living.
The Selling Family offers free courses to help get you started towards launching your own Amazon FBA store to make extra money.
19. Create An Online Course
Do you have a skill that can be monetized? You can create a course on Teachable or Udemy to teach others how to learn the skill.
Yes, you will have to invest the time to create the course. However, if it does well, you can make good money. I've seen courses that are $100+ that sell quite well, so don't think it's impossible to make money creating a course.
20. Test Websites
Spend a lot of time on your phone or computer? You can make money testing websites through UserTesting.com.
They're legit and I have used them myself. It takes about 15 minutes to test a site, and you get paid $10. You get to help a company make sure a customer knows how to use their site and you make extra money!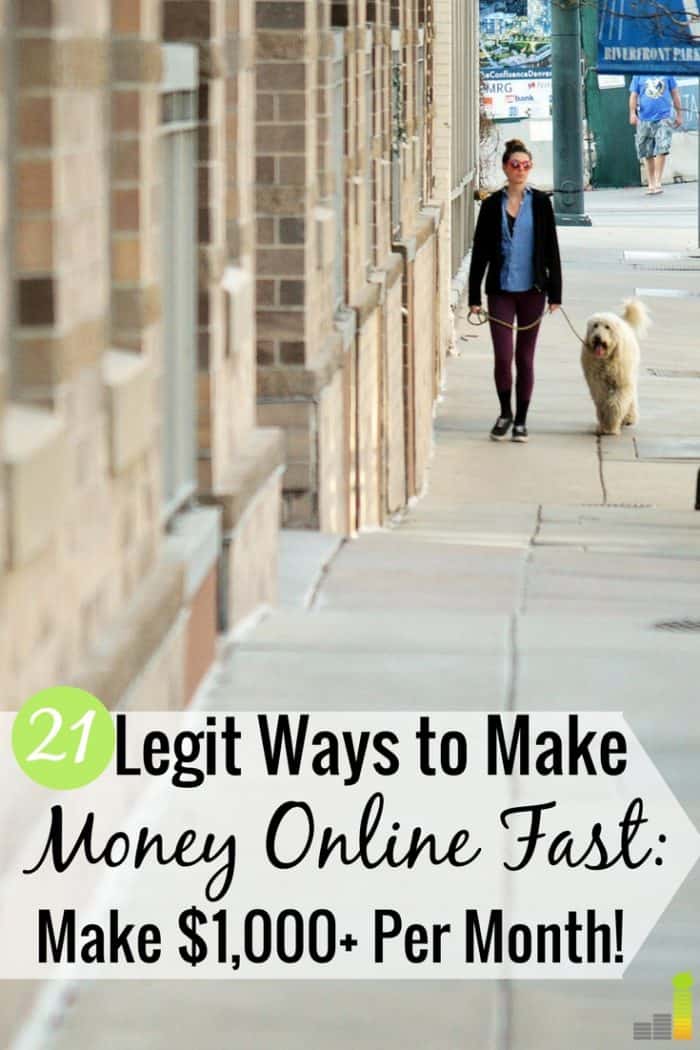 21. Sell Pictures
Do you like to take pictures? That is a skill you can monetize online. We have a good friend who started out small and has her own photography business, making good money.
You can sell your pictures online through Deposit Photos. They provide unlimited cloud storage to help you load pictures to sell. If you take quality pictures, it's possible to make good money on the side.
There are many other ways to make money online fast. Don't limit yourself and always be on the lookout for opportunities; you never know what one of them might turn into.
What are some other ways to make money online fast that you've used? Why do you think more people don't try to make extra money online from home? What do you use extra income for?
The post 21 Legit Ways to Make Money Online Fast appeared first on Frugal Rules.
Source: Frugal Rules