Graduating college is a huge milestone and rite of passage for many people. For most, it often means they can dive into their career with their new credentials. A huge part of this transition is managing money full-time, and is often a first for many after graduation. You may wonder what are the best money moves to make when you graduate and simply not know where or how to start.
Making the right money moves after graduation can be scary. There's no rule book you need to follow and you likely have competing priorities – from paying off student loans to deciding where to live. Oh, that doesn't include simply living life and having a little fun. All of those things take money and knowing where to allocate your resources.
It can also be an exciting time as you're making more money and becoming more independent.
If you're wondering what's next now that you've walked across the stage, here are the five top money moves to make after graduation that will set you up for success now and in the future.
1. Continue Living Like a College Student
This doesn't sound too exciting, does it? After four plus years of scrimping by and eating ramen, shouldn't you be treating yourself with steak dinners and a brand new car?
It's natural to desire a lifestyle upgrade once you graduate college, but it's not the best decision. Even if you do land that amazing new job post-college, one of the best money moves to make is to keep your lifestyle the same as if you were still in college.
This will help you keep your spending low so you can save and pay off your student loans faster. You'll have plenty of time to upgrade later in your life but while you're young and fresh out of college, it will be easiest to prolong a simple lifestyle.
When I graduated college, I actually stayed in my same basic apartment for a least a year paying only $630 per month that was split between my husband (then boyfriend and I). Having only a $315 monthly rent payment was awesome and I even kept all my furniture from college and basically just kept living like I was a student.
If you can manage to do this as well, you'll have much more success with taking these next steps below.
2. Develop a Strategy to Pay Off Your Student Loans
If you avoided addressing your student loan debt throughout college, now is the perfect time to figure out what's going on and develop a strategy.
Normally, your first student loan payment will be due six months after graduation or sooner. If you get a grace period, use it to your advantage by looking for work and coming up with a plan to pay off your debt.
If you can even start making payments earlier than your first due date, do it to reduce what you'll pay in interest. You'll want to compare repayment plans and choose one based on your needs and current situation.
Borrowers with federal student loans will have more options than those with private student loans. For example, with federal student loans, you can choose an Income-Driven Pay As You Earn (PAYE) plan that starts out with smaller payments that increase every 2 years with your income.
Decide when you want to have your student loans paid off by. Even if your term is 10 or 20 years long, you can pay off your debt much sooner if you develop a strategy. Often one of the best money moves to make after you graduate is to consider refinancing or consolidating your loans. This allows you to save money on interest and kill those loans quicker.
Credible is a great option to use to refinance your loans to a lower interest rate as they allow you to compare up to seven lenders and get a variable rate as low as 2.54 percent or 3.74 percent if you choose a fixed loan.
The average borrower saves almost $19,000 by refinancing through Credible and you can get your rates within two minutes
3. Get on a Budget
If you were able to avoid having a budget during college, you won't get too far without one in your post-college life. You'll have expenses like student loans, other debts, and general living expenses to juggle and make sure you the funds to cover.
Living on a budget is one of the best money moves to make as it gives you a snapshot of your money. It allows you to ensure you have what's needed to cover all of your expenses, not to mention your income.
You want to be able to manage what comes in and what goes out effectively. This becomes exceedingly difficult when you don't have a plan in place to monitor where your money goes each month. If you've never lived on a budget, check out our budget template for new grads to get a good idea of where to start.
The key to starting a simple, but effective budget is tracking your spending. This involves writing down everything you spend to help you make more informed decisions about your money. The method doesn't matter. You can write physically write down everything you spend, use Excel, or use an app to track your spending.
If you're looking for an app-based solution, we recommend Tiller to track your spending. Tiller is a service that connects to your bank account and puts all your transactions in a Google Sheet so you can look at all your expenses in one location.
Tiller is free for the first 30 days and $5 per month thereafter.
4. Start Saving
You can start saving at any age, but when you graduate college, it becomes even more of a necessity. Ideally, you want to start saving for emergencies and unexpected expenses. The average American can't even cover a $400 emergency.
What happens if that becomes your situation? It's not if but when it will happen. Will you have to use credit cards? Rely on your parents? Take out a loan? All of these situations can just put you deeper in debt.
As a rule of thumb, you'll want to save anywhere from three to six months of living expenses. This may sound like a lot, but remember, if you're living like a college student it may not be much.
Saving that much is difficult when you're just starting in life, don't let it hold you back. One of the best money moves you can make is to start out slow and save a baby emergency fund of $500 – $1,000.
There are many online savings accounts that have no minimum, such as Synchrony Bank, so you can start saving right away. Synchrony even pays 1.65 percent on your savings – more than 22x the national average.
Open a savings account and set up automatic transfers each week or month so you don't even have to think about saving. The simple act of saving is one of the top money moves to make after graduating college that will serve you your entire life.
5. Open a Retirement Account
Just like with saving money, you can open a retirement account way before graduating college. However, if you haven't gotten around to it yet, now is the time.
I wish I would've started saving for retirement as soon as I landed my first job. When you're young and eager to work, retirement is the furthest thing from your mind but giving your investments time to grow is the best thing you can do.
Your first encounter with saving for retirement likely will be through a 401(k) at work. Don't let the details overwhelm you to the point of not saving. Check out our guide on how to set up your first 401(k) to learn what you need to do take advantage of this awesome tool.
What happens if you don't have access to a 401(k) or want to invest even more money? Thankfully, there are plenty of options to consider – even if you have little money. Here are some brokerage options to consider if you want to invest outside of, or in addition to, your 401(k):
Investing for the first time may be overwhelming. Thankfully there are plenty of resources – through your 401(k) and online that can help set you up for success.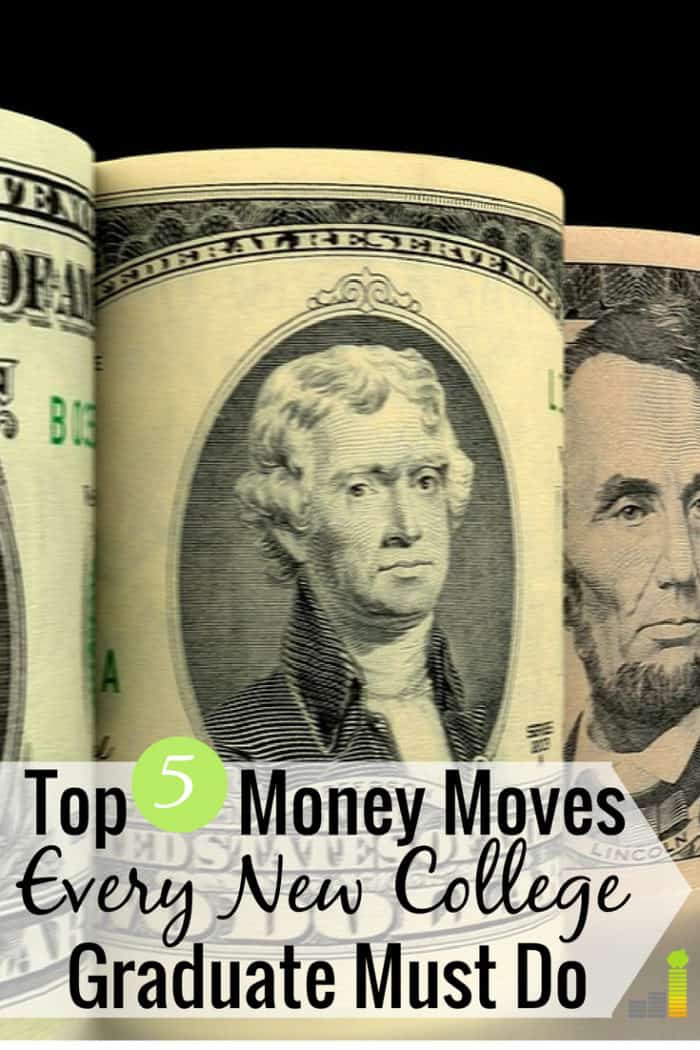 Why you need to focus on the best money moves after graduation
Making the right money moves after you graduate college may seem insignificant or difficult. Yes, some of the best money moves to make after graduation can be difficult but that does not mean they're impossible to achieve.
The goal by pursuing these money moves is to become financially stable. You want to use money as a tool that will take you where you want in life, both now and in the future. With a little work you can use each of these money tips to set you up for success in life after graduating college.
What are some of the other best money moves to make when you graduate college? How soon after graduating did you start paying back your student loans? What's one thing you think new college graduates should do with their money to set themselves up for success? 
The post 5 Best Money Moves to Make When You Graduate from College appeared first on Frugal Rules.
Source: Frugal Rules