Getting a job is one of the first steps toward financial independence. There are many different jobs and ways for teens to make money this summer that can serve as the first step in that process. Some are more traditional, like getting a part-time job or babysitting. Others are nontraditional, like earning money online. In fact, many of the ways for kids to make money aren't limited to the summer alone. If your schoolwork allows for it, you can make money throughout the year.
Earning a part-time income can be a big deal to help pay for expenses like clothes and entertainment. It can even help in saving for big purchases or for college. If you're a parent, you might even incentivize your child by allowing them to use a certain portion of what they earn on something they want to buy at the end of the summer.
While you may feel like options are slim, there are several good ways for teens to make money this summer. The key is to think creatively and look for all possible opportunities to earn cash.
Good ways for teens to make money this summer
There are limitless ways to earn cash as a teenager during the summer. Some of these opportunities do require a certain amount of skill. However, in many instances, all you need is a willingness to put in the work and the time.
If you have the time, you can do more than one to make even more money. Below you will find 13 money making ideas for teens to put some extra money in their wallet this summer.
1. Part-Time Job
As long as you're at least 15 years old (in some cases you only need to be 14), you should have quite a few part-time job options in your area. A part-time job is one of the most common ways for teens to make money as there are many possibilities.
You can apply to work at a restaurant or retail store. You can also check to see if your local park district is hiring for seasonal or permanent positions. A part-time job is one of the best ways for kids to make money as it provides a known schedule and wage.
As a teen, it can be tricky when filling out your first application because you probably don't have much experience. You should try to highlight the experience you have had whether it was babysitting, volunteer work, or a brief internship. Doing so will help you standout better as a potential job candidate.
Also, realize that following up is key. My sister had a hard time landing a part-time job at the age of 16. However, she kept following up with the hiring manager and even attended some hiring events where businesses were willing to accept applications and hire right on the spot, all of which helped her find employment. 
2. DoorDash
DoorDash is a company that partners with restaurants so customers can have meals delivered straight to their home. As long as you're 18 years old, you can sign up to become a dasher and deliver food.
You also don't even need a car. You can use motorcycles, scooters, bikes, or even walk in some markets.
DoorDash will conduct a background check and review your driving record when you apply. Once your application is accepted and you have the DoorDash app installed on your phone, you can receive delivery jobs and start earning money.
3. Uber Eats
Uber Eats provides another opportunity to earn money by delivering food orders to customers. Just like DoorDash, you can set your own hours and choose when you want to receive orders in the area.
This will allow you to make some flexible cash whether you want to start on evenings and weekends only or try it full-time in the summer.
The minimum age to drive for Uber Eats is 19, so this will only work for older teens, or qualify as a good summer job for college students.
4. Swagbucks
Swagbucks is one of my favorite short-task sites to make extra money and is one of the better ways for young teens to make money. You just need to be at least 13 years old to sign up, and you can earn Swagbucks by doing things like watching videos, searching online, playing games, and trying out different offers.
Swagbucks pays out in SB points and you can cash them in for gift cards to your favorite retailers or even get cash. I often use Swagbucks to earn extra money that I set aside for Christmas.
When I redeem my points, I choose the PayPal gift card option. Once the PayPal gift card is redeemed, it adds a balance to my PayPal account. Then I transfer the cash to my savings account.
5. Inbox Dollars
Inbox Dollars is a site that is very similar to Swagbucks, although you need to be 18 year old to sign up. You can earn money by downloading apps on your phone, watching videos, and taking surveys.
You probably won't earn a ton of money using the site but it's a low effort way for teens to earn cash and you can pair it with another income idea. And it's free to join!
6. Take Surveys
Taking surveys is among one of the easy ways for teens to make money this summer. Most sites will allow you to sign up as long as you're at least 13 or 14 years old.
Some survey sites will pay you in points that you can redeem for cash or gift cards while others will pay you in cash. You can take surveys on your computer at home while watching TV, or even on-the-go from your phone or device.
There are tons of survey sites out there but in my opinion, these are the best:
Survey Junkie: This is a top survey site that pays users in points that can be redeemed for PayPal or e-gift cards. You need to be at least 13 years old to sign up.
Ipsos Isay: This survey site allows you to share your opinion on entertainment and advertising from local brands. Users need to be at least 14 years old and will earn points that can be redeemed for PayPal or e-gift cards.
VIP Voice: VIP Voice is a survey site that allows you to earn points that will enter you to win prizes and sweepstakes. You need to be 13 years old to sign up.
MySurvey: This online paid survey community allows you to voice your opinion on various different consumer products and earn rewards that include gift cards, e-certificates, vouchers, money, and more. You need to be at least 13 years old to sign up.
GlobalTestMarket: This site provides users with surveys that take around 15 minutes to complete and pay out an average of $5 per survey. The minimum age requirement to sign up is 14.
Taking surveys won't make you rich, but it's one of the easier ways for teens to make money online in their down time.
7. Ibotta
Do you help pay for grocery shopping or errands for household supplies at all? If so, why not use the app Ibotta to make extra money?
Ibotta has paid out millions of dollars to users in recent years. Once you download the app and sign up, you browse for local offers. When you find something you want or need to buy, go to the store and hold onto your receipt.
Open the app and scan your receipt to verify the purchase with Ibotta. Then, you can expect a rebate credited to your account within 48 hours. When it comes to your cash back earnings, your account balance needs to reach a minimum of $20 before you receive payment.
Ibotta pays out a $10 bonus after you claim your first rebate and the minimum age to sign up is 13 years old.
8. Yard work
So many people need yard work and landscaping done during the warmer months. You can ask a local landscape company if they'd consider hiring you for seasonal work.
Or if you have your own lawnmower and some experience, start knocking on doors to see if you can mow lawns for your neighbors. By doing this, you can easily earn $20 (or more) per hour. You might even be able to add additional services like hedge trimming and gutter cleaning.
After you get a few customers, ask for referrals so you can book more jobs to fill up your schedule. Yard work is one of the best ways to make money as a teenager during the summer if you're willing to put in the work.
9. Dog Walking/Pet Sitting
Love pets? Try dog walking or pet sitting for some extra money. Again, start by asking around in your area for clients or put up fliers. Most times, you can find clients by reaching out to people who travel a lot or elderly neighbors who can't get out often to walk their pets.
If you're at least 18 years old, you can sign up for Rover.com, which is just like Care.com but for pet sitters and dog walkers. Once you create a profile, you can connect with local pet owners and start landing jobs.
You'll set your own rates and according to their site, you can earn up to $1,000 per month walking dogs and pet sitting. 
10. CafePress
Do you like to design items in your spare time? If so, this can be a great way to make money as a teen throughout the entire year. These designs can go on t-shirts, mugs, and more. The sky is the limit.
Cafepress is an online retailer of stock and user-customized on-demand products that can be a good resource to sell your designs. If you're at least 13 years old, are very creative and love to design your own products, this can be a good way to earn money as a teenager.
11. Fiverr
Fiverr is a popular site for people who need to outsource digital tasks including: writing, editing, graphic design, Photoshop, animation, and data entry. You can find a wide array of potential jobs through Fiverr and is one of the more unique ways for teens to make money.
If you have a specific skill that could be marketed on Fiverr, or simply a willingness to work, you can sign up for an account to start attracting new gigs. The minimum age requirement to work on Fiverr is 13.
12. Declutter
If you have used items to sell, you can make some extra money using a site called Decluttr. Decluttr will buy back your old CDs, games, books, Legos, cell phones, and more.
You can start by selling back what you find around your house. Then use some of the profit to purchase other used items from thrift stores to sell and flip for extra cash. You simply scan the barcode of the item on their site and they tell you what the item is worth.
If you accept the offered amount, they send you a shipping label to mail in the item. Once they receive the item they pay out via PayPal or check. The minimum age to sell things on Decluttr is 13.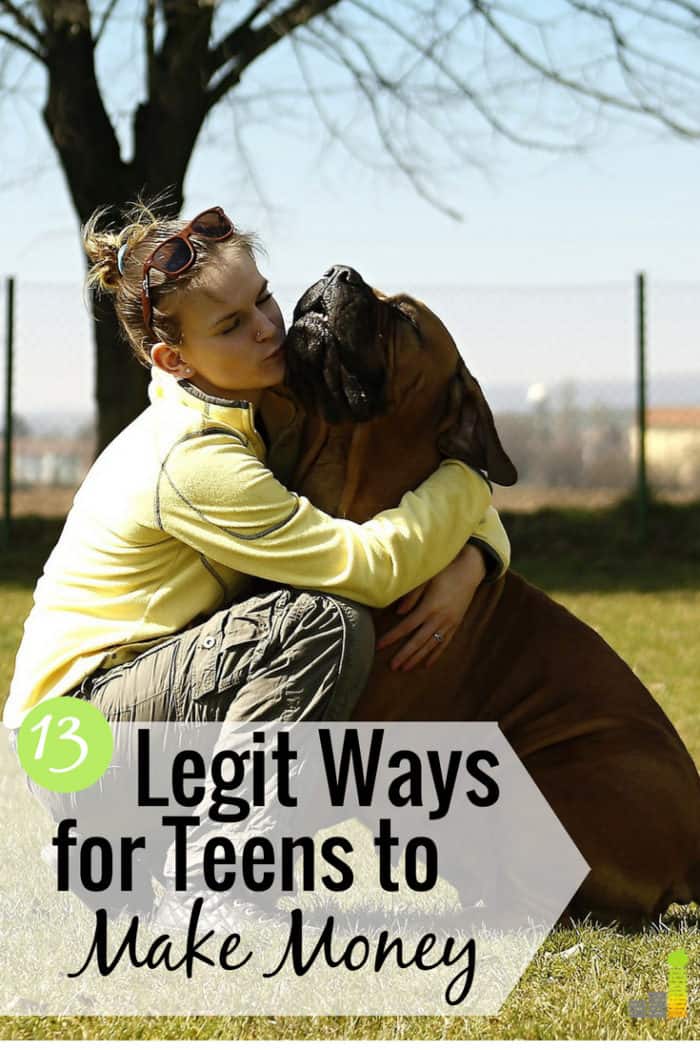 13. babysit
Babysitting is one of the most traditional ways for teens to make money. Beyond getting CPR-certified there's no specialized skills required (aside from liking to be around kids).
The best way to make money as a babysitter is to get referrals. Ask those you babysit for to refer you to friends of theirs to get more gigs. You can also set up a profile on Sitter.com so clients can leave reviews and you can find potential jobs.
This list just scratches the surface. There are many easy ways for teens to make money this summer. If you're creative and willing to do the work, there's opportunity to earn good cash.
What are some other good ways for kids to make money? What was your first job as a teenager? If your teen works, how much of their earnings do you allow them to keep to spend on things they want?
The post 13 Ways for Teens to Make Money This Summer appeared first on Frugal Rules.
Source: Frugal Rules