Many Americans indulge in luxuries that are easy to take for granted. We willingly pay for things outside of basic necessities, making it difficult to save money and achieve financial stability.
I'm all for paying for things that enhance and add value to your life. Becoming financially fit often requires making some sacrifices. However, it's important to know where to draw the line so you don't become deprived and miserable.
Personally, I'm okay with cutting out luxuries like monthly salon appointments and daily lattes in order to improve my finances. There are also some things I'm not willing to give up and gladly spend money on those items.
Here are some tips to help you save money on things you can't live without and still have what you want in life.
Internet
The Internet is a luxury many of us refuse to do without. It provides much value and most people use it daily.
I run my entire business via the Internet so it's a luxury I'm not willing to give up. I happily pay monthly to have Internet service in my home.
Could I survive and run my business without paying for Internet service? Probably. I could go to the library each day to use their computers and WiFi or use the free Internet at coffee shops.
However, it's convenient to have the Internet in my home. It allows me to work, search online, and it allows my family to watch TV and utilize other forms of entertainment.
Instead of cutting out my Internet bill altogether, I choose to look for money saving opportunities. To keep your Internet costs down, sign up under a promotion, lower your speed to a cheaper package, or bundle it with another service.
If you want to get Internet without cable TV you can do that with services like AT&T or FreedomPop. This allows you to get the service you need and still save money each month.
You can also call your service provider to negotiate a lower price. If the thought of doing that is overwhelming, the Trim app can do that for you. This free app connects to your bank account, finds services you use, and contacts them on your behalf to negotiate a lower price.
Cable
The average monthly cable bill costs over $100, making it an expensive luxury. I love a good television show or movie as much as the next person. But I happily cut the cord over four years ago, saving money every month without missing out on my favorite content.
I get my TV fix from streaming services like Netflix, Hulu, and Amazon Prime. Netflix is great for movies while Hulu is the best service for current cable television shows.
If you watch a particular show like "Game of Thrones", you can download the HBO Now streaming app and get a free trial month followed by a monthly fee of $14.99. When the show's season is over, cancel your subscription and you won't have to worry about hidden fees and contracts.
If you can't give up your sports package and prefer to watch live TV, consider a streaming service to replace that content. Below are some of the best cable TV alternatives that let you save money every month:
Hulu with Live TV – $39.99 per month for 55 channels, start with a free 7-day trial
Philo – $16 per month for 37 channels, start with a free 7-day trial
Sling TV – $20 per month for 25 channels, start with a free 7-day trial
It's relatively simple to save at least $50 per month simply by cutting the cord.
SmartPhone
According to Pew Research, nearly 80 percent of U.S. adults say they own a smartphone. If you walked up to someone right now and told them they had to give up their smartphone, they'd probably be pretty upset and refuse to part with it.
I don't blame them. My phone goes everywhere with me. It's how I stay connected. One of the ways I've been able to keep my smartphone is by choosing an affordable service provider.
I've been using a prepaid service called Republic Wireless for the past three years. I like prepaid phone services because you just pay one low monthly bill and often get unlimited talk and text plus data for only $15 per month.
To keep my bill low, I limit the amount of data I pay for by making it a habit to connect to WiFi at home or wherever I go (if it's available).
Lowering your cell phone bill is one of the easiest ways to save money each month. There are many providers that offer significant savings without sacrificing what you like.
Travel
Travel is a major luxury and can get quite expensive. On one hand, you may want to refrain from traveling due to the cost. On the other, it's important to realize that tomorrow isn't promised and there's so much of the world to explore.
If you've always wanted to travel and find value in it, why give up that desire? I believe that people can travel even if they have debt and other financial obligations.
I have a friend who recently paid off a six-figure student loan debt that his wife had from a medical degree. During the debt repayment journey, they still traveled but found a way to do it cheaply. Plus, they cut out other expenses and luxuries to free up money to indulge in travel.
To save money on travel, you can use credit card rewards (here are some good travel rewards cards to consider), stay in hostels or use Airbnb, and cook a lot of your food during the trip.
You can also consider cutting back on traveling instead of getting rid of it completely. For example, since domestic travel is cheaper than international travel, maybe take 1-2 domestic trips per year until you reach your other financial goals.
Be sure to set your own guidelines and realize that spending money on travel will slow you down a bit when it comes to reaching your other financial goals. But it may be a sacrifice you're willing to make.
eating Out
Eating out is another luxury that no one wants to give up. While it's not good for your wallet to dine out every day, you can still dine out occasionally without spending a fortune.
I try to stick to dining out once a week. Preparing most of my meals at home helps me do that.
To save money on eating out, you can use Groupon to find deals at your favorite restaurants. You can also utilize restaurant specials or discounts like happy hour or kids eat free nights, order water instead of alcohol, or split a meal.
Coffee
Coffee deserves its own category because it's a luxury that can add up fast. If you're obsessed with your daily latte and refuse to give it up, you can make it at home instead.
By doing that, you'll save a boatload of money throughout the year. You can also sign up for rewards programs with Dunkin' Donuts and Starbucks to earn free drinks and discounts.
For instance, Starbucks has weekly happy hours where you can get 50 percent off select drinks. Buying your drink during those hours lets you indulge in your favorite coffee while also offering an opportunity to save money.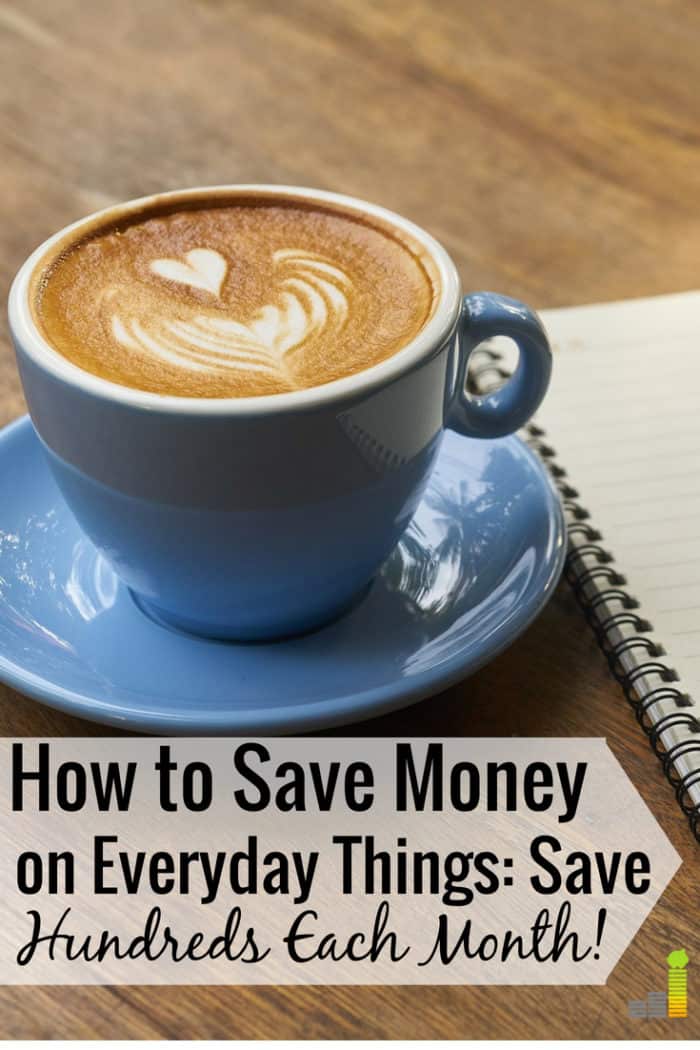 Why it's important to save money on luxury items
We all have luxuries we like to have in our life. There's nothing wrong with having something you enjoy. However, it's also important to save money where you can and not stress your budget.
The savings can be used to help you pay off debt, save for retirement, or more – all of which is more important when looking at your long-term financial picture.
The above list may not apply to you. That's fine. You may have other items you can't live without. If that's the case, look for money saving opportunities on those items so you can enjoy what you like without spending too much.
How do you save money on things you can't live without? What is one thing you're not willing to cut back on in the spirit of saving money? Why do you believe many think it's impossible to save money?
The post How to Save Money on Things You Can't Live Without appeared first on Frugal Rules.
Source: Frugal Rules