Want to multiply your money fast? I realize the answer is a given as who doesn't want to double their money, or more? Making extra money is a powerful tool that allows you to pay off debt, save for retirement, achieve financial independence, and much more.
I first learned the power of growing my money when I was paying off debt. I wanted to pay it off quicker and learned about the power of establishing multiple revenue streams.
There are many ways to grow your money. The Internet is full of them. Some of them are good, like investing in the stock market. Others not so much, like get rich quick schemes.
If you want to know how to multiply your money, one of the below methods will help you grow your money for long-term needs.
INVEST IN THE STOCK MARKET
Investing in the stock market is one of the best ways to multiply your money and is likely one of the best passive income ideas to pursue. I know the stock market can be risky. I know you'll lose money. You know what? You'll also make money – you can't do that without some risk.
The key to investing is to realize what you're investing for and the timeframe involved. Assuming you're saving for retirement it's likely decades away from now, but don't let that time lull you into not taking action.
You also don't want to give in to the excuse of having little money to invest. If you have only several hundred dollars or less, it makes a difference and can be invested. You can invest in stocks with little money and do quite well, but the key is to start.
Many brokerages allow you to open accounts with $500 or less – with the minimums to open an account to each:
Time is the best gift you can give your investments. The earlier you start, the better. Consider this, the Center for Retirement Research states that if you wait to start saving for retirement until age 45 you have to put away three times as much as you would if you had started at age 25.
The point? Let time do its magic as it's one of the easiest ways to multiply your money.
Invest in Real Estate
Investing in the stock market isn't the only way to grow your money. Investing in real estate is one of the best ways to build wealth outside the market as you can invest in either commercial or residential real estate.
Investing in real estate, like the stock market, is not without risk. You may not be able to fill a particular property or you may face an expensive repair. You may also have problem tenants. These can all detract from your return, which is why due diligence is needed before selecting an investment property.
The other significant issue is that real estate often has a higher bar to entry than does the stock market. Thanks to real estate crowdfunding that isn't necessarily the case any longer as you can pool your money with other investors. Sites like Fundrise, PeerStreet, and, RealtyShares let you invest in real estate with other people for a fraction of the cost.
Many of these sites require you to be an accredited investor but some, like Fundrise, don't have the same requirement. Fundrise lets you open an account with as little as $500 in either a retirement or non-retirement account, letting you invest in either commercial or residential real estate.
GO SHOPPING
I thought I was talking about ways to multiply your money, so how does shopping help you make money? If you do it right, shopping can help you grow your money – in fact, I think it can be one of the best ways to make extra money.
I love to shop on Amazon. It means I get to avoid the store and I can do it from the comfort of my home. It doesn't get much better than that.
How does shopping on Amazon help multiply your money? Easy – you get money back from your shopping through a cash back site. Sites like Ebates and Swagbucks allow you to earn cash back on your shopping on Amazon, not to mention hundreds of other sites like Walmart.com, Target.com, and more.
Ibotta is a similar app that lets you earn cash back when you buy groceries or shop online.
cut the cord
Multiplying your money doesn't always include making extra money. In some cases you can grow your money by finding ways to save money each month. Either are good options to pursue though combining the two makes them that much more powerful. With that in mind, it's important to find money saving opportunities.
The best way to save money is by cutting the cord. The average cable bill is close to $110 per month, which is insane. If you are spending anywhere near that amount the first step to growing your money will be to cancel your cable or satellite bill.
We cut the cord over two years ago and now save almost $90 per month. We use the savings to go towards other goals like saving for retirement and travel. The best part is that we still get to watch all the shows we want, for a fraction of what we were paying DirecTV.
Thanks to streaming providers we can watch what we want without the nasty $100+ bill or monthly contract. Here are a few of the best cable TV alternatives that let you cut the cord and save big money:
Hulu with Live TV – $39.99 per month for 60+ channels, start with a free 7-day trial
Philo – $16 per month for 37 channels, start with a free 7-day trial
Sling TV – $20 per month for 25 channels, start with a free 7-day trial
Take advantage of a few free trials to find a service that works for you. It's relatively simple to save $50+ per month, which can go towards a more income-producing role.
OPEN A SAVINGS ACCOUNT
Savings accounts are the old-fashioned way to multiply your money. I remember opening my first savings account and watching it grow as interest rates were good. That's not the case anymore. That being said, there are still ways to multiply your money through a high yield savings account.
Not all high yield savings accounts are created the same. The best ones will pay 0.8 percent, or more and require no minimum balance to start.
Online banks like CIT Bank pay 1.55 percent on your cash with a minimum balance of just $100. You can earn more with their money market though, which pays 1.85 percent with the same minimum balance requirement.
Whether you need to start an emergency fund, or simply want to grow your savings, any of the above are great options to do that and make some money on your spare cash.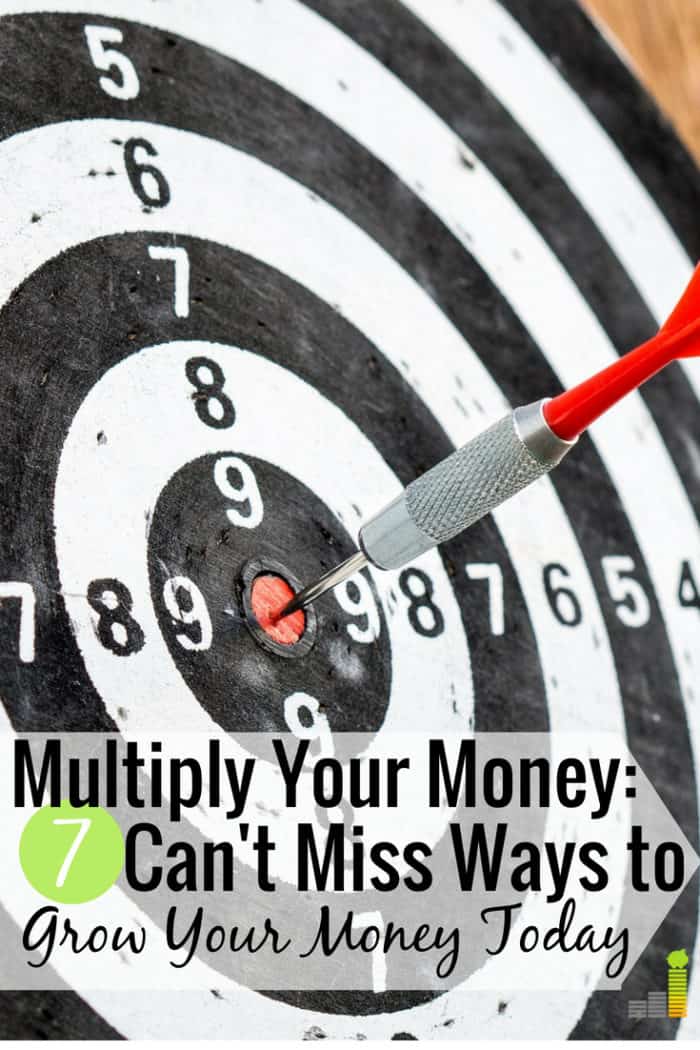 MULTIPLY YOUR MONEY BY LENDING IT OUT
One of the best ways to multiply your money is by lending it out to others through a peer-to-peer loan. This is a great option if you have little money to invest with or you want to diversify your investing.
The two main P2P sites, Lending Club and Prosper, claim to offer returns of anywhere between 5-9 percent. Of course, you'll want to spread your risk and realize that there is a risk of default that can impact returns. However, that's a big reason you should spread out the money you invest as much as possible.
Personally, I think this is a great way to multiply your money – you get to help someone get an unsecured personal loan and you get to grow your money. Two birds, one stone!
Sign Up for A Rewards Credit Card
A credit card is a great way to multiply your money – if you use it wisely. Not any credit card will work; it has to be a rewards credit card.
You can either travel hack like my wife and I do to travel for free or you can sign up for a rewards credit card that gives you cash back on all of your purchases – here are some cards to keep in mind to help you earn rewards.
Some of the best rewards credit cards allow you to earn five percent cash back, if not more, on your regular purchases. Additionally, many offer attractive sign-up bonuses when you open a new account.
There are many ways to multiply your money. This list just scratches the surface. Each situation is different, so find what works for you and use it to start growing your money today.
What are some of your favorite ways to multiply your money? What's the craziest thing you've done to make extra money? What do you think is the best way to invest your money?
The post How to Multiply Your Money: 7 Legit Ways to Grow Your Money appeared first on Frugal Rules.
Source: Frugal Rules