Spending less money on groceries is difficult for many people. If you walk into a grocery store with a specific budget in mind and end up grabbing items that weren't on your list, you're not alone. Cutting back is one easy way to save money on groceries. You can also use the best grocery rebate apps to help stretch your grocery budget and get cash back.
Clipping coupons is a popular way to save money at the grocery store. Unfortunately, it's often not worth the effort. You may also find that most coupons don't let you save money on generic items.
The best rebate apps take less time than clipping coupons and you don't give up any money saving opportunities. Plus, the apps let you save money on generic items. Some of the top grocery rebate apps also let you save on things beyond the grocery store, helping you extend your savings.
If you've never used one, here are some of the best grocery rebate apps and how they work.
1. Ibotta
Ibotta is one of the best grocery rebate apps available. It's a free app you download to get cash back on your spending at the grocery store. While most people use Ibotta for grocery rebates, you can also use the app at over 300 other retailers, both online and at the store.
How it works is simple. You download the app and sign up. Then you search the app for rebates for food items in your local area.
What I like about Ibotta is that they offer rebates for name brand products and generic store brand products, which is great for your budget.
If you're planning a shopping trip, it's best to look for items you already planned on purchasing or feel you need anyway. Once you find a rebate you want, you unlock it by completing a simple task on the app.
Once the rebate is unlocked, go shopping and hold onto your receipt. You need to verify your purchase by submitting a photo of your receipt.
After that, it's time to get paid. Ibotta deposits the cash into your account within 48 hours of verifying your purchase. You redeem your payments for cash via Paypal or Venmo once you reach a balance of $20. Check out our Ibotta review for additional information on how to use the app to save money on your shopping.
Ibotta gives you a $10 bonus just for signing up.
2. Checkout 51
Checkout 51 is another grocery rebate app I like to use to save money. Every Thursday morning, the app updates with new offers to save money on grocery store items you may need.
You can browse the offers and pick the ones you like before going shopping. Use the app to take clear, readable photos of your receipt.
You also want to check off the items you purchased as you upload your receipt and indicate how many times you're claiming each offer so their system knows what to look for.
For example, if you purchased two boxes of cereal and want to receive the offered rebate for each of them, be sure to check those items off in the Checkout 51 app as you upload your receipt so you'll get credit.
Checkout 51 credits your account with cash back once your receipt is processed. You need to reach a $20 account balance before you can request a check.
3. SavingStar
SavingStar has good rebate offers and incentives to earn cash back on your grocery shopping. Users also get the opportunity to save 20 percent weekly on fruits and vegetables.
There are more than 70,000 locations to shop at and they partner with popular retailers like CVS, Food Lion, Kroger, ShopRite, Stop & Shop, Target, Walgreens, and Walmart.
Make Extra Money by Taking Short Surveys
Taking short surveys in your free time can be an awesome way to earn extra money fast! The instant you finish a survey,
Survey Junkie pays you in cash via PayPal
. 6 Million users and an 8.9/10 Trust Pilot rating prove you can trust them.
Like many of the other grocery rebate apps, you start by browsing through their offers and then activate an offer you like. If you link a store card and shop with it, the rebates will be automatically added to your SavingsStar account.
If you don't link a store card, you simply purchase the items and upload your receipt to the app to earn the rebate.
Once your account reaches $20, you can withdraw the funds to your bank or PayPal account. You can also choose to donate your earnings to charity.
4. Receipt Hog
Receipt Hog is a cool way to turn your grocery purchases into cash back and rewards. Unlike some of the other best cash back grocery apps, it doesn't matter where you shop or what you buy when you use Receipt Hog.
You can upload any receipt to the app then you'll start earning coins for each one you upload. The coins can be redeemed for cash via PayPal or Amazon gift cards.
The app gives you coins based on how much you spent on the receipt. Once you've requested your coin redemption for real cash, Receipt Hog usually sends it out within seven days.
5. ShopKick
ShopKick allows you to earn rebates from purchases made in stores and online. You do need to link your debit or credit card to the app. When you're shopping in the store, you walk up to different products and scan the barcode to earn "kicks", or points. that add up to a cash back offer.
If you purchase the item with your linked card, you earn kicks for every dollar spent. Another way to earn kicks from in-store offers is to purchase select items and upload your receipt to the app.
If you're shopping online, you earn kicks by visiting the sites of select partners or by simply checking out offers on the ShopKick app.
You earn kicks for every dollar you spend shopping online with one of ShopKick's partner retailers. Plus, you can earn kicks by watching videos on the app to discover new products.
The great thing is that there are so many ways to earn kicks and 100 kicks equal about $0.40. The kicks you earn can be redeemed for your favorite gift cards.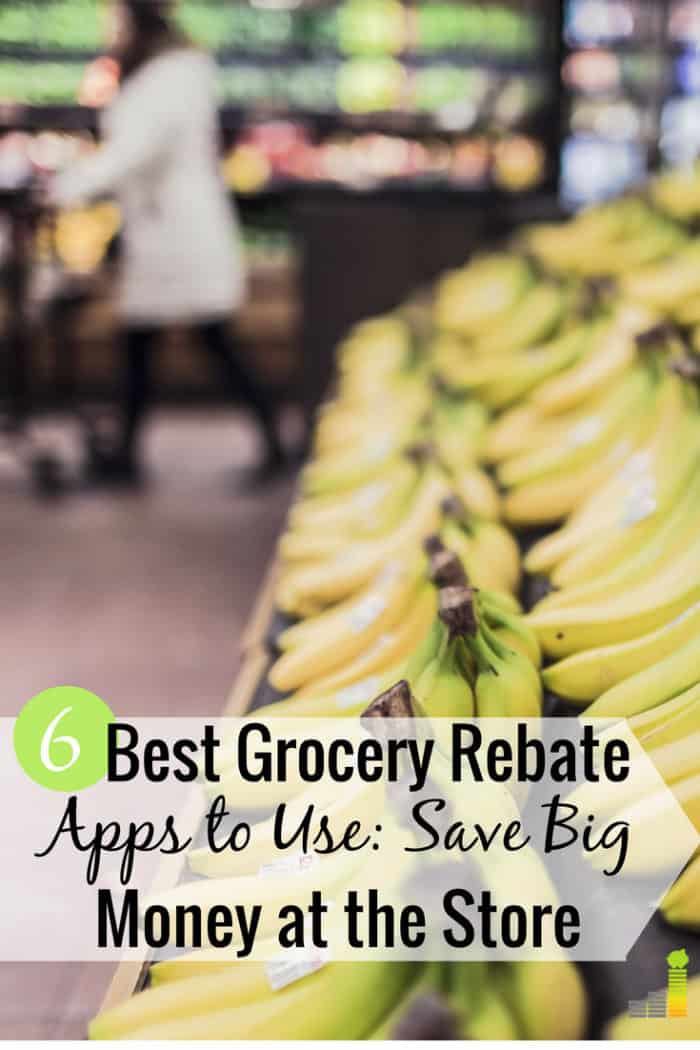 6. BerryCart
BerryCart is the best grocery rebate app to use for shoppers who have dietary restrictions or just prefer a healthier diet. Rebates on groceries are not that valuable when you don't eat some of the foods that have the best offers.
BerryCart helps you find and redeem the best deals on organic, gluten-free, and non-GMO foods near you.
You can use the app to discover new healthy food brands and options but also the cash-back rebate offers for these products in your area. Each action you complete on BerryCart unlocks a one-time rebate that you can redeem after you buy the product.
After you buy the product and snap a picture of the receipt, upload it to get paid within 24 hours. BerryCart will send you rebates through PayPal or gift card.
In the past, cutting and printing out coupons was a popular way to lower your grocery bill. Thankfully times have changed and grocery rebate apps surfaced, allowing us to use a more streamlined process to save money on groceries.
It's so easy and less time-consuming that I wonder why everyone isn't giving these best grocery rebate apps a try.
What other grocery rebate apps have you used to save money at the store? Do you prefer to clip coupons to save money at the grocery store? Have you ever used grocery rebate apps? Do you know of any other good ones that we could add to the list?
The post 6 Best Grocery Rebate Apps To Get Cash Back on Your Groceries appeared first on Frugal Rules.
Source: Frugal Rules