I love to find ways to save money every month as it means we have more of our money to throw at our goals. Finding ways to save money each month gives you more money to pay off debt, save for a vacation, prepare for retirement, save for a new house or car and more.
The struggle many people have is staying motivated to save money. It's easy to think that saving an extra $2o or $30 per month won't matter, and before you know it, you don't have the funds you need to do something you want.
If you need motivation to save more money, or simply don't know how to save money monthly, know that it can be done. In fact, you can save money easily with very little effort.
I believe when you save money each month you help yourself financially. It allows you to accomplish many goals. When you combine it with making extra money, you instantly multiply your progress.
Not each option on the below list will apply to everyone – and it doesn't have to. However, I believe it's completely possible to take a small handful of the options here and save hundreds, if not thousands, of dollars this year alone.
If you're looking for the best ways to save money every month, combine some of the below tips to put your savings game on the fast track.
Try the 52-Week Challenge
One of the best ways to save money every month is through the 52-week challenge. If you've not heard of the 52-week challenge, it's simple. You start out week 1 by saving $1. Week 2 you save $2, week 3 you save $3 and so on.
The plan is to add one extra dollar per week until you put away $52 the final week of the year. This alone will allow you to save $1,378 per year. Even if you didn't start at the beginning of the year you can harness a lot of power by making stashing money away in savings a regular habit.
Make it easy on yourself and automate the transfer so you don't even feel it. You can do that with Synchrony Bank and earn 1.75 percent interest on your cash. You can open an account with no minimum balance and earn a little something extra on your spare cash.
Total savings = ~ $1,400
Cut Cable
Cutting cable is likely the easiest way to save money every month. I've written about how we canceled DirecTV (here are ways to cancel DirecTV if you're under contract) and are now saving almost $90 per month. The average cable bill is now almost $110 per month.
There is no reason to spend this much to get television content as there are so many cheaper options available.
We use our Amazon Fire TV Stick and Netflix to get the shows we want.
**Additional tip: Love NFL football but don't know how to watch your favorite team without cable? Here's how to watch NFL games without cable and still catch all the action!**
There are many other options from Hulu with Live TV to getting a digital antenna, that it just makes no sense to have a cable bill.
Total savings = $80+ per month
AxE the Gym Membership
Should you keep your gym membership if you want to lose weight? In a word – NO! According to Statistic Brain, $40 per month is wasted on the cost of the average gym membership.
You can lose weight without paying to join a high-priced gym. I lost 100 pounds on Nutrisystem and didn't step foot in a gym. I walked and used free videos on YouTube. I'm proof it can be done without paying a lot of money to exercise.
Get Rid of Your Cell Phone Contract
Like cutting the cord, this is another one of the best ways to save money each month. The average cell phone bill for Verizon and AT&T is almost $150. There is no need to spend that much.
We switched to a cheap cell phone plan and now save over $100 per month. You can get a plan with Republic Wireless for as low as $15 per month. This offers you unlimited talk and text and you can add high speed data for $5 per GB.
Total savings = $100+ per month
Stop Smoking
I almost can't believe this number, but the average person spends $190 per month (assuming a pack a day habit) on cigarettes. I've never been a smoker, but I just don't see the appeal.
Not only is cutting smoking one of the best ways save money every month, but it will also help you save significant money in the long-term on medical bills by improving your health. That's a win-win.
Total savings = $190 per month
Eliminate Food Waste
I hate food waste as it's literally throwing money in the trash, but we all do it. The average 4-person family has $1,500 in food waste each year, according to Save the Food. Cutting back on food waste equates to an automatic raise.
The easiest way we've found to combat this is to have a meal plan. It's not a stringent plan, but we've been able to learn how much we really need to bring into the house and thus save money.
If a meal plan sounds overwhelming or not exciting, check out $5 Meal Plan. You get a free 14-day trial and they help you get started forming meal plans that will save time and money, plus give you meal ideas.
Total savings = $1,500+ per year per family
Make Your Own Bottled Water
According to The Water Project, the average person spends $100 per year on bottled water. Now I know in some towns the tap water isn't really that good, so this may not apply to everyone, but there's no need to spend that on bottled water.
If you like to drink purified water, you can buy a water filter to get the same basic thing. You can even buy a Nalgene water bottle to take with you when you travel as you'll recoup the savings relatively quickly.
Total savings = $100 per year
Negotiate Everything
I know many people don't feel comfortable negotiating. When you don't negotiate, you overlook ways to save money. This can range from car insurance to Internet service to utilities.
Make Extra Money by Taking Short Surveys
Taking short surveys in your free time can be an awesome way to earn extra money fast! The instant you finish a survey,
Survey Junkie pays you in cash via PayPal
. 6 Million users and an 8.9/10 Trust Pilot rating prove you can trust them.
We regularly call providers to see what discounts might be available and easily save $250-$500 per year as a result. Don't know where to start? Just call each provider and eliminate any unnecessary charges.
If you don't want to do the work yourself, Trim, which is a free to use app, will negotiate bills for you and let you bank the savings.
Total savings = $250-$500 per year
Use Your Credit Card
Yes, a credit card can help you save money every month…if you use it right. If you're in debt or struggle with spending, you should not get a credit card. In that case, you should focus on other ways to save money every month.
However, if neither is an issue for you, then you can save money with a credit card by taking advantage of sign-on bonuses or cash back – you can find many of those cards here. We personally financed over $15,000 in travel last year this way.
Total savings = $500 – $1,000 per year.
Cut Eating Out in Half
We enjoy eating out, but we rarely do it as it's expensive. The average family spends $225 per month eating out. Cutting this is one of the simplest ways to save money each month. I believe this number is low, however. Remember my friend who admitted to spending $30,000 in one year eating out?
That is an extreme, but the point remains – you can spend a lot of money eating out.
That doesn't mean you have to stay home to eat rice and beans but try by cutting it in half. You still get to eat out, but you save money.
Total savings = $110 per month
Cut Down on Youth Sports
We haven't put our children in organized sports as we don't want to overschedule them. The other reason is they're expensive. A majority of families, more than 60 percent, spend anywhere from $100 – $499 per child per month on youth sports. Nearly 20 percent spend $1,000 per month, according to USA Today.
There are many ways to save on extracurricular activities for kids, including sports. As with the eating out above, you can even cut the sports in half and still save serious money.
Total savings = $50+ per month
Cut Your Own Hair
I've cut my own hair for close to 20 years. My wife has gone to the local beauty school for over 10 years as a means to save money on haircuts.
I know it may seem impossible to cut your own hair. It really isn't that difficult. You can buy a haircut kit from Wahl, and you'll be good to go.
Total savings = $250+ per year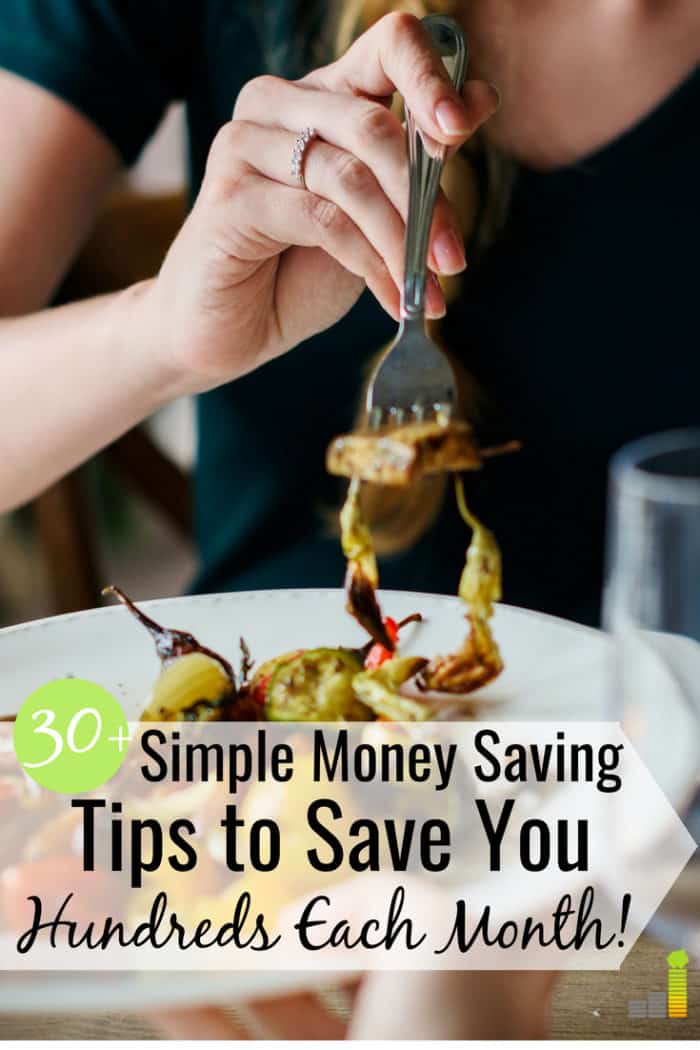 Bonus Ways to Save Money Every Month
There are countless ways to save money every month, so no list is going to be exhaustive. That being said, here's a list of the best ways to save money each month. If you have more ideas, I'll happily add them to the list.
Save your raise.
Save your spare change in a change jar – include $1 and/or $5 bills as well. You can do the same thing digitally with CIT Bank – as they have a $100 minimum balance requirement and you can earn 1.55 percent on your spare cash or 1.85 if you choose a money market. If you automate it, then it's done for you without any effort on your part.
Take your lunch to work.
Avoid out of network ATM fees. The average out of network ATM charges nearly $5 per transaction, according to CNBC. It doesn't make sense to pay money to access your money.
Start a garden and can or freeze the produce.
Get free Amazon gift cards by taking surveys with Pinecone Research. If you regularly buy items from Amazon free gift cards can be a great way to save money. Pinecone Research lets you redeem for cash, Amazon gift cards, and more. Taking surveys won't make you rich, but they can be a great way to monetize your free time by helping you save money.
Take Uber as opposed to a taxi. In most instances, one or both can be the cheaper option.
Ditch the whole life or permanent life insurance. You can save significant money by switching to term life coverage. If you don't know where to start, try PolicyGenius to find the best options available.
Don't play the lottery. The average person spends $25 per month on the lottery.
Refinance your house to get a lower interest rate. Compare rates at LendingTree to get the best possible rate.
Consolidate your debt through Lending Club or LightStream, to reduce the monthly interest you're paying. If it's credit card debt you have, get a balance transfer credit card to lower your rate to 0 percent and kill the debt.
Bring snacks to work so you're not tempted to go to the vending machine.
Find cheaper auto insurance. Nearly 40 percent of drivers haven't compared rates in three years. If that's you then you might be leaving hundreds of dollars on the table each year. Compare rates at Allstate to see how much you might be able to save.
Save money when you buy with a rebate app like Ibotta. Ibotta works at over 300 retailers, not to mention your local grocery store, and you can redeem funds once you hit a $20 balance.
Consolidate or refinance your student loans. Not only does this make repayment simpler as you have only one monthly payment to manage, but it also lets you pay them off quicker through the reduced rate. Check rates at Credible to see how much money you can save on student loan payments.
Buy used when you can.
Increase your auto insurance deductible.
Don't buy extended warranties.
Use your unused gift cards. $1 billion in gift cards go unused each year, according to Marketwatch. You can use them to buy something you need, sell them or use them to buy a gift for someone. If you like to use gift cards, you can buy used gift cards at CardPool at a discount.
Get rid of unused memberships or subscriptions with Trim. Trim is a free to use app that analyzes and find subscriptions you don't use and cancels them to save you money.
Buy a programmable thermostat to save on energy bills. We work from home so don't have much need for this. Assuming that's not the case for you, this lets you save money every month on your energy bills.
Negotiate doctor's bills. We ask every time we go to the doctor or dentist. We commonly get a reduced rate by offering to pay up front.
The last, a classic, go to the library. The library offers many ways to save money every month from books and movies to a lot more.
There are many ways to save money every month; you just have to put some into action. Like I said in the beginning, you won't be able to do all of them, but even a few of them will help you save several hundred dollars per month – that's life-changing kind of money.
What are some of your favorite ways to save money every month? What's one thing you won't do to save money? Do you like to negotiate pricing?
The post 35 Simple Ways To Save Money Every Month appeared first on Frugal Rules.
Source: Frugal Rules