There's no secret formula when it comes to ditching the office job. When people tell me they want to get paid to work from home, I always ask what their skills and interests are. Their answers are the guide to discovering what work-from-home skills they can monetize to earn an income.
However, working from home doesn't mean you don't need to have a particular skill set. If you know nothing whatsoever about making money online or feel you are lacking in the skills department, don't worry.
If you have the right mindset, you can quickly learn many of the skills needed to work from home. The key is to find the best resources to learn those valuable skills so you can get paid to work from home. This post will point you in the direction of some of those resources.
Work-from-home skills You can learn quickly
There's a misconception that it takes years of experience or a highly specialized skill to find work-from-home opportunities. That is the case in some circumstances, but that's certainly not the case in every situation.
Even if you've never touched a computer before, you can learn valuable skills in a short period of time that will help you land different legitimate work-from-home jobs. Here are six work-from-home skills you can start learning today:
1. Social Media Marketing
Most people spend a significant amount of their time online using social media. This makes it a huge marketing platform for businesses and bloggers. Many of those businesses and bloggers don't want to spend their time marketing their business on social media. They'd rather hire someone else to do it instead.
That's where you come in.
According to PayScale, the median annual income for a social media manager is around $48,000 per year. That's not bad to play around on Facebook and Twitter.
If you start your own business, you can charge people whatever you want for your services. In order to develop a skill set in this field, narrow down what social platforms you want to specialize in then study them carefully.
You can also study marketing at a local college or, if you want to go at your own pace, take a course through Udemy. You can test different social scheduling tools and practice making digital graphics for social campaigns.
A degree isn't necessary to work or be successful in social media marketing. What will matter most to clients is having a proven track record and being able to get results.
2. Writing
Writing is a hugely profitable skill if you want to make money from home. You can start your own blog, or you can freelance or work remotely for a company as a content writer.
Make Extra Money by Taking Short Surveys
Taking short surveys in your free time can be an awesome way to earn extra money fast! The instant you finish a survey,
Survey Junkie pays you in cash via PayPal
. 6 Million users and an 8.9/10 Trust Pilot rating prove you can trust them.
PayScale says freelance writers can earn anywhere from $10 – $50 per hour but I know some writers who earn multiple six figures each year. This makes writing one of the higher earning work-from-home jobs to pursue.
Developing your writing skills quickly all comes down to two things: practicing and specializing in a niche.
In order to become a better writer, you simply need to write more. Challenge yourself to write 1,000 words per day each morning and then review your work later in the day. Do this for just 30 days and see how much your writing skills improve.
Also, study different writing styles and choose what niche you want to work in. Decide what kind of writing you'd like to do. For instance, do you want to write blog posts, informational articles, white papers, or produce feature interviews? Narrowing down what you want to do will help you determine how to grow your skill set.
Being a good writer also depends on your experience and level of expertise related to the topics you're covering. For example, if you decide to write parenting articles, your parenting experience can be leveraged as a skill to enhance your writing and connect better with readers.
3. Coding
If you're technical and creative, you may enjoy doing coding work from home. I used to work at a web design company and even though I was on the content writing side, I still had to learn some basic coding. Surprisingly, it wasn't difficult at all.
You just have to be able to follow directions carefully and sometimes memorize repetitive processes.
Whether you're looking to work on mobile apps, edit custom plugins, or code websites, there is plenty of demand in this field. And jobs in this field pay an average annual salary of $50,000 to $75,000!
The best part is that you can learn to code online quickly for very cheap. Udemy is one of the best sites to help you grow and improve your coding skills. Many courses cost only $10 and there are over 1,500 courses devoted to learning how to code.
4. Photoshop
You've probably heard of Photoshop. It's a graphics editing program and you can do way more with it than create viral memes and images for fun. Learning how to master Photoshop tools allows you to complete a variety of graphic design projects from home.
Designing or editing items may seem difficult. But with a little training you'll see that it's one of the best ways to get paid to work-from-home since you can do it from anywhere. Thanks to the flexibility, being a designer is one of the best jobs for stay-at-home moms and those looking to ditch the office.
You can design logos, web pages, event fliers, business cards, and even edit small still shots in videos. Many students are learning how to use Photoshop in school since it's such an important skill to have.
You can teach yourself Photoshop skills by using Adobe's learning resources and tutorials. You can also check out Photoshop Cafe which is another excellent resource of free tutorials.
5. SEO specialist
Another job you can do from home is SEO specialist. The average SEO specialist makes around $50,000 annually. SEO stands for "search engine optimization" and a specialist has the role of helping a client's website rank higher on search engines like Google, Yahoo, and Bing.
When you think about it, people don't really click to the third or fourth pages of Google if they're searching for something. This is why it's so important for businesses to rank high on Google, preferably on the first page.
While it may not be possible to get every piece of content on the first page, an SEO specialist can help improve the ranking or even get some of the content on the first two pages.
So how do you learn SEO when you're starting from scratch? Simple: train and practice. Start following SEO blogs, reading books, and staying informed on industry news. You can even start your own blog to practice using the keyword strategies you're learning.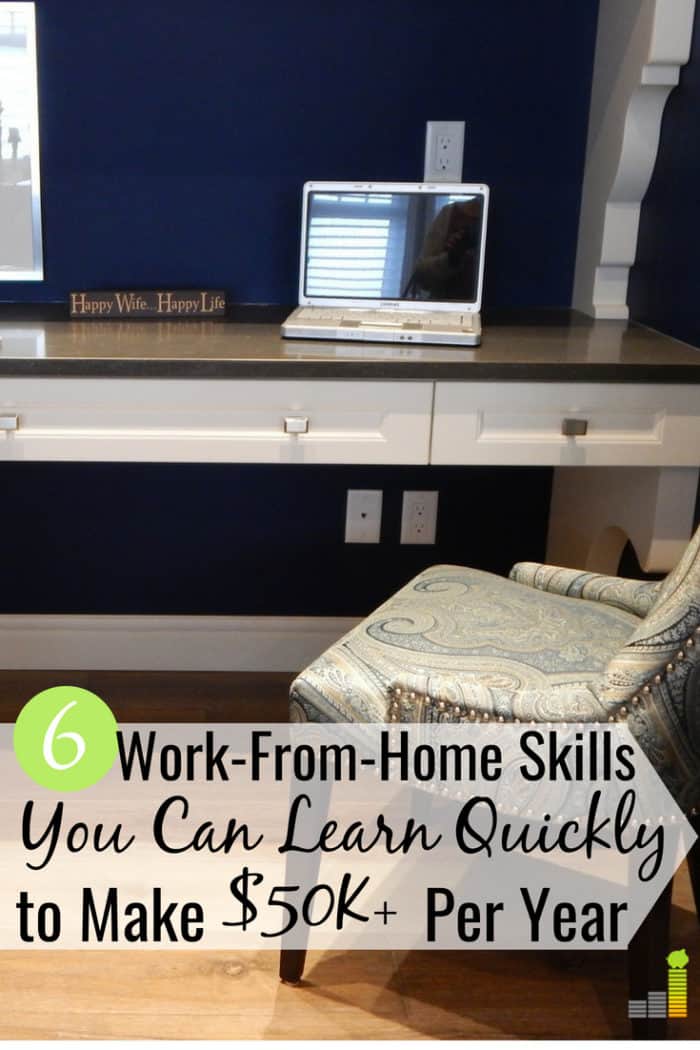 6. Pinterest Marketing Assistant
Pinterest marketing is both very similar and very different to traditional social media marketing.
Most people don't see Pinterest as a search engine but that's what it is. Businesses and bloggers have found a lot of success creating and pinning their own content because it brings clicks back to their site.
However, some people don't enjoy creating and marketing pins, don't have the time, or simply don't know how so they hire someone to do it for them. To become a successful Pinterest marketing assistant, you need to learn how to schedule pins, how to create pins, and how to market them. Luckily, these are all skills you can develop in just a few weeks.
You can take a Pinterest marketing course or download free guides. As with other work-from-home skills, Udemy is again a great resource on how to learn valuable Pinterest marketing skills you can use to find work-from-home opportunities.
Summary
Having marketable skills helps ensure you always have work. It's even more helpful if you want to work from home. However, when it comes to developing new skills, try not to overthink it.
The best thing you can do is keep practicing and perfecting your skill set. You can do this with the network you already have. Test your new skills by helping friends and people close to you solve a problem or work on their project. Or, even better, test them out on your own projects and measure your progress.
Once you improve your skill set and start proving that you can get results, you'll have a leg up on the competition and an easier chance of landing a promising work-from-home job.
What are some other valuable skills needed to work-from-home? Are there work-from-home opportunities do you believe are too good to be true? What has held you back from pursuing a work-from-home opportunity?
The post 6 Work-From-Home Skills You Can Learn Quickly to Make Money appeared first on Frugal Rules.
Source: Frugal Rules