Where you bank matters. When choosing the right banking products, most people look for low fees, high rates, and solutions for various different financial needs. CIT Bank provides high rates on savings products and a variety of options for your financial needs. This CIT Bank review will cover the different products they offer to help you decide  they might be a good fit for your needs.
What is CIT Bank?
You may or may not have heard of CIT Bank. You may confuse them with Citibank. It's easy to confuse the two but they're two completely separate financial institutions.
CIT Bank is a leader in the online banking space. They do have a small brick and mortar presence in Southern California where they operate as OneWest Bank.
CIT Bank has been in business since 1908 and, as of June 30, 2018, has over $50 billion in assets and $30 billion in deposits. While CIT Bank's strength is competitive rates on savings products, they also offer small business services and mortgage products.
CIT Bank Products
CIT Bank offers a number of products including:
Premier High Yield Savings Account – pays 1.55 percent
Money Market Account – pays 1.85 percent
Multiple CD types – pays up to 2.50 percent
Small business and home loans, which will not be covered in this CIT Bank review
The bank operates almost entirely online, allowing it to offer more competitive rates to customers. Let's go over some of the features of their accounts and rates.
cit bank High-Yield Savings Account
CIT Bank's signature personal banking product is their high-yield savings account. There's a $100 minimum opening deposit required but the current Annual Percentage Yield (APY) is 1.55 percent. That's 25x more than the national average!
That's pretty good considering that fact that most traditional banks offer a super-low interest rate for their savings accounts, usually around 0.02 percent. At that rate, you'd only earn pennies on your savings each year. But with CIT Bank's high-yield savings account, you can actually see a return.  
Another benefit is that there are no fees to open or maintain the account. Interest compounds daily on your balance, and the account is FDIC insured.
Federal Regulation D limits withdrawals and transfers from savings accounts to six times per month. While CIT Bank adheres to this rule, if the transaction is initiated by mail, there's no limit on the number of payments made directly to you or transfers to other accounts with the bank.
Withdrawals made by phone are also unlimited as long as you request having a check mailed to you. Otherwise, you are limited to six transfers or withdrawals per statement cycle.
You can fund your account by connecting it with another bank. For example, if you have a checking account with Bank X, you can connect that account to your high-yield savings account at CIT Bank and fund it with direct transfers.
Funds are normally available within 5-10 business days from the day of the deposit.
One unique feature of CIT Bank? The interest earned on your savings account can be transferred to your account at another bank. You can do this by calling their customer service number at 855-462-2652.
To apply for an account, you need:
Your Social Security number

A driver's license or other valid state ID

A check or your bank account routing and account numbers (from the account you''ll use to fund your new CIT Bank Savings)

Names and personal details (Social Security number, valid ID) of any joint account holders and/or designated beneficiaries
cit Money Market Account
CIT Bank's Money Market Account has an even higher interest rate than their savings account. It's currently at 1.85 percent, which is 15x the national average, and only requires $100 to open an account.
A money market account is a great option for those wanting to remain liquid yet still earn a rate competitive with many CD options. Doing this allows you to earn something without putting the cash at risk.
For example, if you deposit $1,000 when opening the account and don't contribute anything else for an entire year or make any withdrawals, you'll earn $18 in interest. 
If you open the account with $10,000 and don't touch the balance, you'll earn $185 by the end of the year without having made any additional deposits.
A money market account is similar to a savings account although it often offers a higher interest rate and provides check writing abilities. It is also FDIC insured to the same $250,000 amount as a savings account.
This allows customers to combine the benefits of having a checking and savings account in one. The interest rate is subject to change, but there is no monthly maintenance fee or hidden fees associated with the account. Account holders are limited to a maximum of six withdrawals per month including pre-authorized or automatic transfers.
Here are the fees to be aware of with the CIT Bank Money Market Account:
$25 overdraft fee
$10 excessive overdraft fee (if you exceed six withdrawals per month and caps at $50 per month)
$30 stop-payment fee per check.
A benefit of this account is the new Bill Pay feature. You can pay bills and send payments to other people from your account using People Pay.
To apply for an account, you need:
Your Social Security number

A driver's license or other valid state ID

A check or your bank account routing and account numbers (from the account you'll use to fund your new CIT Bank Savings)

Names and personal details (Social Security number, valid ID) of any joint account holders and/or designated beneficiaries
Possible uses for the CIT Bank Money Market are:
Emergency fund: An emergency fund is vital to financial stability. With a minimum opening balance of just $100, you can start saving for emergencies and earn interest on your cash.
Travel fund: Many people like to save money for travel. Since travel expenses are inconsistent, a money market account allows you to earn interest without running into excessive withdrawals.
Diversification: Similar to diversifying your investments, it's good to have savings at various banks. It gives you multiple options and allows you to take advantage of FDIC coverage at different institutions.
cit bank CD rates
CIT Bank has CD options to accommodate anyone's savings goals. Getting a CD is a great way to save money for a short or long-term goal and lock in a competitive APY.
There's a minimum opening deposit of $1,000, which may be steep for some.
When you open a CD with CIT Bank, you make one deposit and choose your term. In most cases, you can't make any additional contributions during the term and if you want to withdraw any of the money, you pay a fee.
During the term, your money earns interest. Once the term is up, you can either withdraw your money or roll your balance over to another CD.
CIT Bank's basic CD has terms ranging from six months to five years. The interest rate varies per term but right now, the best interest rate is for the 18-month CD.
Below are the CIT Bank rates currently offered on their standard CD:
Six-month: .72 percent
One-Year: 2.50 percent
13-month: 2.25 percent
18-month: 2.50 percent
Two-Year: 1.40 percent
Three-Year: 1.30 percent
Four-Year: 1.50 percent
Five-Year: 1.70 percent
If you have to withdraw money before the CD's term is up, you will pay a penalty in the form of interest you would have earned on your balance. For terms up to one year, the penalty is equal to three months' interest on the amount withdrawn. For terms more than one year and up to three years, the penalty is six months' interest. Terms over three years, the penalty is 12 months' interest.
Interest is compounded daily and posted monthly to your CD account. When you earn interest, you have the option to set up an electronic transfer to your external checking or savings account.
No-Penalty CD
CIT Bank also has a no-penalty CD. This is an 11-month CD, currently at a 1.85 percent interest rate. There's a minimum opening deposit of $1,000 and you can withdraw the total balance and interest earned without penalty seven days (or later) after the funds have been received.
No withdrawals are permitted during the first six days after the funds have been received.
This is an ideal account for someone who wants to explore the perks of saving in a CD account without risking the early withdrawal penalties. The 11-month term is short and the CD can be renewed.
While the interest rate is decent, it's currently the same as the money market account. Given that, people might want to use the money market account option instead and make a smaller opening deposit while enjoying the same high interest rate.
If the interest rate for the no-penalty CD increased, that might make a stronger case for using it.
RampUp CDs
CIT Bank's RampUp CDs allow you to adjust your interest rate once during the term. Normally, CDs don't permit this. You generally have to stick with the interest rate you received when you opened the account so this is pretty special.
The options for the RampUp CD are limited, though, and you can only select a three or four-year term. Plus, the interest rate is a little lower. Below are the rates for the Ramp Up CDs:
Three-year: 1.20 percent
Four-year: 1.38 percent
The minimum opening deposits are significantly higher for the RampUp CD. For the 3-year CD, the opening deposit is $25,000 and the 4-year RampUp CD requires $50,000.
That's a lot of money. It may also lead some people to question why they should put that much money into a CD when they can invest in the stock market instead.
While you can definitely invest $25,000 into the stock market, some still choose a high-yield CD as a solid savings option. Why? Because it's safe.
With a CD, you get a guaranteed rate of return on your investment; there's no chance of loss Investing in the stock market is riskier but everyone has their preferences. If you would rather diversify your investments and maintain a mix of conservative and riskier accounts, you may find it beneficial to include CDs in your overall plan.
RampUp Plus CDs
CIT Bank's RampUp Plus CDs have one and two-year terms and a minimum opening deposit of $25,000. The interest rate currently hovers around 1.26 percent, making it lower than the RampUp CDs. However, that could be due to the fact that the terms are lower.
Like the RampUp CDs, the RampUp Plus CD gives you the option to increase your rate once during the term of your CD if the bank's rates go up.
It's nice that CIT Bank offers this product so customers can take advantage of higher rates when they are available.
Jumbo CDs
If you have $100,000 or more in cash and you're looking for a guaranteed rate of return, CIT Bank's Jumbo CDs may be an option for you.
This CD comes in two, three, four, and five-year terms and, regardless of term, requires a minimum opening deposit of $100,000. Below are the current rates:
Two-year: 1.45 percent
Three-year: 1.40 percent
Four-year: 1.60 percent
Five-year: 1.75 percent
Again, you may get a better return by investing this type of money in the stock market or by using another vehicle but the choice is up to you.
CD Laddering with cit bank
CIT Bank encourages CD laddering, a popular technique to grow your savings. Since the bank offers so many different terms, you can use that to your advantage. CDs provide a low-risk investment with a reliable return. However, the downside is that your money is locked away for an extended period of time.
When you ladder your CDs, you split up your savings by placing certain amounts of money in CDs with different terms. For example, if you have $25,000, you deposit $5,000 into five different CDs ranging from one to five-year terms.
You can grow your money in the longer-term CDs and have quicker access to the shorter-term CDs if you need to use the funds or want to renew your CD as the bank's rates increase.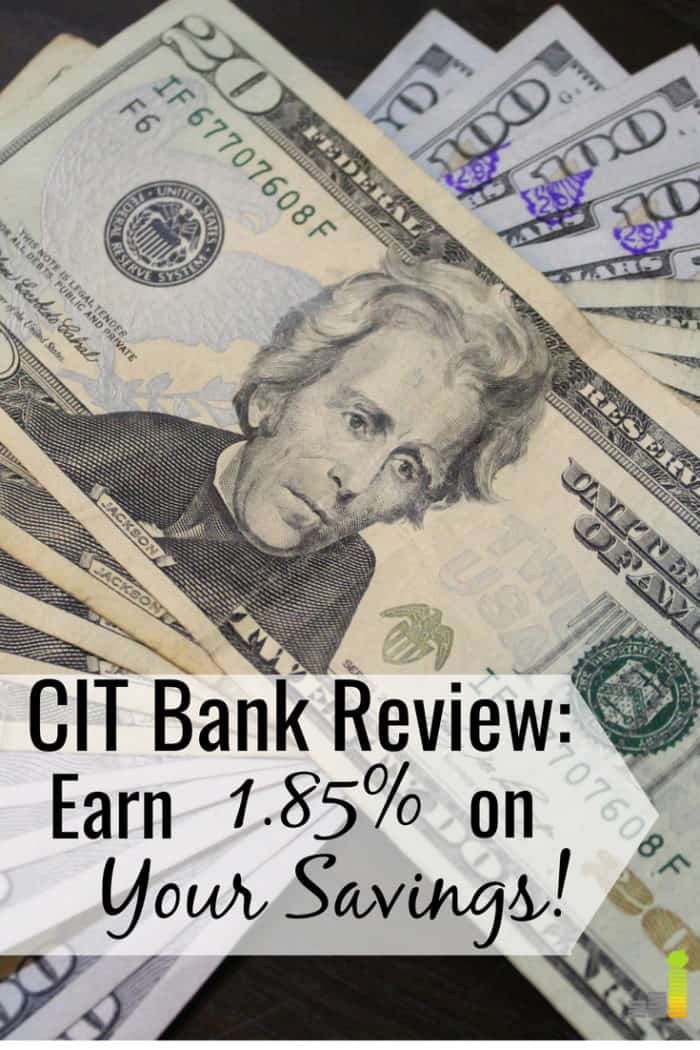 cit bank customer service
CIT Bank's products accommodate various banking needs but ultimately, customer service and experience make the difference.
I took a look at the bank's rating on Deposit Accounts, a trusted bank comparison account. CIT Bank earned a solid A rating. There are over 250 customer reviews and while the results are mixed, it's safe to say that most customers enjoy the products and the rates.
Some customers had less than perfect experiences in regards to their specific situation so it's hard to judge the bank based on those circumstances.
I called customer service and they were friendly and helpful. This is super important since CIT Bank is predominately an online bank. You can call CIT Bank customer service until 9:00 p.m. EST during the week, and 5:00 p.m. and 4:00 p.m., respectively, on Saturdays and Sundays.
Although some customers were unhappy with the completely online banking experience, others found it convenient and less of a hassle since they didn't have to get up and go to a branch whenever they needed something.
Pros and Cons to cit bank
No financial institution is perfect. Here are some things to keep in mind when considering CIT Bank.
Pros:
Low fee and no-fee account options
Online and mobile banking
Competitive interest rates
Bill pay for money market accounts
Option to transfer interest earnings to your external bank accounts as extra cash
Wide variety of CD options
No-penalty CDs and RampUp Plus CDs
Cons:
No checking account or IRA options
CD early withdrawal penalty paid in the form of future interest earnings
No debit card available
High minimum opening deposit amounts on some accounts
cit bank review: our take
If you're looking to get a great interest rate that allows you to stay liquid, the CIT Bank Money Market Account is tough to beat. CIT Bank also has some of the best offerings currently on the market in terms of rates, with no hidden fees, and FDIC coverage.
Additionally, they offer a wide range of CD options to fit different savings needs and preferences.
Unfortunately, they currently don't have any checking account options and some of the minimum opening deposits are fairly high. There are other banks that have lower minimums for opening an account (or no minimum at all) but they do not offer rates as high as CIT's.
As far as CDs, CIT Bank's CD rates aren't all that great, beyond the no-penalty CD, but many plan to avoid CDs for the foreseeable future.
Overall, if you need a great rate on your savings without hidden fees, definitely consider CIT Bank.
What interest rate are you receiving on your savings? How many savings accounts do you have? Does a bank being strictly online a deal breaker for you?
The post CIT Bank Review: High-Yield Savings Accounts, Money Markets, and More! appeared first on Frugal Rules.
Source: Frugal Rules