When we cut the cord on our overpriced cable contract a few years ago, FuboTV didn't exist. It's just one of several relatively new streaming services that are giving consumers more choices when it comes to watching TV.
As huge football fans, the biggest concern we had when we cut the cord was whether or not we'd be able to watch our favorite college football and NFL games.
Honestly, football was how DirecTV had roped us into staying an extra year with them; their clever trick to offer us NFL Sunday Ticket for free for a season worked…until we realized that we could watch our teams another way.
That's when we decided to cut the cord. While it meant breaking our contract, it was worth it. Within two months we had made back the $100 or so that it cost to get out from under our expensive cable subscription for good. Now we'd never go back.
If you've been looking for a reason to cut the cord on your expensive cable contract and you're a big fan of sports (and in particular soccer), FuboTV could be just the streaming service for you.
What is FuboTV?
FuboTV is a streaming service that is focused on sports, news and entertainment channels. When it launched back in 2015, FuboTV was primarily about soccer; it remains the best online streaming service for watching soccer games.
Recently, FuboTV broadened its content offerings to be more like the other popular streaming services out there. Like SlingTV, DirecTV Now and Hulu Live, it offers many of the most popular channels (e.g., HGTV, History Channel, Travel Channel, NatGeo and more).
One important channel missing from FuboTV's lineup is ESPN. That's right. If you're looking for a way to watch ESPN without cable, FuboTV isn't the streaming service for you.
However, FuboTV does have Fox Sports channels, the Big Ten Network and the opportunity to catch more niche sports, like cycling.
FuboTV Channels
As with any streaming service you're considering, it's important to know what channels matter most to you and whether or not you'll have access to them.
Here's a breakdown of the channels that come with FuboTV.
Lifestyle & Entertainment Channels – A&E, AMC, Bravo, Cozi, E!, Food Network, FX, FXM, FXX, FYI, Hallmark Channel, Hallmark Movies and Mysteries, HGTV, History Channel, IFC, Lifetime, Nat Geo Wild, National Geographic, Oxygen, Pop, Sundance TV, Syfy, Travel Channel, Universal Kids, USA, Viceland, WE TV, Smithsonian Channel, Cheddar
News Channels – BBC America, beIN Connect, CBS News, CNBC, CNBC World, FOX Business Network, FOX News, Fusion, Local Now, MSNBC, The Weather Channel
You'll notice that CNN is missing from that list, as is NBC, CBS and ABC. You won't get access to the major networks' newscasts or their sports. Thankfully, there's an easy way to get local channels that doesn't require keeping your pricey cable plan or subscribing to a more expensive streaming service.
We get all of our local channels and the major networks for free with our digital antenna. There are plenty of good digital antennas out there. We bought the Mohu Leaf digital antenna for our home and love it.
With a one-time cost to purchase of about $40, it's made it very easy for us to catch our local news as well as the NFL games and college football games broadcast on the major networks.
Where FuboTV shines though is exactly where you'd expect it to – in the sports channels it offers.
FuboTV Sports Channels
ESPN notwithstanding, FuboTV gives you access to a lot of great live sporting content through its expansive sports offerings. All of the following channels are included in FuboTV's base package:
beIN Sports
Big Ten Network
CBS Sports Network
Eleven Sports Network
FOX Sports 1 (FS1)
FOX Sports 2 (FS2)
Fubo Cycling
Golf Channel
NBA TV
NBC Sports Network (NBCSN)
NFL Network
Olympic Channel
Pac-12 Network
Having a soccer and international focus has led FuboTV to offer a number of Spanish language channels. Those channels include:
beIN Sports Español
El Rey Network
FOX Deportes
Galavision
NBC Universo
TeleXitos
Unímas
Univision
Univision Deportes Network
As you can see, there's a lot to watch on FuboTV. As you consider whether or not it is the right streaming service for you, focus on the types of channels offered and the price you'll pay to get them.
FuboTV Price and Plans
Like many other popular streaming services, FuboTV offers a variety of packages and add-on channel packages to tailor their content to your personal preferences.
What we like about FuboTV's base package is that it comes with 75+ live channels, no hidden fees and no contract. Best of all, you can cancel at any time with no fees or charges.
FuboTV's base package costs $44.99 per month. That's a bit steep, but not out of line with other streaming services and is reasonable considering the wealth of sports content it offers. With the average cable bill coming in north of $110, the FuboTV price will still save you $65 per month.
FuboTV runs discounts as well where you can get the first month for $39.99. With the ability to cancel anytime, it may be worth trying the package for a month to see what you think of it. If you don't like it at that point, you can always cancel before the $5 price hike hits.
If you're looking for a way to try FuboTV free, you can sign up for their 7-day free trial. If you don't like it, cancel and pay nothing.
FuboTV Extra Price
For an extra $5 per month, you'll get everything in the FuboTV package plus an additional 15 channels that include:
BabyTV, Cooking Channel, DIY Network, GSN, Hallmark Drama, Sony TV, People TV, Stadium, Revolt, XITE, and more
If you are just looking for Spanish language channels, FuboTV offers two packages: Fubo Latino for $17.99 per month and Fubo Português for $19.99 per month.
While those packages only include 15 and 5 channels, respectively, if you're looking for Spanish language news, sports and entertainment channels, they may be of value to you.
FuboTV Add-On Channel Options
While we're generally not fans of add-on packages because they can eat away at the savings you enjoy by cord cutting, they can be a good way to get the best content for your money.
Here are FuboTV's add-on packages:
Fubo Cycling – 6 channel package for $11.99 extra per month includes: Fubo Cycling channel, Fox Soccer Plus, GOLTV (English and Spanish versions), TyC sports and Motorsport TV
International Sports Plus – 5 channel package for $5.99 per month includes: Fox Soccer Plus, GOLTV (English and Spanish versions), TyC Sports and MotorSport TV
Sports Plus – 21 channel package for $8.99 per month includes: FNTSY Sports Network, Fight Network, FOX College Sports (Atlantic, Central and Pacific channels), GOLTV (English and Spanish versions), NFL RedZone, Pac12 Network (Arizona, Bay Area, Los Angeles, Mountain, Oregon and Washington), Sports Illustrated TV, Stadium 1, 2 and 3, TyC Sports, and Universo.
Adventure Plus – 6 channel package for $4.99 per month includes: MAV TV, MotorSport TV, Outdoor Channel, Outside TV and the Sportsman channel
Showtime – 9 channels for $10.99 per month
Portugese Plus – 3 channel package for $14.99 per month includes: GOLTV Spanish, BTV and RTP Internacional
Mundo Plus – 6 channel package for $5.99 per month includes: FOX Deportes, GOLTV Spanish, TyC Sports, Sony, FoxLife and NatGeo Mundo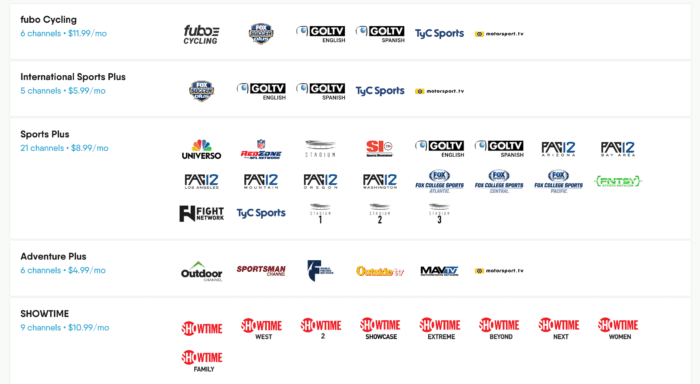 Remember to cross check the packages with your base package to make sure you want and need the channels in the add-on offering. FuboTV's website makes it easy for you to do this.
On its site, just select either FuboTV or FuboTV Extra and scroll down to see a tailored list of add-on packages with channels that are already included in the base package you've chosen removed.
FuboTV Supported Devices
Like many of the major streaming services, FuboTV works with a variety of platforms and devices, including Roku. Here's a breakdown of how you can watch FuboTV:
Roku 2, 3 and 4
AppleTV 4th and 5th generation (4K)
Amazon FireTV and Amazon FireTV Stick
AndroidTV 4.4 and up
Chromecast
Plus, the TV Anywhere app, which is available in the Apple App Store and on Google Play, lets you watch FuboTV from anywhere on your iPhone, iPad, Android Phone or Android Tablet.
You can also stream FuboTV from your laptop or desktop computer anywhere with an Internet connection.
Personally, we use the Amazon Fire TV and Amazon Fire TV Stick in our house because it accommodates so many of the streaming services easily. When we travel, we take our Fire TV Stick with us so we can easily enjoy a consistent viewing experience from anywhere with an Internet connection and on any TV with an HDMI port.
Plus, a FuboTV subscription comes with the ability to stream on two devices at once. For an extra $5.99 per month, you can expand that to three devices at any given time.
Does FuboTV Have A DVR?
Another question many potential cord cutters ask is whether the streaming service they are looking at comes with a DVR or cloud DVR capability.
The good news is that FuboTV comes with a DVR included for free.
This is a plus since other services like SlingTV charge an extra $5 per month for a DVR. FuboTV includes the ability to record up to 30 hours of programming in its base package.
If you need more recording capability, you can get up to 500 hours of storage by adding the Advanced DVR option for an extra $10 per month. If you watch a lot of sports, the Advanced DVR might be worth the cost to you.
Either DVR option is easy to use. In the FuboTV menu, you'll see a "My DVR" option, which lists everything you've recorded by event name, channel name and date. When you see something you want to record, and the DVR option is available, just click it and FuboTV will automatically schedule your recording.
I remember back when we had satellite TV, we had to schedule our recordings and time them down to the minute. If a game started late or ended late, we'd miss those parts of the match. With FuboTV, that's not a concern as it will make sure you get the entire game recorded.
Pros
Here's what we like about FuboTV:
Reasonable Price – at $44.99 per month, if you're a dedicated soccer fan, you won't get the kind of sports lineup that FuboTV offers anywhere else for that price.
Solid Channel Lineup – FuboTV has expanded its content beyond sports to include many popular news, entertainment, and lifestyle channels that people want, making it a solid choice for more than just soccer fans.
Included Cloud DVR – not every streaming service includes a cloud DVR option in its base package; with the easy recording ability already discussed, this is a plus for FuboTV.
Platform Friendly – FuboTV works with all the mainstream streaming platforms including Amazon FireTV, Apple TV, and Roku.
No Fees, No Contracts – This is a given with streaming services and one of the biggest advantages they have over cable and satellite TV.
Best Soccer Coverage – FuboTV covers the following soccer leagues and competitions: Premier League, FIFA World Cup, MLS, La Liga, UEFA Champions League, UEFA Europa League, Bundesliga, FA Cup, League Cup, Primera Liga, Brasileirão Série A, Scottish Premiership, Ligue 1, CONMEBOL World Cup Qualifiers, CONCACAF World Cup Qualifiers, UEFA World Cup Qualifiers, NASL, NWSL, Ajax TV, Arsenal TV, Barca TV, Bayern Munich TV, BVB World, Chelsea TV, Everton TV, Real Madrid TV.
Cons
No FuboTV review would be complete without including its shortcomings, so here they are as we see them:
No local channels
No ESPN channels
Clunky interface – over time, the viewing experience can be just as important as the channel lineup so it's worth noting that the FuboTV interface is rather slim. It would be nice if FuboTV made it easier to record a game from the channel you're watching or if it had a 'follow my team' option to make it easier to catch all of your team's games in a single click. Plus, navigation and menus are a bit hard to use.
While FuboTV excels in its soccer offerings, no ESPN may disappoint most sports fans. Check out our guide on how to watch ESPN without cable to learn how to get their family of channels.
How FuboTV Compares to Other Streaming Services
With the pros and cons covered, it's worth comparing FuboTV to two popular streaming services that we've also reviewed on Frugal Rules – Sling TV and Hulu with Live TV to see, at a high level, how FuboTV compares.
FuboTV vs. Hulu with Live TV
In addition to having ESPN, the biggest advantage Hulu Live TV has over FuboTV is its on demand content library. You get 60+ live TV channels plus a cloud DVR service and access to Hulu's entire content library for only $39.99 per month.
That's $5 cheaper than FuboTV. You can stream on up to two devices at once and get a solid lineup of channels that include:
ABC, CBS, FOX, NBC, A&E, Big Ten Network, Boomerang, Bravo, Cartoon Network, CBS Sports Network, CNBC, CNN, CNN International, Disney, Disney Junior, Disney XD, E!, ESPN, ESPN2, ESPNews, ESPNU, ESPN Goal Line, Food Network, Fox Business, Fox News, FS1, FS2, Freeform, FX, FXM, FXX, FYI, NBC Golf, HGTV, History Channel, HLN, Lifetime, Lifetime Movies, MSNBC, National Geographic, Nat Geo Wild, NBCSN, Olympic Channel, Oxygen, Pop, SEC Network, Smithsonian Channel, SyFy, TBS, TCM, Telemundo, TNT, Travel Channel, TruTV, Universal Kids, USA, Viceland
Pulling out the sports channels on Hulu Live, you'll get CBS Sports, ESPN, ESPN2, ESPNews, ESPNU, ESPN Goal Line, FS1, FS2, NBCSN, Olympic Channel and the SEC Network.
That's a solid lineup by any sportsfan's standards and it's cheaper than FuboTV.
Add in that you get Hulu's original content like the popular Handmaid's Tale and we think the nod goes to Hulu with Live TV, unless you're really looking for soccer games and international sports, in which case FuboTV may be the best choice for you.
If you want to learn more about Hulu and see if it's the right streaming service for you, check out our Hulu with Live TV review now.
FuboTV vs. Sling TV
As one of the more popular streaming services on the market, Sling TV offers a solid lineup of sports channels and regional packages that include channels FuboTV doesn't, like Caribe, Espana, Mexico, and SudAmerica.
Additionally, Sling Latino can be purchased for $10 per month and includes all the Univision channels as well as beIN Sports in Spanish and TV Azteca.
Probably the biggest reason for a sports fan to choose Sling TV over FuboTV is that you will get ESPN and ESPN 2 in the Sling TV base package for a cost of only $25 per month.
Adding its Sports Extra packages for only $5 per month gives you ESPNews and the SEC network along with seven other channels.
If you're interested in learning more about Sling TV, check out our Sling TV Review now.
How to Cancel a FuboTV Subscription
This is a straightforward matter. Like most streaming services, there is no contract with FuboTV, so you can cancel your FuboTV subscription at any time with no penalty, fees or added cost.
FuboTV Review: Our Take
When it comes to soccer, no one can match FuboTV. Still, at $44.99 per month, for the average sports fan, FuboTV is not going to satisfy.
If watching college football without cable or watching NFL games without satellite TV is important to you, FuboTV isn't the streaming service for you. Instead, consider Hulu with Live TV or Sling TV.
If you like soccer, baseball, basketball, golf and other sports and want to be able to enjoy a well-rounded offering of news, entertainment, and lifestyle channels without an expensive cable contract, FuboTV may be the best streaming service for you.
What questions do you have about FuboTV that we can answer? Have you tried other streaming services? Which do you like? Which would you avoid and why? If you're thinking about cutting the cord but haven't done so yet, what's holding you back?
The post FuboTV Review: Is it A Good Streaming Service for the Sports Fan? appeared first on Frugal Rules.
Source: Frugal Rules