Going back to school as an adult is a big decision. Whether you're looking to advance your skills so you can qualify for a better-paying job in your field or enter a whole new career path, going back to school can help.
However, there are lots of expenses associated with going back to school. You don't want to go broke paying for college, especially if this is your second time around. If you're going to be in school for a while, you want to have decent cash flow to manage costs.
While difficult, it's not impossible for adults going back to school to juggle life and the added expenses of college. If you can manage the short-term pain, the long-term payoff can be worth the sacrifice. Here are six things you can do to not go broke if you're going back to school.
Apply For Financial Aid when you're going back to school
It's best to apply for financial aid even if you think you may not be eligible. Since guidelines are subject to change, do your research to make sure you're getting the best reward options available.
You need to fill out a FAFSA to determine if you qualify. If you are eligible for financial aid, you can receive grants to help cover the cost of college. Other types of aid like work-study, textbook vouchers, or deferred student loans may be available.
Just make sure you understand your student loans before taking them out to mitigate excessive debt.
Each year there's a deadline, so be sure to submit your FAFSA application before you're unable to. The deadline for the 2019-2020 school year is October 1, 2018, so you still have time to complete it for the next school year.
Apply For Scholarships
Scholarship opportunities can get overlooked by some students but you don't want to make this mistake. As a returning college student, you may not get a full-ride athletic scholarship but there are merit-based and academic scholarships available.
Before the start of each semester, reach out to your school's scholarship office as well as local community organizations. You never know what opportunities you'll find to secure a scholarship for going back to school. 
For instance, I wasn't a returning college student but I was a nontraditional student. Through some research, I found a local association offering a private scholarship to mothers.
I wrote a short essay about my journey to motherhood, why I wanted to go to college, the reasoning behind my major, and my post-graduation plans. I won the scholarship and the association credited the money to my tuition bill.
To search for scholarships you may qualify for, be sure to check with your school to see what's available and what the requirements are. You can also check out sites like FastWeb and The College Board.
Work Through School
This is a pretty obvious solution. Most returning college students can't afford to go back to school and not work. If you know going to college will make your budget tighter, it's crucial to keep your full-time job. Schedule classes around work or take some online courses whenever possible.
Working while you're in school can also help you avoid a ton of student loan debt if you're able to use some of your income to cash flow college expenses.
Depending on how heavy your workload is, you may want to consider getting a flexible side hustle to make extra money.
This could be an internship or an on-campus job. If those aren't an option, here are some other great ways to make extra money:
Babysitting
Delivering meals with DoorDash
Drive for a ridesharing service like Lyft
Freelance write
Pet sit or walk dogs
You can even monetize your free time by using some of the best paid survey sites to make money when watching T.V. or something else mindless. There are many ways to make extra money, so take advantage of them if you're going back to school and need extra cash.
Ask Your Job About Tuition Assistance
If you're going to keep your job when you go back to school, check with your employer to see if they offer tuition assistance or reimbursement.
Some employers will offer to pay for your tuition in full. If they don't cover it in full, they might pay for a portion if you're going back to school to learn skills that can help the company.
This is common when some employees want to go back to school to get their MBA or MPA. This way, they can qualify for a higher position in the company and save money in the process.
At a minimum, reach out to your boss and ask if they offer any tuition assistance program for employees. You may want to consider writing a letter detailing why you're going back to school. Try to include how the new degree will help you and the company. 
Keep in mind, though, that if you receive tuition assistance or reimbursement, your employer may require you to stay with the company for a certain period of time after graduating. In some cases, you might have repay the assistance if you leave prior to the end of the that time frame.
Save on College TextBooks
Buying college textbooks can be tricky because you never know how much you'll have to spend.
The first thing you can do to lower expenses is email your instructors to ask if you'll actually need to buy the textbooks and materials for the class.
Some professors don't even bother to use the textbook. It's worth finding this out ahead of time. 
Next, see if you can find used books at either the campus bookstore or online. Don't forget, you can  rent your books, too. That way, you save money without stressing about selling the book at the end of the semester.
Ecampus is a great option to rent textbooks. Amazon is another great option for renting textbooks, and they also allow you to buy used textbooks.
If you receive financial aid, make sure to ask if you get a book voucher as well. During college, I received a book voucher as part of my financial aid award. That voucher helped me pay for a majority of my books for the semester.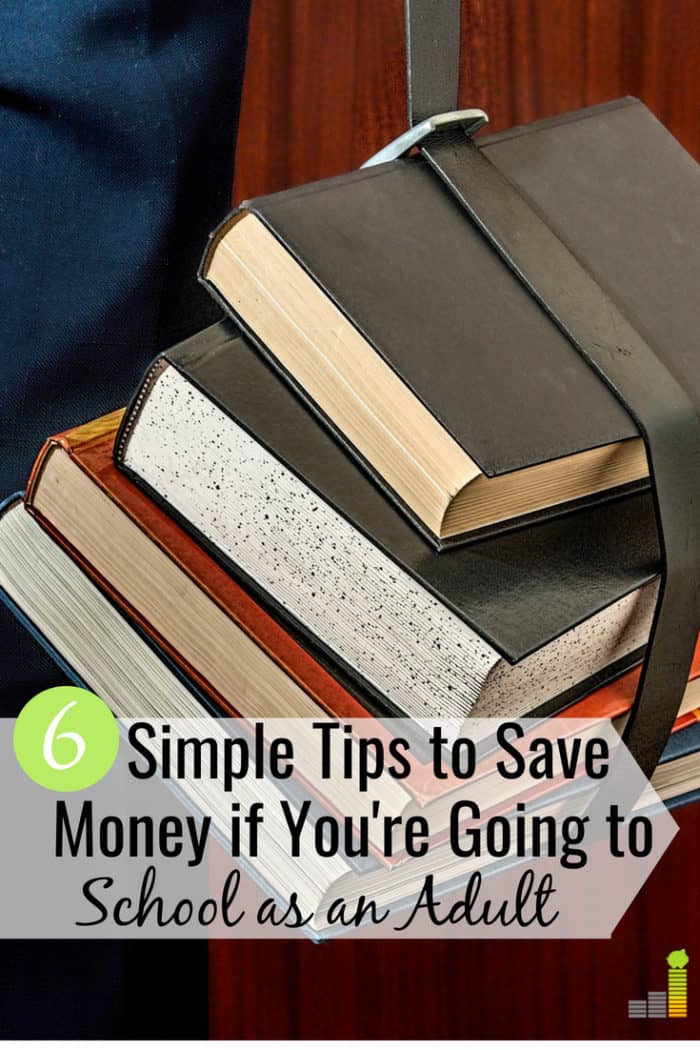 Looking Into Campus Childcare Options
If you have kids, you know how expensive childcare can get. As a student, you may be able to take advantage of discounted childcare rates if there's a daycare on campus. All you have to do is ask. Although most community colleges and universities have a childcare facility.
If yours doesn't, ask other college parents if they want to swap free babysitting services. This way, you can save even more money.  
Going back to school as an adult is a big investment in terms of money and time. However, it's definitely worth it if you'll end up making more money as a result.
If you're going back to school as an adult, get on a realistic budget. Try to lower expenses where you can. If you know money will be tight, try to balance classes with your job and find a suitable side hustle to make extra money.
What are some other ways to save money when you're going back to school? If you went back to school, how did you balance it with life and work? What opportunities did you get from getting your degree later in life?
The post How to Not Go Broke If You're Going Back to School: 6 Ways to Save Money appeared first on Frugal Rules.
Source: Frugal Rules