If you need money now and don't have it on hand, taking out a payday loan can be tempting. While these loans provide fast cash, they can get you into a lot of financial trouble. The best alternatives to payday loans provide cash without the possibility of making your situation worse.
What is a Payday loan?
A payday loan works just like it sounds. It's a loan designed to be repaid within one to two pay periods. The Consumer Finance Protection Bureau (CFPB) defines payday loans as a short-term, high-cost loan, generally for $500 or less, that is typically due on your next payday.
Regulations vary by state, but you usually have two to four weeks to pay off the loan or face the repercussions. Payday loans appeal to low-income earners with average or poor credit but they pay the price in the interest rate. Payday loans have some of the highest interest rates, generally around 400 percent.
That means you're going to pay, at minimum, a fee of $15 per $100 borrowed every two weeks. If you borrow $500, that's $75 every two weeks. If it takes you a month to repay the loan, that's an extra $150 you'll pay.
After taking the high-interest rate and fees into account, the loan only benefits the payday loan lenders who make a huge profit on your short-term emergency. And if you're unable to repay the loan when it comes due, lenders can do any of the following:
Send harassing phone calls, letters, or emails
Report the loan to a collection agency, hurting your credit
Add additional fees
In short, payday loans are a great way to make a bad financial situation worse and only benefit the payday loan lenders.
Best Alternatives to Payday loans
Do you need fast cash and think there are no other options? Thankfully, there are many payday loan alternatives that provide money in a pinch. Here are the seven best alternatives to payday loans to get quick cash:
1. Delay the Purchase If Possible
This is difficult to do if you need money fast for an emergency. However, it's important to consider how dire the need truly is. If your car stops working, you definitely want to get it fixed, but is carpooling with a co-worker an option? Can you take public transit for a week until you get paid?
If you have to pay an expensive medical bill or a utility bill, can you ask for an extension or set up a payment plan to buy a little time?
Many lenders and service providers are willing to work with you to set up a payment plan. Simply asking for a payment plan can be one of the best alternatives to payday loans.
Another option is moving items around in your budget and delaying other purchases to free up money for the immediate expense. This may mean lowering your grocery spending or canceling a subscription.
If you have a bill due at the end of the month, maybe use that money now, for your emergency, and replace the cash when you get paid and pay the bill then.
It's important to ensure you budget in line with your needs. Check out our guide on recommended budget percentages by category to get an idea of how to allocate your budget for long-term success.
2. Start Selling Stuff
If you need money fast, one of the smartest alternatives to payday loans is selling some of your stuff. Odds are you have something lying around your house that you can sell for quick cash.
This may be clothes, electronics, sports gear, or even furniture. Depending on how much money you need, you may want to sell some unused big ticket items from your home.
You can sell old computers and cells phones for parts even if they don't work. There are many online sites that buy old electronics and phones for cash, and you can find out instantly how much cash you can receive. Here are the best sites to sell electronics for cash:
Decluttr – Apple and Android products, Blackberry and other phones plus textbooks, CDs and DVDs
Gazelle – Apple and Android products, plus Blackberry and other phones
SecondSpin  – CDs, DVDs, and games
Do you have other items to sell besides old electronics? Try Craigslist, Amazon, eBay, the Facebook Marketplace, and Facebook Local Buy, Sell, and Trade groups to find a buyer.
3. Pick Up Extra Work
Making extra money will always be one of the best alternatives to payday loans. Even if you need the money yesterday, you can find extra work that pays fast.
You can babysit, walk dogs, clean houses, freelance online, or tutor, just to name a few options. If you need more ideas, here's our list of the best ways to make extra money. You may even be able to ask for payment upfront from clients if you can ensure you'll provide a quality service.
Another side hustle that pays quickly is ridesharing. Driving for Lyft or UberEats allows you to make money quickly and on your own schedule. UberEats and Lyft also pay drivers weekly and for a small fee (around $0.50), you can request to get paid early if you need money faster.
If you don't know where to start, try picking up extra hours at your current job. Or you can ask friends and family if they have anything they'd like to hire you for, like mowing lawns or doing handy work.
4. Ask a Friend or Family Member
Asking friends or family for money is awkward but if you're experiencing financial hardship, you might not have a choice.
Borrowing money from friends or family is not ideal, but it's one of the smarter payday loan alternatives. It's less likely that someone you know will charge you fees and a ridiculous interest rate just to borrow money.
If you need to use this route, write out an agreement specifying when you'll pay the money back, and don't make it a regular habit.
5. Consider Using Your Credit Card
Using a credit card isn't ideal but it's often better than taking out a payday loan. Even though credit cards don't always have the best interest rates, if you can repay the debt within one or two billing cycles, it still makes them one of the better alternatives to payday loans.
If you are out of options and have a low interest or 0% APR credit card, consider using it for a true emergency. You'll have at least until the end of your billing cycle to pay off your bill in full to avoid getting charged interest.
Here are some balance transfer cards to consider if you don't have one and know you can repay the debt quickly.
On the flip side, you don't want to create a habit of using credit cards to bail you out of financial issues. Credit cards are a tool and should be used to build your credit. Your main focus should be  keeping your card utilization low and paying off the balance in full each month.
If you start to depend on credit cards to cover your emergency expenses, you'll not only run the risk of getting into debt, but your credit score could decline.
6. take out a personal loan
If you don't want to get a new credit card, or don't have a credit card, taking out a personal loan is one of the better alternatives to payday loans. You can do this through a local bank, a peer-to-peer lender, or you can take a loan online to consolidate your debts.
A personal loan has two key benefits vs. a payday loan:
You can pay the loan back in installments
The interest rate is usually far lower, typically no more than 20 to 25 percent
If you have a relationship with a local bank, it's your best option for a loan. If that's not available, you can compare online lenders to get a debt consolidation loan or quick cash.
Even Financial is a great option to find the best possible rate. They let you compare up to 17 lenders to find the best personal loan for your needs. It takes less than a minute to fill out the application, and within a few minutes they provide possible matches.
To avoid falling deeper into the cycle of debt, make sure to repay your loans as soon as possible.
7. tap your savings account
Although this may be your last resort, if you need quick money, your savings account is a good option. We all face emergencies from time to time, which is why we have savings in the first place.
If you need to go this route, just remember to replenish the savings. It likely won't happen overnight, but working to repay your savings account helps you avoid this problem in the future.
Speaking of savings accounts, having an emergency fund is the best way to avoid taking out a payday loan. Having some savings provides the peace of mind that you can handle most emergencies that arise. If you don't have an emergency fund and are facing taking out a payday loan, this should motivate you to start saving as much money as you can.
You don't need to have thousands of dollars saved right away. Start by setting aside what you can each week or month. Use it as a checking account buffer or transfer it to a high-yield savings account.
Try to set a goal of saving at least $500, then $1,000. From there you can increase it to equal one month's salary, then 3 months' salary, and so on.
CIT Bank is a great option for emergency savings. Their money market account pays 1.85 percent and requires a minimum balance of just $100. A money market account has the same liquidity as a savings account with the same FDIC coverage.
Lack of savings puts you in a dangerous place with few options, making you a perfect candidate for payday loan companies. However, you can set yourself up for long-term success by prioritizing your savings so you can be ready for the unexpected.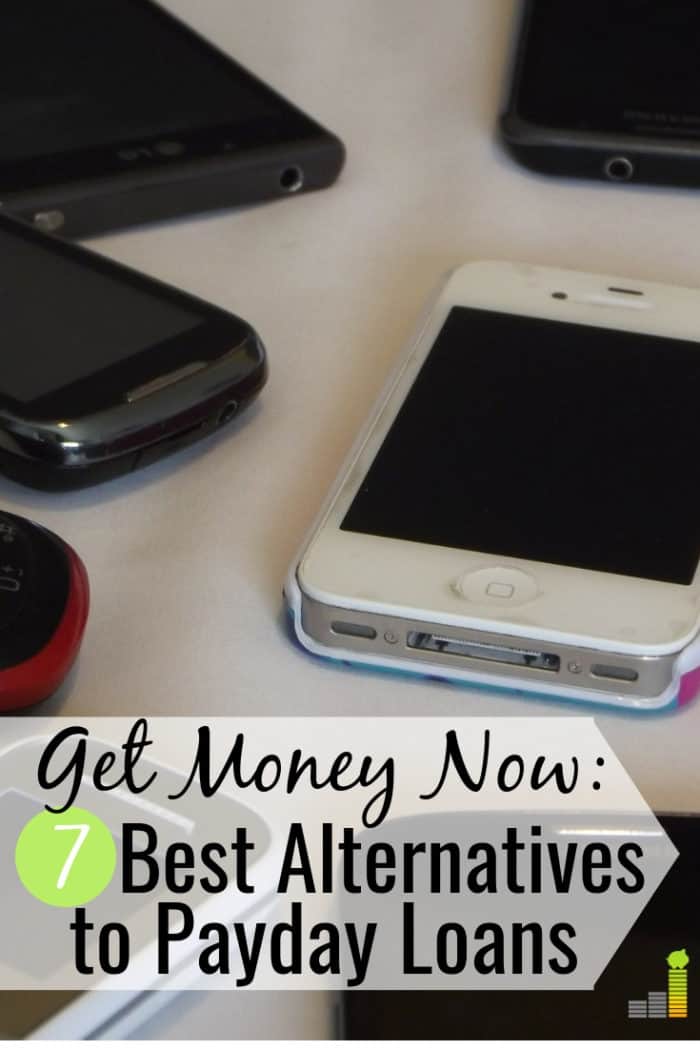 Bottom Line
You may think payday loans are the only way to take care of your short-term financial needs but they're not. Payday loans are predatory, lead to long-term financial pain, and you should avoid taking one out if at all possible.
The smart alternatives to payday loans provide the money you need without causing undue burden, therefore helping you avoid the extra financial stress caused by payday loans.
If you're on the brink of using a payday loan, find the best option for your situation above and figure out ways to break the paycheck-to-paycheck cycle. This will only benefit you in the long run.
Have you ever taken out a payday loan or considered it? What are other payday loan alternatives that can be successful? How much do you have in your emergency fund?
The post 7 Best Alternatives to Payday Loans appeared first on Frugal Rules.
Source: Frugal Rules