Every year, without fail, we face the dreaded flu season. When one person gets it, it spreads like wildfire. One way to play your part in preventing the flu is to get a flu shot. Getting a flu shot may not be possible for you due to cost. Thankfully, there ways to get cheap, or even free, flu shots.
The flu was widespread in the 2017-2018 season and is expected to increase throughout the fall and winter seasons this year, according to the CDC. So this year, when you're thinking about the best way to protect you, your family, and your health, getting a flu shot should be at the top of your list.
This post will cover the best places to get cheap or free flu shots and protect you and your family this flu season.
Check With Your Employer
If you work for a company, you may be able to get free flu shots through your employer. Your employer may even allow you to receive your flu shot during your normal work hours. This means you don't have to sacrifice time to protect your health.
Some employers also provide the option to bring in your family so they can receive their shots, too. This is not only an easy way to get a flu shot, but it can be an extra perk for you as an employee.
If you're not sure, ask the human resources department if flu shots are available through the company. If not, they may have an agreement with a local provider to get cheap flu shots so make sure you ask that, too.
Check With Your Doctor
If you have health insurance through an employer, the healthcare marketplace, or Medicaid or Medicare, you may qualify for a flu shot at your primary doctor for free or for the price of your co-pay. To check if you qualify, call your health insurance company and ask if your policy covers flu shots.
If you're a Medicaid recipient, you may qualify for free flu shots. However, it does vary by state. Make sure you read your health coverage and call to ask questions if you're still unclear. You can also check with your primary physician to see if they offer free flu shots to Medicaid recipients.
If you're a Medicare recipient and you have Medicare Part B, you automatically qualify for a free flu shot every year.
Another workaround is scheduling your yearly checkup, if you haven't already. During your visit, or when scheduling the appointment, ask your primary care physician if they can give you a flu shot. Even if they don't consider this a part of a checkup, it doesn't hurt to ask.
Ask Your Local College
If you live near a college or university, they might have a clinic that serves students and the community. If they don't, they should be able to refer you to the free or low-cost clinics in the area that offer cheap or free flu shots,
This is especially helpful if you're a student and you're trying to save money in college.
Ask Your Kids' School
If you want your children to have a flu shot and are looking to do it cheaply, check with their school. Some public (and even private) schools offer free or cheap flu shots to children and their parents. This is especially helpful if flu shots aren't covered by your employer or health insurance.
For instance, last fall, my daughter's preschool sent out a letter offering children and their families the opportunity to obtain a flu shot. The best part is that it was completely free.
Even if you haven't received anything from your child's school, it doesn't hurt to ask the office if they plan on offering cheap or free flu shots.
how to get cheap flu shots without insurance
Not everyone has health insurance. If that's the case for you, here are a few ways to get cheap flu shots without insurance.
Check Out Free Clinics
Free clinics in your local area may offer free or cheap flu shots to those who qualify. Typically, you need to be a resident of a certain ZIP code or area or you need to meet an income threshold. However, if you do qualify, a free clinic is a great option if you don't have health insurance.
With some clinics, you don't even need to set an appointment. You can walk in, receive your flu shot, and leave. Just remember, the earlier you arrive, the better. Many free clinics tend to run out of flu shots early on, and some may have long wait times if they don't offer appointments.
Ask Your Local Health Department
If you have don't mind waiting in a long line, you may be able to obtain a free flu shot through your county health department. While some only offer free flu shots to children six months or older, the elderly, and the disabled, others will let anyone who wants a flu shot participate.
To receive a free flu shot at your local health department, make sure you review their website or call them for more information, dates, and potential costs.
Try A Low-Cost Clinic In A National Chain
There are several national chains that offer cheap flu shots to those without insurance:
Make sure to check local grocery stores as their in-store clinics may also offer free or cheap flu shots.
Why You Should Get a Flu Shot
No matter where you go to get your flu shot, it is an important thing to do. Not only is part of living a healthy lifestyle, but it also keeps you safe. The flu virus can be very dangerous. In 2017 alone, there were 30,000 reported hospital stays, according to the CDC.
The flu shot protects you and your loved ones. Children, the elderly, and those with compromised immune systems are the most susceptible, but you can reduce their chances of contracting the flu by getting a flu shot.
Even if you are without health insurance, you can still find a way to obtain a free or cheap flu shot. Some of the most affordable and accessible are listed above.
It really is a big deal, so make sure to get one this year, even if you haven't in previous years. It can make a world of a difference.
How to Prevent The Flu
Besides a flu shot, there are other ways you can prevent the flu from spreading:
Get your flu shot on time.

Sometimes, just getting the shot doesn't mean you won't contract the flu. Make sure you're vaccinated at the right time. The earlier, the better.

Wash your hands!

And use hand sanitizer often. This helps reduce the chance of spreading germs.

Don't cough or sneeze in your hand or uncovered.

This may seem like a no-brainer, but kids (and some adults) need a reminder every now and then.

Regularly wipe down surfaces with disinfectant wipes.

Especially if anyone in your household, work place, or other places you visit have been sick. Don't forget to also wipe down your shopping carts and any public doors before touching them. If you can't wipe them down before using them, make sure to wash your hands thoroughly afterwards.

Stay healthy.

Remember to get plenty of rest, eat a well-balanced diet, drink enough water, and exercise regularly. A healthy body is a happy body.
It's relatively easy to prevent the flu. Living wisely, and consciously, can go a long way to keep yourself healthy.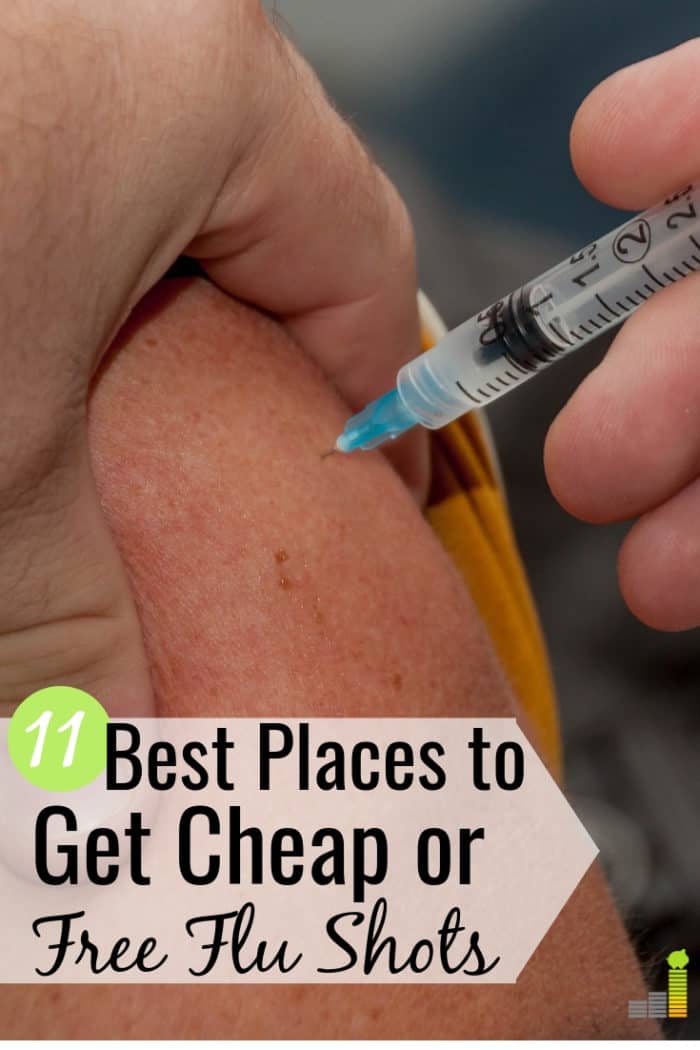 Don't Hesitate This season
This season, make it a goal to get your flu shot early. In fact, now is the best time to go. This keeps your family healthy and reduces the risk of lost time at work due to illness.
There are many ways to get cheap or free flu shots, and they're not difficult to find. With a little effort, you'll find plenty of options to save money and protect you from the flu this winter.
When do you get your flu shot? What are some other ways you've found to get cheap or free flu shots? What are some other cheap things you do to stay healthy during fall and winter?
The post How to Get Cheap or Free Flu Shots Near Me appeared first on Frugal Rules.
Source: Frugal Rules