Whether it's asking a friend or neighbor for a service provider recommendation or reading a Yelp review about a restaurant, we rely heavily on word-of-mouth referrals. Businesses often use word-of-mouth reviews to gain new customers. But did you know that, in many cases, you can get paid for referrals you send their way?
Businesses know the impact of negative reviews, and receiving positive leads from current users or customers is highly sought after. An easy way to earn spare cash is by getting to refer friends to services or businesses you frequent. While it's great to refer people out of the kindness of your heart, most of us tend to leave easy money on the table.
Thanks to the Internet, it's easy to get paid for referrals. After creating an account, most companies allow you to join their referral program and generate your own custom link to send to friends and family. Many sites also may provide a simple code you can give to friends to use when they open an account.
Where You Can Get Paid for Referrals
There are many sites that pay for referrals. They can range from cell phone providers to online brokerages to shopping apps. If you were already planning to recommend it to someone, why not get a bonus for yourself and possibly even your friend?
If you want a simple way to make money on the side, here are 25 ways you can get paid to refer friends to a particular service or business.
Survey Sites
One of the best ways to get paid for referrals is to refer friends to your favorite survey site. Survey companies rely on market research to know how to improve their offering. Here are a few of the best paid survey sites that give you cash to refer a friend.
1. Survey Junkie
Survey Junkie founders believe that anyone can be an influencer. As a consumer, you deserve the right to leverage your experience to influence products and services you use while getting paid for it.
After signing up for the site, you earn points by taking surveys, which you then redeem for cash or gift cards. You can earn even more money by referring your friends to try Survey Junkie, and you earn $1.50 for each referral.
2. InboxDollars
InboxDollars pays you to take surveys online, download coupons, and read emails. It's free to join and you can refer your friends.
If your friend signs up, you earn ten percent of whatever they make using the site. Your friend also receives a $5 bonus when they register.
3. Vindale Research
Vindale Research is one of the top survey sites that also pays you to refer a friend. For each friend you refer to the site, you both receive $5.
4. Panda Research
Panda Research is one of the highest paying survey sites with some payouts maxing out at $25 per survey. Users can also get paid for referrals, although the site does not specify that payout amount.
5. Swagbucks
Swagbucks is very similar to InboxDollars, allowing you to earn points for completing various tasks. These points can be redeemed for gift cards or cash.
When you refer a friend to use Swagbucks, you'll receive ten percent of their lifetime earnings. That means if they earn 500 points, you automatically receive 50 points.
6. Opinion Outpost
Opinion Outpost pays users via rewards. You earn $1 each time a friend you refer with a custom link joins and completes a survey. You can earn up to $5 in their refer-a-friend program.
7. InboxPays
InboxPays is a newer online survey site that pays users for taking surveys, watching videos, playing games online, and referring friends. You earn ten percent of whatever your friends earn when they sign up through your referral link.
8. MySurvey
MySurvey is one of the most established survey sites (their parent company has been around since 1946). Users earn points per survey to redeem for e-gift cards or cash via a PayPal gift card.
The minimum redemption threshold is $10, which is equivalent to 1,000 points. If you refer a friend, you earn 150 survey points.
Shopping Apps/Sites
Do you use cash back apps to get money back on your shopping needs? If so, many of these apps also pay you to refer friends. Below are some of the best options to get paid for referrals.
9. Ibotta
Ibotta is an app that allows you to earn rebates for regular grocery and household shopping. You can refer your friends to join Ibotta and when they redeem their first rebate, you earn $10.
10. Shopkick
Shopkick is an app that lets you earn points, called "kicks", for visiting stores and submitting receipts for items you purchase. When you refer a friend, you both get 250 kicks.
Shopkick works on both Android and iPhone devices.
11. Costco
There are so many benefits to being a Costco member. If you enjoy your membership, you can refer your friends to join their local Costco and you earn cash or other rewards.
12. Walmart Grocery
I love using Walmart's Grocery Pickup service because it's free and convenient. You can also earn $10 for each friend you refer who shops with the service. They earn $10 as well.
13. ThredUp
If you love a good sale and enjoy shopping online, ThredUp is one of the best resale shopping sites to check out.
Make Extra Money by Taking Short Surveys
Taking short surveys in your free time can be an awesome way to earn extra money fast! The instant you finish a survey,
Survey Junkie pays you in cash via PayPal
. 6 Million users and an 8.9/10 Trust Pilot rating prove you can trust them.
You can buy like-new styles from brands you love and pay an almost 90 percent discount. When a friend joins thredUP, they receive $10 to spend and you get $10 to shop after they place their first order.
14. Groupon
Groupon is a must if you like to score deals at local companies and while dining out. It also has a coupons section to help you save on general purchases.
You can refer your friends to use Groupon and earn $10 after they make their first purchase.
15. LivingSocial
LivingSocial is similar to Groupon and also pays users for referring friends. You can earn $10 per referral after they make their first purchase.
16. Ebates
Ebates pays users cash back for regular online purchases. You receive one payment per quarter and can increase your earnings by referring your friends.
Ebates has tiered earnings for their referral program and they often run contests and promotions. For instance, during one promotion, if you referred one friend who spent at least $25, you earned $25 and your friend received $10. Not too bad!
Personal Finance Apps/Sites
The final option to get paid for referrals is through personal finance services. These range from online brokers to cell phone providers. If you have a personal finance service you love, the company might pay you cash for referring friends.
17. Betterment
Betterment is a robo-advisor that takes the stress and guesswork out of investing. It's a great tool to use if you want to start investing but feel too overwhelmed or confused.
I've been using Betterment for three years and while they charge a small fee to manage your portfolio, I've never paid it. This is because of their referral program. Betterment allows you to earn one month of free portfolio management when you refer one friend and a full year of no fees when you refer three friends.
18. M1 Finance
M1 Finance is another robo-advisor that offers free automated investing services so you can grow your portfolio nest egg. You can also earn cash by referring your friends to sign up.
If your friend signs up through your link and funds their M1 account, you receive a $10 referral bonus in your account within 14 days.
19. Acorns
Acorns is a personal finance app that helps you invest your spare change. Users can refer friends and earn $5 per referral.
Acorns also runs referral contests. Most recently, they entered users who have referred five or more friends in a contest to win $100,000.
20. Stash
Stash is an app that helps you start investing with as little as $5. For each person you refer who signs up, you each receive $5. You can earn up to $250 in referrals.
21. SoFi
SoFi is a popular student loan refinancing and personal loan company. You can earn a nice amount of money by referring your friends to use SoFi.
Your earnings may vary, but you can earn several hundred dollars per referral.
22. Wealthsimple
WealthSimple uses smart technology to help users invest simply and automatically. As a Wealthsimple client, you can invest for free by inviting friends and family to join.
For each friend who joins and funds an account from your referral link, you receive $10,000 in assets managed for free for 12 months. Your friend also receives $10,000 in assets managed for free for 12 months.
23. Xfinity
Do you use Xfinity for your cable, Internet, or phone service? If so, why not use Xfinity's tiered referral program? This program allows you to earn $100 for the first friend you refer and $200 for the second and third friends.
You can earn a total of $500 through the refer-a-friend program
24. Sprint
Sprint offers referral promotions all the time. If you have the service and want to recommend a friend, why not take advantage of their current offer that allows you and your friend to each earn a $10o prepaid Mastercard?
25. Cricket Wireless
Cricket Wireless also has a referral program. If you refer a friend and they keep the service active for at least 60 days, you both get a $25 account credit. You can earn up to $250 per year by referring your friends to Cricket.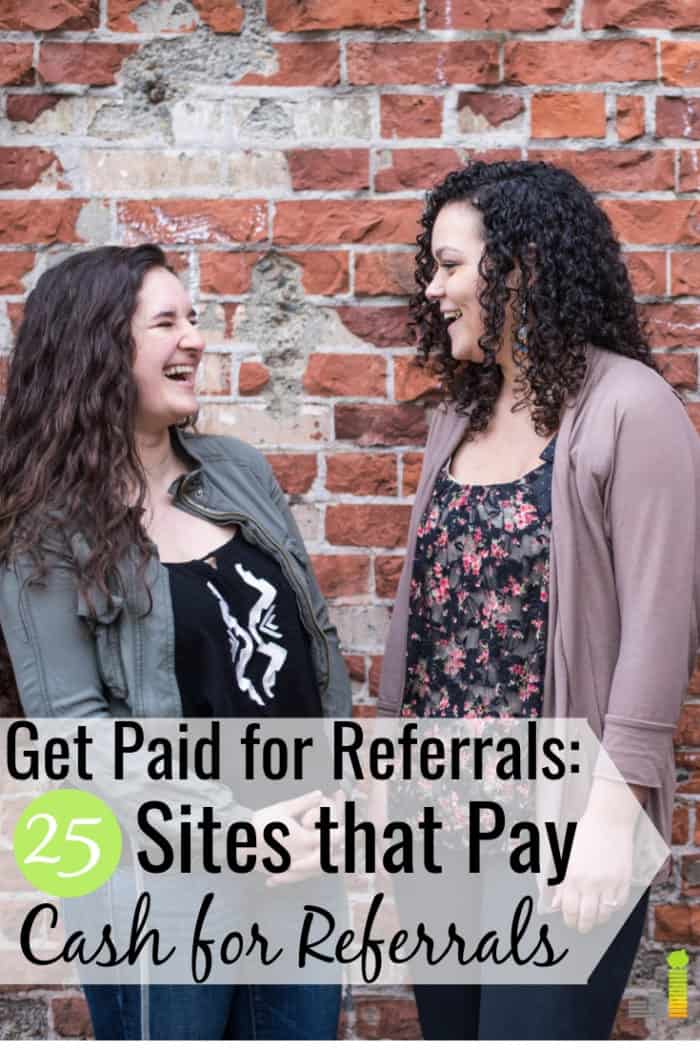 Summary
This list only scratches the surface of ways to get paid for referrals. If you like a service not on our list, simply do an Internet search with the name of the service and the phrase "refer a friend" to see what they offer.
Some services may only offer entry in a giveaway. While those are nice, you want to get paid for referrals. So make sure to focus on products that pay cash.
Everyone loves free money. So if you love a product or service, check to see if they have a referral program. Be sure to carefully read the rules and terms for each program to ensure that you're following them. You don't want to miss out on some free money because you didn't follow the rules.
Then start sharing all your good finds and earn extra cash!
Do you try to get paid for referrals to services you like and use? What are other simple ways you use to make money on the side? What are some other sites that pay for referrals that you've taken advantage of?
The post 25 Ways to Get Paid For Referrals and Make Extra Money appeared first on Frugal Rules.
Source: Frugal Rules