The holiday season is upon us. While this is often referred to as the most wonderful time of the year, it's also expensive. Household expenses drastically increase when you account for Thanksgiving meals, decorations, Christmas gifts, holiday parties, and trips. Even utilities are more expensive if gets chilly where you live. Side hustles offer a great opportunity offset those costs and ease financial stress during the holidays.
Making extra money on the side helps you avoid overspending or draining your savings. The best side hustles even help you avoid incurring debt and let you start the new year with a clean financial slate. If you've never considered starting a side hustle, the holiday season is full of unique opportunities to make extra money.
You can go the traditional route and get a part-time job, or you can start a side hustle. The possibilities are endless.
If you need additional income this year, here are the seven best side hustles to make extra money for the holidays.
1. Deliver Packages
The busy holiday shopping season soon start. While many people will flock to their favorite retail stores, even more people will shop online. I love doing most of my holiday shopping online. Not only do I not have to leave the house, the shipping process is usually pretty quick.
Amazon is the most popular online retailer and they hire people to deliver local packages with their Amazon Flex program. This is one of the best side hustles to consider since it gives you a flexible schedule and you can make good money – between $18-$25 per hour!
To deliver packages with Amazon Flex, you need to be at least 21 years old, have a car that meets the program's requirements, and have a valid driver's license. Once you're approved, you can use the app to set your own schedule and deliver packages from your local Amazon warehouse.
Delivering packages for Amazon Flex is just one of the many ways to get paid for driving your car that require little to no specialized skills.
2. Rent a Room
While people are traveling for the holidays, you can earn extra cash by accommodating them with your spare room. Airbnb provides a great way to make extra money by renting out your spare room, guest room, or entire home.
You can also do this if you're traveling for the holidays. It's a great way to make some extra money while you're gone.
Regardless of your situation, Airbnb is a great option to rent out a room or your entire house. Airbnb handles payment and other administrative issues related to rental. Make sure to take good pictures and be an attentive landlord to help ensure higher ratings from tenants – which can help you in the long run.
Renting a room or second property is one of the best passive income ideas to consider, and is also a great way to make additional money throughout the year.
3.  Sell Your Photos or Photography Skills
If you have a good camera or even a good iPhone or Galaxy phone cameras, you can take holiday photos and sell them to stock photo sites.
Around this time of year, there will be a surge in searches for holiday-themed images. Sites like Deposit Photos pay photographers for professional stock photos that cover different themes. You'll typically get paid a commission each time your photo is purchased or downloaded.
You can also use your skills to photograph families for holiday greeting cards. See what photo studios in your area are charging and adjust your pricing to make it competitive.
Make Extra Money by Taking Short Surveys
Taking short surveys in your free time can be an awesome way to earn extra money fast! The instant you finish a survey,
Survey Junkie pays you in cash via PayPal
. 6 Million users and an 8.9/10 Trust Pilot rating prove you can trust them.
You can even offer to travel to clients within a certain distance. Provide a few props or location ideas to make the shoot stand out and hopefully get more referrals.
4. Help People Out
The holiday season gets busy. People will need help with a variety of tasks. If you have spare time, you can make money running errands for people, or helping them around the house.
Instead of having to generate your own leads for gigs, you can use TaskRabbit.
TaskRabbit is a site that's been around for ten years. It connects people who need services completed with 'taskers' to perform the services.
You can use TaskRabbit to perform tasks like helping people move, handyman work, running errands, delivering goods, virtual assistant work, and furniture assembly.
Once you sign up, you need to attend an information session. Then you can find flexible tasks that meet your skill set, set your rates, and work when it's convenient for you. The site lets you communicate with potential clients to find a date and time that works best for both of you.
**Related: 30+ killer ways to make extra money before Christmas**
5. Shovel Snow
If it's going to be a white Christmas in your area, use the weather to your advantage. Shoveling snow can be a hassle for some people and they'd much rather pay someone else to do it.
You can make a nice amount of extra money shoveling driveways in your area. Start by putting up fliers and posting on social media. You can even ask your neighbors if they'd help spread the word. If your town has a local Facebook group, you can advertise your services there.
You can also reach out to apartment complexes in the area. Ask if they need any help with snow removal or other maintenance tasks during the winter. If you're willing and able, this can be one of the best side hustles to make money for the holidays – if you're willing to do the work.
When my husband and I lived in an apartment, he asked the property manager if she needed anyone to help with snow removal around the holidays. She actually said yes and paid him an hourly rate.
6. Become a Warehouse Associate
Retail stores and warehouses will likely be hiring seasonal workers. If you're able to commit to working a part-time job on the side, you can make extra money for the holidays to pad your budget.
Generally with warehouse jobs, you need to be comfortable standing up for most of your shift and you must be able to lift at least 35-50 pounds.
Still, if you're a night owl or are looking to work some hours outside of your main job, you may be able to pick up some night or weekend shifts.
7. Mall Santa
This is definitely a bucket list side job and a fun way to earn some extra cash while making kids smile.
As long as you can look the part, you can make some easy cash on the side by dressing up as a mall Santa on weekends.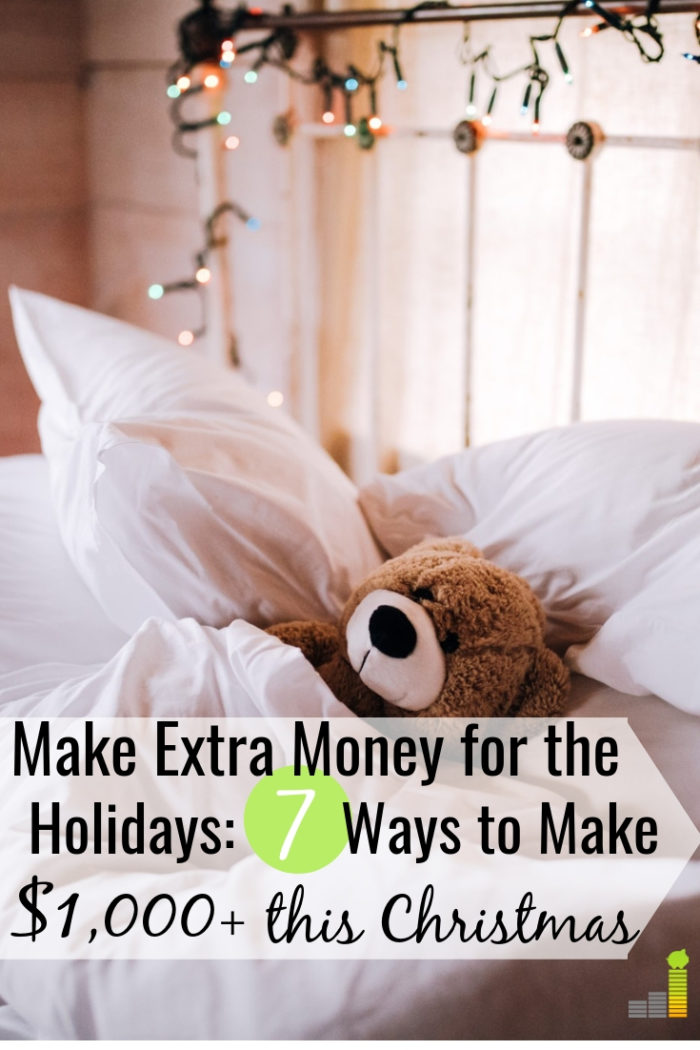 what to know about side hustles for the holidays
While there are many side hustles available to make money during the holiday season, it can also be a pretty distracting time. If you don't want to wind up with money stress or debt, be sure take these steps when determining your ideal holiday side hustle:
Identify your skills and interest. What makes you happy? How can you serve others? The holidays are a joyous time and you don't want to land a side hustle that makes you miserable.
Determine how much time you have. Be realistic about how much time and energy you can dedicate to a side hustle. Will you have to make some sacrifices by skipping a few events? Or can you do some flexible work where you have more control over your schedule?
Get clear on how much you need to make. Set a holiday budget and determine how much extra money you need to make to feel comfortable. Settle on a side hustle that either allows you to set your rates or pays you an amount you feel good about.
Be intentional with your earnings. Set goals for your side hustle income and be sure to put the money to good use.
There are many opportunities to make extra money for the holidays. With a little due diligence and planning, these side hustles can ensure the holiday season is free from financial guilt or regret.
What side hustles have you used to make money for the holidays? Do you budget for Christmas shopping? How else do you save money during the holidays?
The post 7 Best Side Hustles to Make Money for the Holidays appeared first on Frugal Rules.
Source: Frugal Rules