Most people love the idea of earning extra money. However, the time commitment, the effort, and the need to work extra hours often deters people from side hustling. This leaves many looking for ways to make money without a big time commitment. One solution for this is Swagbucks.
Swagbucks is one of the most popular apps to make extra money in your spare time. You can make money in a variety of ways with Swagbucks, and you can redeem earnings for either cash or free gift cards.
Swagbucks isn't something that can replace your full-time job, but the money you make through the site can help you cover smaller expenses or grow your savings faster.
In this Swagbucks review, we'll cover how the program works, some of the best strategies to maximize your earnings on the site, and how to determine if it's right for you.
What Is Swagbucks?
Swagbucks is a loyalty rewards website where people earn easy cash doing simple tasks. It's been in business since 2008 and has distributed over $301 million in awards since their inception.
As previously mentioned, you can make money in many ways with Swagbucks. You may not find that every opportunity is worth your time so you want activities you can do quickly.
How to make money with Swagbucks:
You can make money with Swagbucks in many ways:
Answering surveys
Using their online shopping portal
Watching sponsored videos
Using their search engine
Testing new products
Playing online games
Completing various online tasks
Referring friends
As you can see, there are many opportunities to make money with Swagbucks. They even start you out with a $10 bonus when you open an account.
Swagbucks is free to use. All you need is an email address or Facebook account.
How to Earn Swagbucks
Points are referred to as 'Swagbucks' or 'SB points' for short. The minimum payout for any action is 1 SB point and 100 SBs equal $1. Payouts vary per activity, of course, with the higher values getting as high as 4,000 SB points. 
You can redeem your points for cash (payable via PayPal) or for gift cards. When you redeem for gift cards, it follows the same value as cash. For example, 1,000 SB points will get you a $10 gift card and you can redeem 2,500 SB points for a $25 gift card.
On occasion, Swagbucks will offer certain gift cards at a discount. Swagbucks has gift cards for  popular retailers including Walmart, Amazon, and Target, as well as restaurants and other stores. Their site claims to give away over 7,000 gift cards each day.
Let's move on to the different ways to make money with Swagbucks.
Search Feature
The Swagbucks search feature can be used on your desktop or your mobile device so you can also earn points on the go.
Instead of using Google or Yahoo to look up an answer you need, Swagbucks's search engine can be a nice alternative. Once you login to the Swagbucks site, simply use their search feature to earn points.
As you use it throughout the day, you earn SB points. This is one of the easiest ways to make money on the site and a must if you're going to performs lots of online searches during the day. You will get a notification when you are rewarded points for searching online through Swagbucks.
Donate
Swagbucks also lets you donate to different causes to earn points. Save the Children, Feeding America, Children's National, and the National Conservatory are a few of organizations people can help by donating.
Depending on the organization, a one-time donation of $25 can earn you 2500 points. You would not only get Swagbucks but you'd also be supporting a great cause. 
You have the option to pay with PayPal, credit card, by phone, or by mail. If you want to make recurring donations, you can choose to make a monthly contribution as well.
Read or Watch Content
On the website, you stay informed by reading news articles or watching sponsored videos. You have to watch or read four articles or videos to earn 1 SB in most cases.
Depending on the article or video, you have to view the content for around 45 seconds. After the time frame, you can move onto the next piece of news.
Make Extra Money by Taking Short Surveys
Taking short surveys in your free time can be an awesome way to earn extra money fast! The instant you finish a survey,
Survey Junkie pays you in cash via PayPal
. 6 Million users and an 8.9/10 Trust Pilot rating prove you can trust them.
The Swagbucks platform has an easy-to-use library to find and select videos. You simply hover over the thumbnail of each video to see the length and points you receive for watching the video.
If you do it enough, you may be reading and watching the same topic a few times but this is an easy way to add SB points to your total.
Swag Code
Another way to earn cash is by entering a swag code. Swag codes are a random set of numbers and letters that can be found in various places including Swagbucks's social media sites and their blog.
The code will not have spaces and is case sensitive. The number of SB's you get for entering the code varies. The code can only be entered during specific hours each day so you have to be timely to earn the reward.
Once you find a code, you can enter it on the mobile app or the website.
Play Games

You can receive points by playing games on Swagbucks, and you don't have to be the best player or have the highest score. To earn the most SB points, you do have to make purchases in the game. This isn't the best option if you're looking to make money rather than spending it.
You have a few categories to choose from when selecting something to play including popular games, casino games, cash games, and Swagbucks games. They offer some popular games like Trivial Pursuit and Bejeweled, and also offer free games to try out. 
Take Surveys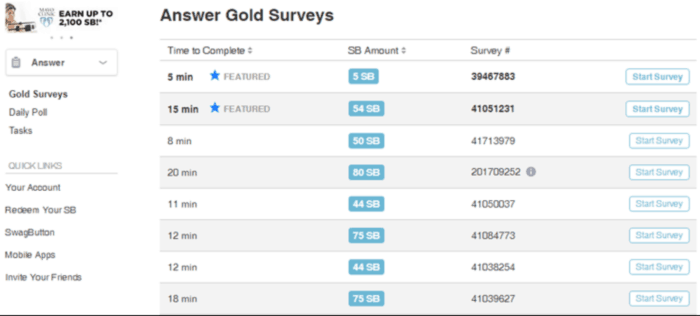 Another popular way to earn your way to cash or gift cards is by taking surveys. Swagbucks is one of the best paid survey sites on the web, and has a variety of different surveys you can take to earn points.
Each survey has an estimated time frame it will take you to complete the survey and how many SB's you will get. Having this information up front is nice so you can decide if it's worth your time to complete. 
After asking a few background and personal questions to see if you are the right fit for the survey, you will receive the survey-specific questions.  
Shopping Online

Yes, Swagbucks pays you to shop online. You earn SB points simply from shopping at your favorite stores and can get up to 40 percent back in some cases. You can also stack your earnings by using a cash back credit card.
You can shop through the site or download the Swagbucks Chrome extension. These will notify you if there's a Swagbucks offer for that site.
Swagbucks works with a number of popular retailers including:
Amazon
Best Buy
Kohl's
Old Navy
Target
Walmart
If you already shop at one of these stores, it makes sense to get cash back for your shopping.
Strategies To Earn More on the Site
I've been using Swagbucks for a few years now so I know there are a few hacks you can use to earn more money on the site.
Obviously, to make the most use out of Swagbucks, you have to log in and use it regularly. This doesn't mean you have to spend hours on the site. For instance, you can set a time to log in daily and, during that time only, enter in new Swagcodes or try out offers.
You can do this during your lunch break, while watching TV, or whenever you're bored and have a few minutes to spare.
Another easy hack is to make the Swagbucks search engine your default browser. That way, whenever you type in a search term, you'll automatically use Swagbucks and earn more points.
When it comes to watching videos, most videos will be offered in batches. You can play the videos while you're doing chores around the house and earn Swagbucks easily.
You'll also want to download the Swagbucks Google browser extension so you can be notified about any offers to take advantage of when visiting other sites. If you're on a site and planned to sign up or make a purchase anyway, you might as well use Swagbucks and earn points for it.
Who can join swagbucks?
You must be at least 13 years old to join Swagbucks. Swagbucks also works in a number of countries including all of North America, most of western Europe, and India.
This makes Swagbucks a good money making opportunity for teens and adults. Many of the tasks only take minutes, or are something you'd be doing anyway, so there is plenty of opportunity to earn cash.
Is Swagbucks Legit and Safe?
You may be wondering 'is Swagbucks legit?' The answer is yes! Swagbucks is a legit app to use to make money on the side. They've been in operation for a decade and paid out hundreds of millions in awards.
Swagucks also has an A rating from the Better Business Bureau and a Trust Pilot rating of 8.4 out of 10, making it safe to download on your phone or use on your desktop.
So, if you're asking yourself 'is Swagbucks safe to use?' Yes, it is.
Is Swagbucks good way to make extra money?
There's a lot of information in this Swagbucks review. But it's still important to look at both the pros and cons to determine if it's a good app to use.
Pros
Easy way to make money online

Can sign up for free as long as you're at least 13 years old
Variety of tasks to do so it's difficult to get bored with the site

140 different brands to choose from including Amazon, Walmart, and Paypal

The app has the same capabilities as the website does

Swagbucks also has a referral system
Cons
Some tasks require you to spend money before earning points
Some surveys are really long and have a pre-selection process
You probably won't earn thousands of dollars using the site
is swagbucks worth it?
Before considering any money-making opportunity, it's important to examine if it's worth your time. You may ask yourself if Swagbucks is worth pursuing as a way to make extra money.
Swagbucks is indeed a viable way to make some extra income by completing simple tasks online. It's best to use if you're looking to make money to supplement your income or a smaller expense. It's also ideal if you're not looking to put that much effort into working additional hours or side hustling.
You also want to ensure the time spent is worth what you make. Not every feature of Swagbucks will be a good opportunity for you, so it pays to find the best ones for you to maximize earning potential.
However, you shouldn't expect miracles when it comes to your earnings. Swagbucks earnings can vary depending on the tasks you do and how active of a user you are.
You won't be able to replace your full-time job with Swagbucks earnings but it can help if you're looking to diversify your income and try out new products and offers.
What cash back apps or services do you use? What's your favorite way to make extra money in your spare time? How much time do you spend trying to make extra money each week?
The post Swagbucks Review 2018: Is it A Legit Way to Make Money? appeared first on Frugal Rules.
Source: Frugal Rules