Shortly after our daughter was born, I began working almost entirely from home. As she grew older, I wanted to know how to watch Nickelodeon without cable so she could watch fun shows like Paw Patrol, SpongeBob, and Dora the Explorer while I worked.
Looking back, I'm still surprised that phrases from those shows didn't accidentally work their way into the article I was writing. These days, we have three young children, all of whom enjoy content on Nick Jr. and Nicktoons, so we still care about how to get Nickelodeon without cable.
The "without cable" part of that quest is critical. We used to have an expensive cable contract but have since cut the cord and couldn't be happier with the $80+ we're saving each month.
How to Watch Nickelodeon without Cable
Initially, it was tricky for us to figure out how to watch Nickelodeon without cable (and Disney Jr. for that matter) but eventually we figured it out and how we're sharing all of our hacks with you.
Thankfully, there are a number of streaming services that make it possible to get Nickelodeon without cable. While you can't stream Nick Jr. online for free (at least not all of their shows), there are a number of affordable ways to watch Nick at Nite, Teennick, and Nickelodeon.
Although Nickelodeon is more difficult to get than other networks, there are still solid streaming options that make it possible. If you are ready to cut the cord on your cable contract but want to know how to watch Nickelodeon without cable first, here's how to do it.
Hulu
Hulu has been an answer to the question of how to watch Nickelodeon without cable for years. One of the first alternatives to cable on the market, I can still remember their early commercials, where Alec Baldwin and aliens were a welcome interruption to the Super Bowl.
Hulu has grown to become one of the most popular streaming services available. While Hulu with Live TV is one of my family's favorite ways to watch TV without cable, if you just want to know how to get Nickelodeon without cable, you'll be fine with Hulu's less expensive, legacy option.
For just $7.99 per month, you can sign up for Hulu and watch Nickelodeon without cable.
Traditional Hulu is similar to Netflix (check out our Netflix vs. Hulu guide for an in depth analysis of the two services) in that it offers access to shows from major networks. The only downside is that you have to wait 24 hours after a show first airs to watch it on Hulu.
The exception to the 24-hour rule is Hulu original content, like the critically acclaimed The Handmaid's Tale. You can watch new episodes of that right away.
Hulu with Live TV is simply an upgrade of traditional Hulu.
Hulu Live offers several compelling additions beyond Hulu, which is what gives it a higher, yet still reasonable, price tag of $39.99 per month. Here's what you'll get with Hulu with Live TV that you won't get with just Hulu:
60+ live TV channels
Cloud DVR service (letting you record live shows when they air and watch later if it's more convenient for you)
Ability to stream to two devices at once
Hulu's complete library of content
Fewer commercials
More channels (including ESPN, MSNBC, Disney, National Geographic, HGTV, Bravo and more)
The downside to Hulu Live when it comes to Nickelodeon is that you won't get access to live Nickelodeon content. However, if Hulu Live sounds like a good fit for all of your family's TV watching needs, you will get all the on demand Nickelodeon content that comes with Hulu plus the expanded benefits of Hulu with Live TV.
Learn more by reading our comprehensive Hulu with Live TV review.
Not sure if you'll like Hulu? You can try Hulu Live for free for 7 days totally risk-free.
Philo
If you are looking for how to get Nickelodeon without cable (or how to get Nick Jr. without cable), you would probably be interested in other entertainment and lifestyle networks as well (like Disney Jr, HGTV, and MTV to name a few).
If that's the case, Philo may be the best streaming service for you. For only $16 per month, you can watch Nickelodeon without cable as well as Nick Jr, Teennick and lots of other great content.
If you want to watch Nicktoons without cable, sign up for Philo's premium tier for only $20 per month and you'll get all of Nickelodeon's channels without cable, which includes Nickelodeon, Nick Jr, Teennick, and Nicktoons.
Philo TV has been an affordable streaming option since 2009 when it launched its service on college campuses. While it started as a cheap way to watch Nickelodeon without cable for students, money from investors like Mark Cuban and Facebook co-founder Andrew McCollum have grown it into one of the best alternatives to cable TV on the market.
If you enjoy lifestyle and entertainment channels, including a very reasonable way to get Nickelodeon without cable, Philo TV could be the one of the best options for you.
Its 40-channel package costs just $16 per month and includes the following channels:
AMC, A&E, Animal Planet
Comedy Central, CMT
Discovery Channel
DIY, Food Network, Lifetime, MTV
HGTV
History Channel
The only drawback to Philo TV is that it doesn't let you watch popular sports channels like ESPN or FOX Sports or local channels.
The good news is that you can get local channels for a low, one-time cost by purchasing a simple digital antenna like the Mohu Leaf. We bought two Mohu Leaf digital antennas on Amazon and love using them.
Learn more about how to watch Nickelodeon without cable in our Philo TV review, which covers all the ins and outs of the popular streaming service.
If you think Philo could be the ideal cable alternative for you, but are still a little hesitant, try Philo TV free for 7-days without providing a credit card. It's one of the best ways to dip your toes in the streaming world.
Sling TV
Sling TV is another popular streaming service. With years to improve its platform, Sling provides an enjoyable experience. The menu and navigation are very user friendly and make it easy to find what you want to watch quickly.
Sling TV's reliable streaming quality and intuitive design make it one of the best alternatives to cable. Unfortunately, Sling TV does not offer Nickelodeon, showing how Nickelodeon can be a tricky network to watch for cord cutters.
Sling TV offers two packages – Sling Orange and Sling Blue – both for $25 per month. Beyond that, there are a number of extra packages that you can add on to customize your channel lineup.
If you want to get Nickelodeon content through Sling TV, your best bet is to sign up for Sling TV Blue and add on the Kids extra package.
For a total cost of $30 per month, you'll get:
Nick Jr.
Nicktoons
Teennick
Plenty of other awesome content
In addition to the channels mentioned above, you'll also enjoy access to live content from the following networks and channels:
Cartoon Network
Fox Sports
HGTV
Like many of the most well known streaming services, you can get Sling TV free for 7 days.
Learn more about the channel lineup, platform, pros and cons of Sling TV in our Sling TV review now.
DirecTV Now
DirecTV Now is another answer to the question of how to watch Nickelodeon without cable. It's entry level "Live a Little" package offers both Nickelodeon and Nick Jr plus 60 more channels for only $40 per month.
If you want Nicktoons, you'll need to bump up to the more expensive "Just Right" package. For $55 per month, you'll get Nickelodeon without cable along with Nick Jr, Nicktoons and over 80 other channels.
Are you paying too much for cable?
Cut the cord on your overpriced cable contract today! Save big by switching to Hulu With Live TV. Get 60+ channels, DVR, locals, ESPN, HGTV, Disney, CNN, Fox News and more for only $39.99/month.
Get your 7-day free trial now
!
We've tested DirecTV Now several times and think it delivers a pretty good user experience. Not only can you get sports and news through DirecTV, you can also get Nickelodeon without cable through DirecTV Now.
Either package option gives you an abundance of content at a price tag significantly below the cost of cable.
Want to learn more about DirecTV Now? Read our DirecTV Now review.
Can I Watch Nickelodeon Online Free?
Many people want to know how to watch Nickelodeon for free. After all, if there's a way to watch your favorite shows without paying for it, why not? Unfortunately, there's no good way to watch Nickelodeon live stream online free, at least not everything Nickelodeon streams.
You can watch episodes of a number of Nickelodeon shows on their website at nickelodeon.com. While not all seasons of all shows are available, it is the best way to watch Nickelodeon online free.
Once you've exhausted all the free content on nickelodeon.com, you can purchase individual episodes or entire seasons of the shows you still want to see from Amazon.
While this may not be the most cost effective way to get Nickelodeon without cable, if there are only one or two shows that you really want to watch, it may make sense for you.
Can I Watch Nickelodeon on Apple TV, Chromecast, Fire TV, or Roku?
So you know how to watch Nickelodeon online free, but what if you don't want to watch Nick Jr on your computer? You may not want to have multiple kids crowded around a laptop screen, or you may want to know how to watch Nickelodeon without cable on a big screen.
The good news is that you can play a Nickelodeon live stream on just about any streaming device, including the following popular streaming platforms:
Apple TV
Chromecast
Android TV
iOS
Xbox One
If you don't see your preferred platform listed, keep checking. Leading streaming service providers like Philo, Hulu, and Sling TV are constantly expanding their functionality and adding more compatibility all the time.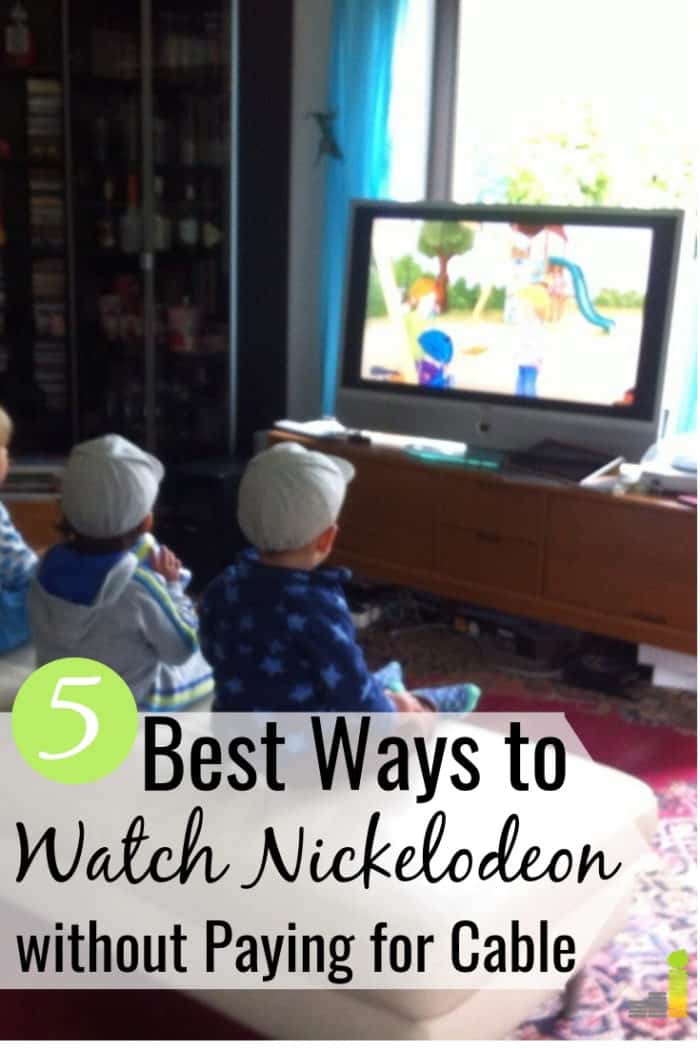 How to Get Nickelodeon Without Cable: The Final Word
There's no reason today to spend over $100 per month on a cable contract. You can watch Nickelodeon, Nick Jr, Teennick, and Nicktoons without cable through any of the streaming services mentioned here.
If you aren't sure which streaming service to start with, try Hulu or Philo with their free trial options. Then sign up for some of the other streaming services covered here one at a time until you've gone through them all. Doing so will help you find the best platform for your needs.
Are you tired of paying too much for Nick Jr and other TV content? Cut the cord today and put the $50+ you'll save each month to some other financial goal.
How do you watch Nickelodeon without cable? Have you tried to stream Nick Jr online free? What other networks have kept you from cutting the cord? How much do you spend on cable or cable alternatives every month?
The post How to Watch Nickelodeon without Cable appeared first on Frugal Rules.
Source: Frugal Rules