Whether you like shopping or not, you probably appreciate saving money. Shopping online or in-store can be affordable if you have the right tools and know how to score good deals. One of our favorite ways to save money at the store is Ibotta. The service is a good way to save money on your shopping, but there are many other apps like Ibotta you can use to save when at the store.
If you're new to using Ibotta, or want to keep even more money in your wallet, this post is for you. We'll share the best cash back apps you can use to save money on all your shopping needs.
What is Ibotta?
Ibotta is a grocery rebate app that lets you get cash back, and it works very simply. The app pulls up offers based on your area and, once you find an offer you like, you select it within the app and buy the product at the store.
This works for both name brand and generic products. After you finish your shopping, you take a picture of the receipt with your phone and upload it to the app. As long as you do this within 48 hours of your purchase, you get the rebate savings.
When you hit $20 in your account, you can transfer the money to your PayPal or Venmo account. You can also use Ibotta for online shopping at more that 350 retailers including:
Amazon
Costco
Dollar General
Sam's Club
Target
Walmart
Check out our Ibotta review to get a more in-depth review of the service.
Best apps like Ibotta
Ibotta is the tip of the iceberg as far as apps that pay you to scan receipts. Here are the nine best apps like Ibotta you can use to save money at the store.
1. Checkout 51
Checkout51 is one of the best apps that pays you to scan receipts because it works at virtually any physical store. This is great because some coupon or saving sites or apps only give you select stores to choose from.
Each Thursday, the app updates your offer list with new savings opportunities. You then have to add some of these items to your shopping list. Once you check off the items and upload the receipt, you are issued a credit.
Like Ibotta, you can also get money back from shopping online with Checkout51. You simply take a picture of the package label and you can get cash back.
Once you make $20 with the app, you can request to get paid. Checkout51 pays by only by check, and it takes 7-14 days to receive it in the mail.
2. ShopKick
Shopkick, available on both Android and iOS platforms, is an app that you can earn "kicks", their term for points, from shopping both in store and online. 
You can earn kicks in a variety of ways, such as:
Scanning barcodes
Visiting online stores
Looking at products online
Watching sponsored videos
In fact, you don't even need to buy anything to earn kicks. Some stores offer kicks just for walking into their store. As stated above, you can also earn kicks by scanning barcodes.
You do earn more kicks when actually buying items, but isn't necessary to start earning. You can redeem for cash via PayPal once you reach $20 in your account. Gift cards are also available if you prefer those to cash. In some cases, people earn enough kicks to receive a gift card or cash in only one week.
3. BerryCart
BerryCart is an app that pays you when you buy natural, organic, non-GMO, vegan or vegetarian foods and drinks. Items like almond milk, coconut water and veggie burgers are just a few eligible items to earn cash back with on the app.
BerryCart does not have items on the list that have high fructose corn syrup or artificial sweeteners. 
Each action you complete on BerryCart unlocks a one-time rebate that you can redeem after you purchase the product, like with Ibotta.

Actions can be as simple as just tapping an icon, reading a fact, or answering a one-question poll. BerryCart asks that a receipt from a store purchase be uploaded within a week. After you accumulate $5 in rewards, you can either cash out via PayPal or receive a gift card.
4. SavingStar
With SavingStar, you start off by adding the stores that you shop at most. After you add the stores,  you activate the app for rebates. Like Checkout51, once you reach $20 in rewards, you can cash out your earnings.
Make Extra Money by Taking Short Surveys
Taking short surveys in your free time can be an awesome way to earn extra money fast! The instant you finish a survey,
Survey Junkie pays you in cash via PayPal
. 6 Million users and an 8.9/10 Trust Pilot rating prove you can trust them.
You can choose direct deposit, PayPal or gift cards as your method of payment with SavingStar. You receive your payment within 1-2 days.  
The one drawback to SavingStar is that you must link your account to specific stores' loyalty cards. You don't scan receipts to get cash back; linking your account to a store card tracks your purchases instead.
If you don't want the earnings for yourself, you can donate to the American Forests charity to help plant trees. SavingStar has grown to over 8 million users since it started in 2011.
5. Paribus
After you make a purchase online, Paribus monitors the retailer's prices and alerts you if the price you paid for an item changed. For example, if you make a purchase and three days later the price was reduced, you may be eligible to get money back. Paribus can help initiate the payment for you.
Paribus keeps track of your online purchases by email and monitors stores to see if you are eligible for cash back. Gmail, Yahoo, and Outlook are some of the email providers that can link to Paribus.
The service only opens emails that seem to be transaction-related so you don't have to worry about private emails being seen.
Old Navy, Target, Office Depot, and Costco are a few of the stores that Paribus can monitor for you. The entire process of receiving and requesting a refund is done automatically – you don't have to do a thing!
You will typically be refunded to the original form of payment. Once the adjustment is confirmed, you are normally paid within 3 to 7 business days depending on the retailer.
Check out our review of Paribus here.
6. ebates
Ebates is one of my favorite apps to save money when shopping online. The best thing about Ebates is you can add it right to your toolbar.
When you add it to your Google Chrome toolbar, each time you visit an Ebates partner site you get a notification and can opt in to receive the cash-back offer.
You don't need to see if a purchase you make qualifies for a rebate. Simply make a purchase and you get a certain percentage of your purchase back, depending on the item you buy. This makes earning money very simple.
Another wonderful thing about Ebates is their referral program. For each referral that joins Ebates and spends $25, you receive $25! 
Ebates also pays you $10 just for signing up. The only drawback is that they pay out quarterly; however, the payment can be received either via PayPal or check.  
Check out our review of Ebates here.
7. Receipt Hog
To use the Receipt Hog app, all you need is a smartphone that takes quality photos. Receipt Hog is flexible regarding where you can shop. You're not limited to only a few stores. And while some of the other shopping apps require you to shop for certain items, Receipt Hog doesn't.
The goal is to collect coins and then redeem them for cash or gift cards. All the app requires is that you take a picture of your receipt once you finish shopping. If you go to a few stores and have a small number of items on your list, you can use the app and submit your receipts at once.
Or, if you want to get all of your items at one store with a large list, you might also get a good amount of coins. Both ways may be effective so feel free to give them each a try.
Once you spend $10 at the store, you start earning coins.
8. Snap by Groupon
Snap by Groupon is the perfect way to get a discount on things you shop for every day. The app has a list of retailers that offer to give you a cheaper price just for using the app.
It seems similar to the main Groupon app. You have to spend a little money, but ultimately you can keep money in your pocket. Who doesn't love saving money?
Like Ibotta, you simply scan your receipt to qualify for savings. Snap by Groupon also has the same $20 redemption minimum.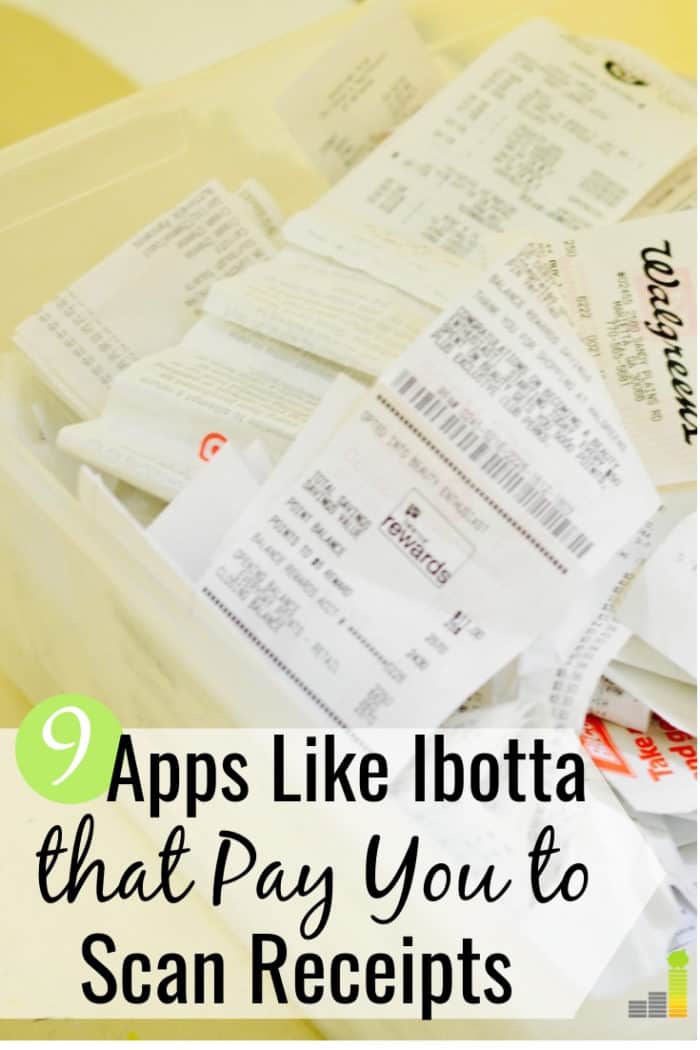 9. Walmart Savings Catcher
Walmart offers a way to compare prices by scanning and uploading your receipts to the Walmart app. The Walmart Savings Catcher app compares their item prices with other retailers and if you paid more with them, they will give you the difference.
To do this, take a picture of your receipt and wait a few business days. You will be notified by email if you are eligible for a refund or not. The other great thing about this is you can store your receipts on the app. 
The Walmart Savings Catcher has no minimum redemption amount. Your cash back is loaded onto a Walmart gift card, and you can add your savings to your gift card balance anytime you want.
If you're not using any of these best cash back apps, you're missing out on savings and getting money back. We all have to shop, and most of us buy things online, so it makes sense to get money back on items you're already buying.
The best part of these cash back apps is they're free, easy to use, and don't require you to use a credit card to receive any benefits. You can also use more than one to increase your savings, so try a few to determine which ones you like best.
What's your favorite way to save money shopping? What other apps like Ibotta do you use to save money at the store? What's one overlooked way to save money?
The post 9 Best Apps Like Ibotta to Save Money at the Store appeared first on Frugal Rules.
Source: Frugal Rules