Are you a stay-at-home mom looking to make some extra money in your spare time? Given the high cost of childcare in many areas, it isn't always financially prudent for both parents to work outside the home. While it's easy for stay-at-home moms to think they can't add income to their household, that is often not the case.
Whatever your reason for choosing to stay home, there are many legitimate work-from-home jobs available. For instance, I chose to stay at home several years ago because I didn't want to spend much time away from our son. And now I work from home full-time.
If you're a stay-at-home mom and interested in earning an extra $500 (or more!) per month, this list provides several options for you to consider.
How Stay-at-Home Moms Can Make $500+ Per Month
Do you want to work from home but don't know where to start? Here are six of the best ways stay-at-home moms can make $500+ per month.
1. Proofreading
If you find yourself catching errors in books or articles you read, you may enjoy working from home as a proofreader.
You don't need a degree to be a proofreader, but it may help with more advanced proofreading. As a proofreader, your duties include the following:
Catching errors in grammar
Correct spelling
Ensuring proper formatting
Proofreaders are usually the last line of defense when it comes to reviewing copy before it's published, so this is an important role for many businesses. This is also a job you can do from the comfort of your own home.
You can proofread articles, books, and other publications for clients. All you typically need to work as proofreader is access to a laptop and the internet. However, you do need to find your own clients. You do this by networking online or locally.
Our friend Caitlin Pyle offers a free workshop, Proofread Anywhere. In the workshop she teaches you how to find and get clients, plus how to grow your proofreading business.
Caitlin runs her own six-figure proofreading business and is a great resource if you want to pursue this opportunity.
How Much Money Can You Make as A Proofreader?
Being a proofreader is one of the higher paying opportunities for stay-at-home moms. According to PayScale, the average proofreader in the U.S. earns $50,000 per year. If you proofread part-time, you can easily bring in $500 per month.
In most cases you can average $20+ per hour as a proofreader, and advanced technical proofreading may pay even more.
If you're looking for a legitimate work-from-home job with a flexible schedule, this is a great opportunity to make extra money.
2. Sell Items in a Shopify Store
Have you ever thought about selling items, whether unused items from your home or ones you buy and want to flip? You can take this income idea to the next level by launching your own Shopify store.
Shopify is a platform that helps entrepreneurs establish their own e-commerce site. You can either create your own digital products to sell or use dropshipping to sell products you don't physically store.
Shopify helps you establish and build your website, as well as provides resources to help you grow your business. Shopify runs over 500,000 e-commerce sites all over the world and provides an affordable way to grow an e-commerce site.
How Much Money Can You on An E-Commerce Site?
Running an e-commerce site takes a lot of work. However, a resource like Shopify simplifies a lot of that. Not only that, the potential to earn extra money via e-commerce is definitely there.
According to the U.S. Department of Commerce, the total sales for e-commerce sites was $1.3 billion in the first quarter of 2018 alone!
If this sounds like something you'd like to explore, check out our guide on how to make money with Shopify to learn how to maximize earnings.
3. Teach English Online
You don't have to work at a school to be a teacher. You can teach English online to students from all over the world without leaving the comfort of your home.
There are many platforms to teach English online. Some companies focus on younger students, as young as kindergarten, while others focus on one-on-one teaching opportunities.
The requirements to teach English online from home vary, but this is generally what you need:
At least one year of teaching experience
An English as a Second Language (ESL) certification
A computer with reliable Internet access
HD external or integrated camera
A headset with a microphone and stable output and input
Some platforms allow you to replace teaching experience if you have a college degree. Some allow you to qualify with homeschooling or tutoring experience. And most platforms handle all curriculum and lesson planning, which means all you need to do is teach.
If yo'd like to teach English online from home, here are some of the best companies to work for:
VIP Kid: VIPKid requires a degree, but you can qualify if you're in your final year of college. The platform focuses on students ages 4 – 12, and you never have more than four students in your class.
Gogokid: Gogokid lets you teach one child per session, but they do require you to have at least a Bachelor's degree to teach students. The best part of Gogokid is they offer a $300 bonus to start!
EF Education First: EF Education First is the largest foreign language company in the world. Like other opportunities, you get to make your own schedule. You also get to teach either students or adults with EF Education First.
Be aware that many platforms will require you to work early mornings since you'll be teaching overseas students.
How Much Money Can You Make Teaching English Online?
Pay varies for most opportunities, but you can expect to make at least $15 per hour teaching English online from home. If you have teaching experience or a college degree, this can be a great opportunity for stay-at-home moms to make extra money.
Check out our guide on how to teach English online from home to learn more about this opportunity.
4. Virtual Assistant Work
You may have not heard of a Virtual Assistant (VA) before, but they help manage the needs of a business. In basic terms, a VA is someone who handles secretarial tasks online. This involves a wide variety of tasks including:
Editing content
Managing social media
Managing email
Scheduling meetings
Sending invoices
Some virtual assistants provide more generalized services while others have more specific skill sets. For example, I worked with a VA who helped manage my blog's Pinterest account and schedule pins.
Make Extra Money by Taking Short Surveys
Taking short surveys in your free time can be an awesome way to earn extra money fast! The instant you finish a survey,
Survey Junkie pays you in cash via PayPal
. 6 Million users and an 8.9/10 Trust Pilot rating prove you can trust them.
She worked part-time and easily earned $1,200 per month with only a few clients.
The best part about about VA work is you don't need a degree or years of experience to start making money. If you can type well, communicate online, and are a quick learner, you can easily train to gain new skills and start helping clients.
Getting started as a VA is simple. All you really need is access to a computer and internet, and any special platforms or software are generally provided by your client.
How Much Money Can You Make as A VA?
Pay for virtual assistants varies. If you're just starting out or don't have advanced skills, expect to make around $15 per hour. However, as you add more advanced technical skills, you can expect to make $25+ per hour.
If you want to make money as a VA and aren't sure how to get started, you can take the course 10kVA. The course is offered by my friend Kayla Sloan who started part-time and now earns over $10,000 per month as a virtual assistant.
She shares how to grow your business and what resources you'll need to succeed as a VA. Some of the best sites to find VA work are Zirtual, Flex Jobs, and 99 Dollar Social.
You can also freelance and find your own clients, which will allow you to set your own rates.
5. Write Articles or E-books
If you enjoy writing, you can earn $500 or more per month simply by writing articles online as a freelancer. There are many websites, blogs, and businesses seeking content. As a result, there is a need for high-quality online content.
If you consider yourself an expert in a certain niche or aspire to become one, you can work on your writing skills and write articles for extra cash. You can search for writing jobs on job boards like Pro Blogger and Upwork.
You can also ask people in your network who have websites if they need a writer to produce content. As a freelance writer, you can set your own rates and choose when you work. This is perfect if you're a stay at home mom who needs to work around your kids' schedules.
Another way to earn money by writing your own fiction or non-fiction e-books and selling them online for extra cash. I have a friend who writes romance novels and earns $500 to $800 per month in passive income from the sales.
Check out the course from our friend Michelle Jackson, Make Money with Ebooks. Michelle is a published author and gives you the tools needed to start making money by writing Ebooks.
How Much Money Can You Make as A Freelance Writer?
Freelance writing offers the broadest range for stay-at-home moms to earn money. For instance, some sites may pay very little for content, no more than $50 per article, while many companies will pay hundreds of dollars for content.
There is plenty of opportunity available for aspiring freelance writers, but it does require research and effort to pursue and find the best ones.
6. Rent Out Your Baby Gear
Do you have baby gear that you no longer use? Instead of selling it and earning money only once, why not rent out your gear to other parents in the area and earn a recurring income?
goBaby is a site that allows parents to list baby gear they no longer use and would like to rent out. This includes some of the following items:
Strollers
Cribs
High chairs
Outdoor gear
Toys and books
If you live in a big city, renting out your baby gear to travelers offers a great way to make extra money.
How Much Money Can You Make Renting Your Baby Gear?
According to the goBaby site, you can earn up to $600 per month in income by renting out your items. It's free to list your items, so there's no extra cost.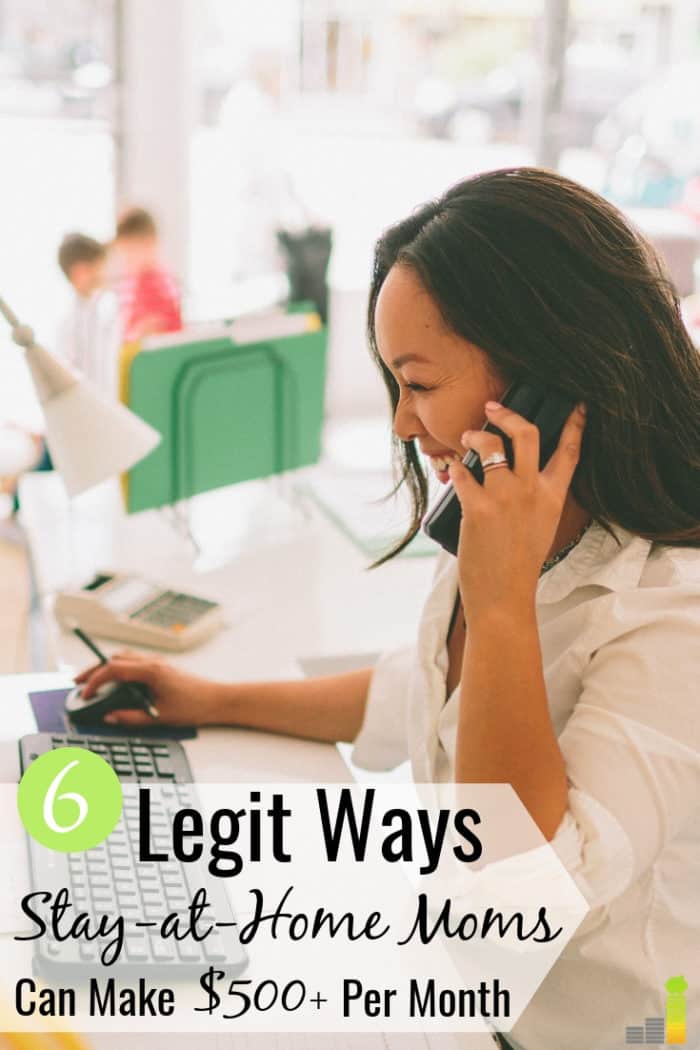 bottom line
This list only scratches the surface for opportunities for stay-at-home moms to make extra money. And, thanks to the internet, there are even more opportunities to make money on the side.
If you're willing to think outside the box, you can easily make $500+ per month to add to your family's budget.
How do you make extra money on the side? What are some other work-from-home jobs you've seen do well for other people? What are some jobs for stay-at-home moms you would caution others to avoid?
The post How Stay-At-Home Moms Can Make an Extra $500 Per Month appeared first on Frugal Rules.
Source: Frugal Rules