Disclaimer: This article was sponsored by TransUnion and contains affiliate links to their products. I am provided compensation for advertisements and articles on this blog. All thoughts and opinions are my own. My experience is my own, and your experience may differ. Thank you for supporting brands that make this blog possible.
Whenever one year ends and another begins, resolutions are made to improve our lives. Common resolutions include becoming more physically fit and eating healthier.
I'm not saying there's anything wrong with those resolutions. In fact, those are great goals to have for the new year, especially if you've fallen off track a bit. After all, many of us enjoy indulging during the holidays and exercising can easily fall by the wayside too.
Sometimes it's not only food; your finances can get derailed a bit during the holidays as well. Therefore, another "new year, new you" resolution you should consider making is to manage your money better. To reach that objective, you need to create healthy credit habits. Here's how you can do it.
1. Know Your Credit Standing
I'm the first to admit that I haven't always known my credit standing. Poor spending decisions in my college days left me thousands of dollars in debt. When I graduated, my finances were out of control and I felt anxious and unsure what to do.
But then I began my journey towards healthy financial habits to achieve better credit. I found out what my credit standing was and took action to improve it. There's no better time than right now, at the beginning of a new year, for you to do the same thing.
Credit Report
You can start by getting a free copy of your Annual Credit Report. You're entitled to receive one free credit report each year from all three credit reporting agencies, including TransUnion. While your Annual Credit Report won't report your credit score, it will give you important insight to factors that may be impacting your score, like missed payments and bad debt.
As you begin the process of improving your credit you can get unlimited, refreshed views of your TransUnion credit report by signing up for a free TrueCredit account.
Credit Score
Another thing to do is to look up your credit score, which is not the same thing as your credit report. The number is calculated from a variety of your financial behaviors. According to TransUnion, your payment history generally makes up 40 percent of your score, while credit utilization is 20 percent. The length of your credit history contributes 21 percent and the total amount of recently reported balances is 11 percent. Finally, new credit accounts are responsible for five percent while your available credit makes up three percent.
Look for a score of at least 680-720. A score in this range, or above, means you've done a good job handling your credit. It also indicates that you may be a good financial risk to creditors when you need a line of credit.
2. Examine Your Report and Make Changes
When reviewing your credit report, you should watch for errors or inaccuracies caused by fraudulent activity on your report. You can also see if you've missed any payments in the past or if you have any bad debt on your report. All of these factors can negatively impact and lower your overall credit score.
Once you know and understand your report, you can take steps to improve your credit this year.
If you do find errors in your report, you can dispute them. For example, I've found errors in my credit report in the past. Although some of the errors may not have directly impacted my credit score, I still disputed them since they were inaccurate.
If you find errors, you can use a tool like TransUnion's Credit Report Dispute feature to get your credit report repaired as quickly as possible.
For further peace of mind, you can also protect your credit with a credit lock or freeze. Both credit locks and freezes are good, preventative ways to safeguard your personal data but if you're not sure which one is right for you, TransUnion has a guide to help you understand when these protections should be used.
3. Make a Plan to Improve Your Credit
Through my own past struggles with debt, I've come to realize that money is a powerful tool. It's there to help us reach our goals, such as buying a home, starting a business, or saving for retirement.
Obviously, none of us will reach our goals if we don't manage our money well. That's why it's important to improve your credit. The steps outlined below helped me improve my credit score and they may be able to help you also.
Pay Your Bills On Time
After you've corrected any inaccuracies with your credit report, keep up with your bills. Pay them on time and live frugally to avoid accumulating debt. Whenever possible, pay bills in full each month.
Lower Your Debt
If you have outstanding debt, throw as much money at it as you possibly can to get it paid off quickly. The amount of debt used out of all your available credit, called your credit utilization rate, is one of the key components of your credit score.
Maintaining low credit utilization can positively affect your score because it indicates you're managing credit well. Many industry experts state to keep your rate below 30 percent.
Use Credit Wisely
There may be times when you have to use a credit card and are not able to pay it off in full. When this happens, try to pay off your balance as soon as possible to eliminate wasting money paying interest.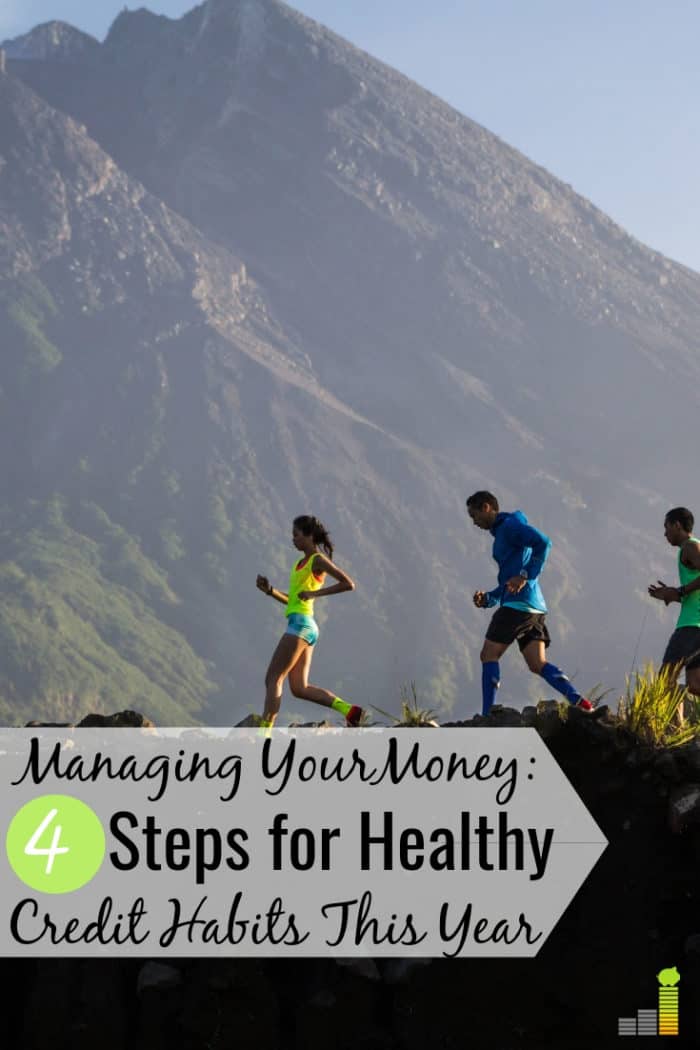 4. Keep Monitoring Your Credit
To truly achieve and maintain healthy credit habits for this year and beyond, you must continue to monitor your credit. You'll need to remain dedicated to keep your finances healthy and your credit score high.
To do that you'll want to monitor your credit report with a tool like TrueCredit. You should also guard your personal information closely by creating strong passwords and changing them often.
Managing your money and creating healthy credit habits is important. It can also help you use money as a tool to confidently reach your goals. Use these tips and ideas to improve your finances this year.
What healthy credit habits do you plan to adopt this year?
The post Managing Your Money: 4 Steps for Creating Healthy Credit Habits This Year appeared first on Frugal Rules.
Source: Frugal Rules