Who doesn't love a good deal? Saving money on regular purchases is not only frugal, but it allows the freedom to spend and save money in other areas. I love to shop online as you can compare prices to find the best deal for your money. One of my favorite ways to save is to shop at online dollar stores to buy items for around the house.
Dollar stores used to be a popular location in many shopping centers. While you can still find dollar stores nearby you, it's possible to shop at a dollar store online to save money on purchases.
If you like scoring a deal, this post shares a few of the best online dollar stores to shop at. Some even offer free shipping!
Top Online Dollar Stores
It's expensive to operate a physical store. Rent, utilities, and other expenses make it difficult to earn a healthy profit. You will recognize a few of the stores in this post from their physical stores. They now also operate online dollar stores to increase profit.
Other retailers operate solely online and offer similar deals to save money. Below are the top online dollar stores to use to save money on household items.
1. DollarTree
DollarTree is one of my favorite stores to visit. If you do an internet search with the phrase 'dollar stores near me', DollarTree will likely be one option. The retailer has over 14,000 stores across the country, according to their website.
But did you know that you can also order from them online? From household goods to office supplies, almost everything that you can buy at the store you can get online as well.
Now, if you go this route, be aware that although all items are a dollar, you must buy in bulk. For example, some items come in a case of 32 and some may be in a case of 40. It all depends on what you're buying.
Here are just a few categories you can buy at DollarTree:
Food and candy
Kitchen and dining
Office and school supplies
Health and beauty
I highly recommend the Dollar Tree website if you're shopping for an occasion such as a wedding, birthday party, or even opening your own brick and mortar business. You can score some great deals on bulk items in many categories.
With the Dollar Tree website, there are two options for shipping. You can have the items you purchased shipped directly to you at a cost or if you have a Dollar Tree near you, you can have your items shipped to the store for free.
If you regularly shop at DollarTree, sign up for their Value Seekers Club for deals not found anywhere else.
2. Rosegal
Do you need trendy and affordable clothing for you or your family? Rosegal is one of the top online dollar stores to buy items.
Rosegal is an online-only retail store that sells both women's, men's, and children's items. They also include plus-size clothing options as well. Beyond clothing, you can find deals in various categories, including:
Accessories
Hair
Home
Shoes and bags
Items aren't exactly a dollar, but are much cheaper (especially for new clothing) than many department stores. Clothing ranges from $5 to $50, with very few items being over $50.
Because they are based out of China, shipping takes up to 25 days. Processing time is around three days. If you're in a hurry and need clothing quickly, you may want to pursue other options on our list.
Once you receive your items, you have 30 days to ask for a refund or exchange. As long as the item is unworn, unwashed, the labels are intact, and the original packaging is undamaged, you can return it for a full refund. The only items not allowed for returns or refunds are swimwear, lingerie, or sale items.
3. Dollar 1
Brand named items for a dollar? Sign me up. Dollar 1 is based in the United States, and all products are sourced from the U.S. as well.
So how do they get brand named items and sell them so cheaply? Simple – the retailer receives the products as liquidation items from other retailers. Because they save money by getting the items in bulk and on sale, you get the savings passed on to you as well. Not all items cost $1, as some go up to $10.
You can expect to find deals in the following categories at Dollar 1:
Baby items
Beauty
Clothing
DVDs
Kitchen
Because the items are liquidation, Dollar 1 only buys a specific quantity. If you like what you see, grab it while you can, because you may not be able to get it again. Inventory changes daily, so don't hesitate to jump on a good deal if you see one.
Dollar 1 also has an email list where they will email you about the latest "daily deal." As a member of the email list, you get first dibs on products that they put out.
4. DHgate
Looking for wholesale items for steep discounts? Then look no further than DHgate. This online dollar store is like the eBay of online dollar stores. The website has multiple sellers that offer different products, and the more you buy, the more you save.
The site is based in China, so be aware that your items can take at least four weeks to reach you. Also, since DHgate has multiple sellers on its platform, make sure you do your research on the individual seller before purchasing from them.
You can read reviews and even use their titles to search the products and make sure they're legit.
One of the perks for shopping on DHgate is they have almost everything you'd need including electronics, clothes, and more. Except for food, you can pretty much get anything from this store.
5. Hollar
Hollar is one of the more popular online dollar stores. Not all items cost $1, but expect to pay no more than $10 for an item. The retailer has quite a few name brand items, a fantastic clearance section, and flat rate shipping (which other stores don't always offer). Hollar also has their dollar spot, where they showcase their latest and greatest products for one dollar.
Besides flat rate shipping at $3.99 and free for orders over $25, Hollar also offers the option to return any items you aren't satisfied with for a full refund. Items must be unused and in their original packaging, but you do get a full year to return them.
Make Extra Money by Taking Short Surveys
Taking short surveys in your free time can be an awesome way to earn extra money fast! The instant you finish a survey,
Survey Junkie pays you in cash via PayPal
. 6 Million users and an 8.9/10 Trust Pilot rating prove you can trust them.
Hollar has thousands of items for all different aspects of your life. Expect to find deals in:
Apparel and accessories
Baby
Health
Home
Kitchen
Party
Because they're based in the United States, and their fulfillment center is in Ohio, you'll get your items fairly quickly.
Another great perk of Hollar is that they have apps available on both iPhones and Android phones. If you need to order something quickly and on the go, you can. Or, if you're just late-night browsing, you can do it while lounging around.
Just don't overspend due to convenience!
6. DollarStore
Given its name, DollarStore belongs on our list of best online dollar stores. Items start at $.50, but can go up to any amount.
The site claims to be one of the largest dollar stores online, having over 30,000 items for sale. You can find deals in a variety of categories including:
Auto
Accessories
Clothing
Hardware
Party
Pharmacy
The minimum order total is $15 at DollarStore. You don't receive free shipping, unfortunately, but everything ships from the U.S., so you receive items in a timely fashion.
Do you use bitcoin? If so, you can use bitcoin, in addition to cash, to buy items on DollarStore.
7. 99 Cents Only Store
While the 99 Cents Only Store doesn't offer the ability to shop online, they offer great deals. If you live in the southwestern U.S. and do a search for 'dollar stores near me', it's likely you will find a location as they have over 350 stores in four states – Arizona, California, Nevada, and Texas, according to their website.
The 99 Cents Dollar store is like most online dollar stores in that it offers various items. You can expect to find deals in the following areas at 99 Cents Only Stores:
Alcohol
Beauty
Brand name closeouts
Home goods
Party
Pets
It even has fresh produce and other food items if you're trying to save money on groceries. And, if you're looking for fast deals or want to see weekly specials, you can sign up for their email list or text list.
8. Dollar General
If you're asking yourself 'are there dollar stores near me?', it's probable you live near a Dollar General. The retailer has over 14,000 nationwide locations, according to their website.
You can shop Dollar General online from the comfort of your own home and get everything shipped right to your door.
Even when shopping online, you get access to their ads and sale items, as well as coupons. You can also set up your order to auto-deliver, which is great if you find yourself replenishing certain items like toilet paper and laundry detergent frequently.
Expect to find deals in many categories like:
Auto
Beauty
Clothing
Party
School and office
Toys
Not all items cost $1, but most are $6 or less. Shipping is $4.99 flat rate, and orders are shipped in three to seven days. Once you receive your items, you have 30 days to return or exchange them, or get a refund.
You can either ship your items back or take them to your local store.
9. DollarDays
DollarDays is a little different than most online dollar stores. While they are also a wholesaler, their focus is on nonprofits, businesses, and betterment organizations. They also provide items for fundraisers. But that doesn't mean that you can't take advantage of their deals. You just have to purchase in bulk.
If you have a big family, a business, or are planning an event, I'd highly recommend purchasing from DollarDays so you can get the best bang for your buck. For example, they have boxes of crayons for as little as $.27 cents each, but you'd have to purchase 100 boxes to get that deal.
You can find deals in the following categories at DollarDays:
Baby
Beauty
Clothing
Home
Party
School and office
DollarDays is located in the United States, so orders are fulfilled, shipped, and received in seven to ten days. While you most likely won't order enough to qualify for free shipping (only for orders $499 and up), you may be able to shop when they're having a shipping discount to save money.
DollarDays has a shorter return policy at 14 days. So if you're not happy with your item and need a refund or exchange, contact them as soon as possible.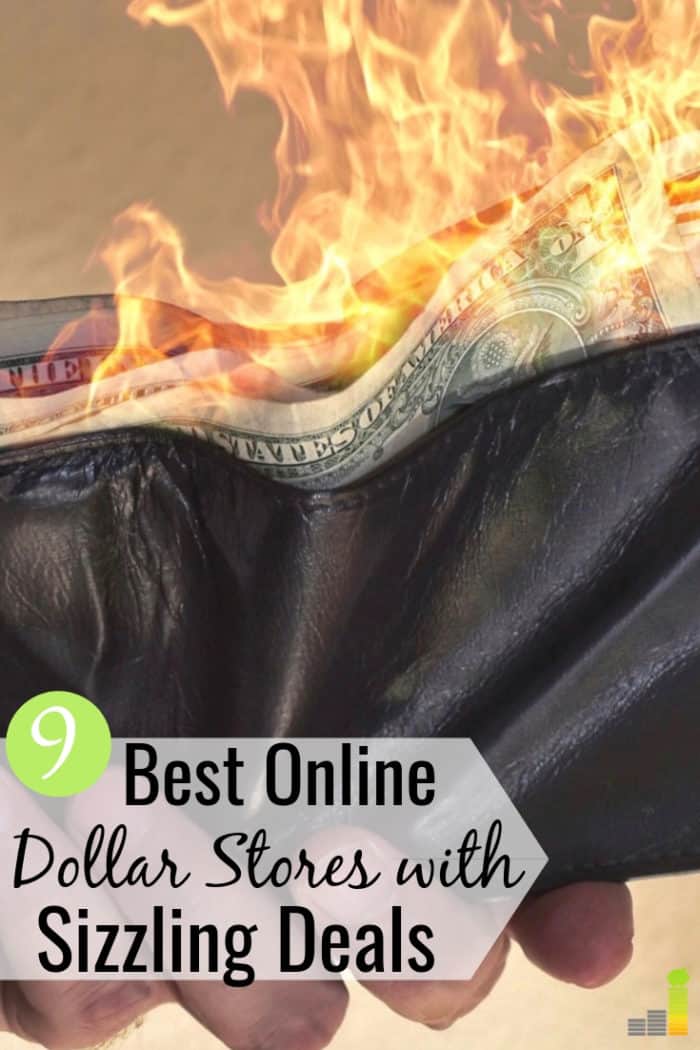 Dollar Stores Near Me: Bottom Line
There are various online dollar stores that offer terrific deals for you and the family. If you want to save money, shop from the comfort of your own home, and get access to brand-name items for less, check out these online dollar stores first.
These stores can offer you almost everything you need, and most have great return policies so you won't be stuck with items you don't want or aren't a good fit. Give them a try if you're looking for new additions to your shopping repertoire.
What other online dollar stores do you use to save money on shopping? When was the last time you visited a dollar store in person? What are some other ways you save on your shopping?
The post 9 Best Online Dollar Stores with Sizzling Deals appeared first on Frugal Rules.
Source: Frugal Rules