Teaching is a career that  impacts countless lives. And while it's great that teachers get a summer break, it can pose a financial issue if your income decreases. Some teachers have the option to get paid during the summer but it depends on the district they work in. However, there are summer jobs for teachers that can alleviate the burden of a limited salary during your time off.
The free time is nice for most teachers, but making extra money in the summer is a fantastic way to reach various goals such as:
Paying off debt or student loans
Saving for a vacation
Saving for retirement
There are plenty of opportunities to earn money on the side as a teacher. Some part-time summer jobs for teachers require no specialized skills. Others build off the skills you already have as an educator.
If you want to supplement your income this summer, this post shares some of the best ways to earn extra money.
Best Summer Jobs for Teachers
Does not receiving a salary in the summer put you in a financial bind? Or does the idea of making extra money sound enticing? Below are the ten best summer jobs for teachers to make extra money.
1. Deliver Meals
Do you have a flexible schedule this summer and don't mind working evenings or weekends? One of the easiest side hustles for teachers is delivering meals.
You can take advantage of delivery app jobs and make money taking meals to individuals from local restaurants. Think of it as being a pizza delivery driver, but you pick up meals from various restaurants instead.
The two best delivery service apps are DoorDash and Uber Eats. With each service you get paid weekly to deliver meals and you get to set your own schedule. You don't even need a car in some locations as some cities allow you to deliver via bike, motorcycle, or by foot.
Each platform has its own payment specifics, but you often receive tips from customers that can increase your earnings. Additionally, the two platforms have differing specific requirements but expect to meet these minimum requirements:
Your car must have at least two doors
You must have a valid driver's license
Ability to pass a background and DMV check
You must have a newer smartphone
If you want to learn more about delivering meals, and additional requirements, check out our guide on how to run errands for money.
2. Tutor
Tutoring is a flexible side hustle that teachers can do during the summer. Since you're already a teacher, you have the skills needed and you can often set your own schedule.
You have two options for tutoring during the summer. The first is to tutor students in your area taking summer school classes. You can advertise on Facebook Marketplace, or let friends know you're taking on tutoring clients.
The second option is to teach English to students online through different platforms. There are a considerable number of students around the world wanting to learn English, and as a teacher you qualify to work for these platforms.
VIPKid and EF Education First are two of the oldest, and most respected, platforms to teach English online. Classes tend to be smaller, less than five students, and teachers can earn up to $22 per hour. All you need to do is teach since the platform provides all the course materials.
You do need some minimal tools to teach students online. If you have these, then you can teach students online:
Access to a computer
Access to reliable internet
HD external or integrated camera
A headset with a microphone
Check out our guide on how to teach English online from home to learn more about this summer side hustle for teachers.
3. Be A Rideshare Driver
Do you like meeting new people and have a flexible schedule? One of the top summer jobs for teachers is to drive for a ridesharing service.
You've likely heard of rideshare services. They're a great way to make money on the side if you live in a larger community and want to work on your own time.
Lyft is one of the leading ridesharing services to make money. You get paid each week with Lyft and you commonly receive tips from most riders. Similar to driving for a delivery service, you must meet certain requirements to drive for Lyft:
You must be at least 21 years old
Have a valid driver's license
Ability to pass a DMV and background check
Have a newer car with at least four doors and five working seatbelts
Operating air conditioning and heat
Some cities may have specific requirements to drive for a service like Lyft. The app will tell you this upon signing up to be a driver.
Driving for Lyft is one of the best part-time jobs for teachers as they currently guarantee earnings of $1,000 in the first 30 days, or after you complete 125 rides.
If you want to learn more about becoming a rideshare driver, read our guide on how much money you can make driving for Lyft to get started.
4. Proofreader
Proofreading is one of the top summer jobs for teachers. If you already grade papers for students, proofreading is a natural fit for you. You can edit papers for students who are taking summer classes, or proofread content for spelling and grammatical errors..
Similar to tutoring, you can advertise your services on Facebook Marketplace or by word of mouth. You don't have to rely on local clients to proofread, though, as the internet offers plenty of opportunities to score gigs.
Our friend Caitlyn Pyle offers a free course, Proofread Anywhere, that educates you on how to become a professional proofreader. In the course, Caitlyn offers a 76-minute workshop you can take to learn how to make money as a proofreader.
You can learn to be a general proofreader or even learn to specialize your services and work as a transcript proofreader. You can make good money with either, earning $20+ per hour in most cases. Additionally, the course offers tips on how to grow a client base and where to find work.
5. Delivery Groceries
Another great summer side hustle for teachers is to work as a personal grocery shopper by shopping for or delivering groceries to busy families. Similar to other driving and delivery related jobs, you can create your own schedule as a grocery shopper.
There are several platforms to deliver groceries, but our favorite one is Instacart. Instacart hires shoppers and grocery delivery drivers to service people who use their app.
You can pick your schedule for the week in advance depending on your availability You can also choose which areas you work in which is helpful if you don't want to drive too far.
Whenever someone requests to have their groceries delivered, you receive a notification and can begin your pickup and delivery route. You must have consistent access to a vehicle and be able to lift 30- 40 pounds to work with Instacart.
If delivering groceries does not appeal to you, you can just do the shopping. With either job, you can earn up to $20 per hour, though working as a driver provides an opportunity to receive tips.
6. Summer School Teacher
Many schools offer summer school classes for students to get ahead or catch up. In either case, summer school can be a tremendous help to a child. If you don't mind the additional class time, this is one of the best summer jobs for teachers.
Make Extra Money by Taking Short Surveys
Taking short surveys in your free time can be an awesome way to earn extra money fast! The instant you finish a survey,
Survey Junkie pays you in cash via PayPal
. 6 Million users and an 8.9/10 Trust Pilot rating prove you can trust them.
The selection process is different per school. Perhaps a summer school teacher is selected because of seniority or a sign up list.
Summer school class times are normally shorter than the regular school year classes so you still get a break. You would also likely have a smaller class size, allowing for more one-on-one time with students.
7. Sell Lesson Plans Online
Teachers Pay Teachers is a site that allows educators to share lesson plans and sell them to other teachers online. You can take your best lesson plans, assessments, and resources and set your own prices.
You can do this year-round or solely in the summer to make extra money. That way, you can increase your earnings or even save what you make throughout the year to have during the summer.
Some teachers have had great success using Teachers Pay Teachers and have made $50,000 in a single month, according to their website.  How you price the lesson plans and teaching material is up to you. They simply ask that is original content and you are the original owner of it.
8. Walk Dogs
Do you love pets? You can earn money as a dog walker or pet sitter with Rover.
Pet owners use Rover for house sitting, drop-in visits, and walks. You can get paid to do these services or take care of pets overnight when people travel.
Rover was established in 2011 and has become one of the largest networks for pet owners. Some sitters earn up to $1,000 per month and Rover users take home 80 percent of their earnings, according to their website.
Plus, as a dog walker, you can get outside and enjoy the summer while making money.
9. Babysitting
If you don't mind extra time with children, one of the top summer jobs for teachers is working as a babysitter. Babysitting is a classic way to make extra money on the side, and as a teacher you have all the skills needed to care for children.
You can advertise services on Facebook Marketplace, let friends know you're seeking clients, or create an account on Care.com. The latter allows you to create a profile so clients can leave feedback, helping you land more gigs.
Parents likely need childcare for their kids during the summer, so this is a legit way to make money on the side as a teacher this summer.
10. Camp Counselor
Day camps and overnight summer camps all over look to hire camp counselors each year. You can become a summer camp counselor if you don't mind working with kids outside the classroom.
This is an ideal summer job for teachers because it's seasonal and you can use your skills to lead different age groups. You can work full-time or part-time, depending on your needs.
Start applying a few months in advance so you can get all your application details in and secure a position before the season starts.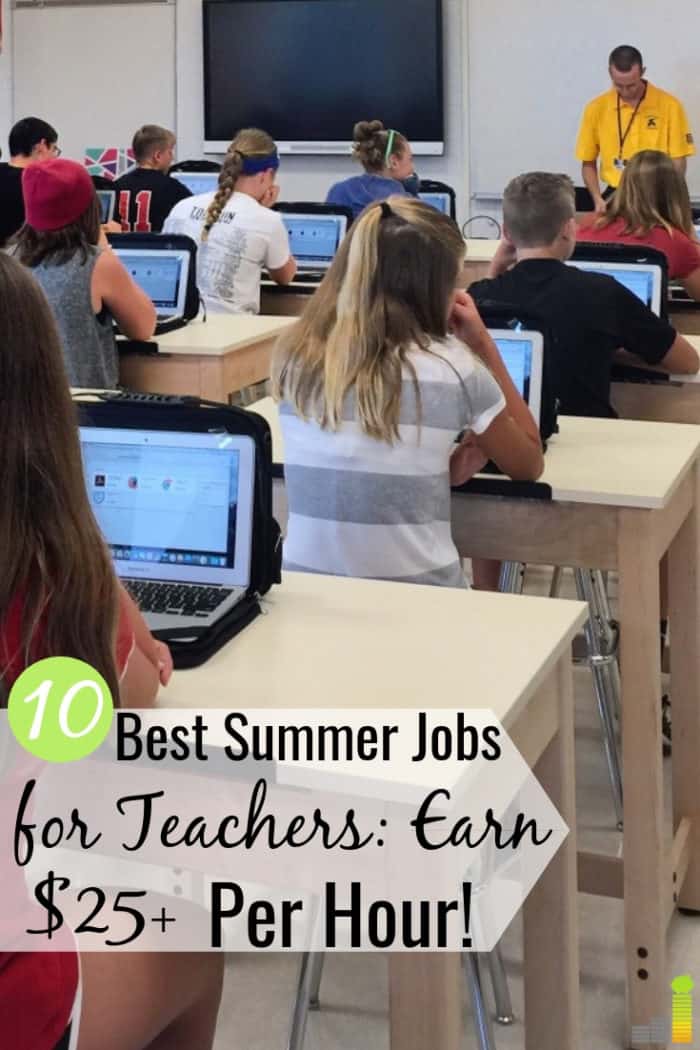 Side Hustles for Teachers: Bottom Line
You don't have to worry about money during the summer if you're a teacher. Start mapping out which summer job you'll pursue in advance so you can ensure you have enough money to support yourself during the summer.
Many of these ideas are jobs you can do on your own schedule so you can work as little or as often as you like.
What are some other summer jobs for teachers you've seen be successful? How much money do you need to earn this summer to reach your goals? What's your favorite way to make money on the side?
The post 10 Best Summer Jobs for Teachers That Pay $25+ Per Hour appeared first on Frugal Rules.
Source: Frugal Rules