I love to earn free gift cards. Don't get me wrong; cash is king in most circumstances. Cash allows you to buy what you need and plan for the future. However, free gift cards are a great option since they operate similar to cash. I love to earn money on the side, and in some circumstances, you can receive free gift cards for doing small tasks you may already be doing.
How is this possible? Apps. There are apps that give free gift cards for doing small tasks including:
Using a search engine
Scanning receipts from your shopping at the store
Taking surveys
Playing games online
I love to earn free gift cards because they help you save your own money. They give you the option to shop at your favorite stores or dine at your favorite restaurant without guilt. You can even give them as gifts!
If you want to know how to get free gift cards from doing simple tasks, this guide shares a few options to consider.
Best Apps That Give Free Gift Cards
Do you like gift cards and want to earn free ones in your spare time? Below are the 15 best apps that give free gift cards.
1. Swagbucks
Swagbucks is a "get-paid-to" rewards website where you earn Swagbucks (SB) points for completing simple tasks. A few of these tasks include:
Taking surveys
Watching sponsored videos
Playing games online
Using their shopping portal
Swagbucks is free to use, and you can sign up in less than five minutes as long as you have an email address or Facebook account.
Once you complete a task, you are rewarded with SB points which can then be redeemed for gift cards. Many gift cards start for as little as $1 (or 100 SB points), but some start at $3.
Swagbucks has gift cards for many retailers, including:
Bath & Body Works
Amazon
Walmart
Target
Sometimes, you may even be able to find a gift card on sale, so snatch it up if you can. Typically the sale means you're saving hundreds of points (and cash) on something you would have bought anyway.
Check out our Swagbucks review to learn how to maximize earnings.
2. InboxDollars
InboxDollars is another survey site and is similar to Swagbucks. It offers other ways to earn money, including:
Watching videos
Playing games
Reading sponsored emails
Downloading coupons
While InboxDollars typically offers you cash in the form of a Visa card, you can elect to receive an e-Payment that you then use to earn free gift cards. You'll choose this option while checking out.
The cashout threshold is $30, and you must reach this before redeeming any gift cards. InboxDollars gives you $5 when you join to help you reach that threshold sooner. You can join InboxDollars if you are as young as 13 years old.
Read our InboxDollars review to learn how to earn more on the platform.
3. Survey Junkie
Survey Junkie is one of the best paid survey sites on the web as it's so simple to earn points. The Survey Junkie platform has been around since 2005 and has over three million members, making it a legit way to earn gift cards easily and quickly.
Once you sign up, you can start taking surveys right away. A big perk to Survey Junkie is the ability to take surveys via your computer or smartphone. Each survey completion is worth a variety of points, but you can reach the cashout threshold easily if you take surveys fairly often.
The threshold is $10 to cash out, or 1,000 points. Once you reach this, you can redeem via PayPal or gift cards.
Our Survey Junkie review shares how to optimize your earnings on the platform.
4. Ibotta
You don't have to take surveys to earn free gift cards. Ibotta is an app that rewards you with cash back for purchasing groceries. Since you shop for groceries already, why not get paid for it?
To use Ibotta, you just have to sign up, choose the items you will be purchasing on your next grocery run, and take a picture of your receipt to prove that you bought those items. Once your receipt has been cleared by Ibotta, the rewards are then added to your account.
Ibotta works with over 350 online retailers as well, so you can earn rebates beyond the grocery store. The Ibotta platform has a payment threshold of $20, and you can redeem your money via PayPal, gift cards, and free Google Play credits.
Check out our Ibotta review to learn how to maximize earnings and receive $10 when you join.
5. Ebates
Along with Ibotta, Ebates is a cash-back website. However, unlike Ibotta, Ebates is solely for online shopping.
Here's how it works:
Sign up
Use Ebates to search through the online sites that you already use (like Amazon or Old Navy)
Shop for your items like you'd normally do
Purchase the items
Use any coupons you may have
Get cash back
The platform pays a percentage of the items you purchase, up to ten percent. The amount you receive varies by retailer. You can cash out your rewards as soon as you hit $25, and choose whatever gift card works for you.
Read our Ebates review to learn more about how the platform works.
6. Pinecone Research
Pinecone Research is a survey site that pays you when you answer surveys and test products. You earn a minimum of $3 per survey–more if you're testing products. This makes Pinecone Research one of the top paying survey sites on the web.
The minimum payout is $3, which means you can cash out as soon as you complete your first survey.
You can cash out via:
You do have to receive a check the first time you redeem your points, but after that, you can request your free gift cards.
Read our Pinecone Research review to see how the platform works and to maximize earnings.
7. SavingStar
SavingStar is similar to Ibotta in that it gives you cash back for grocery shopping. You can shop at many different retailers, including:
CVS
Walmart
Target
Kroger
Stop & Shop
SavingStar works just like Ibotta. You find the deals you like, activate them, make the purchase, and then redeem your rewards. However, unlike Ibotta, with SavingStar you don't have to take a picture of your receipt.
To get your deals, link a store card to your favorite retailers and use it when you're shopping. The purchases, and deals you added, will be automatically added to your account.
Once you've reached $20 in credit, you can get your money direct deposited, sent to your PayPal account, or you can redeem some free gift cards.
8. PrizeRebel
PrizeRebel is a survey site that pays you for taking surveys and signing up for free trials. Another perk to taking surveys with PrizeRebel is their low payout threshold, which is only $5. $1 equals 100 points, so you can meet this threshold easily.
As long as you remember to cancel the free trials you sign up for, you can earn a decent amount of points to exchange for free gift cards. Some of the places you can choose are:
Dunkin Donuts
Amazon
Walmart
Google Play
The PrizeRebel site claims you can open an account in ten seconds and start earning points.
9. Shopkick
With the Shopkick app, you earn cash back from purchases you make on a regular basis. You also earn "kicks" (aka points) by walking into stores and scanning products.
To get cash back from your purchases, you need to link your debit or credit card to Shopkick. However, after linking, whenever you make a purchase, you receive kicks for every dollar you spend.
Make Extra Money by Taking Short Surveys
Taking short surveys in your free time can be an awesome way to earn extra money fast! The instant you finish a survey,
Survey Junkie pays you in cash via PayPal
. 6 Million users and an 8.9/10 Trust Pilot rating prove you can trust them.
To shop online, you can use the Shopkick app, which is available for both iOS and Android.
250 kicks equals $1.00, and you can start cashing out once you've earned $20. You can redeem your points for free gift cards to retailers like:
AMC
Sephora
Target
eBay
Walmart
If you're responsible for the grocery shopping in your home, Shopkick is one of the best grocery rebate apps to save money.
10. Ipsos i-Say
Ipsos i-Say is primarily known for political surveys, but they host other, non-political surveys. If you want a survey site that cashes out quickly and with a low threshold, look no further.
Ipsos i-Say lets you earn free gift cards with as little as $5 (or 500 points). You can also redeem your points for cash. If you choose the gift card option, you can use your redeemed gift card immediately.
Some of the gift cards you can choose are:
Visa cash cards
Target
Walmart
Starbucks Gift Cards
If you regularly shop on Amazon, Ipsos is one of the best ways to earn free Amazon cards.
11. Receipt Hog
If you want to use other apps like Ibotta, but want to get cash back from your whole grocery purchase, check out Receipt Hog. With Receipt Hog, it doesn't matter what you buy or where you shop, as long as you upload your receipts.
For each receipt that you upload, you earn coins. Each gift card has a set amount of coins you can earn. Here's the breakdown:
<$10 = 5 coins
$10-$50 = 10 coins
$50-$100 = 15 coins
$100+ = 20 coins
These coins can then be redeemed for cash (via PayPal) or free gift cards to Amazon. The minimum payout threshold is 1,000 coins, which equals $5.
12. Lucktastic
Lucktastic is an app that pays you to earn money just by scratching daily lottery tickets. It's available for both iPhones and Android phones. Lucktastic is not available via desktop.
Once you earn $10, you can cash out via Dwolla or get a Visa gift card. There are gift cards available as well, but some may require more than $10.
You can earn free gift cards from over 30 major retailers with Lucktastic, according to their site.
13. AppNana
If you like playing on different apps, you can use AppNana to get free gift cards. The app pays you points, known as a "Nana", to perform various tasks. It even allows you to get paid to watch videos. Additionally, you can earn points by testing apps and games.
You can redeem points for free gift cards from various retailers, including:
Amazon
Google Play
iTunes
Xbox
The minimum payout threshold is 1,000 Nanas, which equals about $1.
14. Mobee
Mobee is the perfect app for those who love mystery shopping. With Mobee you complete "missions" at stores and retailers and earn points once your missions are complete. You can find these missions in your area via your phone.
If your mission is successfully completed, you earn points that you can then redeem for free gift cards. Every 100 points you earn is equal to $1, and many missions are worth hundreds (if not thousands) of points.
Gift cards vary based on points, but you can typically redeem your points for most major retailers.
15. Bing Rewards
I know, I know. Most of us use Google to search for what we need. But Bing is willing to pay you in free gift cards just for using their search engine. Might as well get paid for what you're searching for, right?
To earn your rewards, you have to first sign up with Microsoft Rewards. But once you do, you can start earning points every time you search on Bing. You can then redeem your points for Amazon gift cards.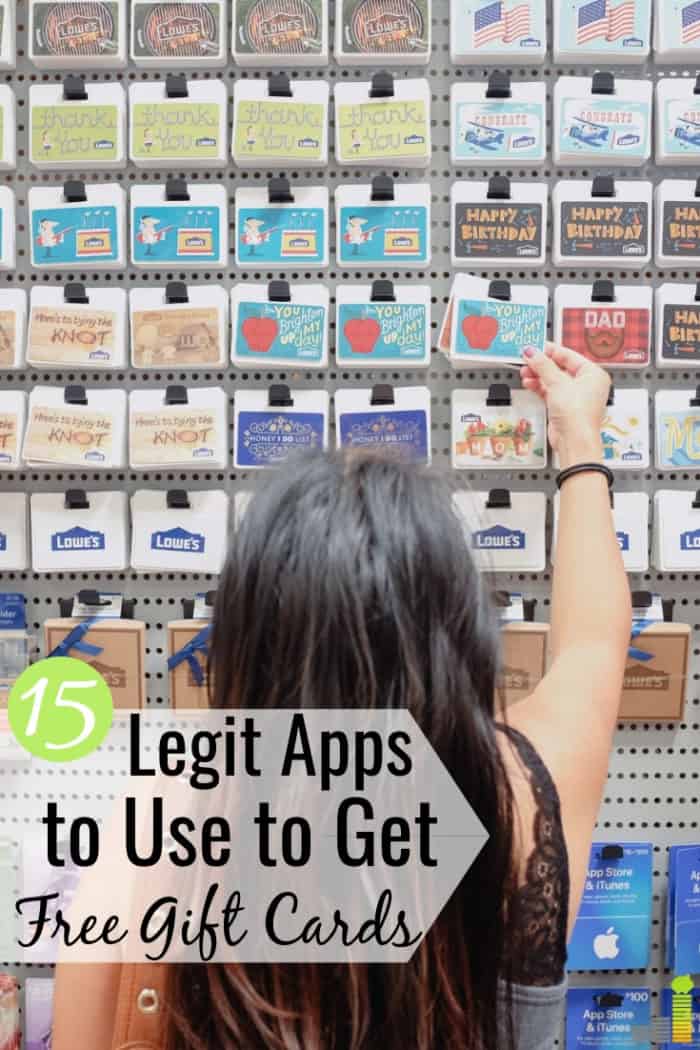 How to Get Free Gift Cards: Bottom Line
Free gift cards aren't hard to come by if you know the best websites and apps to use to earn them. These apps are fun, easy to use, and can help you earn gift cards easily and quickly, which means more money in your pocket for necessary items.
What other apps do you use that give free gift cards? How else do you make money on the side? What are your favorite ways to save money on shopping?
The post 15 Best Apps That Give You Free Gift Cards appeared first on Frugal Rules.
Source: Frugal Rules