It's no secret that going to the movies is expensive. For example, my husband and I went to the movies on my birthday last year. For tickets for the two of us, a small popcorn, and a medium drink, we spent over $30. Yikes! However, thanks to discounted or free movie tickets, you can enjoy the big screen without busting the budget.
Going to the movies is fun, especially if you like seeing movies when they come out (any Star Wars or Avengers fans out here?). The average cost of a movie ticket costs $9.16, according to the National Association of Theatre Owners.
The cost increases significantly as you add more people and concessions, making it impractical for many families. It does not have to be that way.
If you enjoy going to the movies, our guide shows how you can find and use discounted movie tickets to save big bucks at the cinema.
Best Ways to Get Discounted or Free Movie Tickets
Do you like to watch movies at the theater but hate paying full price? Below are the nine best ways to get discounted movie tickets, or sometimes even free, and enjoy the big screen.
1. Swagbucks
Swagbucks is one of the best ways to get free movie tickets. As a loyalty rewards website, you can earn swagbucks (known as SB points) by completing online tasks. Those tasks include:
Answering surveys
Shopping through their online portal
Playing online games
Using their search engine
Watching videos
Swagbucks can be redeemed for either gift cards or cash. Read our Swagbucks review to learn how to maximize your earning potential.
You can redeem your free movie tickets with your Swagbucks account in two ways. The first is to redeem your SBs for straight cash. This could be either PayPal cash or a Visa gift card. Then, you could use that money to order movie tickets, and even pay for a few snacks.
The second way you can redeem your points is to grab the AMC gift cards that Swagbucks offers. Even better, AMC gift cards go "on sale" via Swagbucks fairly often.
For example, a $25 gift card from AMC typically costs 2,500 swagbucks. But sometimes the gift card will go on sale for anywhere from 10 to 15 percent off.
If you grab the gift card on sale, you'll be able to save some SBs while getting the full value of the gift card. Then, you can continue to rack up more points. It's a win-win for you.
2. Fandango VIP
Fandango VIP is a great way to get free movie tickets, and it's a loyalty program that I personally recommend. After my expensive birthday disaster, I decided that I would no longer pay the ridiculous fees that other people pay just to enjoy a good movie.
Between Swagbucks and Fandango, I no longer pay any movie costs out of pocket.
With Fandango VIP, you receive free cash ($5 reward) whenever you reach 500 points. For every movie ticket you purchase on Fandango, you earn 125 points. Based on the average movie ticket of almost $10, this means once you buy four tickets, you get a $5 credit.
Now, this may not seem like a big discount, but that's money that you wouldn't have previously earned. And, if you're already getting the tickets you purchase for free (via gift cards or rewards), it's extra money you get to save.
You also get other perks like discounts on movies to stream at home, and bonus rewards when you link Fandango VIP with other loyalty programs like AMC Stubs and Regal Crown Club.
3. Gofobo
Looking to catch a movie before it's even out? Advanced screenings are free with Gofobo. If you're lucky enough to have this in your area, take advantage and get access to what could be the next hottest movie of the season.
Here's how it works:
Sign up and put in your ZIP code to find screenings near you.
Get a code for the movie that you choose and want to see.
Redeem it and download your pass (or print it, your choice).
It's that simple. Now, something to keep in mind is that these are advanced screenings. So it's not a 100 percent guarantee that you'll be allowed in. These advanced screenings typically have limits on the amount of people who can attend.
To secure your seat, make sure you show up early. The site suggests you arrive up to an hour early prior to screening to ensure you get a seat.
4. Loyalty Programs
Loyalty programs are another easy way to get discounted movie tickets. Regardless of the loyalty program, the premise is the same–you receive points for every dollar you spend and then redeem those points for free movie tickets or concessions.
Below are the top loyalty programs from national theater chains:
Most larger theater chains also offer deals via email or their app. You can double dip on savings by using either in connection with the loyalty programs to save more money.
5. Costco
Want to treat someone or need group tickets but don't want to pay a small fortune? If you have a Costco membership, you can get discounted free movie tickets easily. This is one of the best Costco savings hacks to use to save money.
Make Extra Money by Taking Short Surveys
Taking short surveys in your free time can be an awesome way to earn extra money fast! The instant you finish a survey,
Survey Junkie pays you in cash via PayPal
. 6 Million users and an 8.9/10 Trust Pilot rating prove you can trust them.
While there are some options for AMC tickets, and even the Cinemark movie club membership, your best bet is the Atom Tickets gift card bundle. For just $74.99, you'll get $100 worth of gift cards that can be redeemed for movie tickets or concessions.
That means you not only get a discount, but you could get almost three free movie tickets just by buying in bulk. And this doesn't have to be a gift or for a group either. If you're a big movie buff and go to the movies often, you could purchase this just for yourself.
6. Atom
Speaking of Atom, you can get free movie tickets through Atom Rewards. This is another free membership and rewards program that you can join. All you need to do is sign up.
The biggest reward is that for every four movies you see, you get one free movie ticket. How sweet is that?
You receive other perks by using Atom, including:
Discounts
Faster checkout
Special movie deals
You can also earn extra rewards by connecting other rewards apps that you use to the Atom platform.
7. LivingSocial/Groupon
Do you commonly ask yourself 'how can I get cheap movie tickets near me?' and not know where to look?
LivingSocial and Groupon are two great options to get discounted movie tickets. Yes, they still exist, and yes, you can receive some awesome deals from them, including movie tickets. While they won't necessarily be free, they will be heavily discounted. You can expect to save anywhere from 25 to 45 percent on the tickets.
Because what you purchase is actually credit to buy your tickets, you can use them for any movie you want to go see.
Make sure to read the fine print to see if there are any blackout dates or expiration times.
8. Go To A Second-Run Theater
If you're not the biggest movie fan, but do like seeing movies in theaters every now and then, a second-run theater may be the right fit for you.
What are they? Basically, a second-run theater is a theater that gets a movie once it's older and not as desirable.
Typically, when a movie leaves the traditional theater, it goes to a second-run theater for a few more weeks (sometimes even months). This earns them more money, but also means you get movie tickets for a steal. Depending on your area, tickets can be anywhere from $1 to $6 a person.
For example, we have a second run theater about 20 minutes away from us. Whenever we want to see a movie, but don't care about seeing it right away, or if we don't know if it's worth the money, we will wait and go see it at this theater.
They offer movies for $2 on Tuesdays and Thursdays, and these movies are typically only a few months old. You can't beat that deal.
9. Disney Movie Rewards
Are you a big Disney fan? If so, sign up for Disney Movie Rewards. When you buy eligible tickets, you'll earn points that unlock offers and rewards that you can redeem.
This could be a great way to get discounted or free movie tickets to the Disney movies you want to see the most.
The club is free to join, and rewards range from collectibles to experiences, as well as the option to get free movie tickets.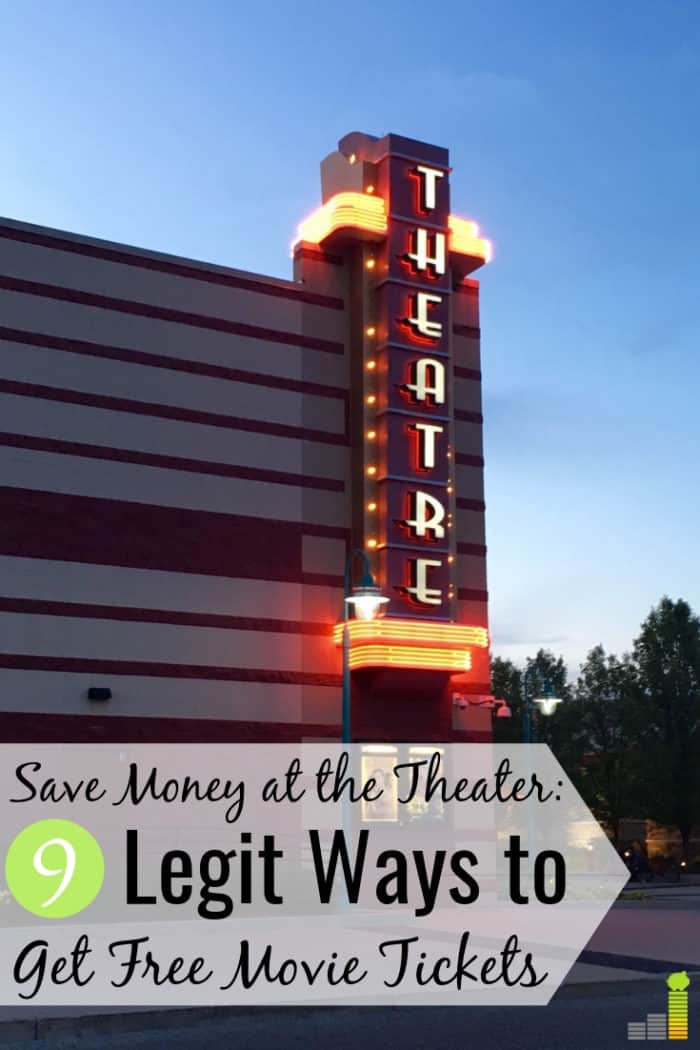 How to Get Cheap Movie Tickets: Bottom Line
You don't have to pay a fortune to see a movie in the movie theater, and there's no reason to not get rewarded for purchasing movie tickets. There are several ways to get free movie tickets, discounted tickets, and other fun rewards, simply by signing up for a few websites and apps. If you use a separate email address for offers like this, it may be a good decision to do the same for movie services.
If you love going to the movies, but don't want to empty your wallet, these options are great ways to save money.
What other ways do you use to get free movie tickets? How often do you go to the theater? What else do you do to save money on entertainment?
The post 9 Legit Ways to Get Discounted or Free Movie Tickets appeared first on Frugal Rules.
Source: Frugal Rules