Buying clothes for a family is expensive. While it's fun to buy clothes, it's easy for new clothes to take a big bite out of your budget. Buying second-hand is one way to save, but sometimes you just want something new. One great way to save money and get new items is to buy cheap clothes online.
There are dozens of cheap online shopping sites for clothes that let you buy new without overspending your budget. If you want options to buy affordable clothing online for your family, our guide shares some of the best options to stretch your dollar.
Best Places to Buy Cheap Clothes Online
Do you like to save money on clothing but don't have a good consignment store near you? Or maybe you're looking for a new online clothing store. Below are 11 of the best sites to buy cheap clothes online.
1. Amazon
Almost everyone shops on Amazon. But did you know that Amazon also sells affordable clothing? You can find higher-end clothing on Amazon, but the site is also a great option to find cheap clothing.
When buying clothes from Amazon, there are two things to keep in mind.
The first would be to check the reviews, and be thorough. Amazon reviews can be paid reviews so look for reviews that seem authentic. Bonus points if they include pictures.
The second is to know your measurements. Because Amazon carries thousands of clothing brands, their sizing will differ. While you may be a small in one brand, you could be a medium in another.
To save time and frustration, measure yourself. That way you can check your measurements against the size guides to find your perfect fit.
Pros:
Take advantage of Amazon Prime
Affordable clothing options for brand-name items
Free returns
Cons:
Clothing sizes vary from brand to brand
Reviews can be iffy
The best part about buying clothes from Amazon is you can take advantage of Amazon Prime if you have it. For $119 a year, you'll receive free two-day shipping and free returns. So if you aren't satisfied with your items, don't hesitate to get your money back.
2. ThredUp
While ThredUp is a second-hand retailer, they do tend to offer more than your regular second-hand store. For example, ThredUp has become popular for their expensive and exclusive brand offerings (think Gucci, Burberry, etc).
ThredUp offers free shipping for all purchases over $79. They even send you a free bag to get rid of your old clothes and earn store credit. There have been negative reviews stating that ThredUp doesn't give much money back for the clothes you offer, but this is common with many consignment shops. Besides, they have to make a profit somehow.
Of course, cheap online clothing stores can be hit or miss. The item may not fit well,  or maybe the color isn't exactly what you thought. With ThredUp, you can't return the clothing you don't like for a refund, but you are offered store credit.
It's also important to keep in mind that the clothing you purchase from ThredUp has not been washed. So, make sure to wash clothing in detergent (and maybe even throw in some vinegar) before trying it on.
Pros:
Can find expensive and vintage clothing for half the cost
Saving the planet (second-hand clothing)
Can earn consignment credit
Cons:
No refunds, only store credit
Clothes are unwashed
ThredUp is a great option if you want to buy second-hand, brand-name clothes.
3. Old Navy
Old Navy today is not the same Old Navy you grew up with. Now, the retailer is keeping up with the trends and has been compared to J.Crew, Nordstrom, and even Target, but with cheaper prices.
It's a classic store that will most likely never go out of style. And, they're also one of the best cheap online clothing stores to find items whether you're tall, petite, or plus-sized, because they carry them all.
The biggest perk to shopping at Old Navy is that they're always running a sale. My family and I love shopping at Old Navy, and we can typically get our clothes anywhere from 30 to 60 percent off. One time, I found a summer dress for $1. Seriously, it's incredible how cheap yet functional their clothing is.
Another bonus to shopping at Old Navy online is that if something doesn't fit, or if you don't like it, you can return it at your local store. They will refund or exchange the item for you with no hassle as long as you have your shipping receipt.
One major negative I've noticed when shopping with Old Navy online is that they never seem to ship all of the items at one time. Instead, they will ship items as they pick them. This could mean that your order is split into pieces.
For instance, I once ordered $200 worth of clothes and we received over six packages. Fortunately, you aren't charged shipping on all of them, just the order as a whole. And shipping is free after you spend $50.
Pros:
Wide variety of sizes
Great for workwear, athletic wear, and kids clothes
Free shipping on orders $50 or more
Always has sales
Free refunds or exchanges in store and online
Cons
Shipping is inefficient
Clothing sizes can run fairly large
If you're buying cheap clothes online, Old Navy is a great option, especially if you want the flexibility of returning items to a local store.
4. Target
Target is the ultimate site to check out if you want to buy stylish yet cheap clothes online. The retailer follows fashion trends, but also carries timeless pieces that are great for those who are looking for more appropriate work attire. And, they're always clearing out clothes for new brands and seasons, so you're bound to find many of your items on sale.
Target also carries dozens of plus-sized items, so you don't have to worry about not fitting into something. As with Old Navy, you can order clothes online and have them shipped straight to your door. If you don't like an item, you can exchange or have it refunded by going to your closest store.
Shipping is free for orders $35 or more. If you have a Target credit or debit card, you receive free shipping regardless of total order cost. Also, if you have their credit or debit card, you'll get two-day shipping and an extended return policy, plus the typical five percent off.
Pros:
Free shipping threshold is low
Can use store card for extra perks
Free exchanges or refunds
Cons:
Not as many perks if you don't have a store card
If you live near a Target store, they're a great option to buy clothes online.
5. TJ Maxx
Did you know that you could buy clothes from TJ Maxx online? If you didn't, now you do, and their prices are just as low online.
While TJ Maxx isn't the cheapest option on this list, it's still a great place to buy cheap clothes online. And if you're shopping for more than just clothes, you can do that, too, as there's a section on the website for home items.
TJ Maxx doesn't offer free shipping unless they have a deal going on. Otherwise, shipping is high, running $8.99 – $9.99 depending on the total cost of your purchase. Also, it can take up to 10 days to receive your items, so it isn't the quickest.
Returns are super easy with TJ Maxx. Just ship the items back, or exchange them at your local store. Also, remember to bring your receipt just in case they ask for it..
Pros:
Affordable designer options
Easy return policy
Cons:
Expensive shipping
Long shipping times
TJ Maxx is a solid choice for buying clothes and home goods online for a cheap price.
6. 6pm
The sister site of Zappos, 6pm is an affordable footwear retailer. While they do sell clothing, you primarily use their site for their shoes, including tennis shoes, heels, and sandals.
So how does 6pm sell their shoes so cheaply? It's simple. They take on the inventory that wasn't sold at Zappos. The shoes are heavily discounted, you get a deal on shoes that are still in season, and they make money. Everyone wins!
The biggest con to 6pm is their return policy. You have to pay for shipping if you want to return your items. Also, because they are an outlet- type store, they can't guarantee exchanges because they don't know what they'll have in stock.
So instead, they don't offer exchanges at all.
Pros:
Designer shoes
Quick shipping
Cons:
No exchanges, just refunds
You pay for return shipping
6pm is great for finding shoes online at a heavy discount, but be careful of their return policy.
7. Asos
ASOS is the best place to buy cheap clothes online if you need affordable basics. T-shirts, jeans, and simple dresses are easy to find with this retailer.
Make Extra Money by Taking Short Surveys
Taking short surveys in your free time can be an awesome way to earn extra money fast! The instant you finish a survey,
Survey Junkie pays you in cash via PayPal
. 6 Million users and an 8.9/10 Trust Pilot rating prove you can trust them.
ASOS also has great quality formal wear for an affordable price if you need items for a special event. And between their petite, tall, and plus-sized options, anyone can feel comfortable buying their clothing online.
While ASOS does have sales and coupons from time to time, their policy is fairly strict. Unlike other retailers, you can't really stack coupons or discount codes with sales and clearance items.
If you have a code for free shipping, you typically can't combine that with any other offer. However, ASOS also has an outlet section of their site so you can find affordable clothing relatively easily.
Pros:
45 day return policy
Fast shipping
Great customer service
Cons:
Strict discount code policy
If you're in the market for finding basic, staple clothing online, ASOS is an affordable choice.
8. Boohoo.com
Boohoo is the fashionista's paradise. Not only is it one of the top online retailers that follows and sets trends, but it also provides affordable work wear, athletic wear, and even kids clothing.
It's also a great place to shop if you have a hard time finding clothes in your size, as their plus-size options run through 4x (and sometimes even 5x).
Keep in mind that Boohoo is an overseas retailer. Based in the U.K., their items can take a long time to get to the United States. This also means that their sizing can be a little off. So make sure you check your measurements, you're on the U.S. version of their website.
One of the cons of Boohoo is their return policy. They only give you 14 days to return anything, and they don't offer exchanges, only refunds. However, returns are free and you get your money back quickly.
Pros:
Affordable clothing items for work, play, and more
Plus-size clothing into 5x
Always having a sale
Cons:
Short return policy
Long ship times
No exchanges, just refunds
Boohoo is always having a sale of some kind, and they also have discount codes you can combine with sale prices. From free shipping to 30 percent off, you're bound to save big when you shop with them online.
9. Uniqlo
Looking for classic and timeless pieces that you can wear for years to come? Or maybe you need items that you can layer and wear in the winter to keep warm.
Look no further than Uniqlo. With simple and clean-cut pieces, you can get clothes that work year-round, can be dressed up or down, and that last a long time.
Also, if you live in super cold places, Uniqlo offers many options for clothing to keep you warm, including jackets, and coats. They also offer extended sizes for both men and women, kids clothing, and even infant items.
Shipping is free on every order in the US, no matter how little you pay. And it's fast, you'll get your items within five to seven days. They also have a generous return and exchange policy (60 days) and you can do so in store or online.
Pros:
Great return policy
Cold weather appropriate
Fast and free shipping
Clothes for the whole family
Cons:
Pricier than other stores on this list
Although a little more expensive than other sites, Uniqlo is a great option for cold weather outerwear and timeless pieces.
10. ClothingUnder10
While a lot of their clothing isn't really under $10, ClothingUnder10 has a great sale and clearance section with clothes as little as $3. This makes the site one of the better options to buy cheap clothes online. You can even choose the "Clothing Made in the USA" option if that matters to you.
Shipping isn't free, but at $7.00 standard, it's not the most expensive either. However, it can take up to ten days to receive your order.
The return policy is simple. If you aren't happy within 30 days of purchase, you can get a full refund. ClothingUnder10 also has a nifty return portal so you can do everything online and stress-free.
Pros:
Return policy portal
Clothing under $20
Offers US made clothing
Cons:
No free shipping
Shipping can be slow
If you're willing to do a little clearance shopping and have some patience for receiving your order, ClothingUnder10 is great for finding cheap clothes online.
11. Topshop
TopShop is one of the more expensive places on this list to buy clothes online, but they run incredible deals on quality clothing. Not only do their clothes last a long time, but you can typically find staples, trendy items, and clothing appropriate for all different occasions.
Unfortunately, if you are plus-sized, this site is not for you.  The largest size they carry is a 14,  and even that runs small. However, straight sizes and petite sizes are a big deal for this company, so if you're shorter, this is the exact place you should be shopping.
Shipping is free on orders $20 or more, and only $5 shipping for orders under $20. And shipping is fairly fast too. You can expect to get your items in seven days or less.
Pros:
Free shipping on orders over $20
Free returns
Cons:
No plus-sized options
Sizing runs small
Although this isn't the best option on our list for plus-sized individuals, if you are in the market for straight or petite clothing, be sure to check out this site.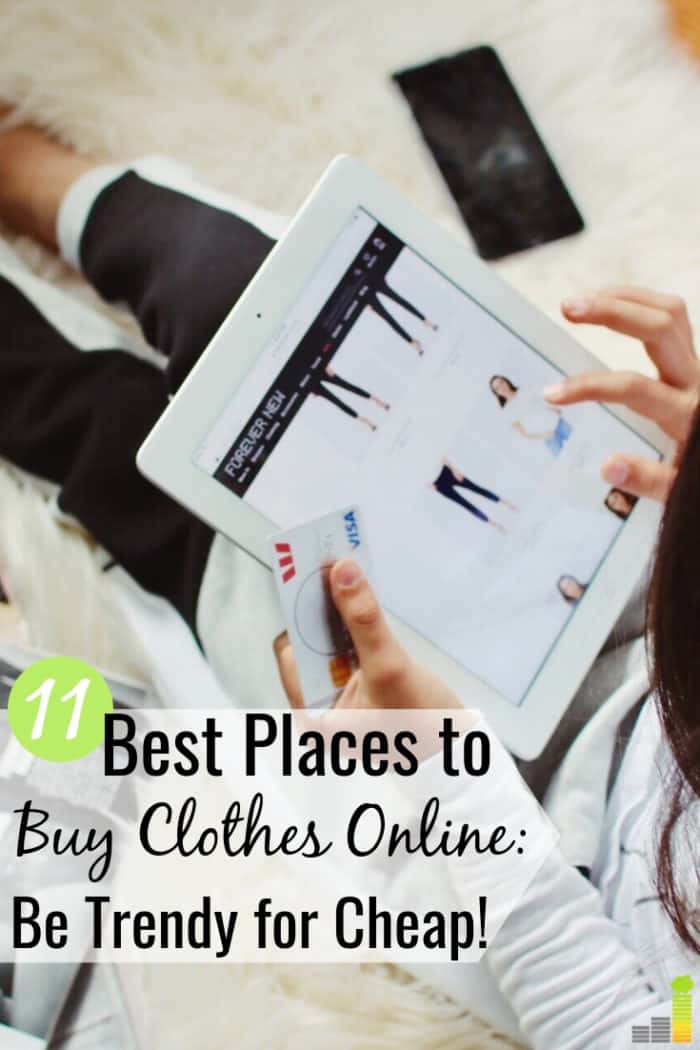 Cheap Online Clothing Stores: Bottom Line
Fashion doesn't have to be expensive, and you don't always have to shop second-hand to find good deals. These retailers give you the option to buy cheap clothes online while still enjoying wearing something new.
Whether you're buying for your family or yourself, the above options provide ample opportunity to spend less money to grow your wardrobe.
What are your favorite cheap online clothing stores? How do you save money on clothing? Do you like to buy clothes online, or strictly at a physical store?
The post 11 Best Places to Buy Cheap Clothes Online appeared first on Frugal Rules.
Source: Frugal Rules