To many people, grocery shopping feels like a chore. Whether you lack the time, or simply don't enjoy going to the store, it's easy to view grocery shopping as a pain. However, if you don't mind shopping, this provides a great opportunity to make money on the side as a personal grocery shopper through the Instacart Shopper service.
Instacart provides a cost-effective way to have groceries delivered to your home. This allows you a flexible way to make money on the side while helping people who lack the time or desire to do their shopping.
If you want to become an Instacart shopper, this post shares how to make money as a personal grocery shopper in your spare time.
How to Become an Instacart Shopper
Believe it or not, people pay to have groceries delivered to their homes. While the option is still in its infancy, reports indicate grocery delivery sales will account for 20 percent of sales within the next five years.
The growth offers a good opportunity if you want to make money on a side hustle that requires little specialized skill. Our Instacart shopper review shares how you can earn $20+ per hour buying groceries for people.
What is Instacart?
If you've never heard of it, Instacart is an app that allows people to shop for their groceries online and have them delivered to their home. You need to provide the following to have groceries delivered to you:
Your name and address
The grocery store(s) you shop at most
What groceries you'd like delivered
Choose a delivery time
A form of payment
If you're comfortable providing these details, then Instacart is a great option for you. My husband and I use Instacart, and we've gotten to know some of our shoppers. From what they've told me, it's a fun, customer-service-related side hustle.
They love when they get tipped well and make a customer happy, but they do admit that if you aren't willing to drive around or pay attention to detail, this may not be the gig for you.
This sounds great for consumers, but how does Instacart Shopper work for individuals who want to make extra money?
How Does Instacart Shopper Work?
If you want to make money as an Instacart Shopper, you must first sign up to become a shopper. Upon signing up, you typically become an independent contractor – which means you're responsible for paying your own taxes.
However, remember that you do get to set your own schedule and pick and choose when you work, which is a nice perk of being an independent contractor.
You can sign up for one of two possibilities with Instacart: full-service shopper or shopping only. It's possible to serve in both roles, or you can choose only one role.
Full-Service Shopping
With full-service shopping, you handle both sides of the experience – you shop and deliver groceries. Once you receive an order from a customer, you go to the grocery store of their choice, purchase the items on their list, and deliver the items to the customer's home.
Sometimes, if a customer has shopped at multiple stores, you'll be the dedicated shopper for each store on the list (although that isn't guaranteed).
If you want to become an Instacart driver and full-service shopper, you need to meet the following requirements:
Be over 18 years old
Have consistent access to a reliable vehicle
Have a newer smartphone – iPhone 5.0 or Android 4.4 or newer
Be able to lift at least 30 pounds
Full-service shoppers are paid via commission, and the commission is based on the size of the orders you take and you deliver. You also receive 100 percent of the tips you receive from customers.
Full-service shoppers are only compensated for the time that they spend shopping and delivering food. It works much like Uber.
If you aren't shopping or delivering, you aren't making money. In busy areas, this may not be a problem. But if you live in an area where Instacart isn't as popular, you may struggle to find jobs.
In-Store Shopping Only
If you sign up to be an in-store shopper, all you do is receive customer orders, shop for the products, and bag them for the customer to pick up.
This option is a great option for those who don't have typical transportation but still want to side hustle.
With in-store shopping, you still have some requirements that you have to meet, which are:
18 years old or older
Eligible to work in the United States
Have consistent access to and be able to effectively use a recent smartphone (iPhone 5 / Android 4.4 or newer)
Be able to lift between 30-40 lbs with or without an accommodation
If you meet these requirements, you can pick your own hours, and get paid weekly.
With either role you choose, you'll have to pass a background check in addition to being eligible to work in the United States. If you meet those requirements, you could get started as quickly as the same week you apply.
Make Extra Money by Taking Short Surveys
Taking short surveys in your free time can be an awesome way to earn extra money fast! The instant you finish a survey,
Survey Junkie pays you in cash via PayPal
. 6 Million users and an 8.9/10 Trust Pilot rating prove you can trust them.
You do have the option to become an employee of Instacart if you choose to solely be an in-store shopper. This allows you to take advantage of retirement benefits, but it may also limit income potential.
How can you sign up to become an Instacart shopper?
Once you've decided whether you want to do full-service or in-store shopping, it's time to sign up and become a shopper. All you have to do is go to the Instacart website and click "Become a shopper".
As with any application, your first part is to fill out your legal information and other information about yourself. Then, you'll consent to a background check.
From there, Instacart will run your information and tell you either yes or no. Reviews show that most shoppers got their results within a week or two, depending on the applications submitted.
It really is that simple. Instacart has a similar platform to other delivery app jobs and is relatively simple to use. It is important to remember that this is not an online work opportunity.
You will be out and about, dealing with people on a regular basis, and will be putting wear and tear on your car. So keep that in mind before making that type of commitment.
What happens once you become a shopper?
Once you're approved to work with Instacart, you'll be able to start right away. If you choose to be an in-store shopper, Instacart will set up a time for you to attend orientation, which you must complete in person. If you're a full-service shopper, you are not required to attend.
Around this time, you'll also fill out necessary paperwork like a W-9 (full-service) or W-4 (in-store) and sign agreements with the company.
Upon completion of the orientation, you'll download the Instacart app on your cell phone and get to work. It's vital to use the app appropriately.
You will need to do the following in your app to ensure you receive as many opportunities as possible:
Set your hours
Find available jobs in your area
Select jobs you want to take
The app is where you will see how much time you've spent and what your earnings are.
What Do You Do as an Instacart Shopper?
A typical day for an Instacart shopper is filled with running around and grocery shopping. You can start as early as 7:00 or 9:00 a.m. (9:00 a.m. for many grocery stores). If you prefer to work in the afternoon or at night, you can work until the grocery stores in your area close.
Based on your availability, you'll receive notifications of orders that customers have placed and need to be fulfilled. You can accept them if they're worth it to you, but do it quickly.
After a certain amount of time passes and you don't respond, those orders can be assigned to someone else. You can also decline them if you don't want to fulfill them.
Once you've accepted the order, you'll either go to the store and buy the products on the list, or pick out the groceries and bag them for pickup.
Customers can also leave requests, notes, and whether or not they want a refund or replacement if a specific item is not in stock. If a note hasn't been left, you can chat with the customer through the app or through text if they allow text notifications.
In-store shoppers are complete once the groceries have been bagged for the customer.  For full-service shoppers, the order is complete once they've delivered the groceries to the customer.
Customers can also rate you as a shopper, and provide feedback based on your performance. The higher your rating, the more jobs you can potentially get. If you're really into customer service, this could be the perfect time to wow your customers.
Instacart In-Store Shopper Pay vs. Full-Service Pay
Pay varies, especially as a full-service shopper because you rely on commission and tips from customers. Pay can be at least $15 an hour. If you shop quickly and are tipped well from satisfied customers, you can earn at least $20 per hour.
You can also accept as many jobs as you want or need in order to earn the money you want.
As an in-store shopper, pay is scaled as well depending on your area and how much work you do. Because you work hourly, you'll typically receive steadier, more consistent pay. However, you are not eligible for tips.
You also can't work more than 30 hours a week. This option is a true part-time side hustle.
What to Consider if You Want to Become an Instacart Shopper
As with any money making opportunity, there are several things to keep in mind. Below are a few pros and cons to consider when delivering groceries for Instacart:
Pros
You can work flexible hours on your own schedule
Weekly pay
Ability to make $20+ per hour if you're a fast worker
No specialized skills are required
Part-time employees can receive benefits
Cons
Drivers only receive pay if they're shopping or delivering groceries
Ability to lift 30 pounds
Limited jobs if you live in a sparsely populated area
The considerations aside, Instacart Shopper is a legit way to make money on the side. If you have a flexible schedule and don't mind shopping, it's a good way to earn additional income.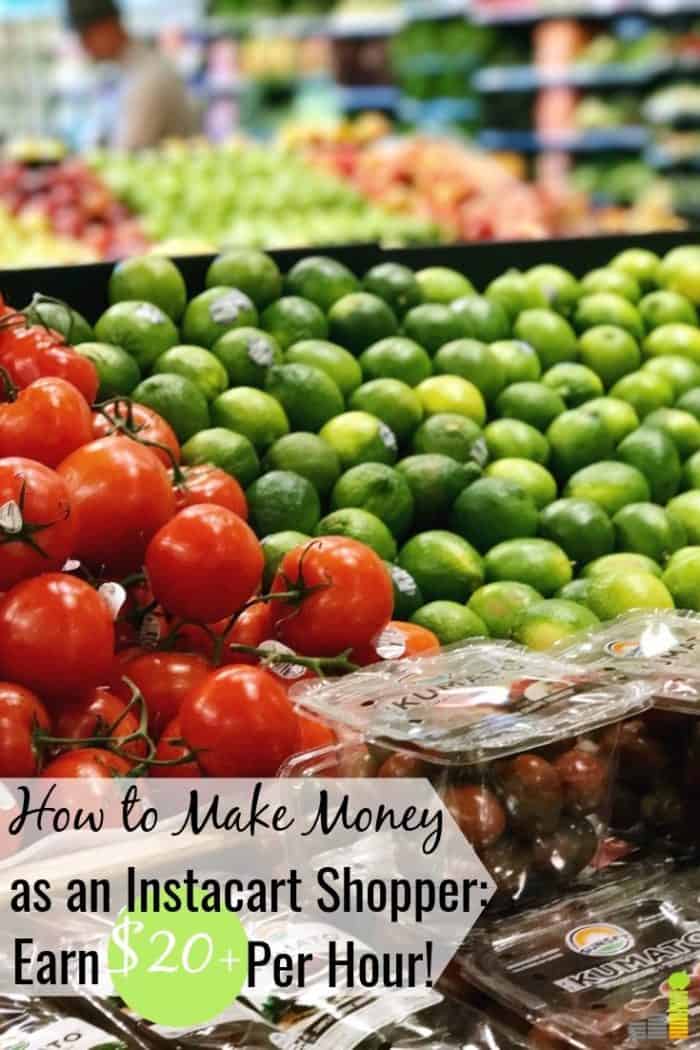 Instacart Shopper Review: Bottom Line
I wouldn't recommend Instacart Shopper as a replacement for a 9-to-5 or starting your own business. If you're in need of extra cash, or if you're looking to supplement your income to pay off debt, save, or invest, delivering groceries for Instacart is a great way to do so.
As with any other side hustle, you get out what you put into it. The pay will be a bit lower because you're still working for someone else. But, you'll have the freedom to work whenever you want, get paid weekly, and if you choose full-service, shop as little or as much as you'd like.
Instacart Shopper is a legit way to make money on the side. Whether you're a stay-at-home parent, or simply want a side hustle, the platform provides ample opportunity to make extra money.
Would you like buying and delivering groceries for other individuals? What are some other unique ways to make money on the side? Have you ever used a service like Instacart?
The post How to Become an Instacart Shopper and Earn $20+ Per Hour appeared first on Frugal Rules.
Source: Frugal Rules