Making extra money is one of the top ways to improve your finances. Extra income helps you achieve various goals such as paying off debt or having extra money to travel. If you make extra money online, you likely know about Swagbucks. The site lets you make money in your free time, but you may wonder if there are other sites like Swagbucks to earn money online.
If you're looking for new rewards sites, we share a few of the best Swagbucks alternatives to make money online.
What is Swagbucks?
Swagbucks is a get-paid-to (GPT) site that pays you to perform different tasks. The site has been in business since 2008, and paid out over $300 million since they began, according to their website.
You can earn money in the following ways with the loyalty rewards site:
Taking surveys
Using their online shopping portal
Watching sponsored videos
Using their search engine
Testing new products
Playing online games
Referring friends
To get you started, Swagbucks awards you $10 when you open a new account. You can redeem earnings for cash via PayPal or for free gift cards from over 140 retailers. I've used Swagbucks to earn gift cards for dining out and to fund some of our holiday purchases around Christmas.
You can read our Swagbucks review to get a more in-depth review of the platform.
Using rewards sites like Swagbucks won't make you rich, but you can use it to earn extra money for smaller expenses or goals. Every little bit counts, especially when you don't have to put in much effort.
While Swagbucks is one of the most popular rewards sites, there are plenty of others to try if you want to diversify. Most of these have an app but some are just websites. Either way, the concepts are similar and you can easily make some extra cash from home or anywhere.
Sites Like Swagbucks
Apps like Swagbucks make it simple to make extra money online. It's convenient because you can use the app on your phone or spend a few minutes earning points whenever you're on the computer.
Below are the ten best sites like Swagbucks to help you make extra money.
1. InboxDollars
InboxDollars is a fun and easy way to earn extra cash. They are offering new users a $5 bonus just for signing up. InboxDollars pays people to complete tasks they do on a daily basis, and is the site on our list that is most similar to Swagbucks.
You can earn money on InboxDollars in various ways, including:
Downloading coupons
Shopping online
Taking surveys
Watching sponsored videos
Using their search engine
Testing new products
You can redeem earnings once you reach a $30. Earnings can be redeemed via check, PayPal, or you can choose a gift card for different retailers.
Sometimes they'll even send offers from their retail partners directly to your email. To redeem the offer, read the email and complete a few extra steps to get the full earning opportunity.
InboxDollars has paid out over $57 million in rewards, according to their site.
Read our InboxDollars review to learn how the platform works and how to maximize earnings.
2. Survey Junkie
If you strictly want to take surveys, Survey Junkie is one of the best Swagbucks alternatives to earn money online. Survey Junkie does an excellent of matching your profile to relevant surveys so you can earn points quickly.
Some of their surveys are time sensitive so you need to be active on the site in order to optimize your earnings. When you receive an email offer about a survey, it's best to take it sooner rather than later.
The points you earn from taking surveys can be redeemed via PayPal or a gift card. The Survey Junkie platform is one of the best paid survey sites online, allowing you to cash out once you reach $10.
Survey Junkie has over ten million members, according to their site. If you want to make money with surveys, read our Survey Junkie review to learn how the platform works.
3. Opinion Outpost
Opinion Outpost is similar to Survey Junkie and is primarily a survey site. The platform provides opportunities for anyone willing to share their opinion for rewards.
It's free to register with Opinion Outpost, and they don't require a ton of personal information from you. They know how important security is to people and won't ask an overwhelming amount of personal questions during the sign-up process, which is good.
This is a great site to use whether you're a college student looking for some extra money, a stay-at-home parent, or a busy professional who has some spare time during your daily commute.
Each quarter, Opinion Outpost holds a $10,000 prize drawing. Every survey taken is an entry into that drawing. Additionally, you can redeem earnings once you reach $10, but you can redeem for gift cards once you reach $5.
If you're looking for simple sites like Swagbucks to make money, Opinion Outpost is a good option.
4. Ibotta
If you're looking for apps like Swagbucks to make money shopping online, Ibotta is a great option. Ibotta is another rewards site, but they strictly deal with shopping. After downloading the app, you select deals from a supported retailer.
They want shoppers to know what they are shopping for before they get to the checkout. Once the items are selected, shop and pay for them. Next, take a picture of the receipt to submit through the app and earn cash back.
They match the items pre-selected with the items purchased and give rewards that way. Items that earned cash back will be deposited into a shoppers Ibotta account within 48 hours.
The app gives you an intial $10 bonus, and you can redeem earnings once you reach a $20 balance.
You can use Ibotta in-store, as well as online at over 300 retailers, including:
Amazon
Costco
Sam's Club
Target
Walmart
If you like to get rebates for shopping you're already doing, Ibotta is one of the best alternatives to Swagbucks to earn money. Read our Ibotta review to learn more about how the platform works.
5. MyPoints
MyPoints is another site like Swagbucks. In fact, the two platforms are owned by the same company but operate separately. Similar to Swagbucks, you can make money in the following ways with MyPoints:
Taking surveys
Downloading coupons
Watching sponsored videos
Using their shopping portal
Reading sponsored emails
Playing games online
If you like to get paid to watch videos, MyPoints is one of the best options as you can earn up to 500 points per day doing so. That's not too bad of a deal for relaxing and watching some entertaining videos.
You can redeem earnings via cash, Visa cash card, or gift cards to different retailers. Swagbucks and MyPoints offer differing gift card options, so it may be best to use both to increase choices.
6. InstaGC
InstaGC, otherwise known as Instant Gift Cards is one of the more perfectly named Swagbucks alternatives. The InstaGC platform rewards users with gift cards they can buy with the points they earned.
InstaGC users can choose from 350 different gift card options when it's time to cash in rewards. The cards are digitally delivered so you can use them immediately.
If the 350 different gift card options are not enough, users can also request a partnership with another retailer by simply submitting a support ticket. You can join using your Gmail, Facebook, or Twitter account.
Make Extra Money by Taking Short Surveys
Taking short surveys in your free time can be an awesome way to earn extra money fast! The instant you finish a survey,
Survey Junkie pays you in cash via PayPal
. 6 Million users and an 8.9/10 Trust Pilot rating prove you can trust them.
When you join and set up your profile, you'll receive ten free points, the minimum amount to cash out is $1 or 100 points. You can earn money from InstaGC in several ways, including:
Completing surveys
Watching sponsored videos
Using their online shopping portal
Using their search engine
If you want to earn free Amazon gift cards, or simply earn cash, InstaGC is a solid option.
7. Ebates
Ebates is a well-known cash-back reward site and is one of the best sites like Swagbucks if you want to get rebates on your shopping. Like Ibotta, you earn cash back for everyday spending.
However, Ebates is geared toward online shoppers who place orders on their favorite websites like Amazon, eBay, Walmart, Target, etc. Customers can also find coupons to apply to their purchases or get cash back on over 2,500 supported stores or websites.
Some companies also offer special promotions so you can maximize your savings and cash back this way. For example, Hello Fresh is currently doing $20 off your first four orders, equaling $80 in savings.
Make sure to add a current address to your profile. An accurate address is required for all payment methods including PayPal. To cash out your earnings, you must have a minimum balance of at least $5.00. Payments are sent out every quarter, and checks are always sent on the 15th of the month.
Rewards can be earned by both in-store and Ebates.com purchases. For in-store, simply link a credit or debit card to your Ebates account. Read our Ebates review to learn how to maximize earnings through the shopping portal.
8.  PrizeRebel
Use PrizeRebel to earn extra money by completing surveys online. You can also earn points by watching videos and inviting friends to join the site. Referrals can earn you 100-500 points, and you can share your link easily through any social media platform.
PrizeRebel adds surveys to the site daily so make sure to check in regularly. You can redeem earnings for cash or gift cards once you reach $5. This makes PrizeRebel one of the lower redemption sites on the web, so it takes less work to receive earnings.
9. Branded Research
Branded Research, formerly known as MintVine, is a well-known market research and rewards site. If you want apps like Swagbucks that pay for various tasks, Branded Research is a good alternative.
You can make money in several ways on Branded Research, including:
Using their online shopping portal
Completing surveys
Being active on their social media platforms
Voting in daily polls
Companies pay Branded Research for consumers' opinions in order to get a better idea of what they're thinking. Taking surveys is easy, but it also has a big impact on whether a new product is launched or altered.
When you complete your user profile and answer a few basic questions, you'll get matched up with a survey that match your preferences and demographics.
You receive 200 points for joining, and users receive points for each survey no matter how large or small. The points can be redeemed for either gift cards or cash once you reach a threshold of 1,000 points, which is equivalent to $10.
Funds can be electronically deposited into a PayPal account.
10. Treasure Trooper
Treasure Trooper is the final option on our list of sites like Swagbucks. The Treasure Trooper platform offers multiple ways to earn extra money, including:
Playing games online
Taking paid surveys
Test products
Using their online shopping portal
Offers range from $0.50-$50. Earnings aren't automatically approved and do have to go through a pending stage. Once they are approved, they are moved to the approved offers page. Users have earned a combined $7.5 million since inception of the platform, according to their site.
Treasure Trooper visitors are eligible for getting paid once they hit $20. Payments can be requested as soon as that happens or sent automatically between the 15-20th of each month.
Treasure Trooper also has a great referral program in place. For each person referred, you receive 20 percent of what they earn. It goes even deeper than that for every second-level referral, where you receive five percent of what they earn.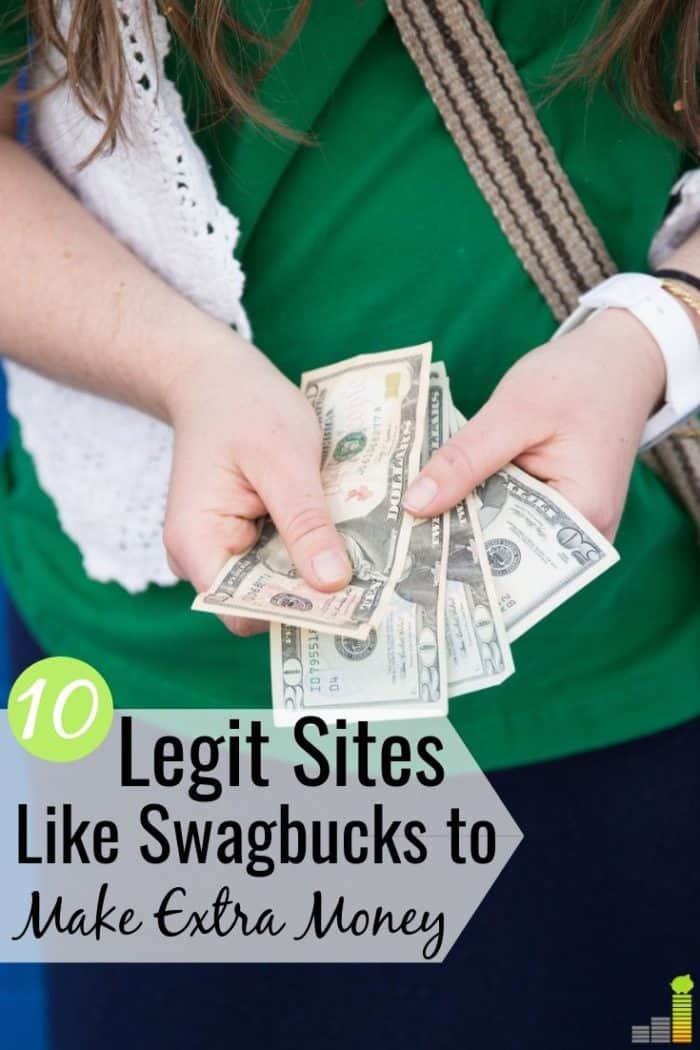 Swagbucks Alternatives: Bottom Line
Rewards sites are the perfect option to use to bring in some extra money. Swagbucks is a well-known site, but there are many alternatives out there. It all depends on what you enjoy doing. Different sites offer different options while others and some have a similar setup.
It's nice that some offer direct deposit because that's such a convenient way to get paid. You won't become wealthy on survey sites like Swagbucks, but it can be an easy way to bring in extra income and help keep your finances in order.
Don't be afraid to try more than one. Many of them send emails out with surveys, making it easy to pick and choose which surveys interest you. So give them a try, and if you don't like one move on to the next!
Have you ever tried any of these sites like Swagbucks? What are your favorite ways to make money in your free time? Why do you like to earn extra money?
The post 10 Best Sites like Swagbucks for Making Money Online appeared first on Frugal Rules.
Source: Frugal Rules