In today's busy climate, watching CNN has become an easy way to keep up with the latest news. Figuring out how to watch CNN without cable is an affordable way to get your news.
Cable is expensive. Plus, it often feels like nothing's on.
Streaming platforms let you get CNN without cable.
CNN may be your go-to news channel. If you've been wondering how to watch CNN live without cable, keep reading.
How to Watch CNN without Cable
If you've been asking, "how can I watch CNN without cable?" we have answers. Top streaming services make it easy to watch news, entertainment, and sports without a contract.
We used to pay $110 per month for cable. Since canceling DirecTV a few years back, we've saved $80+ per month. The best part? We can still watch CNN without cable.
If you're ready to say goodbye to your cable bill once and for all, here are some of the best ways to watch CNN live without cable.
Hulu with Live TV
We've used Hulu with Live TV in the past and enjoyed it. After trying regular Hulu for years, we moved up to Hulu with Live TV and were able to watch CNN without cable.
The great thing about Hulu Live is that you can move down to traditional Hulu for only $5.99 per month and back up to Hulu Live for $44.99 per month whenever you want.
Either service is a great way to watch CNN without cable, but Hulu Live lets you watch CNN live without cable. Not only can you watch CNN online with Hulu Live, you also get:
60+ channels of live content
50 hours of cloud DVR storage
Ability to watch on two screens at once
Customizable profiles
An easy-to-use channel guide
All of Hulu's massive on-demand content library
Original content like The Handmaid's Tale
Hulu Live's features make it one of the best alternatives to cable TV.
There's something for everyone in your home to watch. Here are just a few of the channels that come with Hulu Live:
ABC, CBS, FOX, NBC
A&E Network
CNBC, MSNBC
Disney, Disney Jr., Disney XD
E!
ESPN, ESPN2, ESPNews, ESPNU, ESPN Goal Line
Food Network
HGTV
History Channel
USA Network
If want to watch CNN live online free, Hulu Live is an easy way to do it. With Hulu Live, you can stream content on your laptop, desktop, TV, tablet, and smartphone.
Or if you're ready to take the streaming service for a test drive, try Hulu Live for free for 7 days now. It's a great, risk-free way to see if you like the channel guide, streaming quality and content library.
Sling TV
Another excellent way to watch CNN without cable is Sling TV. Sling has had time to work the bugs out of its streaming service and it shows. At only $25 per month, it's affordable and easy to use.
Sling TV has two channel packages – Sling Blue and Sling Orange – both for $25 per month. You can watch CNN without cable through either package.
There are a few differences between Sling Orange and Sling Blue. Watching CNN without cable isn't one of them. Sling Orange offers 30 channels, including ESPN. Sling Blue gives 42 channels without ESPN.
Channels in the Sling Orange package include:
A&E
Cartoon Network
CNN
Disney Channel
ESPN, ESPN2, ESPN3
HGTV
History Channel
TBS
The Sling Blue channel lineup includes:
Bravo
CNN
FOX
FOX Sports 1, FOX Sports 2
FX
NFL Network
While there is some overlap, the main difference is ESPN. You can tailor your channels and DVR capability with add-ons that run $5 to $10 per month.
Just as with Hulu Live, you can get Sling TV free for 7 days.
Learn more about the channels, platform, positives and negatives of Sling TV in our Sling TV review.
FuboTV
Use FuboTV to stay current with The Situation Room, Anderson Cooper 360° and all of CNN's popular shows.
FuboTV began by broadcasting international soccer matches. Today, it offers a lot more than soccer. The FuboTV channel lineup includes an array of live sports, lifestyle, and entertainment content.
On top of letting you watch CNN without cable, FuboTV gives you access to popular channels like:
A&E, Bravo
E!, Food Network
FX, FXM, FXX
Fox News, MSNBC
HGTV
Nat Geo Wild
National Geographic
Travel Channel
FuboTV's base package costs $54.99 per month, which is significantly less than the average cable plan.
Stream CNN without cable free today with a FuboTV 7-day free trial.
DirecTV Now
DirecTV Now is another solid way to watch CNN without cable. Its 'Live A Little' Plan gives you unlimited access to watch CNN online without cable for $50 per month.
While on the higher end of streaming options, the price is still less than cable and more importantly, offers 60+ channels without a contract. DirecTV's channel lineup includes:
Disney Channel, Disney Jr, Disney XD
E!
ESPN, ESPN 2
FX
FOX Sports 1
Fox News, MSNBC
Hallmark Channel, Hallmark Movies & Mysteries
HGTV
USA Network
As you can see, that's a lot of great content for a lot less than the average cable bill. Explore the various packages, streaming quality, and channel guide in our DirecTV Now review.
YouTube TV
As you're deciding how to stream CNN without cable or satellite, don't overlook YouTube TV.
Slash Your Cable Bill. Try Hulu with Live TV!
Are you paying too much for cable? Save big now by switching to Hulu With Live TV! Get 60+ channels, DVR, locals, ESPN, HGTV, Disney, CNN, Fox News and more for only $44.99/month.
Get your 7-day free trial now
!
You may know YouTube for how-to videos, but it's more than that. As with the other streaming services mentioned, YouTube TV has no contract and there's no fee to cancel.
For $49.99 per month, you get 70+ channels. You can watch CNN without cable with YouTube TV's free trial and see if this streaming service is a fit for you and your family.
PlayStation Vue
PlayStation Vue is another excellent way to watch sports, lifestyle shows, and news without taking on the burden of a cable contract and expensive monthly fee.
Get CNN without cable through PlayStation Vue's Access plan for $44.99 per month. With that contract-free plan, you'll get tons of popular channels, including the following:
Disney Jr
ESPN, ESPN2, ESPNU
Fox News
HGTV
USA Network
You don't need a PlayStation console to watch CNN without cable. You can watch all of PlayStation Vue's content on your laptop, tablet, desktop, smartphone, or smart TV.
All you need is an internet connection and a streaming device, which could be as basic as your web browser.
Try PlayStation Vue for free for 7 days to see if you like it before cutting the cord on your cable subscription.
Use the CNN App to Watch CNN Without Cable
If you want to watch CNN for free, as in without paying for it at all, you're going to be disappointed. Unfortunately, that option does not exist. Unless of course, you want to loiter in waiting rooms or hotel lobbies to get your news.
CNN.com will give you ten minutes of free access. After that, it will prompt you for a login from your cable TV provider.
Thankfully, CNN has an app with on-demand content. If you subscribe to any of the streaming services mentioned, you can use the CNN app for free.
Can I Watch CNN on Apple TV, Chromecast, Fire TV, or Roku?
Yes, you can.
You only need two things to watch CNN without cable:
A subscription to a streaming service (like Hulu Live, FuboTV, Sling TV, etc.)

A streaming device like AppleTV, Roku, or

Amazon Fire TV Stick
All of the main streaming services have apps on AppleTV, Roku, Amazon Fire TV, and Chromecast. If you have an internet connection and a streaming platform, you're set. You just set up the device, add the Hulu, Sling, or FuboTV app and start watching.
These streaming devices are so convenient. They let you watch on your smart TV, computer, tablet, or smartphone.
We watch Hulu on our laptops and smartphones all the time. We just type Hulu.com into our web browser or open the Hulu app on our phones and we're set.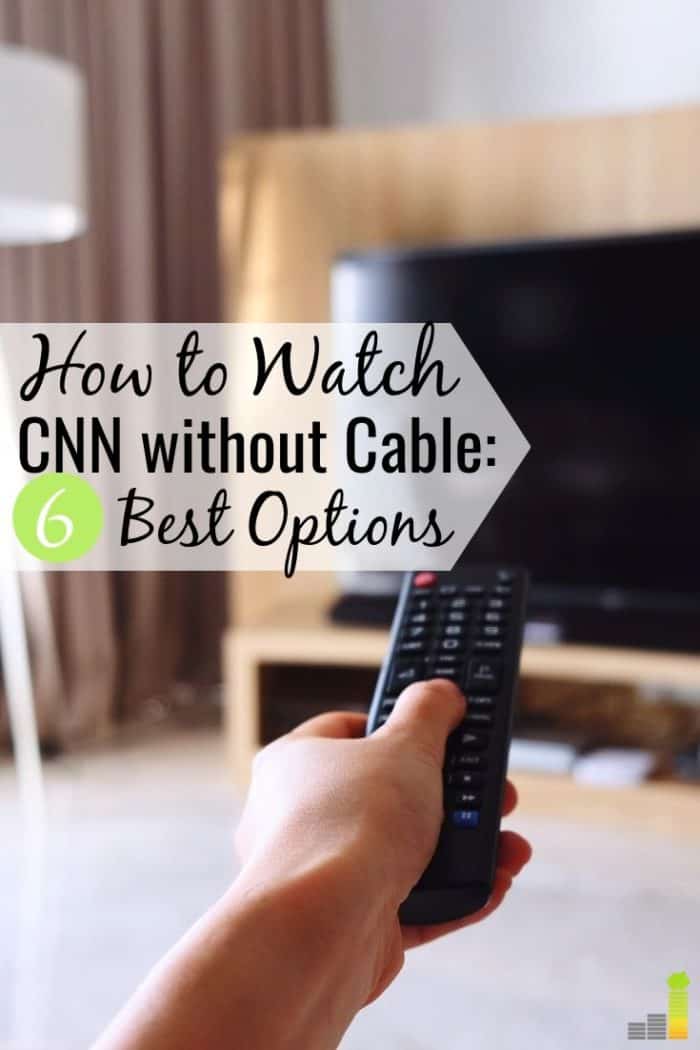 How to Get CNN without Cable: Bottom Line
There are lots of ways to watch CNN without cable. With so many possibilities, is there any good reason not to cut the cord and switch to a streaming service?
If watching CNN is keeping you in your expensive cable plan, there are cheaper ways to get it. Hulu Live and FuboTV are two great places to start.
Try one of them now and start saving money today. Now that you know how to watch CNN without cable, start asking yourself a different question – "What can I do with an extra $70 per month?"
How do you watch CNN without cable? What other channels keep you from cutting the cord? How much money do you spend on cable or streaming services each month?
The post How to Watch CNN without Cable appeared first on Frugal Rules.
Source: Frugal Rules