If you're like many Americans, you enjoy watching Fox News to stay current on events. You probably also like saving money. Learning how to watch Fox News without cable is a great way to do both.
Many streaming services offer affordable ways to watch Fox News without cable. Besides, cable is overrated. Despite so many channels, it often feels like nothing is on.
Fox News may be one of the few networks you watch daily. If you've been looking for ways to watch Sean Hannity's latest show on Fox News online free, ditching cable is the best way to do it.
How to Watch Fox News Without Cable
If you enjoy watching Fox News but have been asking, "how can I watch Fox News without cable?" you've come to the right place. Cable is no longer required to catch your favorite news and political opinion programs.
The many streaming options now available make it easy to watch news, entertainment and sports without a contract.
Our family used to pay $110 per month for DirecTV. Since canceling a few years ago, we've saved $80+ per month. The best part? We can still watch Fox News without cable along with ESPN, HGTV, and other popular channels.
If you're ready to cut the cord, here are some of the best ways to stream Fox News without cable.
Hulu with Live TV
We've used Hulu with Live TV in the past and loved it. After trying traditional Hulu for years, we upgraded to Hulu with Live TV and were able to watch Fox News without cable.
One attractive feature of Hulu Live is the ability to move down to legacy Hulu at any time for $5.99 per month and back up to Hulu Live whenever you want for $44.99 per month.
You can even pause your subscription. This is a convenient way to put your service "on hold" and then restart it when you're ready without going through the hassle of signing up all over again.
That kind of convenience is something cable providers just don't offer.
Either Hulu or Hulu with Live TV are great ways to watch Fox content, but Hulu Live lets you watch Fox News live without cable. Not only can you watch Fox News online with Hulu Live, you also receive:
60+ channels of live content
50 hours of cloud DVR storage
Ability to watch on two screens at once
Customizable profiles
An interactive, intuitive channel guide
Access to Hulu's entire on-demand content library
Hulu's original content like The Handmaid's Tale
Hulu Live's TV channel lineup is part of what makes it one of the top alternatives to cable TV.
From Fox Sports to Fox News and more, there's something for everyone in your home to watch with Hulu Live. Here are a few of the channels that come with Hulu Live:
ABC, CBS, FOX, NBC
A&E Network
CNBC, CNN
Disney, Disney Jr., Disney XD
E!
ESPN, ESPN2, ESPNews, ESPNU, ESPN Goal Line
Food Network
HGTV
History Channel
USA Network
If want to watch Fox News live online free, Hulu Live is an easy way to do it. With Hulu Live, you can stream content on your laptop, desktop, TV, tablet, and smartphone. Learn more about Hulu Live by reading our Hulu with Live TV review.
Or if you're ready to give it a shot, try Hulu Live for free for 7 days now.
FuboTV
FuboTV lets you start your morning with Fox & Friends for less. The FuboTV streaming service makes it easy to catch the latest episodes of shows like Hannity and Justice with Judge Jeannie.
When it launched, FuboTV mostly showed just international soccer games, hence it's futbol-centric name. Today, it offers much more than soccer; its channel lineup includes an array of live sporting, lifestyle, and entertainment content.
Not only does FuboTV let you get Fox News without cable, it also provides access to popular channels, including:
A&E, Bravo
E!, Food Network
FX, FXM, FXX
HGTV
Nat Geo Wild
National Geographic
Travel Channel
FuboTV's base package, which lets you watch Fox News live online, costs $54.99 per month, which is a lot cheaper than the average cable plan.
Learn all about FuboTV in our FuboTV review.
Watch Fox News online free today with a FuboTV 7-day free trial.
DirecTV Now
DirecTV Now is one way to watch Fox News without cable. Their 'Live A Little' Plan gives you unlimited access to Fox News live online for only $50 per month.
Slash Your Cable Bill. Try Hulu with Live TV!
Are you paying too much for cable? Save big now by switching to Hulu With Live TV! Get 60+ channels, DVR, locals, ESPN, HGTV, Disney, CNN, Fox News and more for only $44.99/month.
Get your 7-day free trial now
!
The price is in line with other streaming options and offers over 60 channels without a contract. DirecTV's channel lineup includes:
Disney Channel, Disney Jr, Disney XD
E!
ESPN, ESPN 2
FX
FOX Sports 1
Hallmark Channel, Hallmark Movies & Mysteries
HGTV
USA Network
That's still a savings of more than $60 off the average cable bill. You can learn more about the various packages, streaming quality and channel guide in our DirecTV Now review.
YouTube TV
As you're considering how to get Fox News without cable or satellite, don't overlook YouTube TV.
How-to videos and shots of moms unwrapping toys may be the first things that come to mind when you think about YouTube. YouTube TV is more than that. It's a full-fledged streaming service. Like all of the ones highlighted here, YouTube TV has no contract and no cancellation fees.
A subscription runs $50 per month and includes more than 70 channels.
You can watch Fox News live with YouTube TV's free trial and see if this streaming service is a fit for you and your family.
PlayStation Vue
PlayStation Vue is yet another answer to the question of "how can I get Fox News without cable?" It's an excellent way to watch sports and family shows as well as Fox News without cable.
You can watch Fox News online without cable through PlayStation Vue's Access plan for $44.99 per month. With that contract-free subscription, you'll get loads of channels, including the following:
Disney Jr
ESPN, ESPN2, ESPNU
HGTV
USA Network
A PlayStation console is not necessary to watch Fox News online. You can watch all of PlayStation Vue's content on your laptop, tablet, desktop, smartphone or smart TV.
All you need to get Fox News without cable is an internet connection and a streaming device, which could be as basic as your web browser.
As with the other options already mentioned, you can try PlayStation Vue for free for 7 days to see if you like it before cutting the cord on your cable subscription.
Use the Fox News App
If you're looking for a way to watch Fox News online free, you're out of luck. The Fox News app requires a pay TV login. That means wherever you access it, you'll need a login that's connected to a cable or streaming subscription.
However, a subscription to Hulu Live, FuboTV, or any of the other streaming services mentioned lets you login to the Fox News app on your smart phone, tablet, or computer.
Legit Ways to Watch Fox News Online Free
Outside of a paid subscription to a streaming service and the Fox News app, there are a few ways to watch Fox News live online free. Watch clips of Fox News broadcasts on FoxNews.com for free, or get a digital antenna.
For about $40, you can get a digital antenna and watch all your local channels free, including Fox. While you won't get Fox News Channel, you will get your local Fox station as well as ABC, CBS, NBC and other public broadcasting.
We bought the Mohu Leaf on Amazon a few years back and love it.
Can I Watch Fox News on Apple TV, Chromecast, Fire TV, or Roku?
Yes, you can.
All of the main streaming services have apps on AppleTV, Roku, Amazon Fire TV, and Chromecast. If you have an internet connection and a streaming platform, you're set.
Heck, we watch Hulu Live on our laptops and smartphones all the time. We just type Hulu.com into our web browser or open the Hulu app on our phones and we're good to go.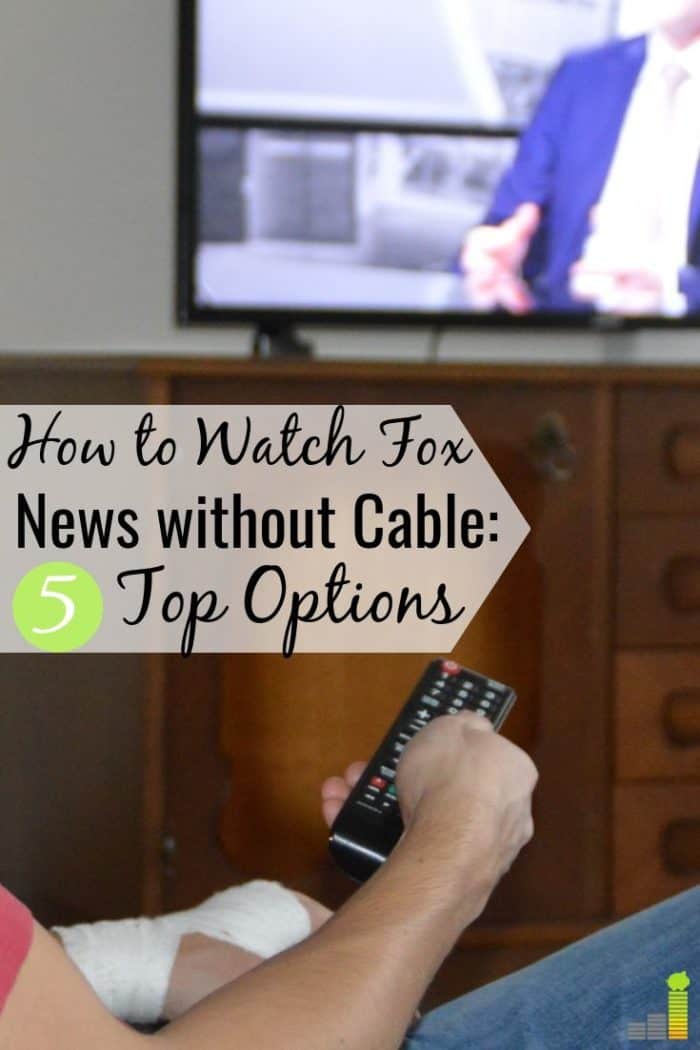 How to Get Fox News Without Cable: Bottom Line
There are many different ways to watch Fox News online without cable. With so many affordable options, is there any good reason not to pull the plug on cable in your home?
If watching Fox News is keeping you in your cable contract, there are better ways to watch Fox News. Hulu Live and FuboTV are two great streaming options.
Try one of the services today and start saving money right away. Just think of what you could do with more money in your pocket at the end of the month.
How do you watch Fox News online? What other channels keep you from cutting the cord? How much money do you spend on cable or cable alternatives each month?
The post How to Watch Fox News Without Cable appeared first on Frugal Rules.
Source: Frugal Rules