If you own a car, it's safe to say that you've had to replace the tires and know how much they cost. When you try to find the best places to buy tires, it can become dizzying. Stores sell different tires, and each store offers different deals. It's nothing to spend at least $100 per tire when replacing tires, and then you have to deal with fees that drive up the cost.
It quickly gets expensive.
Unfortunately, buying tires is unavoidable when you own a car. However, with a little due diligence, you can save money when buying tires.
Best Places to Buy Tires
There are several things to keep in mind when buying tires, such as:
Life of the tire
Tire installation costs
Auto manufacturer recommendation
Tire size needed
You should also consider if you even need new tires.
Each of the above impacts cost, and you want to ensure you select the right set of tires for your vehicle. For further information on what to look for in a set of tires, consult the Consumer Reports guide for how to find the best tires for your needs.
You have various options for buying tires. Below are the best places to buy tires, and all are rated as top options by Consumer Reports.
1. Discount Tire
As the name implies, Discount Tire focuses on offering great deals on tires. In fact, they're my favorite place to buy tires.
First, let's talk customer service. According to reviews on multiple websites, customers are happy to find that the store associates are helpful, kind, and love to talk about tires. On some reviews, people even expressed that Discount Tire offered to patch or fix a tire before replacing it, free of charge.
How great is that?
When it comes to the tire selection, Discount Tire has over 100 different brands, sizes, and types of tires. You're bound to find either an exact match to the tires you have now, or something close (or even better). Also, if they don't have your tires in stock, they'll place a special order for you with no extra fees.
Discount Tire will also install your tires for you. It's better if you book an appointment in advance, but they do offer walk-in services, like winter tire change or tire rotation.
The retailer also offers a payment plan, if you need one.
2. Tire Rack
Tire Rack built their own track to test tires. That's how serious they are about them. But beyond that, Tire Rack will also ship both your tires and your wheels to you, and they offer some of the best tire deals online.
If you work on your own car, you can install Tire Rack tires yourself. Or, you can work with one of their thousands of independent contractors who will install the tires for you. They even have some contractors who will come to your home so you don't have to go to a store.
Tire Rack carries hundreds of tire and wheel options so you should have no trouble finding what you're looking for. If you live near a Tire Rack distribution center, you'll also be eligible for a discount by picking up your tires directly from them.
3. Amazon Tires
Of course Amazon sells tires. What don't they sell? And the best thing about buying tires from Amazon is you get to take advantage of Prime and discounts. If you've ever had doubts about buying tires online, Amazon offers solid deals that make them worth considering.
Amazon carries hundreds of tire options. They even have tires for RVs, tractors, and motorcycles — just in case you need more than one type of tire.
Amazon makes it convenient to buy tires. With thousands of reviews, hundreds of products, and the ability to get two-day shipping, you could find the exact tires you're looking for in less time.
Plus, you don't have to deal with the hassle of visiting multiple stores to find what you need.
4. TireBuyer
TireBuyer has quite a few good things going for them. First, they have a smart guide that helps you pick out your perfect set of tires. This is a great tool for those who aren't sure what tires would be best for their car and area (think climate, road conditions, etc).
The second great thing about TireBuyer is you can order your selected tires and have them shipped to the place you want them installed. They're shipped for free and usually arrive in two business days or less.
TireBuyer also partners with tire installers so they can give you the TireBuyer Installation Advantage. This means that your installation rate is guaranteed. And, if you have any issues and the tires aren't exactly what you're looking, you can have them returned for free (if going through a TireBuyer installer).
5. Costco
Are you asking yourself 'where can I get the best tire deals near me?' If so, Costco is one of the best places to buy tires and save money. Costco won't work for everyone, but if you have a membership, it's a good way to save money.
The best reason to get your tires from Costco is that they have their yearly "buy four tires" deal. When you buy four tires, you'll receive a discount, plus each tire costs only one penny to install. Pretty great, right?
This Robot Makes Saving Money Easy
Trim is like a robot whose one goal is to save you money. The average Trim user saves $30 per bill! You can too. Trim connects to your bank account, finds ways to save you money on the memberships and subscriptions you don't use and negotiates lower prices for you. Trim works with Comcast, Time Warner and more. Pay less and
save more today with Trim
.
The benefits don't stop there. Costco fills their tires with nitrogen instead of air, which helps with fuel economy. They also have a five-year road hazard warranty, which means if your tires are damaged, they will repair or replace them.
And, to top it off, if you buy your tires through Costco, you also have lifetime of the tire benefits like balancing, pressure checks, rotations, and flat tire repairs.
6. Big O Tires
Big O Tires is similar to Discount Tire. You can order your tires online or in-store and have them installed. If your tires aren't in stock, you can order them and set an appointment for a day and time that works for you to have them installed.
Based on initial research, Big O Tires doesn't seem to have the highest ratings for customer service, mainly for one specific issue: their installation time. Many customers quote that it took Big O Tires around three to four hours to install tires.
However, this doesn't mean it would actually take them that long to complete every installation. To make sure this doesn't happen to you, get a time quote and try to go during a time that it isn't too busy.
A big benefit for Big O Tires is that they have multiple options for tires, many of which are affordable. The retailer also offers payment plans if you need one.
Quite a few people on review threads and websites mentioned Big O Tires having the best tire deals online. And don't forget to check out their coupons online, as they have various deals every month.
If you have a Big O Tires in your area, it's worth the time to visit them in person to get a quote. The tire retailer is one of the largest in the space with over 450 locations, according to their site, so you should be able to find one near you.
7. Tire Barn
Tire Barn boasts that they install three million tires a year. And, not only do they have all of the major tire brands, but most of their options are great if you're on a budget.
The cool thing about Tire Barn is they offer two different types of installation services, standard and premium. Standard installation includes the usual services like an alignment check and inspection.
The premium installation package includes everything from the standard installation, plus lifetime rotations and balances, and tire repairs.
Tire Barn also includes a 30-day or 500 mile guarantee. Basically, if you don't like the tires and are within those parameters, you can return them, free of charge. That's a great way to test tires if they aren't your usual brand or type.
How to Save Money When Buying Tires
Buying tires can get expensive, but there are several things to keep in mind to ensure savings and safety.
Price
Price is obviously important. And while you don't want to be too cheap with car maintenance, tire costs add up. So, always make sure to do your research before you even step foot in the store.
For me, I'll google my car's tire size, and will then look at brands that have high ratings but lower costs. I'll read reviews, both positive and negative, and I'll pick three tire options. That way, when I walk into a store, I'm knowledgeable, I know what I want, and I can be efficient with my time and money.
Keep in mind that if you need specific tires (larger wheel diameter, snow tires, etc), they will be more costly. But you can still score a good deal; you'll just have to look a little harder.
Compare Benefits
While this doesn't have to do with the tires themselves, it's nice to receive perks. When looking at tire shops, see if they offer any benefits when you purchase from them.
Ask yourself some of the following questions:
Do they offer warranties?
Do they offer balancing, mounting, and rotation?
Is there a discount for buying a set of four?
These are all great benefits, and you never know if you get them unless you ask.
Is it ok to buy tires online?
It may seem odd to buy tires online, but using the internet is a legitimate way to save money when buying tires. Not only does it allow you to comparison shop and read reviews, it allows you to save significant money.
Many local mechanics will install tires you buy online. Just ensure you include that cost in your overall price.
Practice Proper Maintenance
Proper car maintenance begins with picking the right set of tires for your car, but it's more than that. You want to keep your tires properly inflated as well as regularly rotated to maintain safety and save money.
What is the best month to buy tires?
Like other items, there is a good time to buy tires. The best month to buy tires is either April or October. This aligns with the change in seasons, and it's common to find the best deals during these months.
Look for Rebates
Buying tires is a big business. Retailers know this, and it's not uncommon to find rebates or deals to buy tires. Make sure you look for savings options before spending more than you need to.
The average cost of a set of tires cost between $100 – $300 per tire for a moderately- priced tire, according to TireBuyer. Finding a rebate is a great way to knock down that price.
Each of the above best places to buy tires actively work to help put you in a good set of tires. They wouldn't be rated as highly if they didn't. If you find a tire retailer unwilling to help you with any of the above issues, it's best to look elsewhere for your purchase.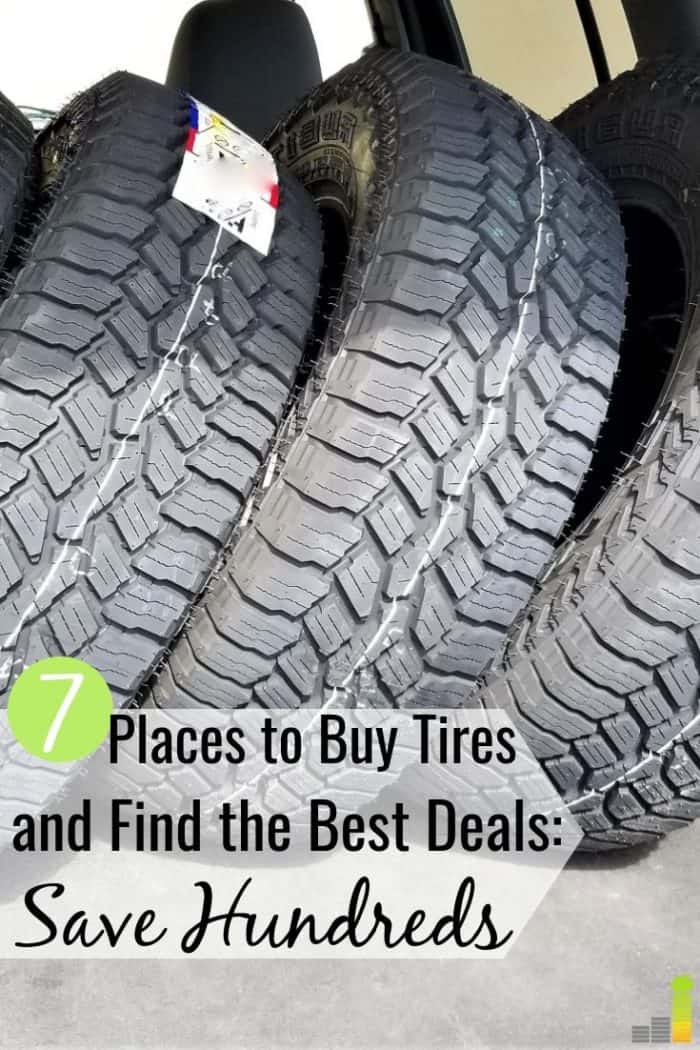 Best Tire Deals Online: Bottom Line
These seven best places to buy tires will make buying tires less cumbersome, and they'll also make sure you stay safe and save money. Just make sure you also take the time to do your research and comparison shop for the best possible deals.
Have you ever bought tires online? How much did your last set of tires cost you? What retailers would you add to our list of best places to buy tires?
The post 7 Best Places to Buy Tires and Save Money appeared first on Frugal Rules.
Source: Frugal Rules