We all should do our best to stay healthy. One of the best ways to do that is to be active and exercise. Something as simple as walking on a daily basis is a good way to stay active. When you pair that with making extra money, that's even better. You may not realize it, but you can get paid to walk.
What better motivation to get fit than to make money at the same time? If you want an easy way to make money on the side, here are a few apps that will pay you to walk.
Ways to Get Paid to Walk
It may seem like a pipe dream to get paid for walking. It isn't. There are legit ways to walk and get paid. You won't replace your day job, but it's a great way to earn extra spending money or cash to throw at a goal. Thanks to the internet and smartphones, there are resources you can use to monetize your walking.
Some apps reward you with points for making healthy choices. Others allow you to make money while getting in all your steps for the day. There are even ones that pay you to perform a side hustle.
If you want motivation to take more steps or could use the extra cash, below are seven legit ways to get paid to walk.
1. Achievement
Achievement pays members for completing healthy actions. The app has over two million active achievers and is available for download in the Apple and Google stores, according to their website.
After downloading the app, Achievement is able to track activities and fitness by gathering data from compatible apps. There are over 20 apps that Achievement can connect with including MyFitnessPal, Fitbit, and Google Fit.
Walking is one of the main activities that can earn members points on the app. You can also earn points in the following ways:
Biking
Cooking healthy meals
Meditating
Sleep tracking
Swimming
Weighing yourself
Members receive $10 for every 10,000 points they accrue. You can earn up to 80 points per day per activity, and for every friend or family member referred, Achievers will get 100 bonus points. This makes the app a great way to get paid to lose weight, or simply practice healthy living habits.
Within the past year, over 930 billion steps have been logged by Achievers, according to their site. Anyone 18 years old or older may use Achievement to help track their health.
Members can earn up to 80 points per day for each type of tracked activity; swimming, biking, walking, running etc.
Achievement users can choose between three options when it comes to getting paid to walk. Points can be redeemed to PayPal, direct deposit, or donated to a charity. Rewards are paid within seven days.
2. DoorDash
Dashers can be paid to walk simply by delivering food with DoorDash. While most people have heard of DoorDash, you may not know that Dashers can deliver food on foot and via bike since driving isn't the only transportation option.
Of course, when you use these alternative transportation methods, you are limited on speed as well as the trips you receive since you may have to stay in a particular area.
Still, this is an easy way to make extra money and walk if you live in a walkable neighborhood with various restaurant options. Though not meant for exercise, delivery app jobs like DoorDash let you combine earning money with doing something active.
All Dashers are eligible for an additional bonus if they arrive between 20 minutes early to right on time. DoorDash pushes on-time orders, which is good for both the customer and the Dasher who wants to optimize their time. On-time orders mean possible tips for the Dashers.
The guaranteed amount for delivery is shown before a Dashers accepts an order. So they'll have a good idea of how much they'll make before they even step foot in the restaurant. All deliveries, no matter how short, pay at least $1 plus 100 percent of the customer's tip.
Dashers are paid weekly and direct deposit payments are usually received by Wednesdays. If you need to be paid sooner, you can always use the Fast Pay option. Fast Pay can be used before payday. There is a $1.99 fee each time this service is used.
Dashers have to be in an active fast-pay market, complete at least 25 orders, and must have been working for at least two weeks to be eligible for Fast Pay.
3. StepBet
StepBet allows you to put real money on the line to push yourself to achieve certain fitness goals. Like Achievement, StepBet uses data from your favorite fitness tracker to help organize fitness goals.
Users can bet on themselves and potentially win money by participating in different games. Games vary in length but will always be in week-long increments.
To get paid to walk, StepBet users have to make sure their activity tracker is synced with the platform within 24 hours of a given week ending.
People do have a warm-up during the first week that allows them to get a feel for how things work. StepBet has two different types of goals for users to hit, active goals and stretch goals. Stretch goals are said to be a little harder to achieve.
Each week, step goals are set by StepBet. One of the primary sources they use to determine the goal is historical data taken from your activity tracker. The amount of money needed to play in each game is set by the organizer, but averages $40 per their site.
There can be multiple winners.The goal is to just hit the step goals given to each individual by StepBet. Bets must be paid upfront.
Members can play in up to three games at a time, and all users must be at least 18 years old to play.
4. Walgreens Balance Rewards
The Walgreens Balance Rewards program offers customers points for completing certain tasks such as walking. Points can then be translated to savings in Walgreens stores.
Customers can accumulate 50,000 points to get $50 off. 1,000 points will earn $1 off. This is the same program used to collect points at the register when a customer scans or inputs has their rewards card number. Points expire one year after they are earned.
Just for linking a health device or app, you receive 250 points for each device. Activities like walking, running, and cycling are all worth the same amount of points. For all three of those activities, users earn get 20 points per mile they complete.
Families can link up to four balance reward memberships by simply calling customer service. This isn't the most lucrative way to get paid for walking, but it's a good way to accrue savings if you have a family and live near a Walgreens.
5. Charity Miles
Charity Miles is one of the more unique apps that will pay you to walk. The app is available to download on both Apple and Android devices.
Charity Miles has a different payout method than other ways you can get paid for walking as you donate earnings to charity.
Make Extra Money by Taking Short Surveys
Taking short surveys in your free time can be an awesome way to earn extra money fast! The instant you finish a survey,
Survey Junkie pays you in cash via PayPal
. 6 Million users and an 8.9/10 Trust Pilot rating prove you can trust them.
Users can choose from a variety of different charities, and can decide which cause they are the most passionate about and make a contribution. Not only do you get paid to walk, but you also earn with the following activities:
Biking
Dancing
Running
Swimming
It's not just charities that can get sponsored; friends and family sponsor you as well.
Over $2.5 million has been raised and contributed to charities through Charity Miles, according to their site. There are over 40 charity partners on Charity Miles including Feeding America, World Wildlife Fund, and Pencils of Promise.
The money that is raised and given to the charity comes from corporate sponsors who repurpose their ad budgets and Charity Miles is someone they contribute to.
Social media makes it easy to not only raise awareness for the charity, but to also say thank you to the sponsor who donates the money on your behalf.
6. Rover
Rover is an excellent option if you're looking for apps that will pay you to walk. The Rover platform is a giant in the pet sitting and dog walking industry. Pet owners pay for dog boarding, doggy daycare, house sitting, and dog walking.
Some owners ask for more than others, depending on their situation. Some owners just need someone to walk their dog a few times a day. Others might need a long-term pet sitter.
Get on Rover and browse through opportunities to walk a dog and get paid. Walkers only have to take the dog out for about 30 minutes.
To get started, go to Rover.com and create a profile highlighting your services, experience, reviews, and your prices. Typically pet parents that use Rover love to set up an initial meet and greet to make sure the sitter or walker is a great fit.
This is a great time to get to know the dog. Some dogs might be nervous and uncomfortable with new people, including sitters and walkers, and this initial meeting is a safe way for everyone to become acquainted.
Additionally, sitters and walkers get a chance to choose which dog size they prefer to work with. Rover has established four size categories:
Small – up to 15 pounds
Medium – 16 – 40 pounds
Large – 41 – 100 pounds
Giant – over 100 pounds
Rover is in most major cities, and if a sitter can handle more than one dog, they can choose to do that.
7. GigWalk
Gigwalk allows you to complete short tasks or gigs and earn some extra cash. There are various types of gigs, and they can take anywhere from five minutes to a few hours to complete.
Depending on the length, you can earn anywhere from $3 to $100 per task. Gigs are typically posted by retailers and consumer brands who want someone to look at how their products are displayed in a location.
Brands may ask walkers to verify if a marketing event is running and running on time. They also may send someone to verify their product is available on a store's shelves and is priced correctly.
Payments for completed gigs are processed through PayPal.
Be professional and do quality work to maximize the earnings potential with Gigwalk. If a customer sees continual great work from you, they can add you to their private workforce which can lead to more income.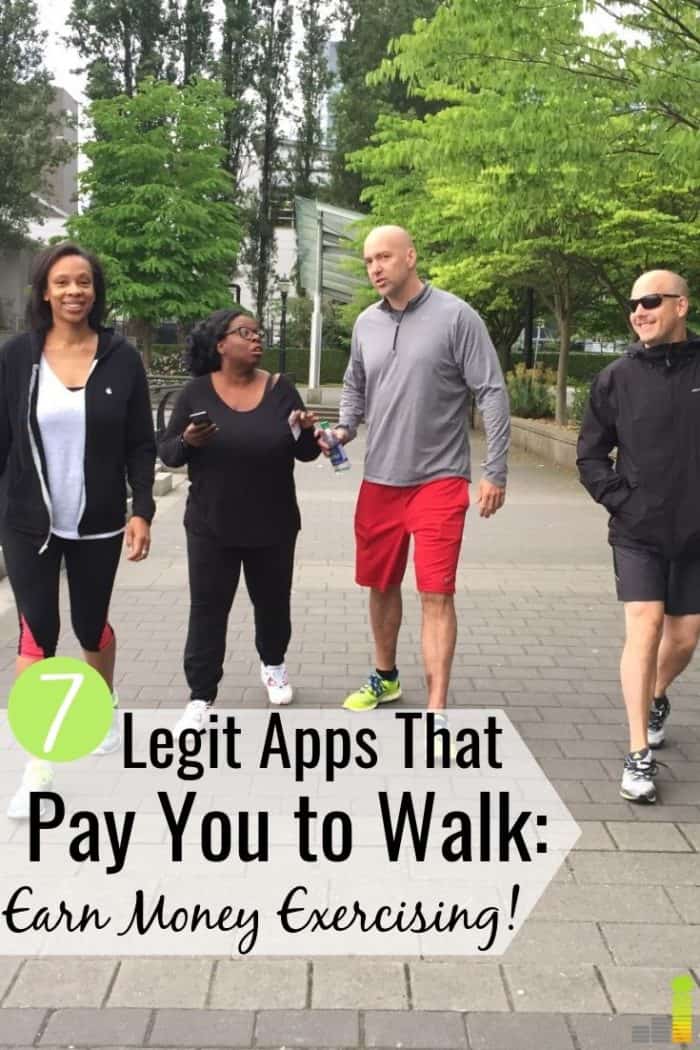 Apps That Will Pay You to Walk: Bottom Line
Walking is something that we do every day. It's also an easy way to get some exercise and stay healthy. Since you already walk daily, you might as well get paid for it. Use some of these sites to motivate you to walk more.
When it comes to making extra money with these sites, don't overthink it. Just walk and have fun with the tasks.
What are some other options you've seen to get paid to walk? Do you use a service like FitBit to track your walking? What's the strangest way you've seen to make extra money?
The post 7 Legit Ways to Get Paid to Walk appeared first on Frugal Rules.
Source: Frugal Rules