If you're a fellow contact lens wearer, you know how expensive they are and how quickly the costs add up. As someone who's worn contacts for over ten years, I'm still surprised at how easily I can spend hundreds of dollars on contacts. Over the years, though, I've found ways to buy cheap contact lenses online and save money.
When you have your annual eye exam, the doctor's office staff may try and sell you on buying contacts at their location. Don't fall for their sales gimmick as they're often more expensive than buying them online.
If you want to learn how to buy cheap eye contacts online and save money, this post shares how to do that. I speak from experience, too, since I buy my contacts online, have them shipped to me, and save at least 20 percent. Those savings add up!
How Much Do Contacts Cost?
Before we talk about how to get cheap contacts online, let's talk about how much contacts cost.
While costs vary based on your location, eye health, and more, based on studies done by All About Vision, the typical costs are around:
Eye exam: $100 – $200
Contacts: $22-$26 per box of six lenses
Let's say you need new contacts for the first time. Eye exams are required every year for contact lens wearers, so that is a mandatory expense. And then, if you buy the recommended number of contacts for a year, you're looking at at least another $150 dollars.
That's around $250 on the low end to get an eye exam and new contacts. However, those numbers can easily skyrocket.
For example, I have an astigmatism in my left eye, and I need different contacts for each eye. Because of my astigmatism, and my extreme nearsightedness, I pay almost $40 a box of contacts.
Because of that, my costs are automatically almost double what some people pay. Now, this isn't to scare you into staying with or getting glasses, but it is to share that contacts can be expensive.
However, there are so many ways to cut costs on the price of contacts, and that includes buying cheap contacts online.
Best Places To Buy Cheap Contacts Online
Finding cheap contacts online was a game changer for me. Here are seven of the best places you can buy contacts online.
1. Coastal
Coastal makes finding cheap contact lenses online easy and quick. They carry most of the major brands, so you likely won't have any trouble finding the contacts that you need.
They also carry contacts for people who need specialty contacts, such as multifocal and toric contacts (which can be hard to find and expensive).
To get started, all you need is your contact prescription. When you first sign up, you'll be prompted to add your doctor's info. Coastal will then contact them on your behalf to receive and verify your prescription. Once that's complete, you're free to buy contacts through the site.
Coastal also offers a 14-day money back guarantee and free shipping, which is shorter than others on our list. Plus, they always have some type of coupon available, so don't forget to check their sales and coupons section.
Pros:
Cheap prices
Carries most major brands
Free shipping
Price match guarantee
Cons:
Check out contacts at Coastal to save money!
2. ContactsDirect
Have vision insurance? ContactsDirect makes it easy for you to use the benefits that you have without struggling with your vision insurance provider. This is one of their big perks.
They will file claims for you, and all you have to do is sign up and enter in your info. Besides being able to save on contacts that way,
ContactsDirect also has great prices even for those who don't have vision insurance. When I looked up my box of preferred contacts, I saw that I could save $6 a box. That's a significant savings for someone who buys a year's worth of contacts at one time.
ContactsDirect also offers free two-day shipping and returns, and they also offer annual supply discounts for those who buy a few boxes at a time. The one drawback to ContactsDirect is taxes are processed after your discount and insurance is cleared.
This can make it confusing to know the final price.
Pros:
Affordable
Carries most major brands
Free two-day shipping
Free returns
Annual supply discounts
Vision insurance is easy to use
Cons:
Doesn't carry a ton of brands
Check out contacts at ContactsDirect to save money!
3. DiscountContactLenses.com
Needing contacts and all of the products that come with contact care? Get them all in one place with DiscountContactLenses.com.
Not only can you find most major brands on this website, but you can also buy contact lens solution, cases, and even red eye treatments for when your contacts cause issues (which happens from time to time).
The biggest perk about DiscountContactLenses.com is their extended return policy. You get up to a year (365 days) to return any product you aren't completely happy with. That's pretty generous.
Another perk the site offers is they match any competitor's price. If you find a lower price, but want to use DiscountContactLenses.com, they match any price plus give an additional five percent off the price. Unfortunately, you must spend at least $99 to receive free shipping.
Pros:
Free returns up to 365 days
They sell more than just contacts
Carries most major brands
Cons:
Shipping isn't free unless you spend $99 or more
Check out contacts at DiscountContactLenses.com and save money!
4. LensCrafters
I think it's safe to say that you've most likely been to LensCrafters. It's almost like a rite of passage for new contacts or glasses wearers. This is because LensCrafters is one of the most well- known and oldest prescription glasses and contacts seller around.
Not only has LensCrafters been around for a long time, they also offer so many options in-house. You can get an eye exam and get your prescription glasses or contacts all within the same day if they have your specific prescription in stock.
And their buildings are huge, so they most likely do have your prescription in stock. If you want a one-stop solution, LensCrafters is worth considering. The one drawback is they only offer a 30-day return policy. This may pose an issue if you notice a problem after wearing your first few pairs.
Pros:
Everything can be done in-house
Carries all the major brands as well as a few generic brands
Accepts most vision insurance plans
Always offering some type of discount
AAA member benefits
Can return items online or in-store
Cons:
30-Day return policy
No warranty on their glasses
Check out contacts at LensCrafters to save money!
5. 1-800 Contacts
1-800 Contacts is my go-to source to buy cheap contacts online. They were actually recommended to me by my optometrist, and I've been using them for five years now. Soit's safe to say they're a great company to work with.
Not only do they offer free and fast shipping, but their prices are the lowest I've seen on my brand and prescription of contacts. It's not easy to find my contacts for under $40 dollars a box, but with 1-800 Contacts I'm able to grab them for $29. That's a huge price difference, especially when you add the costs up over time.
1-800 Contacts also offers an online eye exam, which means you can skip the doctor's office (if you qualify). This is a great option if you've worn contacts for years with an unchanging prescription, or if you just can't find the time to sit in a doctor's office and go through the 60-90 minute exam.
If you want to buy contacts online without a prescription, 1-800 Contacts is one option to consider. Shipping is free on all orders, though their return policy is only 30-days.
Pros:
Carries all major brands
Online eye exam
Live chat options
Student discounts
Can return unused lenses if your prescription changes
Cons:
Shipping can take a while
Check out contacts at 1-800 Contacts to save money!
6. Walgreens
Did you know Walgreens sells cheap contacts online? If you said no, neither did I, but they do!
As with the rest of the online options, Walgreens offers various contact lenses to purchase. They also have a rebate program on a lot of major brands, so you're bound to save some money if you decide to use them to purchase your contacts.
This Robot Makes Saving Money Easy
Trim is like a robot whose one goal is to save you money. The average Trim user saves $30 per bill! You can too. Trim connects to your bank account, finds ways to save you money on the memberships and subscriptions you don't use and negotiates lower prices for you. Trim works with Comcast, Time Warner and more. Pay less and
save more today with Trim
.
If you want to buy cheap colored contacts online, or want ample discount options, Walgreens is worth checking out for contacts. They offer free shipping on all orders, but the site leaves a bit to be desired from a user standpoint.
Pros:
Carries all major brands
Offers sales and rebates on most contacts
Cons:
Site is slow/clunky to use
Check out contacts at Walgreens to save money!
7. Costco
If you have a Costco near you, you may be able to take advantage of their onsite optometrist. Once you go in for an exam, you'll also be able to order contacts and glasses through them (or online).
As with most things, Costco offers some of the best deals on contacts and even eye exams. While prices vary, you may be able to get an eye exam for as little as $50. They're also a good option to buy cheap glasses online if contacts don't work for you.
Can I buy contacts at Costco without a membership?
That depends on your state and local Costco. In some areas, you'll be able to get the exam without being a member, but won't be able to get contacts or glasses.
However, even if you factor in the cost of a membership ($60 for the year), you could still be paying less for the eye exam alone, plus the savings for glasses and contacts.
Pros:
Cheapest eye exam costs
Contacts available at a massive discount
May be able to use even if you aren't a member
Cons:
Doesn't carry as many options for contact lens wearers
Check out contacts at Costco to save money!
Buy Cheap Eye Contacts Online FAQs
If you're new to buying contact lenses online, you may be apprehensive to try it out. But have no fear. There's really no risk to buying cheap contacts online, especially if you use one of the seven sites mentioned above.
If you still have questions, these answers may help.
Can you order prescription contacts online?
Yes, you can. Once you get a prescription from your doctor, or qualify for an online exam, you can order contacts right away.
How much should contacts cost?
Contact costs vary. If you use one of the above sites, you can likely buy a box of contacts for $15 – $25.
But, if you're someone like me who has an astigmatism, specialized prescription, or need multifocal lenses, you could pay more. However, when you buy contacts online, you still save money versus buying them directly from your eye doctor.
How can I save money on contacts?
The best ways to save money on contacts are:
Buy cheap contacts online,
Buy as many contact boxes as you receive larger discounts
Use whatever benefits or insurance you have
Don't be afraid to take advantage of student discounts, AAA discounts, and other discounts that are offered to you.
Does vision insurance save money on contacts?
Yes, vision insurance can save you money. The best vision insurance company to use (in our opinion) is VSP Insurance.
VSP Insurance offers individual plans as well as the option to gift someone with insurance. Of course, you can also use your employer's vision insurance if they offer it.
When I had vision insurance, I was able to cover both the cost of my exam and a two-year supply of contacts for just $7 a paycheck. Vision insurance is definitely worth looking into.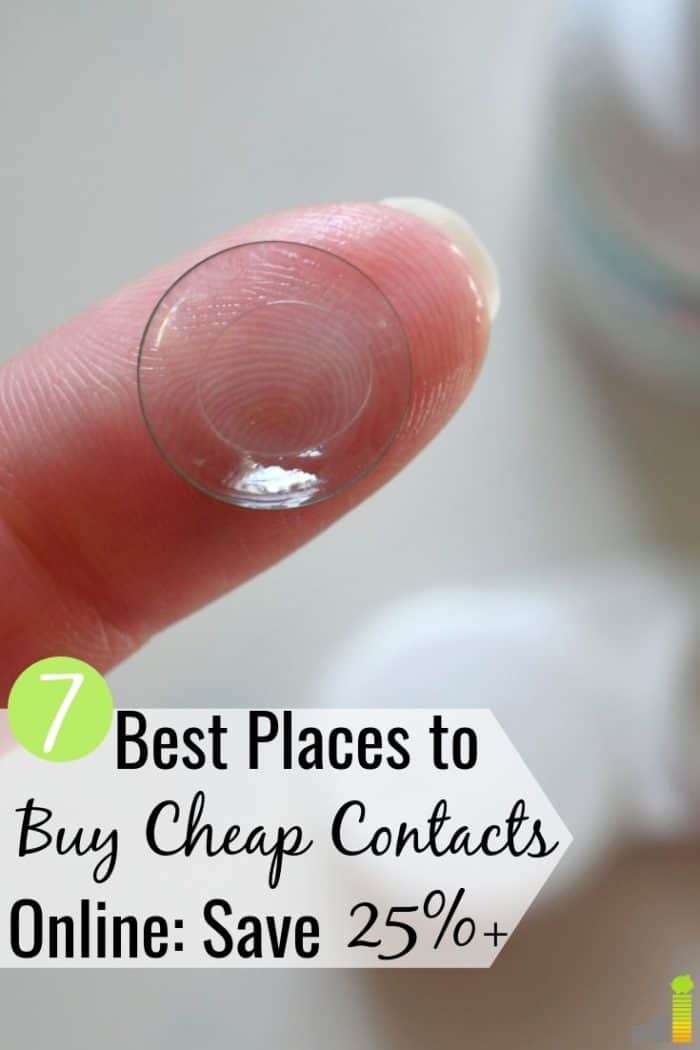 Where to Buy Cheap Contact Lenses Online: Bottom Line
It is possible to buy cheap eye contacts online without breaking the bank. While contacts are more expensive than glasses, the costs don't have to burn a hole in your wallet.
By ordering contacts online, you're able to save money, get contacts shipped directly to your door, and feel confident and comfortable in the contacts you're wearing.
Where do you buy cheap contacts online? How much do you typically spend on contacts? Do you have vision insurance?
The post 7 Best Places to Buy Cheap Contacts Online appeared first on Frugal Rules.
Source: Frugal Rules