Do you love the idea of making money on the side but you feel you don't have the time to earn additional income? Not a problem. If your evenings are full, there are dozens of ways you can make money on the weekends. The best part? Most of them require little to no specialized skills.
You may not replace your income, but it's possible to earn $500 or $1,000, or more, by finding ways to make extra money on the weekends. That extra income can help you reach various goals, such as:
Paying off debt
Earning extra spending money
Saving money for a large expense
Taking a vacation
There is no time like the present to start. Our guide shares a few of the best ways to make money this weekend.
Ways to Make Money on the Weekends
Are you looking to add a new side hustle to your life? Here are our favorite ways to make money on the weekends.
1. Deliver Food
One of the easiest ways to make money on the weekends is to do what teenagers have done for years — deliver food. And this side hustle option is way more lucrative than you may think, especially when you include tips.
If you want to deliver food, there are several options that you can choose. Two of the most popular options are Uber Eats and DoorDash.
While the two are separate companies, they're nearly identical when it comes to what you do and how you're paid.
If you want to work with DoorDash, here are a few qualifications you must meet:
Be at least 18 years old
Have a valid driver's license
Have reliable transportation
Own a smartphone (iPhone, Android)
Must be able to pass a criminal record check
For Uber Eats, you must:
Pass a criminal record check
Have a valid driver's license
Have a car that is newer than a 1999 model
Own a smartphone
Have at least one year of driving experience
Be at least 19 years old (if in the United States)
If you meet these qualifications and have verified your state's eligibility requirements, you can become a driver in less than a week. That means that by next weekend you could be making money in your spare time!
Postmates is another solid option to consider, and it allows you to deliver alcohol in addition to meals.
Read our guide on best delivery app gigs for additional options to make money this weekend delivering food.
2. Shop For Groceries
Not a fan of delivering meals? Instead, you can make money on the side buying and delivering groceries. If you don't mind shopping for groceries, this is a good opportunity to earn money as a shopper for Instacart.
You can earn money in two ways as an Instacart Shopper:
Shopping for and delivering groceries
Being an in-store shopper
Depending on your transportation options, age, and whether you want tips or not, either option is a good side hustle to consider. Both options can pay anywhere from $15-$20 an hour, and for the full-service option, you can even earn tips.
You can read our guide on how to become an Instacart Shopper to learn more about how the platform works and requirements.
This is a great way to make money on the weekends, because you can accept as many (or as few) jobs as you want to earn the money you need.
3. Proofread
Okay, so let's say you don't want to deliver food or groceries. That's okay. If you to work from your computer and utilize a skill, there are plenty of other things you can do, such as proofreading.
If you love the English language, can spot punctuation errors and grammar mistakes a mile away, and love to read, proofreading is a legitimate option to make extra money. The best part? You can do it on your own time.
Want to get into proofreading but not sure where to find clients? There are a multitude of projects that require proofreading, such as:
Blog posts
Ebooks
Speeches
Web content
White papers
If you don't have the requisite resources to find clients, there are ways to find clients. You can let friends know, or you can post your services on Facebook Marketplace.
A great resource to help you become a successful and well-paid proofreader is Proofread Anywhere.
In this course, Caitlin Pyle shares her tricks on attracting clients and earning a decent income as a proofreader. The webinar is free, so no financial commitment is necessary.
You can expect to make decent money as a proofreader, typically averaging $20 per hour. You may earn more if you specialize in a technical an advanced field.
4. Become A Driver
Looking for another option to make money this weekend with your car? An alternative to delivering groceries or food is driving people around town.
Driving for Lyft is worth considering if you're great at customer service, know your way around your city, and don't mind working evenings or weekends. These are the best times to earn extra money while being a driver, but it's not for everyone.
Lyft operates in most cities and offers a great payout, all while working a few hours a week.
As with any side hustle, there are several qualifications you must meet before you can get started. For a rideshare company like Lyft, you'll have to meet these requirements:
Be at least 21 with an active driver's license
Pass a DMV check and a criminal background check
Have a four-door car
Own a smartphone (iOS or Android based)
Have in-state license plates
Complete a vehicle inspection in your state and meet the state's requirements for the cars age
How much money you can earn as a Lyft driver varies based on factors including tips, driving distance, and the amount of ride requests you accept.
Read our guide on how much money you can make driving for Lyft to learn how to maximize earnings.
5. Help an Online Business
It's important to be strategic if you're trying to make money part-time with the limited time that weekends allow. Because of this, working as a virtual assistant (VA) is a great way to make money on the side.
A VA is someone who assists entrepreneurs and small businesses. You don't have to work in an office to be a VA as your work exists online. Even better, you can do it just about anywhere including the beach and during those weekend getaways).
VAs can do almost anything, including:
Email management
Social media
Writing
Scheduling
You don't need any special skills or education to become a VA. If you're great at organizing, communication, and know your way around a computer, or are willing to learn, you're already halfway to being a successful VA.
As a beginner VA, you can expect to earn $15+ per hour. If you learn how to specialize in a specific skill, or if you build up your skillset and can sell yourself to higher income-earning clientele, you can earn $30+ per hour.
If this sounds like a good option to make money on the weekends, consider the course $10K VA run by my friend Kayla Sloan.
In the course, Kayla shares how she grew her VA business to earn over $10,000 per month. If you want the possibility to work from anywhere you want, and are well-organized, becoming a VA is one option to consider.
6. Blog
How do bloggers make money? There are numerous ways you can earn money with your blog including affiliate marketing, selling your products or services, writing sponsored posts, and having ads on your site. Our guide on how to make money blogging is a good resource for learning how to monetize a blog.
Make Extra Money by Taking Short Surveys
Taking short surveys in your free time can be an awesome way to earn extra money fast! The instant you finish a survey,
Survey Junkie pays you in cash via PayPal
. 6 Million users and an 8.9/10 Trust Pilot rating prove you can trust them.
These days, it seems like everyone has a blog. But that doesn't mean there isn't room for one more. Although you won't become rich quick, it can offer you the flexibility that you need and the opportunity to make money on the weekends.
You don't need to be a blogger in a popular niche in order to make money. While blogs in the personal finance, fashion, and health spaces are profitable, there are bloggers earning a part-time and full-time income while in a super- niche space, like pools or taking care of dogs.
Your blog doesn't have to take forever to set up, and you really don't need any technical skills. With a hosting service like Bluehost, you can have your site up and running with just a simple click.
7. Take Surveys
Surveys certainly aren't a get rich quick scheme, but they're a top option to make extra money on the weekends. You can take them from your phone or computer, take as many as you want on multiple platforms, and cash in for cash or gift cards.
The best part of survey sites is you can make money while watching TV or something else mindless. There are dozens of survey sites you can use, but below are the best paid survey sites to use.
Survey Junkie
Survey Junkie is one of my personal favorite survey sites. You can get paid either with cash or gift cards. I've earned hundreds on Survey Junkie in the last few years, and I only do it a few minutes every weekend.
The more serious you are about taking surveys, the more you're likely to earn. Our Survey Junkie review will give you more details on why this site is so great.
Pinecone Research
Pinecone Research pays $3 per survey, no matter what survey you take. Plus, they pay via cash or Amazon gift cards. They also pay you to do product testing if that is something you prefer.
You can read our Pinecone Research review to learn how to take advantage of all that Pinecone Research has to offer.
InboxDollars
InboxDollars is a great way to make money on the side. They offer multiple ways to earn cash, including taking surveys, watching videos, playing games, and more.
Check out our InboxDollars review to learn more about their platform.
8. Babysitting
An oldie but a goody, babysitting is one of the most traditional ways to make money on the weekends. And these days, you can earn good money doing it.
You can score babysitting gigs in various ways. Typically the best way is to tell friends and family members you're looking for babysitting jobs. You can post on Facebook Marketplace that you're looking for jobs.
Sites like Care.com offer babysitting gigs, plus the ability to have clients post referrals. And it costs nothing to get started.
As long as you're at least 18, can pass a criminal background check, and have reliable transportation and desirable hours, you're bound to find a babysitting gig that works for your schedule.
9. Work Odd Jobs
Craigslist isn't just for selling and buying items. You can also search for side gigs and odd jobs to make money this weekend. If you have a skill or talent that you want to put to use, there are typically countless options.
Everything from bartending to lawn care can be found on Craigslist, and people in your area are most likely always looking for some kind of help, especially at an affordable rate.
There's no limit to how much you can earn finding odd jobs off of Craigslist.
If you want to work odd jobs and maximize your earnings, don't limit yourself to one platform. There are other sites like Craigslist to find side hustles for free.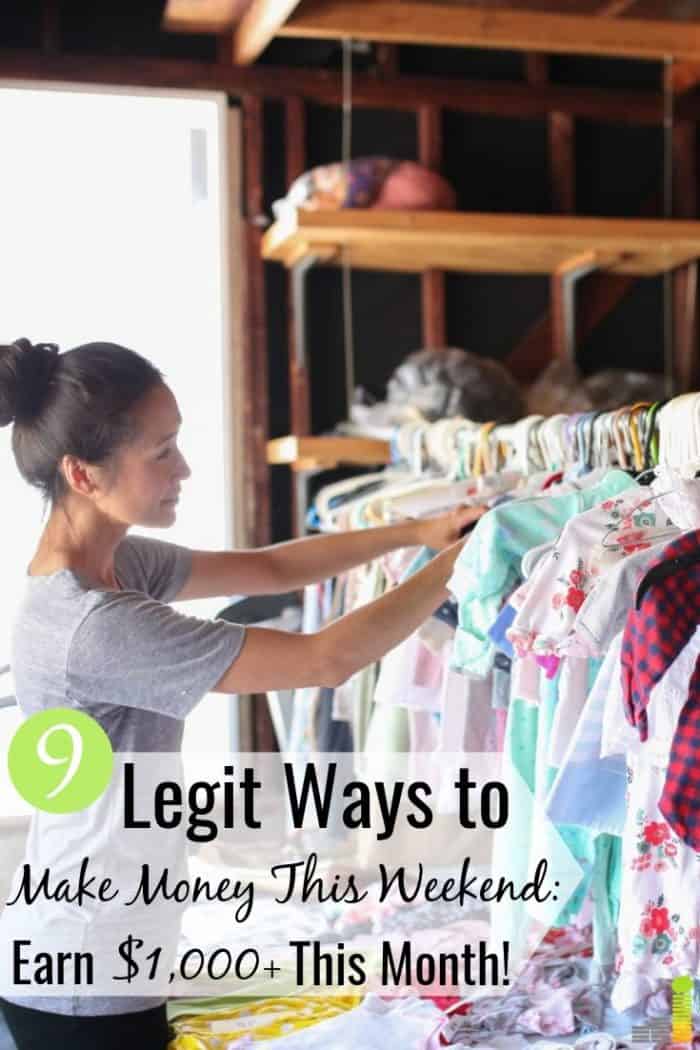 Make Money This Weekend: Bottom Line
Time is a limited resource, and it may seem like it's impossible to find time to make money on the side. Thankfully, there are dozens of options to make money on the weekends.
If you have a goal in mind, consider one of the above options to help make it a reality.
What are some other options to make money this weekend? How much do you need to reach your goal? What's your biggest obstacle to making money on the side?
The post 9 Legit Ways Make Money on the Weekends appeared first on Frugal Rules.
Source: Frugal Rules