Passive income, generally defined as money you make with little effort, is one of the best ways to earn money. That's correct; you can make money when on vacation or sleeping! If you're new to the idea of creating residual income, passive income apps simplify the process of creating new streams of income.
This additional income is a great way to reach financial goals from paying off debt to saving for your next trip. However, before we discuss the best free passive income apps, it's important to realize that some opportunities are not always what they seem.
Sometimes, earning passive income is glamorized as easy or the inevitable path to riches. While possible, it often requires work and effort to make that a reality. Be leery of anything that sounds scammy or shady, or seems too good to be true. Because it probably is.
With that disclaimer out of the way, let's take a look at a few of the top passive income apps to use.
Best Passive Income Apps
Passive income mobile apps provide earnings in two forms – truly passive and semi-passive.
Truly passive income results from something similar to investing. You simply invest the money and let it work for you with no further effort on your part. Semi-passive income derives from something you may already be doing. Semi-passive income apps come in several forms, such as:
Shopping apps
Money-saving apps
Rental apps
Each serves a purpose and provide legitimate passive income opportunities to their users. Not each opportunity may work for you, so it literally pays to find ones that will.
If you want to create a new stream of income, we share the 11 best passive income apps to use today.
Best Investing Apps
Investing is the best way to grow your wealth. Below are a selection of the best investing apps to grow passive income.
1. Stash
Do you struggle to invest in the stock market due to limited funds? Stash is an app that helps you invest in the stock market even if you have little money.
You can choose from different stocks and Exchange-Traded Funds (ETFs). The best part is that you can get started for as little as $5.
This doesn't even have to come from your own money. When you open a new Stash account, you receive a free $5 to use for your first investment.
Stash is great to use if you're new to investing as well. The app offers coaching and resources that help you learn how to start investing. Auto-Stash is an option to save and invest automatically so you won't have to worry about finding the money to build passive income.
The automatic investment can be set up on a weekly, bi-weekly, or monthly basis.
The app is free of charge for the first month, and $1 thereafter if you have a balance under $5,000. With no minimum balance requirement, Stash is worth considering to grow your wealth.
2. Acorns
One of the best passive income ideas to pursue is to build long-term wealth by investing. If limited funds hinder your investing efforts, Acorns is a solid option to use.
Acorns makes investing simple by using your spare change to invest in the stock market. For example, if you buy a gallon of milk for $4.01, the app will invest the remaining $0.99 for you.
Once you connect an approved account to the Acorns app, you can invest money each time you make a purchase. Acorns will round up each transaction to the nearest dollar and invest that amount.
It may seem small at first, but it will grow consistently as you invest more.
Similar to Stash, there is no minimum balance requirement with Acorns, and you can automate deposits into your account on an interval of your choosing.
You also receive a free $5 when you open an account. Acorns is cheap to use, charging $1 per month for balances under $1 million, and it's free for those under 24 or in college.
3. Stockpile
Stockpile is the final stock market option on our list of best passive income apps. Similar to the prior options, Stockpile has no minimum balance requirement to start.
Instead of buying a full share of stock, users buy fractional shares of stock. This makes investing easy and attainable for anyone looking to grow their money.
There are no monthly fees with Stockpile, but they do charge $0.99 per trade. This is important to consider if you plan on making multiple trades each month. The service is also more bare-bones than Acorns or Stash.
What I love about Stockpile is that they make it super easy to gift stocks using their stock gift cards. You can buy these cards for kids, family, friends, and they can use them to buy stocks as they wish.
4. Fundrise
Investing in real estate may seem an odd choice for passive income apps, but thanks to technology, it's possible through Fundrise.
Fundrise gives people the chance to invest in real estate. Real estate investing used to be prohibitive to most as it required a significant investment. Thanks to crowdfunded real estate, it's now possible for many to start investing.
You can investing with Fundrise by picking from the dozens of real estate portfolios they have available.
Users have an option to invest in either active projects or projects that have already been completed. To get started, you need to be 18 years old and reside in the U.S.
There are two main portfolio options for people who want to grow their money: starter and core portfolios.
The Core portfolio requires a minimum investment of $1,000 and a starter portfolio requires $500 down. After that a minimum of $100 can be added on to the initial investment.
The return on investment with Fundrise depends on the market along with which plan is selected. Any potential returns are typically paid out quarterly or at the assets' investment term.
Best Shopping Apps
Shopping apps represent a legitimate opportunity to grow semi-passive income. If you're already shopping, it makes sense to earn money for doing it. Below are a few of the best shopping apps to earn money.
5. Ibotta
Ibotta is one of my favorite cash-back apps that lets you earn rebates on groceries. This passive income mobile app also works at over 350 online retailers, allowing you to earn up to ten percent cash back on your purchases.
Ibotta is free and you can scan offers to find local rebates in your area. You can search by store and see which items have cash-back offers. Once you choose the offers you want to redeem, do your shopping as usual and scan your receipt via the app afterward.
Your cash back will be added to your account between 24 and 48 hours. You can redeem your rewards via Paypal or Venmo once you reach a $20 balance. Ibotta gives you $10 when you open an account to help you reach that initial goal.
Referrals and teammates are two fun options to earn more passive income with Ibotta. Referral bonuses, and bonuses from teammates are credited when that new user redeems their first brand name offer.
Read our Ibotta review to learn how to maximize rewards with the app.
6. Swagbucks
Swagbucks is another way to bring in extra income with little effort. The Swagbucks platform is a loyalty rewards site that will give you Swagbucks (known as SB points) for completing short tasks, such as:
Taking paid surveys
Testing products
Watching sponsored videos
One of the things that I love about using Swagbucks is that there are several passive income opportunities through the site.
For starters, you can earn points when making purchases from various retailers. You can also earn points by using their search engine and via referrals. You earn $10 when you open an account with Swagbucks, and can redeem earnings once you reach $25.
The referral plan Swagbucks has in place can earn visitors even more free gift cards by inviting friends to join. Earn 300 SBs by inviting a friend and having them get 300 SBs their first month.
An extra 100 SBs is available to those new users who add the SwagButton tool to their laptop or desktop.
If that wasn't enough, the Swagbucks user who referred the new account will receive ten percent of their referral's earnings for the lifetime of their account. Not a bad deal and a nice way to rack up rewards in your sleep.
Read our Swagbucks review to learn how to maximize earnings through the app.
7. Shopkick
We all have to shop at some point, so you might as well earn cash back when you do by using Shopkick. It's one of various cash-back apps that pay you for your shopping.
The app is available on both Android and iOS, and rewards shoppers for online and in-store shopping.
Start Investing Now to Grow Your Wealth
You can invest today with little money through Ally Invest.
Trades as low as $3.95
No minimum balance
Tons of free tools
If you've been wanting to start investing, check out Ally Invest!
Some tasks that allow you to earn points (known as kicks) include visiting certain stores, making a purchase, scanning an item, or submitting a receipt. You can also refer friends to earn kicks. For the first 100 people who sign up for Shopkick with your referral link, you'll receive kicks to add to your total.
Best Service Apps
Service apps let you earn passive income in several ways. You may provide a service to an individual, or save money by cutting a bill. Below are several of the top service apps to use to grow passive income.
8. Airbnb
Do you want to build passive income through real estate? Airbnb is one of the best passive income apps to use for that.
Approved Airbnb hosts can rent out their spare room or home for extra money. You choose how much to charge per night and you can allow guests to auto-book through your listing if you don't want to have to approve them manually.
If you want to make this income stream even more passive, you can hire someone to clean the property or communicate with guests. You can even hire people to do both. Outside of those expenses, Airbnb can be a very profitable income stream.
If you live in a big city or heavy tourist area, you can earn a part or even full-time income by using this site. People travel often, and Airbnb has become one of the most popular sites for finding affordable lodging.
Read our Airbnb host checklist to learn how to get more bookings and increase earnings.
9. Qapital
Qapital is a full-service banking app that helps members save smart wisely and invest with confidence. Users have an average savings of about $5,000 per year, according to their site.
Over the past six years, CEO George Friedman and the Qapital team have helped their customers save over $600 million.
Qapital started as a savings app but now offers a bank account option that comes with a debit card and no setup or overdraft fees. Not only does Qapital allow customers to set savings goals, but they also allow customers to have investing goals.
The investment money is held in an ETF portfolio based on a customer's comfortable risk level. Choosing Qapital stocks and bonds opens the door for potential long term growth of your money.
In order to open a Qapital Invest account, a customer has to open a Qapital Spend account. There is a $10 minimum to open an investment account, and it will take five to seven business days for the funds to be transferred and invested.
Qapital is another passive income opportunity that doesn't take too much money to get started and can have a pretty good return on investment.
10. Trim
Trim is one of the best passive income apps on our list because it helps users save money on their monthly bills with no effort. The app has helped its users save over $1 million in the last month alone, according to their website.
Using Trim has several benefits including canceling your unwanted subscriptions and negotiating bills on your behalf. The money that Trim helps you save goes back into your pocket as passive income since no effort is required on your part.
If the service helps you reduce a bill, they keep 33 percent of the savings as cost, but is well worth the fee if you can increase savings.
Read our Ask Trim review to learn more about how the service works to save you money.
11. Turo
Does your car sit unused for days at a time? If so, one of the best passive income mobile apps you can use to make money is Turo. Through this app, you can rent your personal car to make money.
Turo works similar to renting a car to someone, except they rent it from you and not a large or national chain. If you have an extra car or don't drive much, is a legitimate passive income opportunity to pursue.
When you list your car, you'll pick the amount per day that others can pay to rent the vehicle. It might be best to browse the website to see what prices other people have set for their vehicles.
After registering, make sure you upload good quality photos of your car. These photos can provide a car owner a better chance of renting their car.
Turo actually offers a service for free photos. The photographer is typically someone from your area and will come out for a 45-minute shoot to photograph your car.
Car owners can earn up to $6,500 per year, assuming the car is worth at least $20,000, and is available 15 days each month, according to the Turo site.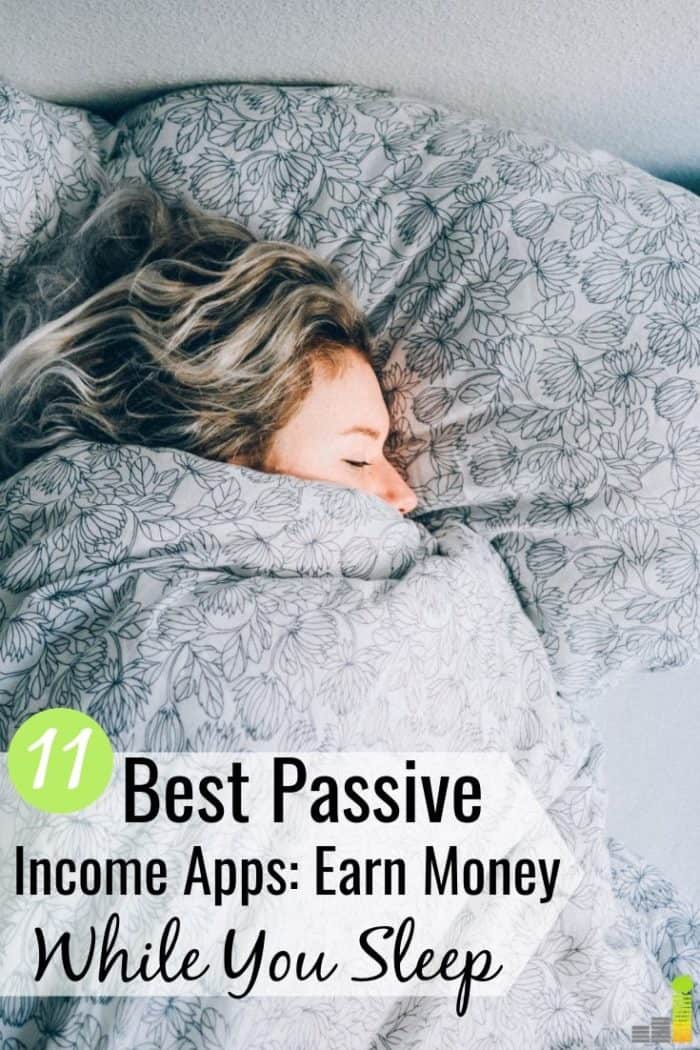 Passive Income Mobile Apps: Bottom Line
Passive income is one of the best ways to grow your wealth. Little effort is required once money starts rolling in, although it might take time to get to that point. Passive income apps make it easier to start making extra money while minimizing the amount of time and energy it takes.
Some apps are free to use, or they charge a minimal fee to start. If you want to create new streams of income, find an opportunity on our list of best passive income apps and get started.
What are some other free passive income apps you use? How many streams of income do you have? How are you pursuing to grow your passive income?
The post 11 Best Passive Income Apps to Make Money in Your Sleep appeared first on Frugal Rules.
Source: Frugal Rules