No-contract cell phone plans hooked me the moment I discovered them. When I was a teenager, my parents paid my phone bill and I felt bad sometimes because it was so expensive. Thanks to services like Tello it's possible to save significant money and not deal with a contract. In this Tello review, I'll share how you can receive quality cell service for less than $20 per month.
With the average family of four spending at least $100 per month on cell phone service that represents large savings. That savings can be used to reach other financial goals or handle other needs.
If you want to reduce your cell phone bill without sacrificing your smartphone, Tello is an option worth considering. In this Tello Mobile review, I'll go over their plans, prices, and what you can expect when using their services.
What is Tello?
Cell service for $20 per month may sound too good to be true. It's not, thanks to a Mobile Virtual Network Operator (MVNO) like Tello.
Like other MVNOs, Tello does not own their own cell towers. They piggyback on the towers of one of the four major carriers – AT&T, Sprint, T-Mobile, and Verizon.
In short, they rent space, allowing them to greatly reduce cost and pass those savings to consumers. Combine this with no-contract and it's a win-win for individuals and families.
Tello operates on the Sprint network for both talk and text. As a Tello customer, you receive the same quality and coverage options, without a nasty monthly bill.
Tello Review
Are you looking for a cheaper cell phone plan for your needs? Our Tello review shares why they're worth considering for your needs.
Getting Started
The first step to becoming a Tello customer is creating a free account and select a plan. You will also need to decide if you want to buy a Tello phone or bring on own compatible device.
You can download the Tello app in both the App Store and Google Play.
Tello Wireless Plans
If you have a legacy carrier, you're used to only one option – an inflexible contract that may or may not meet your needs.
That is not the case with Tello as they offer flexibility to get service to meet your needs.
You have two choices when selecting Tello as a carrier. They allow you to customize your own plan, or you can select a premade plan.
Below are the plans you can customize. As you can see, the most popular plan is $14 per month for unlimited talk and text plus 2 GB of data.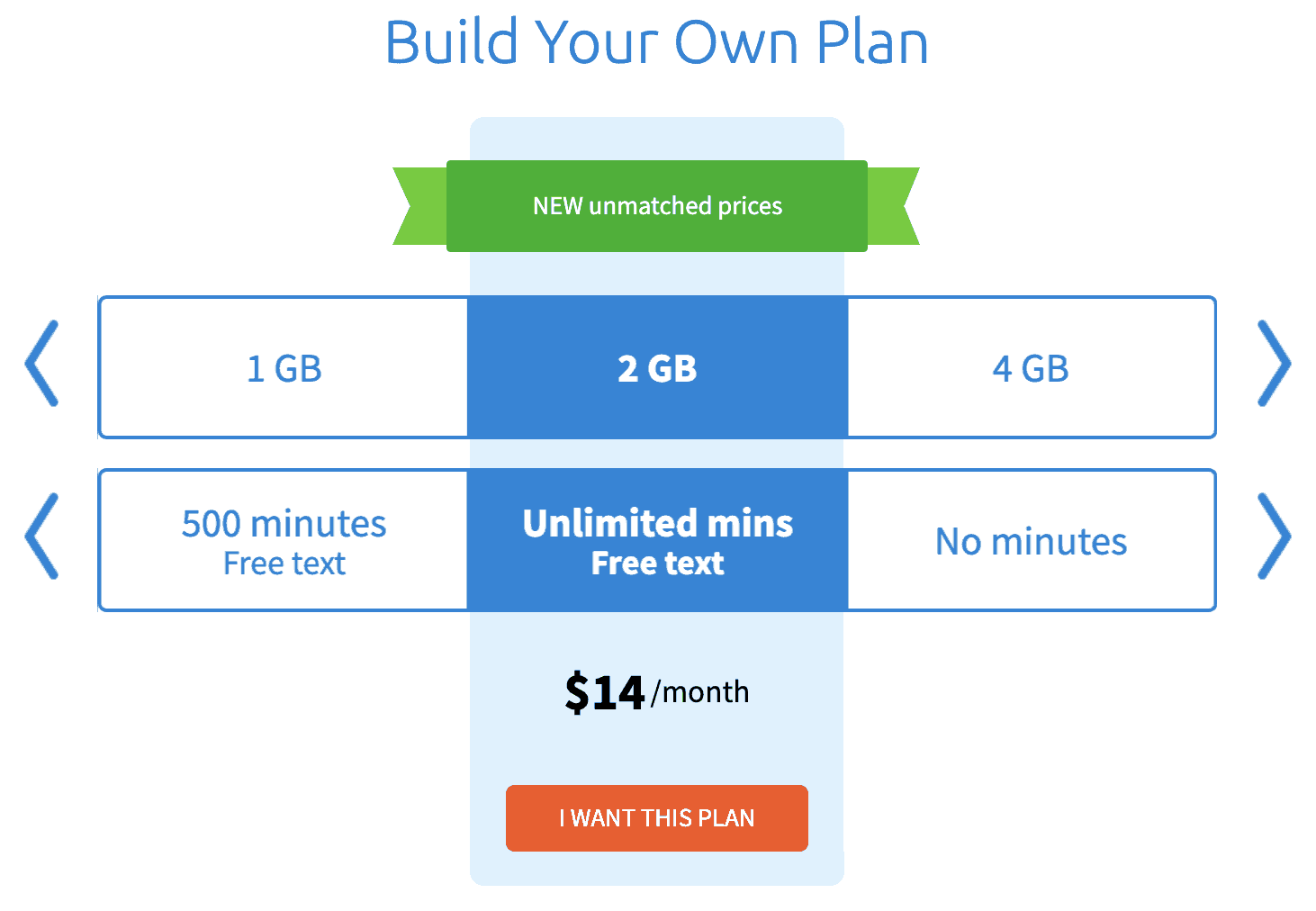 If you don't need to customize a plan, you can choose one of Tello's four pre-made plans. Prices range from $10 to $39 per month, all of which are reasonable and provide unlimited talk and text.
If you decide a plan costs too much or you want to increase data you can change it whenever you wish. This is a perk many MVNOs offer to provide increased freedom to customers.
Added to that freedom is the ability to make calls to Canada, China, and Mexico.
If you want to call other countries, that's also possible with Tello. Below is a short selection of countries you can place calls to with Tello:
Cuba – $0.65 per minute
India – $0.03 per minute
Japan – $0.03 per minute
Kenya – $0.11 per minute
Nicaragua – $0.12 per minute
To receive additional credit for these international calls, customers can add a minimum of $10 up to $50 to their account. There are 100+ other countries reachable with a Tello device.
Data Packages
You may think it's impossible to limit yourself to a small amount of data per month. Legacy carriers depend on this to convince you that you need a contract with lots of data.
Thanks to utilizing Wi-Fi you can significantly reduce your need for data and save money. Tello also routes voice calls over Wi-Fi to help further reduce costs.
Customers can also turn their smartphones into a hotspot with free tethering. The data used while tethering counts against your data or pay-as-you-go balance.
Using all of your plan's data or allowing your pay-as-you-go balance to drop below $0.50 disables tethering and throttles your connection speed. This prevents your device from being a Wi-Fi hotspot for any other device until you either upgrade your plan or buy more pay-as-you-go minutes.
Bring Your Own Phone
One beauty of MVNOs is you can often bring an unlocked phone to receive service. This is typically not the case with traditional carriers and often results in needless costs.
With Tello, you can bring any unlocked Android or Apple phone to use on their platform.
You will need a Sprint based SIM card to use in your phone. If you do not have one, you can buy one from Tello for $9.99 to put in your phone.
After doing this, Tello allows you to port your phone number free of charge. To determine if your phone will work with Tello, go to their site, and click on "Shop/Bring Your Own Phone."
If you need a new phone, you can buy one from Tello. They offer a fair range of phones, from flip phones to smartphones.
Tello Promo Code
If you want a Tello promo code, you don't usually need one. They typically run specials for new customers such as 50 percent off the first month of service, with no special discount code required.
A promo code isn't the only way to receive lower prices from Tello. They also have a referral program in place that benefits both the referrer and the referred.
If a new member joins both parties receive a $10.00 credit. These "Tello Dollars" can apply to your entire balance or the purchase of a new phone.
However, the balance must be enough to pay the entire invoice because Tello doesn't currently allow partial payments.
This Robot Makes Saving Money Easy
Trim is like a robot whose one goal is to save you money. The average Trim user saves $30 per bill! You can too. Trim connects to your bank account, finds ways to save you money on the memberships and subscriptions you don't use and negotiates lower prices for you. Trim works with Comcast, Time Warner and more. Pay less and
save more today with Trim
.
The referrer must be an active member or had a Tello account sometime in the previous six months to be eligible for the Tello Dollars. If their account makes no calls or purchases in six months the credit will expire.
Pros and Cons of Tello
No service is perfect. Choosing a cell phone provider is important, so you must take everything into consideration. Below are the pros and cons of Tello Mobile.
Pros
Low cost, plans start at $5
Coverage on the Sprint network
You can bring your own phone
Customizable plans to meet your needs
24/7 customer support
Make changes to a plan with no additional fee
No activation, hidden, or early termination fees
International calling to Mexico, China, and Canada
Free tethering
Phone number transfer
Referral Program
Cons
No retail locations, online-only – but that's the case with most MVNOs
No roaming, but Wi-Fi makes this unnecessary
Only offers discounts on refurbished phones – though common with most MVNOs
Tello offers quality service at a low price. They offer a 30-day money-back guarantee if you're unhappy with their service or receive a defective phone.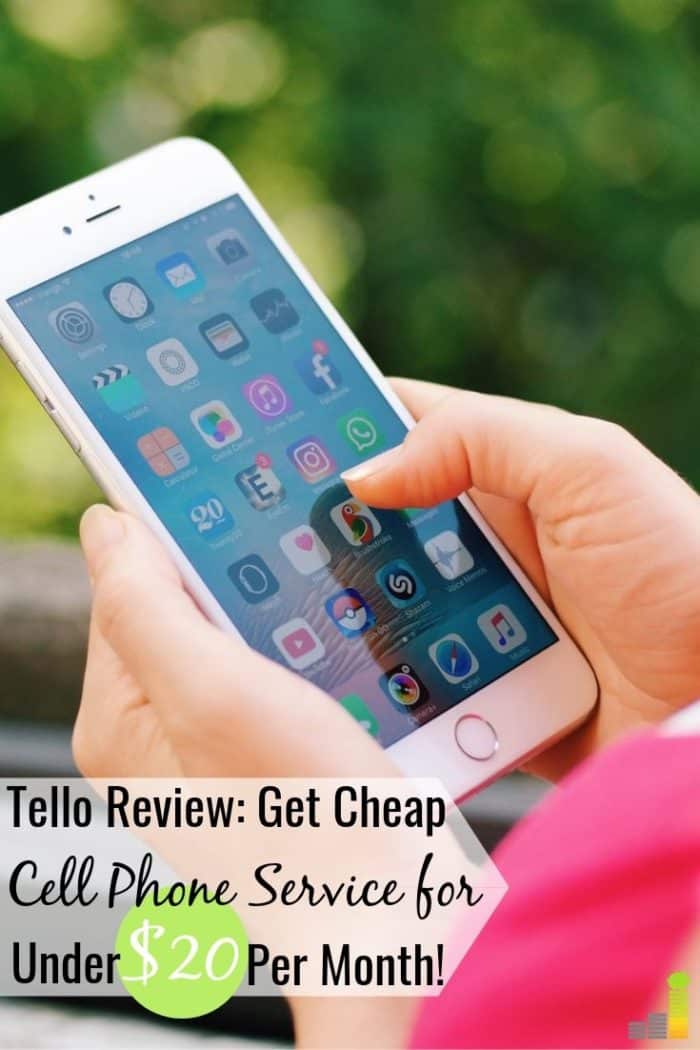 Tello Mobile Review: Bottom Line
Overall, Tello is a great way to save money on cell service. Tello Wireless plans stand out and are some of the cheapest prices available.
Bringing your own phone can be a lot cheaper than buying a phone through Tello because they're not subsidized.
Tello is a great carrier for international calling which is perfect for people who need to contact friends and family outside of the United States.
If you want to save money on cell service, switching to a carrier like Tello puts at least $50 in your pocket you can use for other needs.
How much do you pay for cell phone service each month? What do you look for in a cell phone provider? How much data do you use per month?
The post Tello Review: Get Cell Service for Under $20 Per Month appeared first on Frugal Rules.
Source: Frugal Rules