Before I jump into my Pluto TV review and whether or not there really is a way to get free cable, I want to share a story. It's about Stranger Things. I was enjoying season three of the popular Netflix series the other day and marveled at the way it brought me back to my youth.
The early 80s saw the dawn of so many wonderful things that are now dying – malls and cable TV top the list.
As I watched Hopper sit down with yet another TV dinner in his EZ Boy recliner, I thought of how cool I used to think cable was, until I realized how much it was costing me each month.
We used to pay $110 per month for our satellite TV subscription. Most nights, we couldn't find anything worth watching. Eventually, we cut the cord and now use a few streaming services to get exactly the content we want.
While there's really no legal way to get free cable, there are plenty of free cable alternatives. We've tried Pluto TV and think it's an easy way to get free content.
When I compare what's on Pluto TV to what we used to get with cable, there's not a whole lot of difference, other than the cost.
In this Pluto TV review, I'll cover Pluto TV channels and show just how easy it is to use.
What is Pluto TV?
Pluto TV lets you stream live TV. In that way, it's like paid streaming services Hulu Live or Sling TV. Unlike those popular streaming options, Pluto TV is free.
Let that sink in. Free. Absolutely free.
It is a legit way to get free TV content. There are lots of ads and commercials, but that's how Pluto TV keeps its content cost-free.
It's popular too. More than 12 million people watch Pluto TV, making it the largest free TV service in America. (It's second only to YouTube of the free channels on Roku.)
You'll find hundreds of movies and just about as many live TV channels in Pluto TV. How does Pluto TV get its content? It scours the internet so you don't have to, gathering shows and other content available online free.
Just the other night, I watched 30 minutes of pure surfing joy in my living room absolutely free, thanks to Pluto TV.
Pluto TV Review
In this Pluto TV review, I'll show you how easy it is to download, install and use the Pluto TV app. I'll cover what channels come with Pluto TV.
I'll also discuss some of the drawbacks that might make you want to consider a paid streaming service like Hulu Live.
Pluto TV Channels List
One of the first things you'll notice about Pluto TV is how well organized it is. It divides up TV shows and movies into popular categories like Drama, Sports, Kids, News, and more.
You can customize the content to show just the channels you like, which is helpful since Pluto TV has so many of them.
Some of the more well-known channels on Pluto TV include:
BBC
Big Sky Network
Bloomberg
CBSN
CNBC
CNet
CNN
Crime Network
Docu TV
Food TV
FOX Sports
Glory Kickboxing
IGN
NASA Livestream
World Poker Tour
Science TV
Cats 24/7
I put that last one out of alphabetical order because it's my daughter's favorite. She's a huge cat fan who couldn't imagine anything better than a channel with 100 percent cat content 24/7.
Beyond what's listed here, there are hundreds of TV channels. While many are ones you might not have heard of before, they all broadcast interesting content.
Some of the popular channels like CNN, aren't the full live versions. Rather, you'll find certain shows and segments aired instead. It's not bad for being free.
There's also dozens of music channels, which may allow you to axe your streaming music service and save even more money each month.
Content
If you're a fan of Duck Dynasty or Iron Chef you'll be happy to know you can watch them free on Pluto TV. The free cable alternative offers a mix of live TV and on-demand content.
They've gone to a lot of trouble to curate a ton of videos, TV shows, and movies in all genres and then created an app that makes it very easy to watch.
The content is both old and new. You won't get the latest blockbusters, but scrolling through the movies the other night, I found many that I've seen and enjoyed.
I even scrolled past some I own in DVD form. Movies on Pluto TV include:
Close Encounters of the Third Kind
When a Stranger Calls
Golden Child
The Italian Job
Donnie Darko
Yentl
Jackie Chan: Kung Fu Master
They aren't recent but many were once popular and are still fun to watch. There's even a Christmas in July channel that Pluto TV runs during July with nothing but Christmas content. It's like getting Hallmark Christmas Channel for free!
Does Pluto TV Offer Live TV?
Some channels on Pluto TV offer live content. Others don't. We tuned in to CNN on Pluto TV the other night to watch a CNN Travel feature.
While Pluto TV local channels aren't a thing, you can get all your local channels easily with a digital antenna.
We bought a Mohu Leaf on Amazon and love it. It's a great way to get our nightly newscast and favorite shows from ABC, CBS, FOX, NBC, and PBS for free.
Pair that with Pluto TV and you'll always have something to watch without having to pay a dime for it.
Platform and Streaming Quality
Apps like Pluto TV are just as easy to use as cable, if not more so. All you need is a smart TV, smartphone, computer or tablet, and an internet connection to stream Pluto TV for free.
The streaming quality is excellent. When we tested Pluto TV, we experienced no interruptions, pixilation or outages. You just download the free app, install it, and start watching.
Slash Your Cable Bill. Try Hulu with Live TV!
Are you paying too much for cable? Save big now by switching to Hulu With Live TV! Get 60+ channels, DVR, locals, ESPN, HGTV, Disney, CNN, Fox News and more for only $44.99/month.
Get your 7-day free trial now
!
Pluto TV loads with a short, funny video explaining how to start watching content. We had to enter a six-digit code and then we were in. I downloaded the Pluto TV app to my smartphone and watched there too.
I could even use my smartphone as a remote to control Pluto TV channels on my TV. This was a new thing for me and I loved it.
Pluto TV Devices
There's a good chance you already own something on which you can watch Pluto TV. Here are some of the ways to stream Pluto TV free:
Internet browser like Safari, Firefox, or Chrome on your computer
Smartphone (both iPhone and Android have free Pluto TV apps)
Apple TV
Chromecast
PlayStation 4
Smart TV (Samsung, Sony, Vizio, and more are supported)
We've watched Pluto TV on our smartphones, TVs, and laptops and had an excellent experience on all. The menu and guide are the same and the viewing experience is crystal clear.
Alternatives to Pluto TV
It's awesome that Pluto TV is free, but it's just one of many cable alternatives. Apps similar to Pluto TV make it easy to watch your favorite shows anywhere. Some offer more content not found on Pluto TV for a very low monthly cost.
Hulu Live, Sling TV, and Philo TV are three of the best cable alternatives out there.
Hulu with Live TV
The Hulu platform has a huge library of great content from networks as well as original shows like The Handmaid's Tale. Hulu's on-demand service costs just $5.99 per month.
If you're looking for free cable, you won't find it; if you want a cable-like experience for less than half the cost, try Hulu Live. (The average cable bill is $110 per month. Hulu Live is only $44.99.)
Hulu with Live TV is exactly what it sounds like – a vast collection of on-demand content plus live TV. We cover the Hulu Live channel list and features in our review.
It's extensive and filled with popular stations like ESPN, CNN, Disney Jr, and HGTV among others. Things to like about Hulu Live include:
60+ live TV channels
Cloud DVR (so you can record live TV and watch later)
Streaming on multiple devices at once
Past seasons of hundreds of popular series
Local channels
Try Hulu Live free for 7-days now. It's a great risk-free way to explore the streaming service.
Sling TV
If you think you might want more than what the Pluto TV channels offer, Sling TV could be a great option.
For only $25 per month, you'll enjoy live TV, local channels (in limited areas), and popular networks like ESPN, FOX Sports, Disney Channel, AMC, TBS, USA, and more.
Sling TV channel packages vary, but both include 30+ popular channels. One of the original streaming services, Sling TV is easy to use on a wide variety of devices (including all of those mentioned above for Hulu with Live TV).
Like many of the sites like Pluto TV, Sling TV has a risk-free trial option, letting you try it
out before you purchase. Try Sling TV free for 7 days now and see what you think.
Philo TV
If sports aren't your thing, but you're tired of paying over $100 per month for cable, you might like Philo TV. At just $16 per month, there's nothing out there quite like it.
In our review of the Philo TV channels list, we cover the benefits of the service, which include popular channels like the following:
A&E
AMC
Hallmark Channel
HGTV
History Channel
MTV
Nick
TLC
Choose 44 channels for $16 per month or 57 for $20; either way, you'll be spending a lot less than cable and as long as you don't want ESPN or FOX Sports, you'll be set. Try Philo TV free for 7 days now!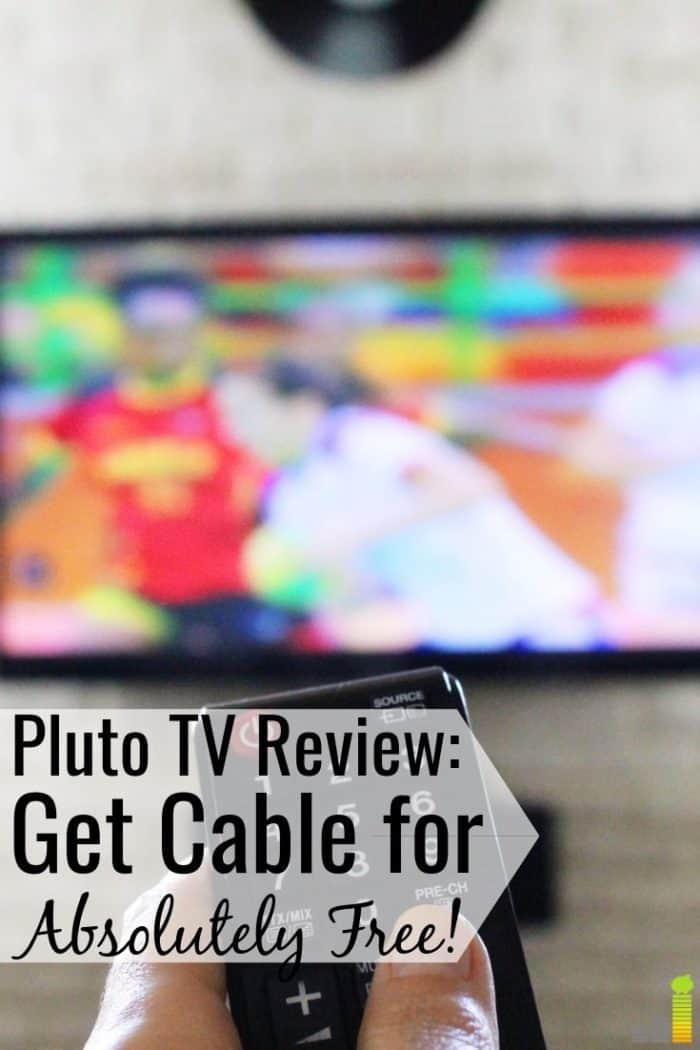 Pluto TV App Review: Bottom Line
Legal, free cable remains impossible. But, streaming services like Pluto TV are making it harder for cable companies to make money. That's because Pluto TV offers many great TV shows and movies, absolutely free.
If you've been thinking about trying Pluto TV, give it, or one of the Pluto TV alternatives mentioned here, a shot. With no cost and no information to turn over besides your email address, you have nothing to lose.
How much do you pay for cable each month? What are some other free cable alternatives you've tried? What's one thing that keeps you from cutting the cord?
The post Pluto TV Review: Is it A Legit Way to Get Free Cable? appeared first on Frugal Rules.
Source: Frugal Rules